This is a sponsored post written by me on behalf of Jewelers Mutual Insurance. All opinions are 100% mine.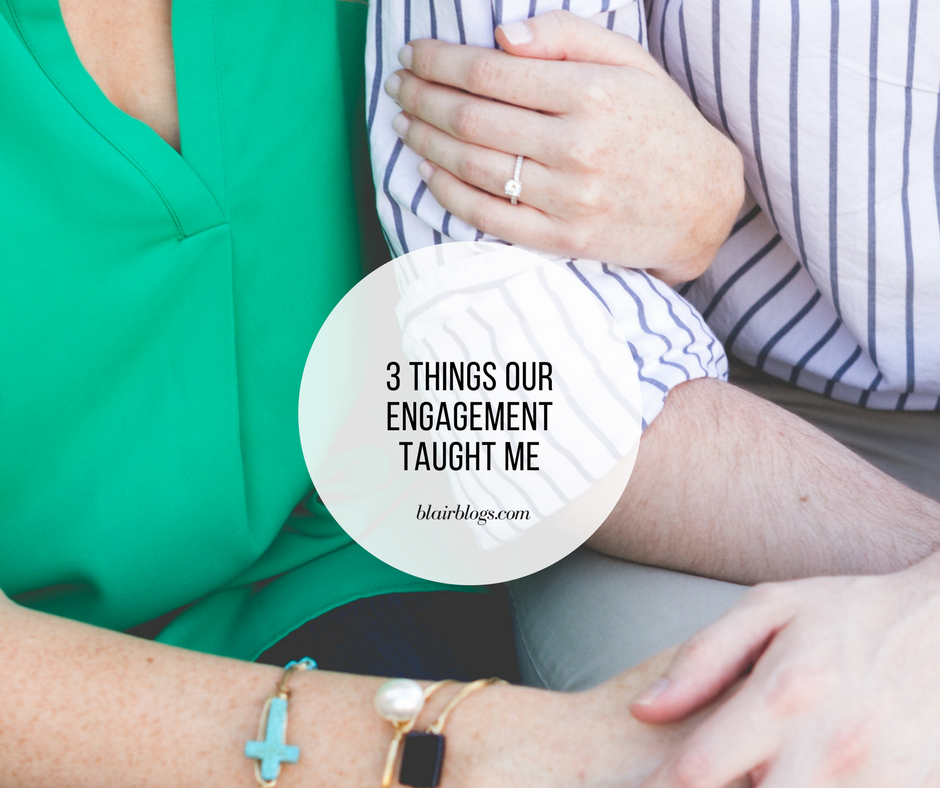 It's a funny thing: before Riley and I got engaged, getting engaged was the only thing on my mind. When will he propose? Where will it be? Will it be a surprise? What will the ring look like? What's he going to say? Will I remember any of it? And then, we got engaged, and my mind immediately shifted to full-on planning mode. There was so much to plan–our wedding, for one, but then our entire life. We were living four hours apart at the time when we got engaged, and we had a lot of decisions to make before we got married.
Because of the weight of the decisions that needed to be made, we spent very little time processing, reminiscing, or basking in the joy of our engagement. The day-of was full of memories, but by the next morning it was time for business. I sometimes wish I had been able to spend more time processing our engagement and soaking in the joy and delight of it. It was something I had hoped for forever, but at the time, I didn't feel like I had the bandwidth to put planning and decision-making on hold to reflect. But it's not too late! I want to explore more of our engagement and what it taught me today!
1. Life really does change in a moment
The reality is that our engagement marked a brand new, totally unchartered season of life for us. I hadn't considered this previously–I was mainly focused on Riley being my fiancé and starting to plan a wedding together! But looking back now, our engagement marked a whole lot more than that.
We went from making big decisions individually to making them as a couple. We had to seriously discuss our finances for the first time. We had to make compromises for each other in areas of our lives where we'd previously only considered ourselves. If I'm being honest, the least impactful piece of our engagement was planning our wedding!
2. I can't (and shouldn't) try to control everything
One of the biggest changes for me–if not the biggest–surrounding our engagement was letting go of being in control. After we'd decided to get married, but before we got engaged, I was challenged to take the first step in loosening my control grip by not picking out my own ring. This was a challenge, but I felt like it was an exercise in love and trust to allow my future husband to select my engagement ring without my controlling the situation.
I am definitely the kind of girl who is very particular (read: picky), and I'd be willing to bet that 100 percent of my family and friends thought we'd go to the jewelry store together so I could choose my own ring, but we didn't! Riley worked with a jeweler himself, unbeknownst to me, and chose a beautiful ring that I wear with pride. This may feel insignificant, but at the time, this was a huge deal for me! It was one of the first times I remember intentionally surrendering control about a big decision in our relationship. To this day, whenever I look at my ring finger I think, Riley chose this for me! I love that so much.
Well beyond the ring, I have had to surrender control in nearly every single area of my life since getting engaged. (Those of you who have been following along with my Rooted series know what I mean!) On behalf of our marriage, I moved out of a city I loved, away from close friends, and quit my job, just to name a few. This process and experience has been incredibly challenging, but it has refined me greatly. Getting engaged was the primer for all of this letting go!
3. It's important to expect the unexpected
This sounds cliché, but stick with me. Our engagement was full of surprises I didn't expect–like getting engaged on Riley's birthday in Baltimore and seeing many of my out-of-town friends who had flown in to surprise me at the engagement after-party Riley planned! Those happy surprises were a sweet taste of the unexpected joy found in marriage, like how the old "I love you more every day" adage is totally true.
On the flip-side, our engagement also taught us the importance of planning ahead for unexpected events that are less-than-stellar. For example, my ring was three sizes too big, and in the cold December air, we were both terrified that it would fly off my finger! (Backstory: Riley had previously taken one of my rings to use as a size guide, but the jeweler measured it incorrectly!) I remember telling Riley that I was afraid of losing my ring right after we got engaged, but he reassured me that it was already insured through Jewelers Mutual.
This all sounds so silly now, but I remember feeling a huge flood of relief in that moment knowing that my ring was safe and sound until we could get to the jeweler to have it made smaller. (I've heard from many of my married friends that they were terrified of losing their rings right after they got engaged too, even if their ring fit perfectly!) Now that my ring is the right size, I continue to have peace of mind knowing it's insured. If you're engaged or married and don't have your ring insured, I highly recommend checking out Jeweler's Mutual. We have loved working with them over the past almost-three years! I love that they are the specialist in jewelry insurance in particular, not just a general insurance company. For more information, read through Jewelry Insurance 101​, get a free jewelry insurance quote (it's quick and easy!), and learn what brides-to-be want in an engagement ring on their website.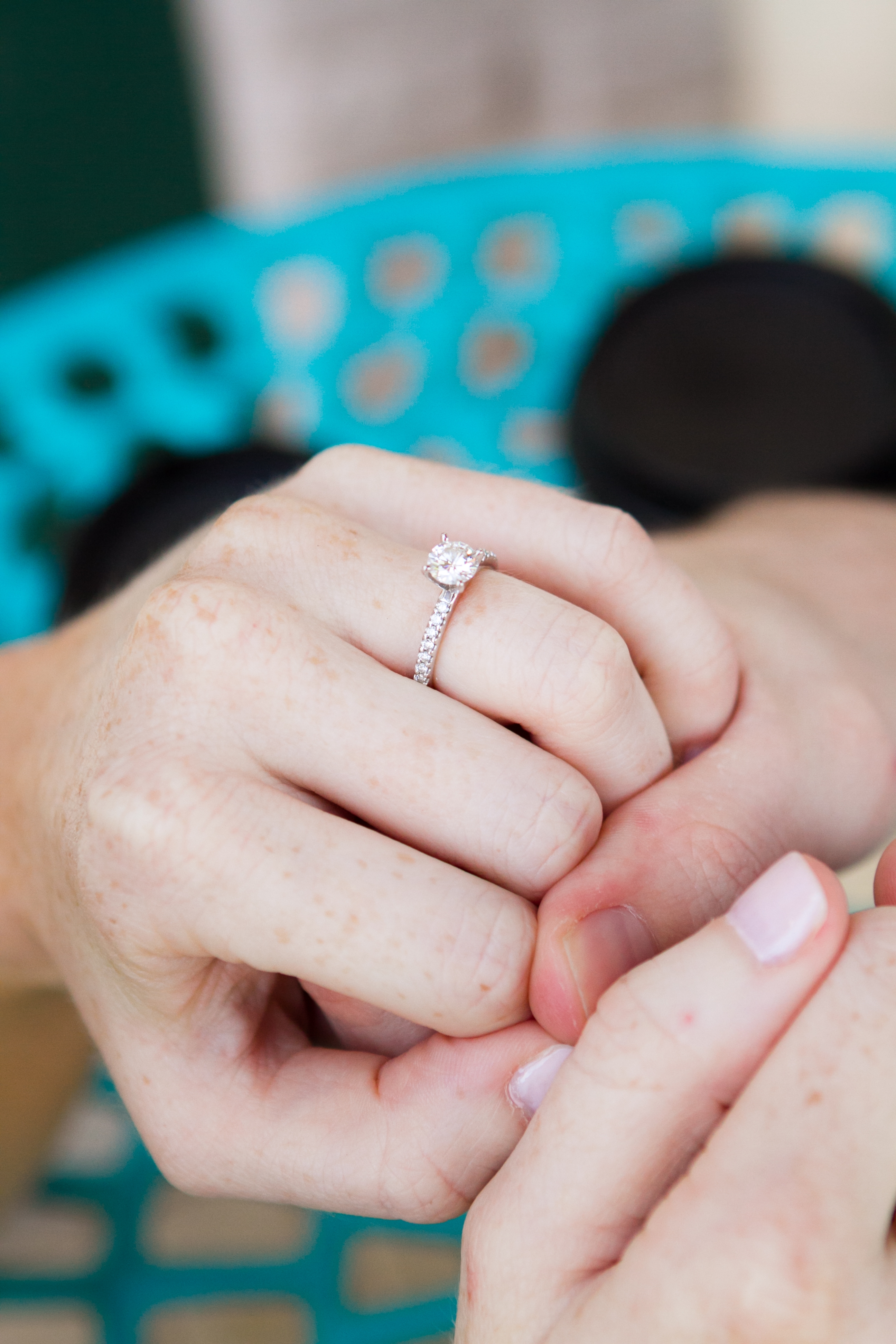 Though our engagement day was largely overshadowed by our wedding day, when I think back on all of the changes and lessons that marriage has brought about, many began on the day we got engaged, well before we said our vows. His question and my "yes" were the beginning of a whole new chapter of life for us! I don't think I had any idea how much my well-controlled life was about to get turned on its head at the time, but each step in this journey has been an important lesson learned. I am so thankful for the memory of our engagement and for the opportunity to reflect on it today!
// What was your engagement like? Did it teach you anything? Were you able to reflect post-engagement or did you have to jump right into planning mode?
Related: Wedding & marriage posts
Thank you for reading! You can find me online on Facebook, Instagram, Pinterest, Twitter, and YouTube. If you'd like to be alerted whenever I publish a new post, you can follow me on Bloglovin' or subscribe via email. Take a look at my Etsy shop where I sell tees, totes, sweatshirts, and pillow covers! Are you a blogger too? Check out my Blogger Mentorship Program.