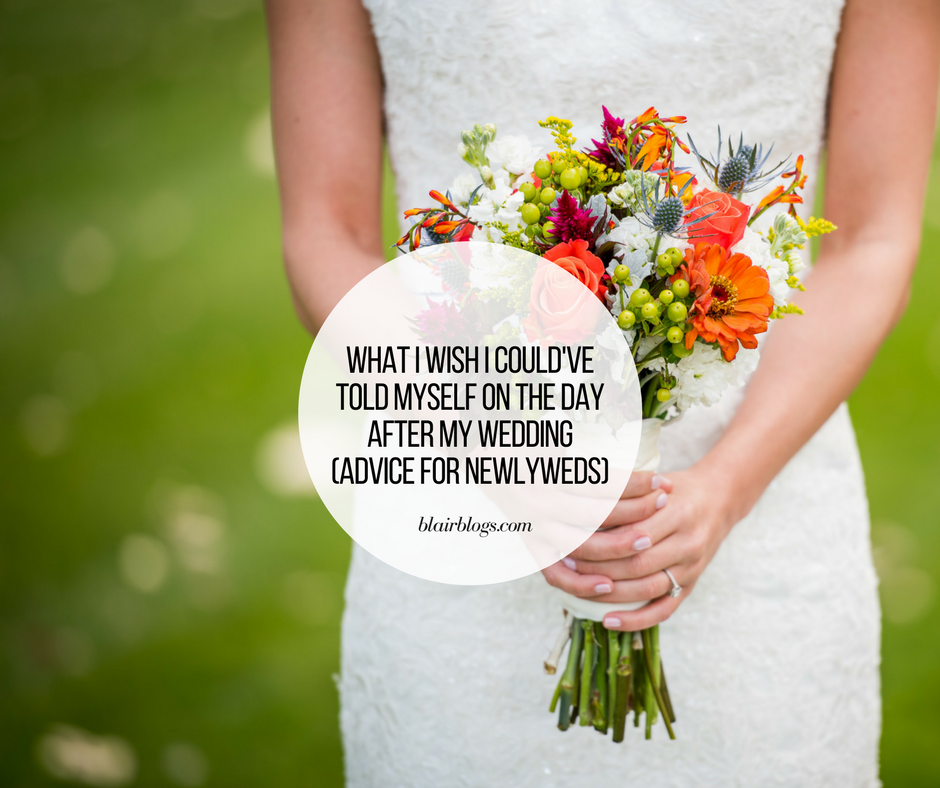 We've almost been married for two years. In some ways these months have passed quickly, but in many ways they have been like slow and steady markers. There's no definitive definition of "newlyweds," but it feels like we may have outgrown the title. The beginning of our marriage was met with high-highs and low-lows; we were, in many ways, in "the honeymoon phase," but simultaneously processing the newness and accompanying challenges of marriage. Those highs and lows  of newlywed life have largely leveled out and revealed a deep, steady, rooted love between us, which feels very different from the first year after our wedding.
There is beauty in every stage of marriage, that's for certain, and each stage builds on the one before it. Let's talk about the very first one: the newlywed stage. For the purpose of this post, I'll define "newlyweds" as couples who have been married for less than a year, though you're welcome to take this advice at any marital stage if it suits you! Here's what I wish I could've told myself on the day after my wedding…
1 | Over-communicate
Almost every disagreement in marriage can be chalked up to miscommunication or lack of communication. The best piece of advice we got from our premarital counselors was to always over-communicate, which is to say communicate clearly and often, repeat yourself and voice your thoughts in different ways, make sure your spouse understands what you're saying, and have important conversations more than once. This advice is gold.
Clear and frequent communication is arguably 90 percent of a healthy and happy marriage. When two different people with two different pasts and two different personalities come together in the union of marriage, communication is the bridge between them. The power of clear conversation cannot be underestimated; learn to over-communicate and fully discuss important topics with your spouse instead of quickly scratching the surface of them.
2 | Be honest about what you want/need/expect
This point ties greatly into number one: it is critically important to be open and honest about your wants, needs, and expectations in every facet of marriage. Your spouse can't read your mind! This is something that took me a while to learn. When we first got married, I made a lot of assumptions. I had a lot of thoughts like he should know this or he should do that or he should know that he should do that. This way of thinking is not only unhealthy, but also unfair and the recipe for disappointment.
My friend Grady recently wrote a post entitled Why I Ask My Husband to Buy Me Flowers; in it she explains how she is crystal clear about her expectations in marriage, especially surrounding holidays. I think this is so important. Two spouses in love want to make each other happy, but may not always know how. Learn how to honestly voice your wants, needs, and expectations graciously–it makes a big difference.
3 | Find the humor
Life isn't always rainbows and unicorns. And when life presents its inevitable challenges and difficulties, stress is almost certainly put on a marriage relationship. It is critical to find the humor and laugh with your spouse. Be silly together. Joke around together. Watch funny shows and movies together. Find the humor even when life is hard–especially when life is hard.
I have seen it so many times in my marriage: we're stressed about something, there's a strain on our relationship because of it, and then we laugh together and our problem shrinks immediately. The heaviness is reduced and joy is increased. Learn to laugh! Everything in life doesn't have to be taken seriously.
4 | Establish rhythms and traditions
Rhythms and traditions within a family make the individuals feel like they're a part of something–like they're "in." Many people largely hold off on creating these traditions until kids are in the picture, but I believe they're important in marriage, even before children. Small, seemingly meaningless traditions seem to cement a marriage and make it feel unique and special.
Some rhythms and traditions in our marriage: we have a standing coffee date every Friday afternoon, we make a big breakfast together every Saturday morning, we go to church every Sunday morning, we eat dinner together every weeknight, we pray together before we go to bed every night, we take walks every evening with Charley, etc. These things seem small individually, but they add up to feeling cemented as a couple and a family. Look for ways to add rhythms and traditions to your day-to-day life as a married couple; they won't usually just fall into place. If you love making pizza together, do it every Wednesday. If you like going grocery shopping together, do it every Sunday. Establish rhythms and traditions in your marriage.
5 | Be wise about who you discuss your marriage with
I've heard this piece of marriage advice many times over: don't talk poorly about your spouse or marriage relationship to others. The reason? Once the issue you've shared has been smoothed over and you've moved on, your friend or family member will hold on to the negativity because he/she wasn't a part of the reconciliation process.
For example, let's say your spouse doesn't usually pick up after himself around the house. You find yourself on the phone with your friend, and in a moment of frustration you dramatically vent about how your husband is a slob and exaggeratively lament how he leaves all the housework to you. After you hang up the phone, you have a conversation with your husband, and he apologizes and begins to make a real effort to keep the house tidier. You and your spouse are back in good standing, but your friend now thinks of your husband as a slob, even though he's really not. Can you see how unhealthy this is?
Your marriage is precious and private; it is not to be aired to anyone with listening ears. I have only a couple of trusted people who have shared wisdom and advice with me throughout the past two years in response to tricky issues I've/we've faced. These are people who are greatly supportive of our relationship, who know and love both me and Riley, and whom I trust implicitly. Should you choose to seek advice (which is, in my opinion, sometimes wise to do), make sure you're doing it with a pure heart and not just venting with exaggeration and frustration. If my husband and I are facing an issue in our marriage that I want to discuss with a friend, I ask him first and do it with discretion. Many of the issues we've dealt with in the past two years of marriage have been smoothed over because of wise words from someone I trust in my inner-inner circle, but the intricacies of our marriage aren't public discussion topics with those who aren't. Be wise about who you discuss your marriage with.
6 | Plan adventures to look forward to
After the thrill of dating and engagement, after the wedding and honeymoon, after all the dust settles, life can often become a little ho-hum and monotonous. We have found that having a big or small adventure on the calendar gives us both something to anticipate and helps break up the day-to-day. Our dates and getaways also serve as great opportunities to reconnect and make new memories together.
Adventure can mean whatever you'd like it to mean–it can be a week-long vacation, a fun date night at home, a day trip, a night out to dinner, breakfast in bed on a Saturday morning–whatever suits you and your partner. Having plans on the calendar is a big happiness booster in our marriage and deeply bonds us as we plan, anticipate, and try new things as a couple. Spontaneity is great, but so is anticipation. Plan adventures with your spouse that you can both look forward to.
7 | Get on the same page about your budget
It is often said that financial difficulties and arguments are the leading cause of divorce; I'm not sure there's a way to know this for certain, but I believe it. Money can be a very touchy subject and rarely do both spouses have the exact same viewpoint/perspective on it. Each of our individual relationships with money has been formed over years based on our childhood, our experiences, our preferences, how we define wants vs. needs, how our parents interact with money, etc. Though it's not quick and easy, it is possible to get on the same financial page, and I believe it is critical to a healthy marriage.
Through premarital counseling, we openly discussed our individual spending habits and budgets and created a budget for our household once we were married. Over time, it has been tweaked and changed, but we continue to have near-daily conversations about our family finances. Because we're so open about our budget, it is almost never a point of contention. We check in with one another and converse casually about what money is coming in, what money is going out, what we're saving for, and everything else. Our chats are typically short and sweet, but they help us stay on the same page. I highly recommend sorting out your family budget from the get-go to avoid confrontation and discord in your marriage.
Those are the seven pieces of advice I wish I could've told myself on the day after my wedding. What about you?
// If you could go back, what marital advice would you tell yourself on the day after your wedding?
Thank you for reading! You can find me online on Facebook, Instagram, Pinterest, Twitter, and YouTube. If you'd like to be alerted whenever I publish a new post, you can follow me on Bloglovin' or subscribe via email. Take a look at my Etsy shop where I sell tees, totes, sweatshirts, and pillow covers! Are you a blogger too? Check out my Blogger Mentorship Program.