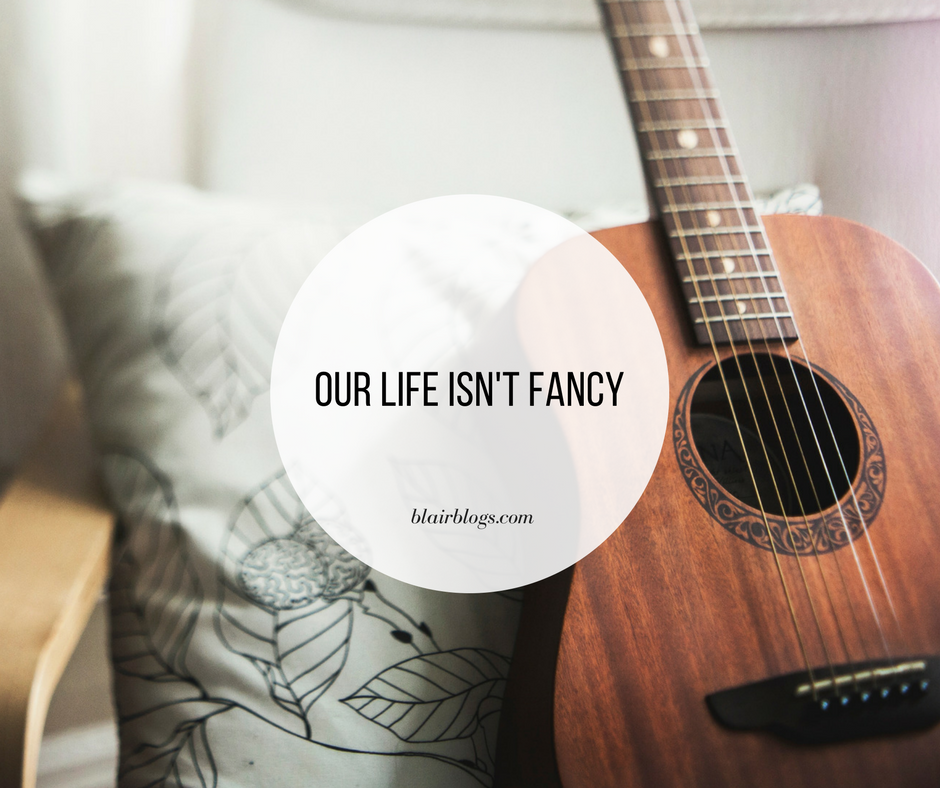 Over a year ago, I received an email from a reader who wanted to thank me for living an un-fancy life and celebrating it. She explained how perplexed she was by the apparent over-the-top glamorous lives other women our age seemed to lead; I think her words were something like "Where are they finding this time and money?!" She had similar things to say about clothes, jewelry, homes, etc. Her thoughts were, basically, I can't relate to that kind of lifestyle. It's one of my favorite emails I've ever received.
Our life is not fancy or glamorous. But we are blessed, blessed, blessed, blessed, blessed.
With every year, I learn more that keeping up with the Jones' will wear my soul out tired. Constantly chasing more, more, more will often result in an empty wallet and an empty heart. More is not the answer; it never has been. Contentment is the answer. It'd be great to have this or do that, but thinking along those lines breeds jealousy and a lack of peace.
Here and now, what we have is exactly enough. It's more than enough.
In February, we buried Riley's sweet Granny. At her funeral, the preacher, explaining how Granny's legacy is her family and not her material possessions, said simply, "I've never seen a hearse pulling a U-Haul." Those words were like a kiss on my forehead. More isn't the answer unless it's more time in conversation, more meals with loved ones, more hours in the sunshine, more love and laughter.
It's not that having things is inherently bad, it's that I refuse to spend my life exhaustively chasing more. Too often material possessions and travel become idols in our lives (guilty of the latter).
At my first job out of college, the CEO once took me out to dinner with a couple of co-workers. He lamented how he'd "never have enough money" and how no matter how much he makes, "it'll never be enough." He was a multi-millionaire. Riley often quotes Jim Carrey when he said, "I think everybody should get rich and famous and do everything they ever dreamed of so they can see that it's not the answer."
I once heard someone say that the theme song of hell is "Do more, do more, do more." I believe that's true. (When you see overjoyed people apparently living perfect and fancy lives online, remember that social media is often a good liar. There's often emptiness, debt, and heartbreak behind the flashy photos.)
I'm resting in what I do have: a beautiful, blessed, simple life. I am okay just as we are. Instead of thinking what else we could have, we're focusing on how we can use what we do have to bless others. In light of the world's population, we have much more than most–more than enough–as it stands today. And we are thankful.
Keep your lives free from the love of money and be content with what you have, because God has said, "Never will I leave you; never will I forsake you." -Hebrews 13:5, emphasis mine
// I really look forward to hearing your thoughts on this. How do you cultivate a mindset of contentment in a world that tells us to be more, do more, and have more?
Thank you for reading! You can find me online on Facebook, Instagram, Pinterest, Twitter, and YouTube. If you'd like to be alerted whenever I publish a new post, you can follow me on Bloglovin' or subscribe via email. Take a look at my Etsy shop where I sell tees, totes, sweatshirts, and pillow covers! Are you a blogger too? Check out my Blogger Mentorship Program.