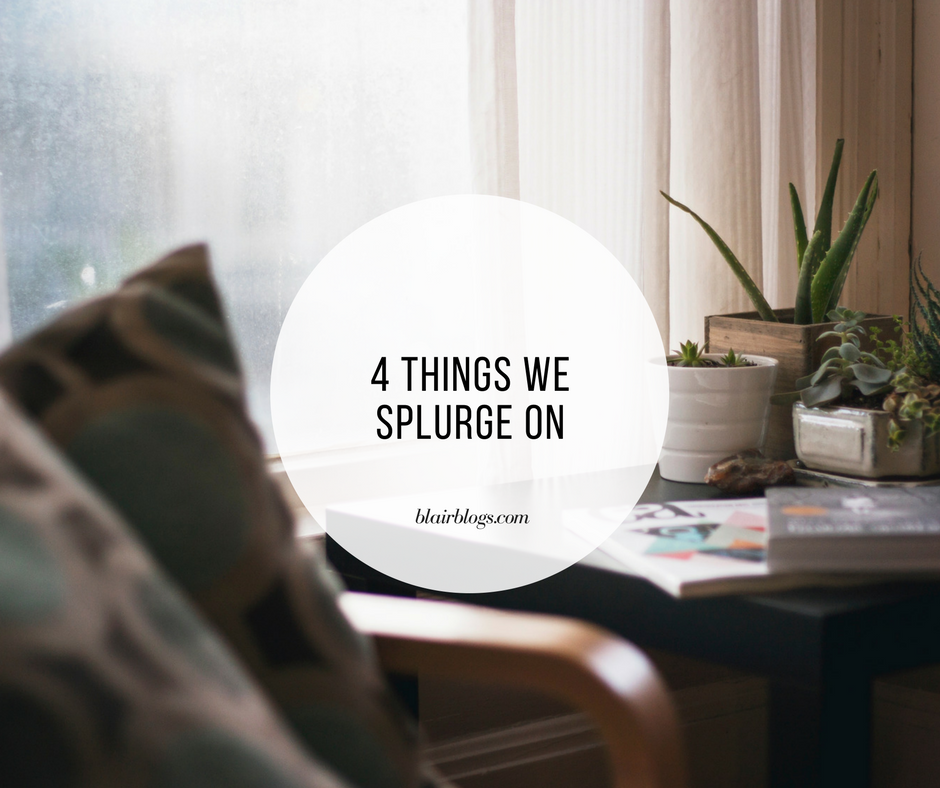 Other posts in this series:
If you've read the other posts in this series (linked above), you'll know that we do a lot–and refrain from doing a lot–in an effort to save money. Financial stability is important to both of us, so we make every effort to stay on top of our finances and live below our means. That said, today I'm sharing what we do splurge on. These are things that feel worth it to us, even though they are squarely wants and not needs.
Of course, how individuals, couples, and families spend their money is incredibly personal. Please know this post (and all others in this series) is written with authenticity, not judgement. Additionally, I recognize that "splurge" means something different to everyone based on perspective and financial situation.
1 | Travel
This is easily #1 on our splurge list. Vacations and trips are hugely important to us. We love to travel! With my family in Maryland, we travel at least twice a year to see them. Plane tickets from Texas to Maryland (or anywhere, really) are not inexpensive, but well worth it to us. Same for trips to Disney, the beach, road trips, wherever. (In fact, this weekend, we're heading to Galveston, Texas, for a long weekend at the beach.) The memories made while traveling together are priceless to us, so it's worth it to pay the [often high] price to get out of town and explore.
2 | Hosting overnight guests
If you live close to all of your family and friends and don't often host overnight guests, you may not realize that there is a [sometimes significant] cost associated playing hostess. (I never knew this until I moved cross-country.) For us, it's gas for a three hour roundtrip drive to the airport, extra food and treats all week, paying for at least one meal out for our guest(s), gifts for each guest, fresh flowers around the home, all those last-minute home improvement projects to spruce up the house, etc, etc. I realize we could host guests "on the cheap" and forego much of what I just mentioned, but I wouldn't change I thing! I love, love, love spending time and money on our friends and family when they come to stay. It brings me immense joy! When we are expecting houseguests (which is relatively often, maybe every other month), we set aside money to make sure their stay is great. Hospitality is important to both of us, so it's an area where we're happy to splurge.
3 | Groceries
Because we rarely eat out, we don't skimp on fresh, quality food at home. Fresh fruits and vegetables, good cuts of meat, bread from the bakery, high quality butter (#KerrygoldForever), etc. I'd rather give up a manicure or new clothes for a month of delicious food. We love to eat, what can I say? It all evens out in the end, because eating at home naturally saves so much money when compared to eating out. All that to say, you usually won't find us penny pinching in the grocery store (unless we're about to go on a trip and want lots of "fun money," then Ramen it is!).
4 | Technology
I need technology to do my job, but independent of that, both Riley and I love it. We care about having computers, phones, printers, cameras, etc. that work well and last a long time, which usually requires spending quite a bit of money upfront. To be fair, we take care of what we have and use it until it wears out. Case in point: my laptop is 10 years old, Riley's is 5 years old, both of our phones are 2 years old, my printer is 8 years old, my iPad is 5 years old, etc. This all goes back to my point in 9 Things We Do to Save Money–we research and invest when purchasing something new, and we take care of what we have once we have it. If we've saved up for it, neither of us have a problem with spending a significant amount of money on technology if we know we'll be able to use if for years to come.
// Those are the four main things we splurge on. What about you?
Related: 16 Things We DON'T Do in Order to Save Money and 9 Things We Do to Save Money
Thank you for reading/watching! You can find me online on Facebook, Instagram, Pinterest, Twitter, and YouTube. If you'd like to be alerted whenever I publish a new post, you can follow me on Bloglovin' or subscribe via email. Take a look at my Etsy shop where I sell tees, totes, sweatshirts, and pillow covers! Are you a blogger too? Check out my Blogger Mentorship Program.