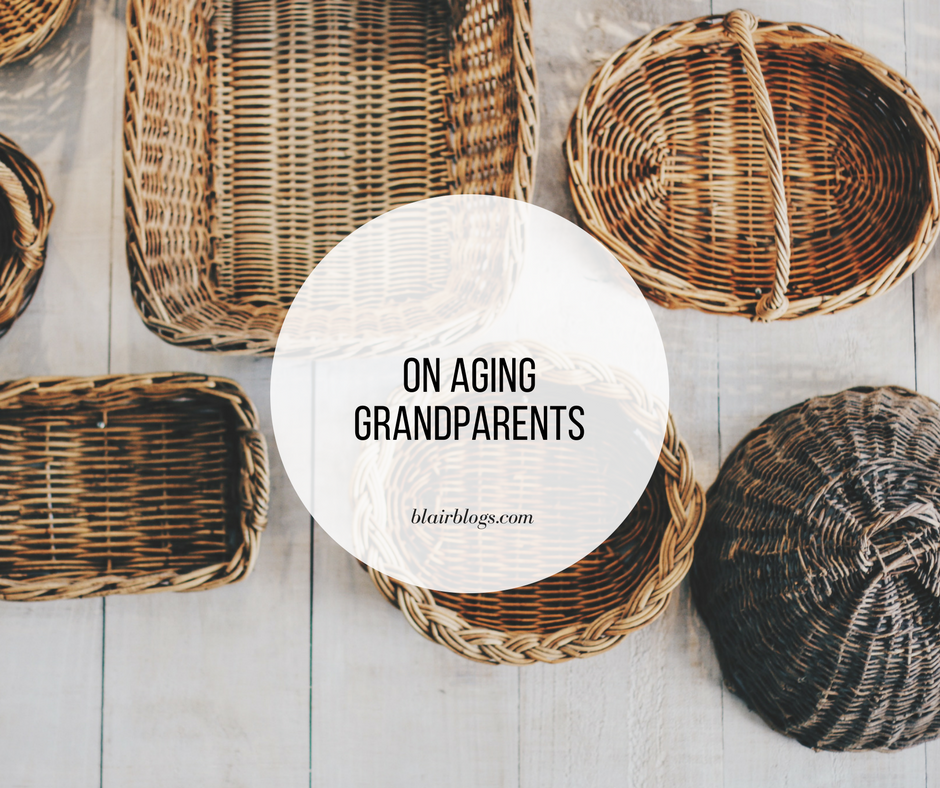 This is not an easy post to write.
All my life, I've had three blood grandparents alive–my paternal grandmother and grandfather and my maternal grandmother. My maternal grandfather died before I was born due to longtime alcoholism and I never knew him. My childhood home is in a valley between two hills; my maternal grandmother, Mom-Mom, lives a couple of miles away on the northern hill and my paternal grandparents, Mimi and Poppy, live a couple of miles away on the southern hill. All my life, I was quite literally nestled comfortably between my loving grandparents.
I grew up knowing my grandparents, eating with them, cooking, and playing, and cleaning with them. We vacationed together, we sang songs together. They were at my piano recitals and graduations and they knew my friends, who all called them by the same names my siblings and I used. I've had the privilege of having present grandparents in my life all my life.
But things are changing quickly and slowly and it's hard and heavy and confusing.
One of my grandmothers is dealing with major physical pain and complications. This woman who raised nine children on her own, who has hosted hundreds of parties, who loves to decorate with lots of color–she's recently moved into a bland and tiny assisted living-style room at the nursing home because her pain is overwhelming and she needs help around the clock, which her independent spirit loathes.
My other grandmother has a mind that's deteriorating against her will. This woman who taught students for years, who was a superb homemaker, who has baked dozens and dozens and dozens of cookies–she's having a hard time remembering, and that makes her sad and emotional and frazzled, and those feelings only make the remembering worse. All of this necessitates moving to a place where she'll have less responsibility on her plate, but even the thought of cleaning out one room in her house to move is too much for her.
My grandfather is okay mentally and physically (for the most part), but his soul is bruised and frustrated. He's a stern-but-gentle German man with strong opinions but a quiet disposition. He doesn't want to leave his house for an old person's home. He doesn't want to give up his woodworking shop in the basement, or his little boat that he works on all summer long in the driveway. Though he should probably hand over the responsibility of keeping his yard and garden, he doesn't want to. Piddling around his house and yard make him feel alive; the thought of moving into a small apartment makes him feel fearful and suffocated. The internal tension between his reality and the fact that his wife needs to move make him grumpy and overwhelmed.
Without fail, every time my mom, dad, or aunt call me, these three people we love are the topics of conversation. These three individuals, my grandparents, who have been the strong and stable matriarchs and patriarch of the family are like stones turning into sand. They need help with most things, which humbles them and all of us. I have wrestled emotionally with this greatly: how do I watch my grandparents, who have shaped my life in a thousand ways, slowly morph into people I hardly recognize? It's devastating. None of us know how to handle it.
There have been lots of weepy phone conversations through sniffles, lots of what are we supposed to dos? Sure, there are books and services to help with the logistical aspects of aging grandparents (or parents), but the emotional toll is confounding and all-encompassing and there's no clear path. It's just loving them, as they are, and moving forward slowly.
Tomorrow, I fly to Siesta Key, Florida, to spend time with my Mimi and Poppy. They have spent a month at the beach each winter for years, but this will likely be the last time. In a moment of realizing life's too short, which was un-coincidentally the day after Riley's Granny passed away last month, we pulled money out of savings and bought a plane ticket for me to go on this trip. I know I won't regret it.
I can't imagine my world without Mimi and Poppy and Mom-Mom. I am so thankful for everything they are and have been to me. For now, all I can do is cherish, cherish, cherish. So I will.
// Are you walking through this season of life? Have you?