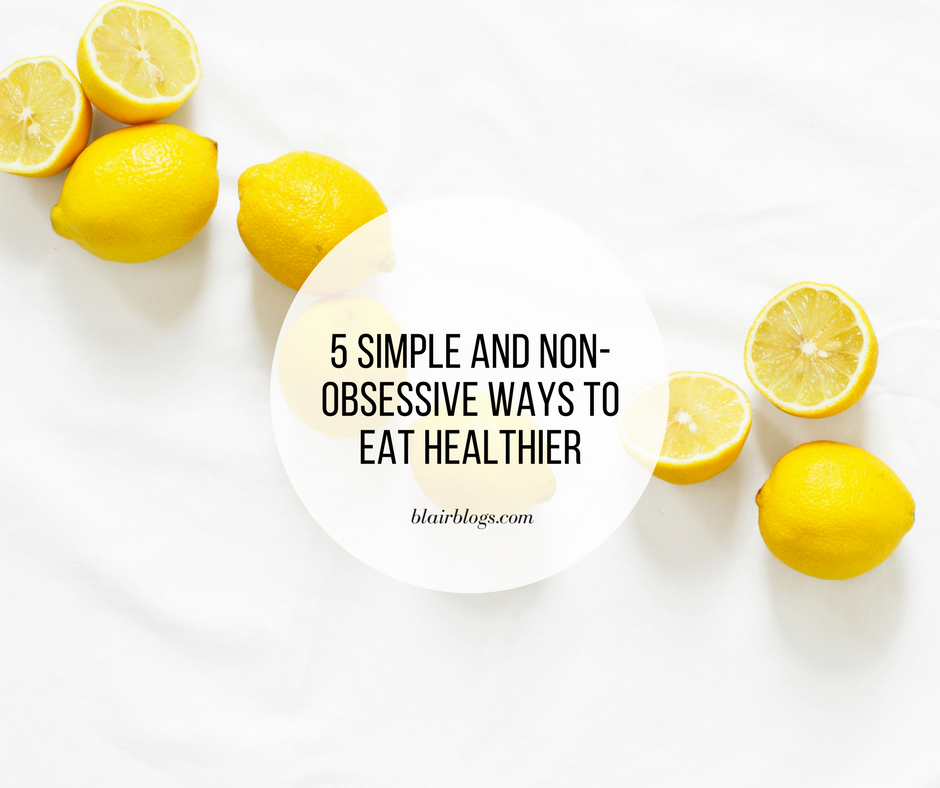 If you've already read my post entitled Why My Approach to Food is So Relaxed, you know that I'm not big on the extremism and lack of moderation on both sides of the current diet spectrum in modern America. It is important to me to eat healthfully to nourish my body, but I don't obsess about it (more about that in the post linked above). Here are five simple ways to eat healthier, no obsession required.
1 | Cook and eat at home
When people come to visit us and see the way we eat (a variety of foods at every meal), they'll often say "I can't believe you two eat all this! How do you stay thin?" The answer is, unequivocally, we eat at home. Ninety-five percent of the time, we cook and eat our meals at home. We often enjoy bread with butter–real butter, never margarine (I don't believe in margarine); we consume lots of fruits and veggies, sure, but we also eat pasta and omelettes and tacos and grilled cheese and chocolate chip cookies, and we make it all in our own kitchen.
When we eat at home, we avoid so much junk found in restaurants. Hydrogenated oils, lots and lots of salt, tons of preservatives, excessive sugar, etc., and perhaps most importantly, portions at home are reasonably sized. Next time you see a "low cal" or "heart healthy" option at a restaurant, pull up the nutrition facts online. It's incredible to see how high the sodium levels can be, not to mention the sugar and nasty chemical ingredients. Eating at home avoids so many of these things (and saves a lot of money, too). Of course, we enjoy a meal out from time to time, but eating the vast majority of our meals at home is one way we keep our diets in check.
2 | Make heavy comfort foods yourself
This point is tied greatly into number one. Like most people, Riley and I love comfort foods every once in a while–macaroni and cheese, mashed potatoes, French fries (a personal favorite–here's how I make them at home), pizza, fried chicken, pasta, chicken 'n dumplings–you get the picture. I recognize that these foods are fundamentally not healthy (unless you substitute ingredients), but I guarantee that you can save hundreds of calories, lots of fat, lots of salt, and lots of preservatives by making them homemade when the craving strikes instead of getting fast food. (They'll taste better at home, too!)
So, when we're craving one of those things, we generally make it ourselves. That way, we still tackle the craving without a terrifyingly long ingredient list, exorbitant calories, and superfluous oil and salt. Have I convinced you yet to cook and eat at home? If you're not interested or can't cook most meals at home, start with the heavy meals. It makes a difference!
3 | Keep healthy foods in sight
"Out of sight, out of mind" is true for me, especially with regards to food. I make an effort to keep healthy snacks like apples, bananas, and oranges in a big fruit bowl on our kitchen counter. I can't tell you how many times I've meandered into the kitchen for a snack and have been "intercepted" by the fruit bowl. I'll grab a piece of fruit, go back to whatever I was doing, and be satisfied. In the fridge, I also keep a cucumber, carrot sticks, and lots of yogurt, and in the pantry I keep things like nuts and popcorn. For me (and most people), the easier it is the make a healthy choice, the more likely I'll do it.
4 | Don't keep junk food at home
This point ties into number three! If I don't have junk food in my house, I can't eat it. Of course, I could drive to the store when I'm craving this or that, but how likely am I to put forth that extra effort? Not very. Both Riley and I like to have some unhealthy options around, but we try not to go overboard. We typically have a bag of chips (sometimes a side at lunch), a couple of bars of chocolate that we'll pick off of at night, and a few frozen treats.
When we first got married, we did not subscribe to this rule at all. We were in the "Oh my gosh, we're married! This is so much fun! Let's buy all the food we've ever wanted!" camp. Our pantry was always stocked with lots of junk food. After a few months, we outgrew that mentality (so we wouldn't outgrow our clothes), and have since had just a little junk food around. We mostly save indulgence for "special occasions," like going to the movie theater, where we'll get treats without guilt.
5 | Replace rhythmic foods with something lighter
By "rhythmic foods," I mean foods we eat mindlessly because they're a part of our daily rhythm–whether they're healthy or not. For example: a big glass of orange juice in the morning, a candy bar after lunch, or dessert after dinner. I usually crave something sweet in the morning, so my longtime go-to was a glass of juice with breakfast. Unfortunately, juice has a lot of sugar in it but not a lot of nutritional value. I've started cutting my glass of OJ in half with sparkling water; it still tastes sweet and orangey, the fizz adds an interesting dimension, and I'm literally cutting my sugar intake in half. Similarly, I've replaced dessert with hot tea on most nights. The point is, if you can replace some of your "rhythmic foods" with lighter, healthier versions, it can be a good, easy step forward.
I have a lot more simple and non-obsessive ways to eat healthier in my back pocket, so be on the lookout for more posts like this in the future!
// How do you eat healthier without obsession?
Related: Why My Approach to Food is So Relaxed
Related reading: French Women Don't Get Fat (my brief review here) – affiliate link
Thank you for reading! You can find me online on Facebook, Instagram, Pinterest, Twitter, and YouTube. If you'd like to be alerted whenever I publish a new post, you can follow me on Bloglovin' or subscribe via email. Take a look at my Etsy shop where I sell tees, totes, sweatshirts, and pillow covers! Are you a blogger too? Check out my Blogger Mentorship Program.