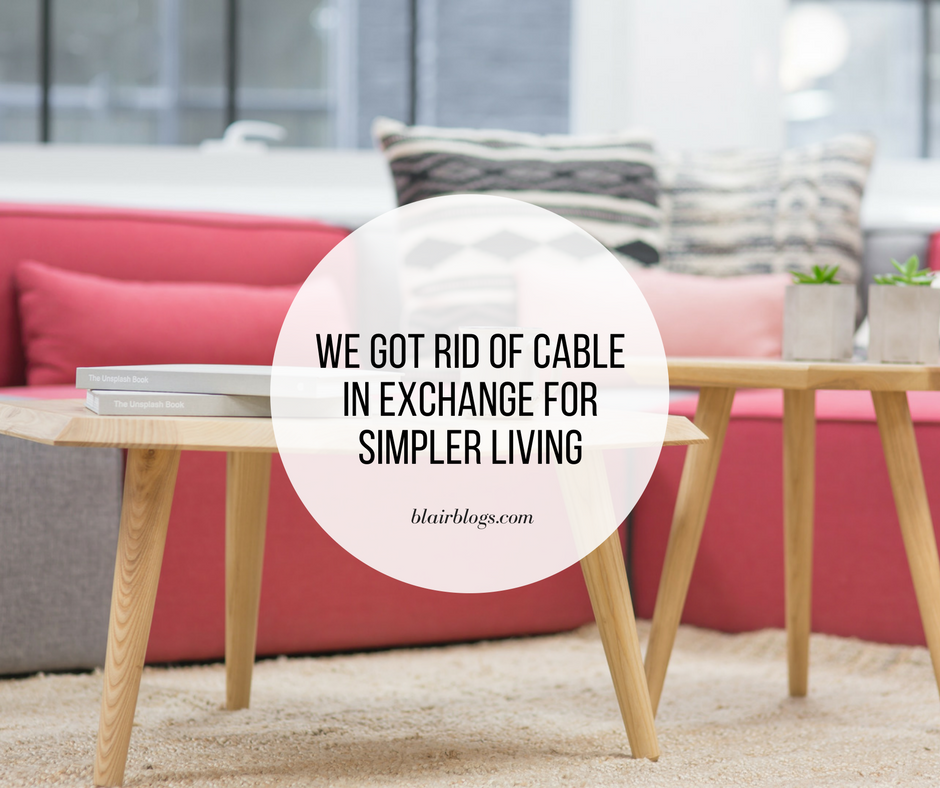 This is a big step forward for us: we got rid of cable! I know there are some people who are all "take it or leave it" when it comes to watching TV; I am not, and never have been, one of those people. I have long found comfort and refuge in watching hours of television most nights. It's a habit I have wanted to change for several years; in fact, in 2014,  I gave up watching TV completely for Lent. At the end of those 40 days, I found myself more well-rounded and happier as I spent time reading, exercising, with friends, or trying new hobbies/activities instead of zoned out in front of the screen. But within a few months, I was back to my old habits.
Here's my story: Growing up, we didn't have cable until I was 8 years old. We typically watched an episode of Arthur each morning (cutest show), but that was largely the extent of our screen time. I vividly remember my mom reminding us to "Go outside and play!" all year round. And that's what we did!
But in early high school, I found a hilariously old TV in our basement, so I rummaged around my dad's work room to find the correct cables, carried the 50 pound (albeit tiny) set to my pale green bedroom, figured out how to make it turn on, and made it mine. My father, who is an electrical engineer, was so impressed that I was able to get it working that he let me keep it in my room! Nevermind that it only went up to channel 50, I was thrilled. Thus began my exchanging a book for screen time before bed. My TV became my escape during those rocky high school years and I looked forward to many minutes in front of it each afternoon and evening.
Through college, my schedule was full. I didn't have a TV in my room, but my roommates and I readily enjoyed watching various shows and movies together. It was during this time that I began to realize that screen time could be a treat instead of constant background noise.
After I got married, my husband and I whittled down our combined three or four TVs to one, which we've always kept in our family room. I stopped watching the television to soothe me to sleep and got more into reading at night or taking a bath, both of which are much nicer ways to unwind. Throughout our entire marriage, and even before we tied the knot, we've talked about getting rid of cable completely. (And even getting rid of our television completely!) It comes up about monthly, and every time, we agree that we want to…but we don't want to…you know what I mean?
Finally, last week, while we were taking a walk, we finally agreed to do it! This story may sound needlessly overdramatized (and it kind of is), but I'm trying to get across that as sad/pathetic/silly as it may be, getting rid of cable, a longtime comfort for me, is actually a big step in my world! I know I'm not the only one who uses television as a relaxant, and giving that up isn't easy.
The reason why I'm finally ready isn't because I no longer enjoy watching TV (I do, and probably always will), but because I am committed to slow-paced, intentional living. I see the modern world and the havoc it's wreaking on families, and I want nothing to do with it. Kids addicted to screens before they can walk or talk, adults always, constantly on their phones, "family time" being a nightly zone-out in front of the TV set rather than conversing, playing a game, or doing anything together. This is not how I was raised and it's not how I want to move forward with my family.
I want shelves and shelves stuffed with books, closets full of board games, craft supplies, music playing, lots of hours spent outside–I crave these things deeply. I'm certainly not averse to technology or modern advances, but the world is throwing itself forward so quickly (and loudly), that I desperately want to maintain a home that actually feels like a quiet place of refuge and peace instead of being more noise. Being at this point, I'm truly excited to be done with hundreds of channels and so-loud-they'll-make-you-jump commercials. I see this as another small (but big) step toward simple living, and that makes my heart happy. If I can do it, anyone can do it.
// Have you ever gotten rid of cable? What was your experience like?
Thank you for reading! You can find me online on Facebook, Instagram, Pinterest, Twitter, and YouTube. If you'd like to be alerted whenever I publish a new post, you can follow me on Bloglovin' or subscribe via email. Take a look at my Etsy shop where I sell tees, totes, sweatshirts, and pillow covers! Are you a blogger too? Check out my Blogger Mentorship Program.