This is a sponsored post written by me on behalf of Chase. All opinions are 100% mine.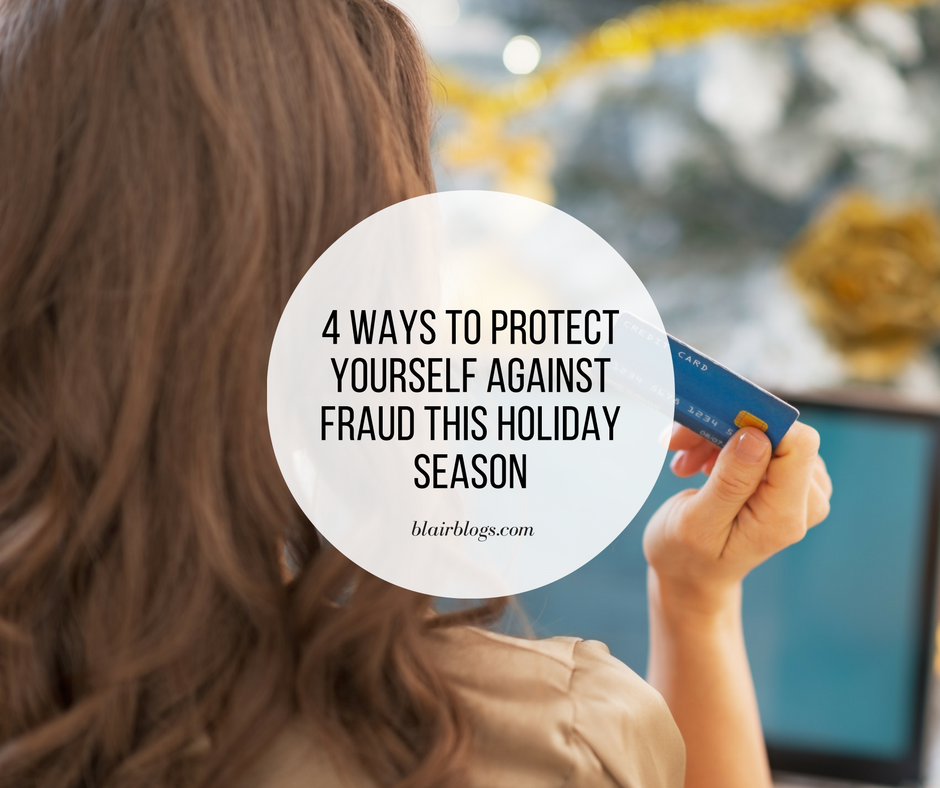 Let me tell you a story. A couple of weeks ago, Riley texted me just after arriving at work. Here was our exchange (please enjoy Riley's ever-on point GIF usage):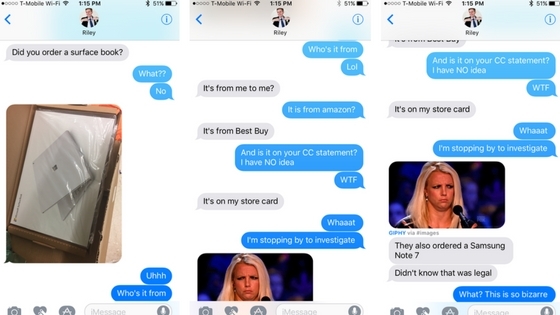 Turns out, someone had stolen Riley's credit card information, gone on an online shopping spree, and spent thousands of dollars on a laptop and cell phone. According to the police, they then used the address associated with the card as the shipping address so as to not raise any red flags and would've stolen the packages off the porch had they been delivered to a home address during the day when no one was home. Unfortunately for the thieves, the address they used was to Riley's workplace, where every package is signed for, so their plan was thwarted.
There are so many scary pieces to this puzzle: first and foremost, that someone stole his credit card information, but also that they were able to nail down the associated address and likely physically showed up at some point to "pick up" their packages. Additionally, the card number they used was for a business, so unlike a personal card, it wouldn't be as alarming for Riley or his coworkers to see a $1000+ charge. In a season as busy as this one, who knows if they would've noticed the charge?
Luckily, after a few calls to the credit card fraud department, everything was sorted out, the money was refunded, and the computer and cell phone returned. Something similar has happened to my parents on three or four occasions, and it happened to me when I was planning my wedding. It's really unnerving and violating to think that someone has access to your money, which is why it's critical that you are protected – especially around the holidays when you're using your card more often. Today, I'm partnering with Chase to share three ways to protect yourself against fraud this holiday season. Let's get to it!
4 Ways to Protect Yourself Against Credit Card Fraud
1 | Check your banking settings
Take a few minutes to sign up for account alerts so that your bank is able to notify you immediately of suspicious activity. Additionally, make sure your contact information is up to date so that your bank can contact you with ease and speed when necessary.
2 | Sign up for online statements
Sign up to access your credit and debit card statements online instead of in the mail, and monitor them every few days. Another smart move is to download your bank's mobile app so you can check your account on-the-go, especially during busy shopping seasons, like the holiday season. If you're in full-fledged holiday shopping mode, take a second to ensure that you're protected against fraud. It can and does happen, unfortunately–so be proactive!
3 | Be careful with public wi-fi
We're always on the go, especially during the busy holidays. But when you're at a local coffee shop or airport waiting for your flight, be extra cautious when using public Wi-Fi networks. It's best not to enter credit or debit card numbers or other private information when using public Wi-Fi, as many are not protected with encryption. But if you absolutely must, make sure you look for websites that begin with "https" – the "s" stands for secure!
4 | Make sure your credit card is protected
Chase takes customer security very seriously and has numerous fraud-detection tools in place to help protect customer accounts like 24/7 fraud monitoring and zero-liability protection, which means you won't be held responsible for fraudulent charges made with your account. If you're unsure of your credit card's fraud policy, look into it — it could cost you thousands of dollars. I've had an Amazon Rewards Card through Chase or the past three years, and I love it for both the outstanding fraud protection and the rewards. It's worth taking time to learn more about how Chase can protect you against fraud. It's worth taking the time to learn more about how Chase can protect you against fraud.
// Have you ever had your credit card information stolen? How did you remedy the situation?
Thank you for reading! You can find me online on Facebook, Instagram, Pinterest, and Twitter. If you'd like to be alerted whenever I publish a new post, you can follow me on Bloglovin' or subscribe via email. Check out my fun tees in my Etsy shop and listen to my weekly podcast about simplifying life, Simplify Everything! Are you a blogger too? Check out my Blogger Mentorship Program.