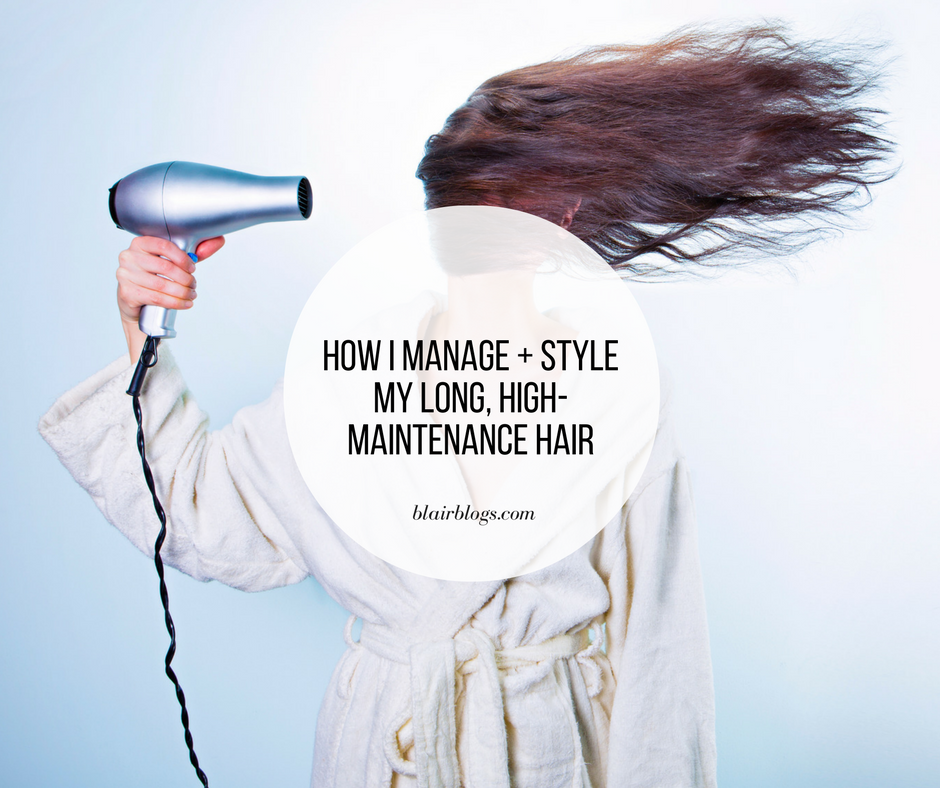 After releasing my latest podcast episode, 5 Things I Don't Simplify, I received numerous requests from listeners for a blog post explaining my hair care routine in greater detail. (If you didn't listen to that episode and want a little background, I talk about my hair starting at 6:00 minutes in!)
Basically, I have very long, very high maintenance hair. (High maintenance=fine but lots of it, very curly around my face but no where else, frizzy, combination wavy/straight in different places, etc.) I spend a great deal of time and money on it–much more so than any other beauty-related thing. It would likely be easier for me if I cut my hair short, but I prefer it long, so I keep it long. Today I'm sharing the details about maintaining my long locks as well as the products I use to keep it strong and healthy. This post contains affiliate links.
How Often I Wash My Hair
I used to wash my hair every other day like clockwork. The longer it got, the more of a chore washing it, drying it, and styling it became. Finally, I decided I was willing to go through a few greasy months if it meant that my scalp would stabilize and I wouldn't have to wash it quite as frequently.
Now, I wash my hair every third or fourth day. (I still wash my body every day or every other day!) This change of pace has given me back years of my life. Okay, dramatic. But it saves me a lot of time, and my hair is healthier, so it's been a win-win.
Keratin Treatments: Why and How Often
Keratin treatments are to be done by a professional stylist and are smoothing treatments that reduce frizz, make hair softer and more manageable, and cut blow-drying time in half. They last about 6 months in my experience. (Shorter if you wash your hair more often than I do.) They're pricey–anywhere from $100-$500+–and they take about three hours to complete. Once the treatment is done, you can't get your hair wet at all for three days.
I got a Keratin treatment right before my wedding and another nine months later. I plan on getting a third sometime this fall or winter. They are legitimately life-changing, and this time I'm not being dramatic! I love my hair when it's treated with Keratin–it looks great, feels great, and is so much easier and faster to style.
What I Use in the Shower
I've tried all kinds of different shampoos and conditioners and have found a few that I like best. Currently, I'm using Alba Botanica Hawaiian Plumeria Shampoo and Conditioner. I've never colored my hair in any way (except for Sun-In as a teenager), but this super gentle formula for colored hair works well to keep my hair soft and manageable without stripping it. Plus, it smells amazing. I'll continue buying this until my hair stops reacting well to it.
In the warm weather, I don't use a deep conditioning hair mask. When the weather is colder I go back and forth between It's a 10 Miracle Hair Mask and Fekkai Prx Reparatives Mask. Both are incredible and smell lovely.
What I Use to Style My Hair
Unfortunately, my hair is not wash and wear hair–meaning that I can't jump out of the shower, comb it, and move on. I blow dry and style it 95 percent of the time (the five percent of the time when I don't is when it's 150 degrees outside and the thought of a blow dryer makes me melt on the spot). Here's what I do:
1) Detangle
Lately, my hair hasn't been tangled much, but when it is, I first apply a light mist of either Pantene Pro-V Repair Light Detangler or Garnier Whole Blends Refreshing 5-in-1 Lightweight Spray all over my damp hair and then brush it out with a Goody Frizz-Controlling Finish brush. I've hear great things about Wet Brushes, so I plan on purchasing one the next time I see one! (I can't stand long wet hair and combs. Way too much work.)
2) Blow Dry
Once it's detangled, I always let my hair air dry while I get dressed, put on my makeup, clean up the house, eat something, answer emails, etc. I like it to be about 25-30 percent dry before I start blow drying it.
Before I blow dry it, I apply a light mist of It's a 10 Miracle Leave-In Product, especially around my face where my hair is super curly (weird, right?), and then a tiny dime-sized drop of Obliphica Seaberry Hair Serum to my ends.
I blow dry with a BaBylissPRO Tourmaline Titanium 3000 Dryer (with the nozzle attachment) using a Conair Round Brush around my face and a Goody Ceramic Vent Brush for the rest of my hair. This takes me about 10 minutes, more or less.
3) Style
My hair holds styles well, so I don't apply any other products to my hair at this stage. Sometimes, on a particularly humid day, I'll apply some light hairspray, but not usually.
I style my hair with either my Professional Curler, my Hot Tools 1″ Curling Iron, or my CHI Flat Iron. Sometimes I use the flat iron in conjunction with one of the curling tools to achieve my desired look. Styling my hair generally takes between 10 and 20 minutes.
Storage
To store my hair-related products and tools, I use a small drawer in our bathroom vanity and a caddy that I store under the sink. In the drawer, I keep my headbands, hair ties (my favorites are Goody Stay Put High Performance Hair Band Ties), and clips, as well as my everyday brush (the Goody Frizz-Controlling Finish brush). In the caddy, I keep my styling products, styling brushes, blow dryer, and styling tools. This makes for easy access and easy cleanup–which makes for a tidy bathroom!
…and that's how I manage and style my hair! 🙂
// What's your favorite hair-care product, tool, or trick?
Thank you for reading! You can find me online on Facebook, Instagram, Pinterest, and Twitter. If you'd like to be alerted whenever I publish a new post, you can follow me on Bloglovin' or subscribe via email. Check out my fun tees in my Etsy shop and listen to my weekly podcast about simplifying life, Simplify Everything! Are you a blogger too? Check out my Blogger Mentorship Program.