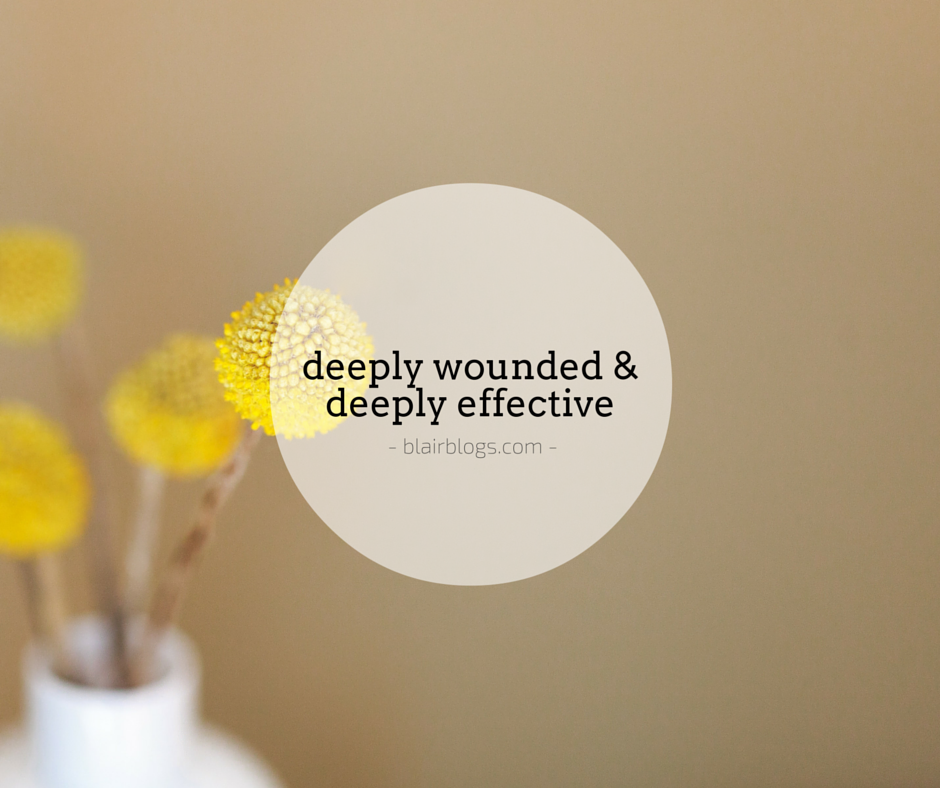 This is a repost from the archives. This post was originally published in March of 2016; it is one of my favorite posts of the past four years of blogging.
We're all wounded. We can hide behind staged photos and plastered smiles, but we all live with real hurt. We all have aches and bruises and pain. Every one of us.
I used to buy into the lie that some people's souls are perfectly polished and whole, no dings or dents. No wounds. Then, I spent a couple of years working at a church in ministry. During that time, I had the privilege and responsibility of supporting others in their faith walks. My delusion burned off and I quickly learned how broken we all are, how wounded.
Adults who still struggle deeply with feeling abandoned by their mom or dad as a child. People whose spouses decided their marriage wasn't worth fighting for were left feeling worthless themselves. Teenagers with parents who don't trust them because "they know what they were like as a teenager," causing resentment and anger to build. People who have dealt with the painful ripple effect of addiction running rampant through their family. Words that were spoken in anger now etched deeply in hearts, ugly lies that have become identity. A bad financial decision or a bad business decision becomes the source of deep-rooted regret and shame. Children living with bleeding, broken hearts because of their parents' constant fighting. People who have experienced the death of someone they loved so much that their absence makes them feel physically ill. So much brokenness.
It's all of us. We all walk around with heart-wounds and soul-pains, with hurt that gets triggered by words or events. We all bear heavy burdens that make us ache, we all have memories that sting. This is true.
But I want you to know that this is true, too: you can be deeply wounded and deeply effective.
In fact, it's possible that the most deeply wounded among us turn out to be the most effective. The trick is to find healing, peace, and acceptance for what has hurt you–not because you condone it, but because you accept yourself, wounds and all. You can't skip this step; there's no level-jumping here. It's so important to find healing first because, as the old adage goes, hurt people hurt people. You were created by a God who knows you fully, accepts you completely, and loves you wildly. Healing is absolutely possible. You can overcome.
When you can look at your most painful pain head-on, when you can address what has weighed heavy on your heart for years, when you can think about those gut-wrenching words that were spoken to you and know this neither controls nor defines me, you suddenly become free. Healing begins. You become effective.
Effective at sitting across a café table from someone who is dealing with pain, holding her hand, and reminding her that she'll be okay because you've been where she is, and you're okay too. Effective at teaching–teaching boundaries, teaching self-care, teaching healthy relationships, teaching truth. Your mess can become your ministry. You become an effective leader because you will lead from a place of empathy and compassion, not one of importance, self-righteousness, or fear. You can effectively live in freedom…because when your deepest wounds lose their power over you, you're no longer enslaved.
And when anyone has lived a life with wounds, but decides that they neither control nor define her, she thus empowers others to do the same. Mostly because she has proved that it can be done. It's this invitation: I'm an overcomer, will you be one too?
Sometimes deciding that your hurt isn't going to control or define you is just a choice. A decision, and then a step forward toward God and away from the pain. Many times, however, it is not so fast or simple. Healing may require therapy or counseling. It may require rehab. It may require a complete lifestyle change, a total reworking of relational boundaries. It may require legal advice. Healing may require a conversation that you've put off all your life. Healing will demand your time, your energy, your presence of mind. It will drain you. But it's worth it.
Consider putting spoken words to your hurting soul–just bringing your pain to the light can be an important first step. Say it outloud: this hurt me. Similarly, if you're stuck in a sin pattern, find someone you trust and put words to that, too (James 5:16). You may have to learn forgiveness, which is profoundly challenging, but profoundly life-changing.
Talk to our God. He can do anything, and He has the supernatural ability to heal your heart (Psalms 147:3). Sometimes, it will be instantaneous. Other times, He may see it fit for you to walk through many healing steps, perhaps so that you'll learn more or draw closer to Him. He knows what you need. He wants you to feel whole.
No matter what your journey looks like, I am assured of this: our God wants you to find healing and freedom. He wants those deep wounds to close up and heal so that you can be the effective, empowered person you were created to be. "The Lord is close to the brokenhearted; he rescues those whose spirits are crushed," Psalm 34:18 (NLT, emphasis mine).
I have personally undergone deep, soul-level healing in the past couple of years. Some of it has been letting go of hurt and covering that pain with Jesus' love. It's been moving forward, taking the lessons learned and pressing on. Some of it has required lots of therapy. There has been crying and praying and long, long conversations. But I've come so far. I've grown so much. All glory to God! Healing is so possible and it is so important.
There will always be setbacks, more wounds, more pain. This world is full of it! (Much of it from hurt people, who are–you guessed it! Hurting people.) But think of the joy, the freedom, the healing found in Christ. How much more abundant is His love. I want to encourage you today to do the hard work of healing. Take the first step. May you recognize your deep wounds and have the courage to address them. No matter how broken you feel, my friend, you're never too broken. You can feel whole again.
Don't worry about anything; instead, pray about everything. Tell God what you need, and thank him for all he has done. Then you will experience God's peace, which exceeds anything we can understand. His peace will guard your hearts and minds as you live in Christ Jesus. Philippians 4:6-7 (NLT)
// If you want to discuss the process of going from deeply wounded to deeply effective privately, please email me. I would love to pray for your heart. If you've experienced profound healing in your life, comment below. I'd love to share in your joy!
Thank you for reading! You can find me online on Facebook, Instagram, Pinterest, and Twitter. If you'd like to be alerted whenever I publish a new post, you can follow me on Bloglovin' or subscribe via email. Check out my fun tees in my Etsy shop and listen to my weekly podcast about simplifying life, Simplify Everything! Are you a blogger too? Check out my Blogger Mentorship Program.