I am not a veterinarian or medical professional of any kind; always consult a licensed veterinarian in the event of an emergency. This is simply my personal experience.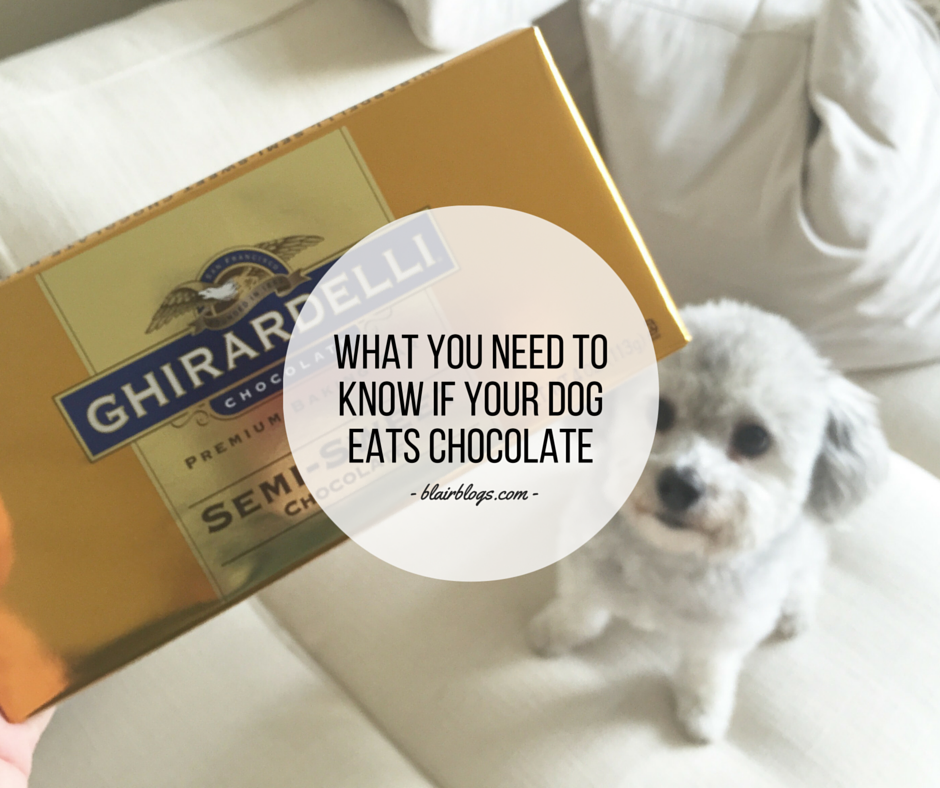 Last Friday evening, my husband Riley and I were getting ready to go out to dinner when our 10 pound dog, Charley, trotted into our room carrying the cardboard sleeve of a Ghirardelli chocolate bar. Immediate panic set in. We ran out to the living room to find shredded gold foil that once covered the bar and no chocolate in sight.
Did we leave chocolate out? How did he get into it? How much of that bar did you eat last night? Was there anything left? Call the vet! Call the vet! Call the vet! Where's the closest pet ER?
This may sound overdramatic, but there are few times in my life that I've been so completely panicked, frazzled, and terrified. We are diligent about keeping any kind of food out of Charley's reach and we don't even allow him in the kitchen when we're baking or eating chocolate. But, evidently we failed to put the rest of the chocolate bar away after we finished munching on it for dessert on Thursday night. We had been sitting on the couch, and after we'd each had a couple of squares, we put it in the tray on our ottoman. We completely forgot to put it up before we went to bed.
The bar sat on the ottoman tray from Thursday night through Friday evening, when Charley ate the remainder of it. I'm shocked he ate it at all since he hates anything sweet, but it was a milk chocolate sea salt and almond bar, so perhaps that was a little more appetizing. Regardless of the how or why, we were faced with a truly terrifying situation that neither of us were prepared to deal with. Being such diligent dog owners, we never thought we'd encounter this situation. Truly, it could happen to anyone. Accidents are very real.
Today, I'm going to share important information in the case that your dog eats chocolate. Though there are a plethora of resources on the web, we couldn't find one that was comprehensive, which was excruciatingly frustrating in the panicked moments after we had discovered what had happened. If you're a dog owner, please bookmark this post to reference in the unfortunate case that you need this information and pay close attention to the emergency phone numbers and proactive measures at the end of this post.
(Clearly there are hundreds of other things that are poisonous to dogs (view a full list here). However, according to the Pet Poison Helpline, 95 percent of their incoming calls are due to dog chocolate ingestion. That fact, coupled with our experienced, sparked this post. I could write about each toxin individually, but that's not my plan or intent. Today, I'm talking about chocolate specifically because it affected us and is apparently very common.)
Why is chocolate toxic to dogs?
Chocolate contains methylxanthines (specifically, caffeine and theobromine), both of which can cause various medical complications or fatality in dogs. The amount of caffeine and theobromine in chocolate varies based on the type of chocolate (see below for more information). A general rule of thumb is that the darker and more bitter chocolate is, the more toxic it is.
Humans are able to process methylxanthines, unlike dogs, which is why chocolate is not poisonous to us.
How much chocolate is lethal to a dog?
The type of chocolate that your dog consumes matters; some is more poisonous that others. Below, types of chocolate are listed from least toxic to most toxic.
White chocolate (least toxic)
Milk chocolate
Dark semisweet
Unsweetened baker's chocolate
Dry cocoa powder (most toxic)
Whereas a 50 pound dog could eat 8oz of milk chocolate and show only mild sickness, just 1oz of baking chocolate could kill him. You can view the approximate caffeine and theobromine content of the different types of chocolate listed above here and the same information for common household chocolate items (like peanut M&Ms or Hershey's syrup) here.
If you know the type and amount of chocolate that your dog has consumed, you can use this Chocolate Toxicity Meter to determine the approximate severity of the situation.
Signs and symptoms of chocolate toxicity
Vomiting
Diarrhea
Agitation
Seizures
Rapid breathing
Increased body temperature
Increased reflex responses
Elevated heart rate
Abnormal heart rhythms
Hyperactivity
Muscle rigidity
Tremors
Collapse
What you should do if your dog eats chocolate
Determine what kind and how much chocolate your dog has consumed. (Your vet will need this information to determine the severity of the situation.)
Immediately call your local vet (or Pet Poison Helpline 855-764-7661, $49 fee applies).
Follow steps as recommended by your vet.
What we did
After we discovered that Charley had eaten chocolate, here's what we did:
I completely panicked, screamed, and cried while my husband attempted to figure out what to do next. (I do not recommend this. Remaining calm helps everyone.)
Determined that he had probably eaten about 0.75-1oz of milk chocolate.
Called our local pet ER.
Because it had only been minutes since ingestion and the amount was relatively small, we were advised to give Charley a syringe of hydrogen peroxide orally in induce vomiting instead of coming to the office.
After he had ingested the hydrogen peroxide, Charley vomited within 10 minutes.
His vomit clearly contained the chocolate that he'd eaten, and we called the pet ER again.
We were advised to monitor him closely for the next 24 hours and call back if anything seemed off.
Given his body weight (10 pounds), Charley would have had to eat more milk chocolate than he did for there to be a serious health risk of toxicity or fatality. Regardless, we were deeply concerned for his health, especially because we were uninformed and ill-prepared.
Charley never showed any outright signs or symptoms (likely because he vomited within 20 minutes of ingestion), and acted normal for the following 24 hours. We are thankful that this situation ended well and will be more diligent in the future. Should another emergency arise with Charley, we'll be more prepared.
What you should do proactively
Obviously, keep all chocolate–especially cocoa powder and baking chocolate–completely out of reach of your dog at all times
Save your local vet's number in your phone
Save your local pet ER's number in your phone (your vet may be closed when you need help)
In the case that you can't get in touch with your local vet or pet ER, save the Pet Poison Helpline Number ((855) 764-7661, $49 fee applies) and ASPCA Animal Poison Control Center ((888) 426-4435, $65 fee applies) in your phone
Bookmark the Chocolate Toxicity Meter in the event of an emergency
Keep a bottle of hydrogen peroxide on hand at all times
Keep a syringe on hand at all times (like this one, affiliate link)
Emergency phone numbers
// Has your dog ever ingested something toxic? What was your experience like?
Sources used to write this post: PetMD, Pet Poison Helpline, ASPCA
Thank you for reading! You can find me online on Facebook, Instagram, Pinterest, and Twitter. If you'd like to be alerted whenever I publish a new post, you can follow me on Bloglovin' or subscribe via email. Check out my fun tees in my Etsy shop and listen to my weekly podcast about simplifying life, Simplify Everything! Are you a blogger too? Check out my Blogger Mentorship Program.
Use the image below for Pinterest