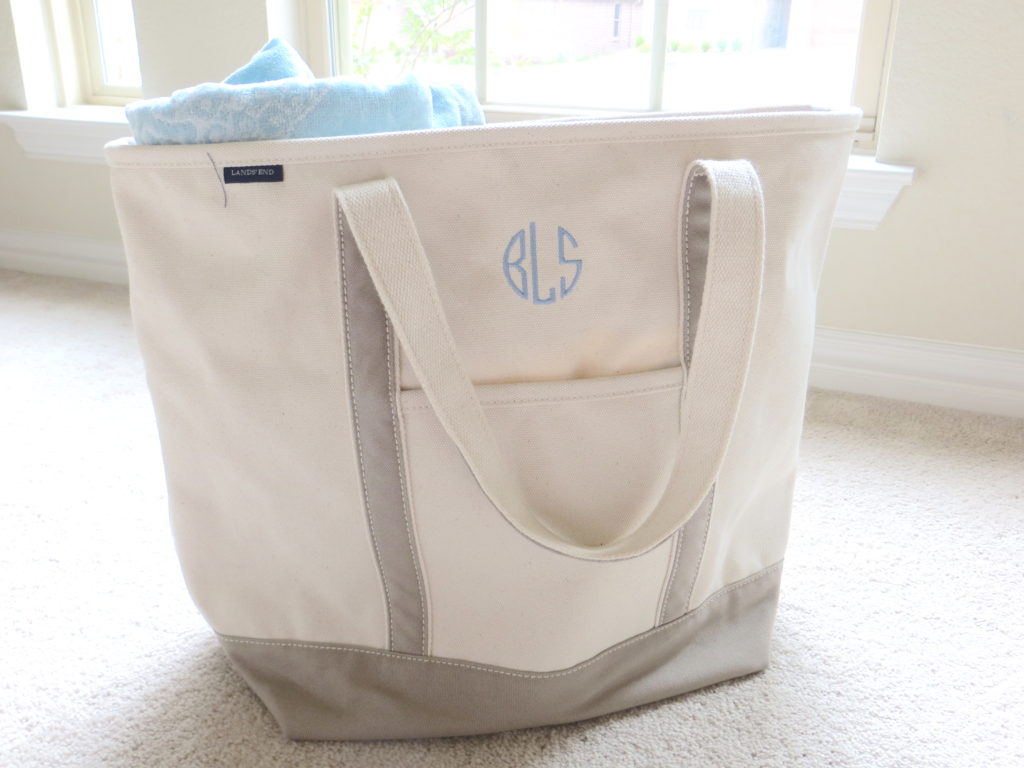 If you'd prefer, there is a detailed "What's In My Beach Bag" video embedded at the end of this post; link to view on Youtube here.
I grew up going to the beach every summer as a child since we lived in Maryland, just a few hours from the shore. Ever since I can remember, loading up the car and driving to the salt air has been the highlight of my favorite season. I absolutely love spending time at the ocean with my family. All these precious years of beach-going later and I have a solid method for packing my beach bag. Today I'll share what's inside it.
First, my bag. It's the Land's End Large Natural Canvas Tote with regular-length handles and a zip top in the natural/khaki pebble color. My monogram is the circle initial style in cajun blue thread. I've used a turquoise medium Land's End canvas tote as my beach/pool bag for years, but decided to upgrade to a large size this year when I was looking for a new beach bag since my old one (of 10+ years) had my maiden name monogramed onto it and was starting to wear out.
This size is perfect because it allows me to carry my beach essentials as well as my husband Riley's. The tote easily fits two towels, two books, and everything else we take with us to the beach. Additionally, I love the zip top (something I didn't have before) because it protects the items within the bag from sand and water.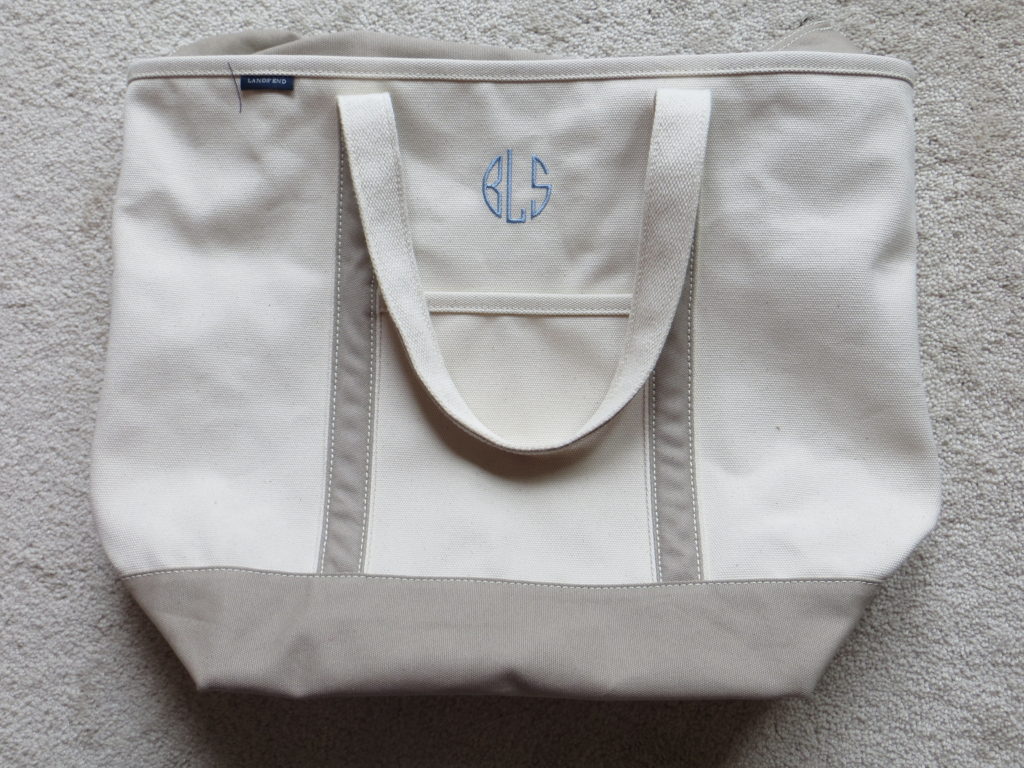 Inside my beach bag, I carry a few things. I'll go through them one by one and offer a short explanation as to why/what I use each item for. (If I link to an item on Amazon, it's an affiliate link, meaning that the price does not change for you but I receive a small percentage of the sale.)
// Towel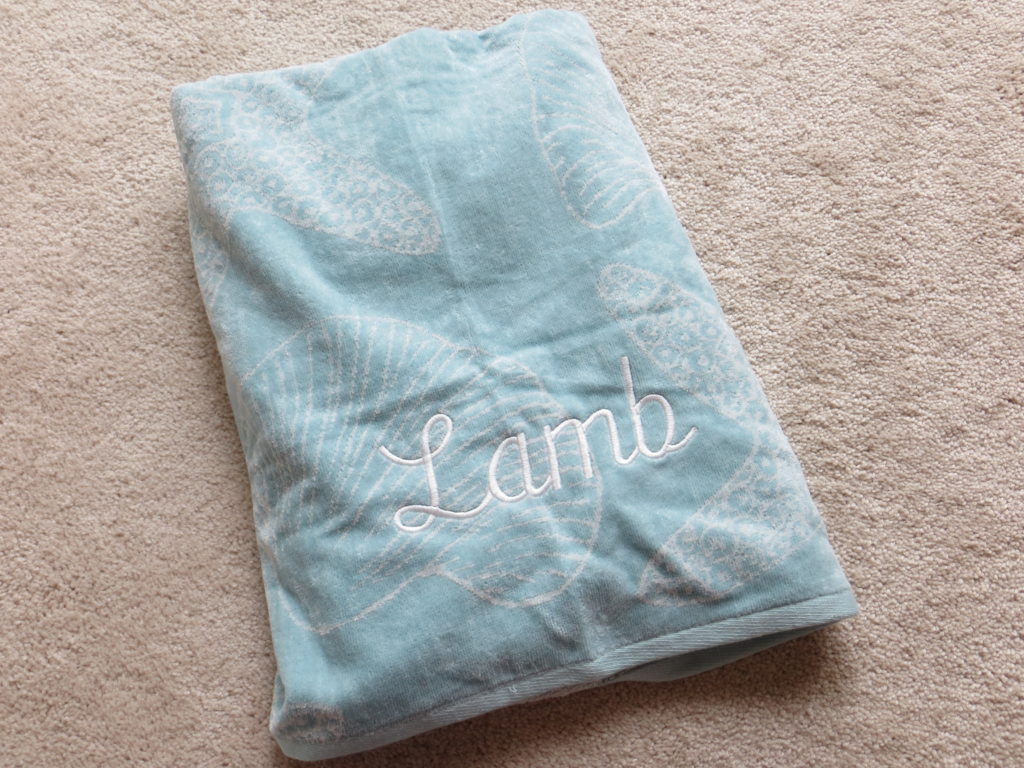 Of course, I always carry a towel with me to the beach. We have two Aquatic Oversized Beach Towels from Bed Bath & Beyond that I bought on sale for $15 and then had monogrammed (at my husband's shop) with our last name. We go to the beach with lots of family, so monogrammed towels are helpful when it comes to keeping track of belongings.
// Hat and Sunglasses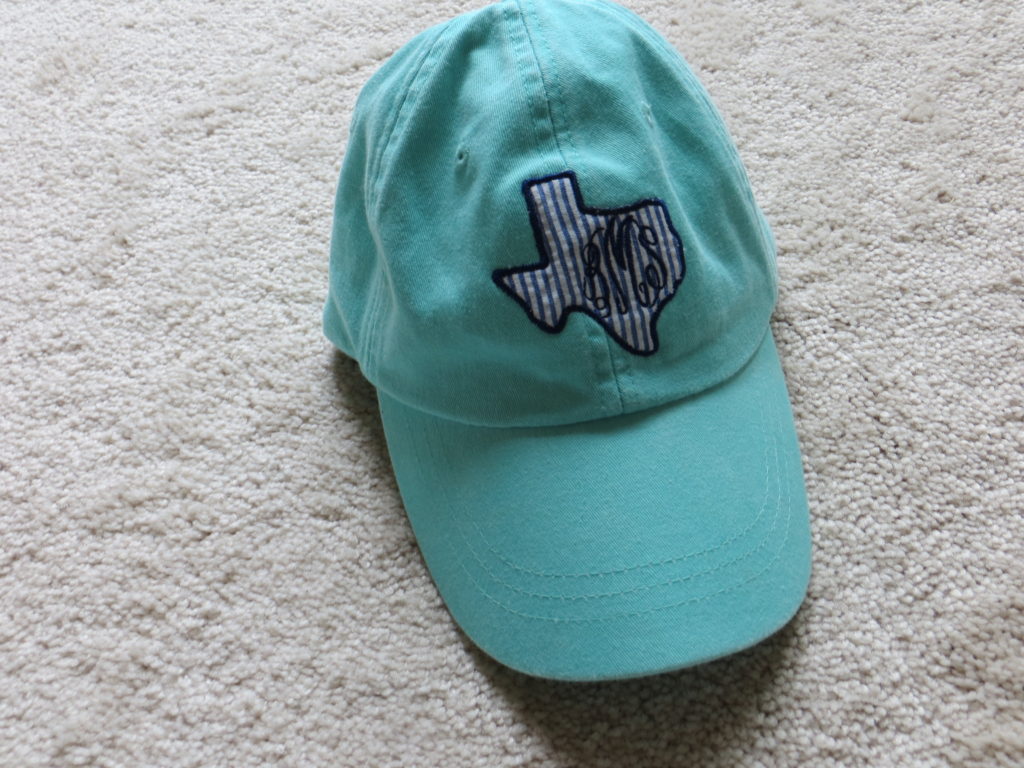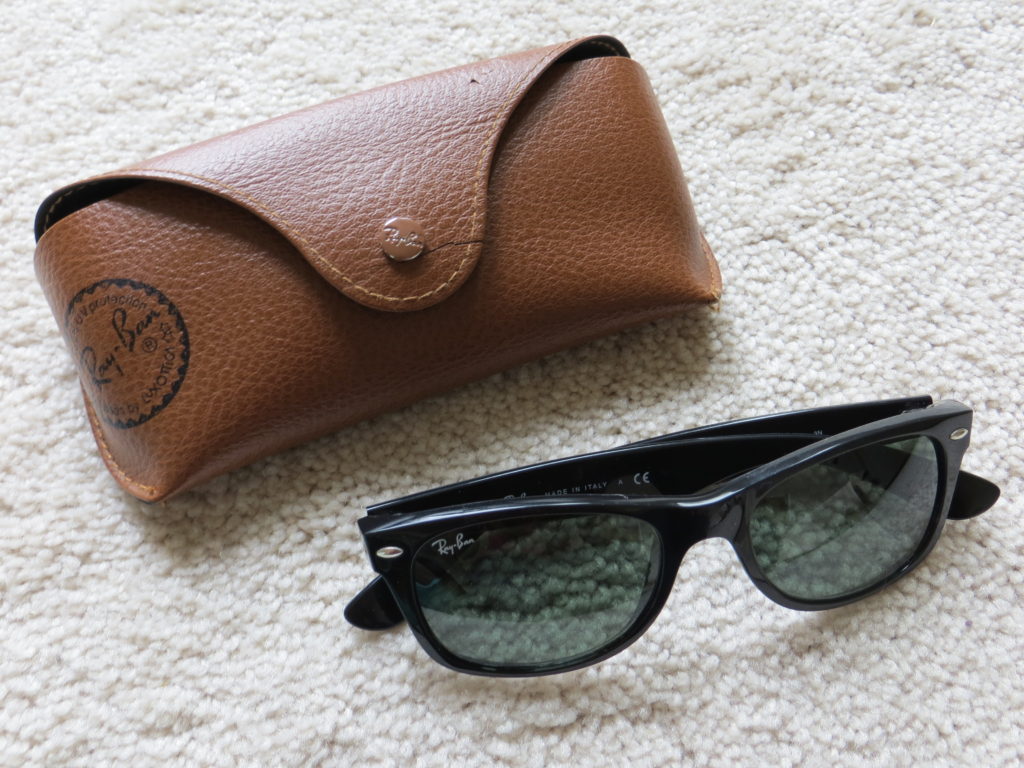 In the hot sun, I always wear sunglasses and sometimes wear a hat, depending on how windy it is and the time of day. I got this hat as a gift (it's from Etsy I think) and continue to wear it even though it has my old monogram on it because it's still in great shape! My sunglasses are Ray Ban Wayfarers.
// Big T-Shirt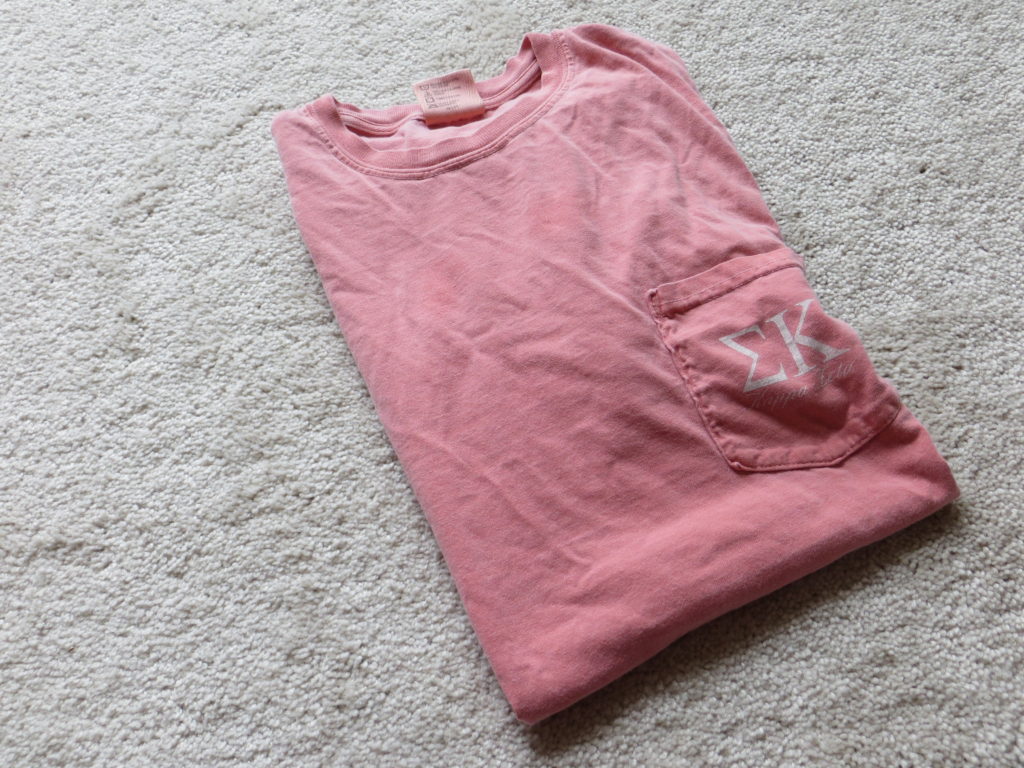 I am really careful about protecting my fair skin. Often, I put a big t-shirt over my bathing suit in the afternoon to block some the sun from burning my shoulders, chest, and back. This one is a beloved old super-soft tee from my college sorority!
// Headphones and Cell Phone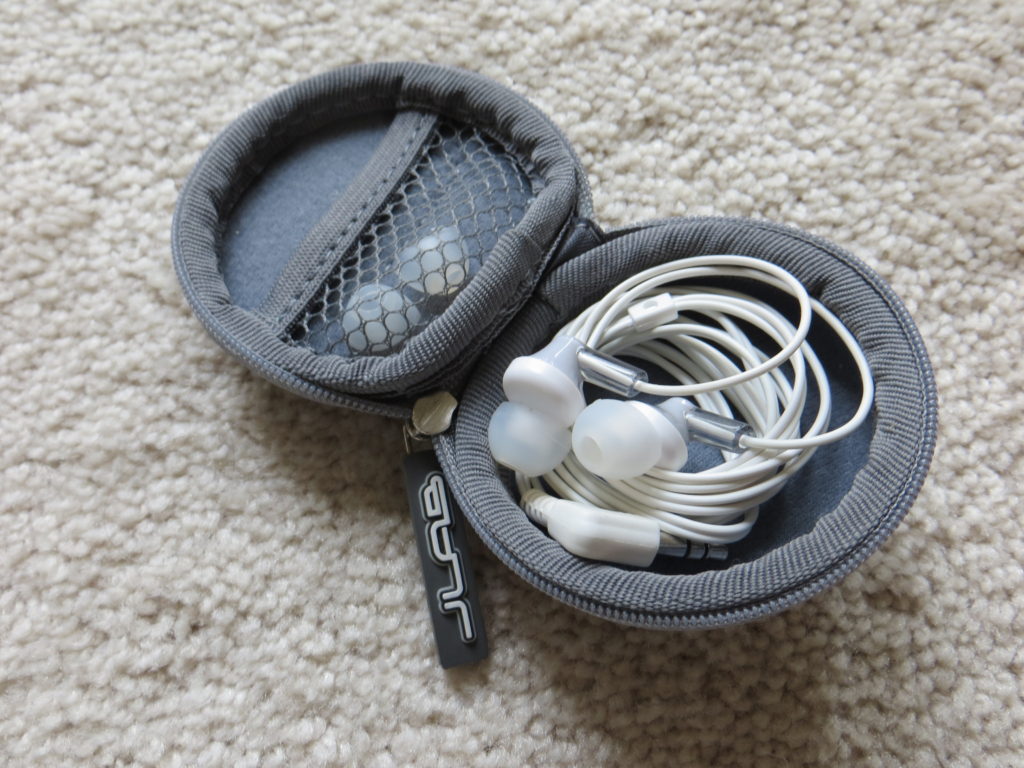 Although I usually just listen to the waves, sometimes I like to play music while I relax on the beach. For this reason, I always pack my JLab headphone case with my Panasonic ErgoFit headphones in it. They're protected from the sand and water but are readily accessible if I want to use them.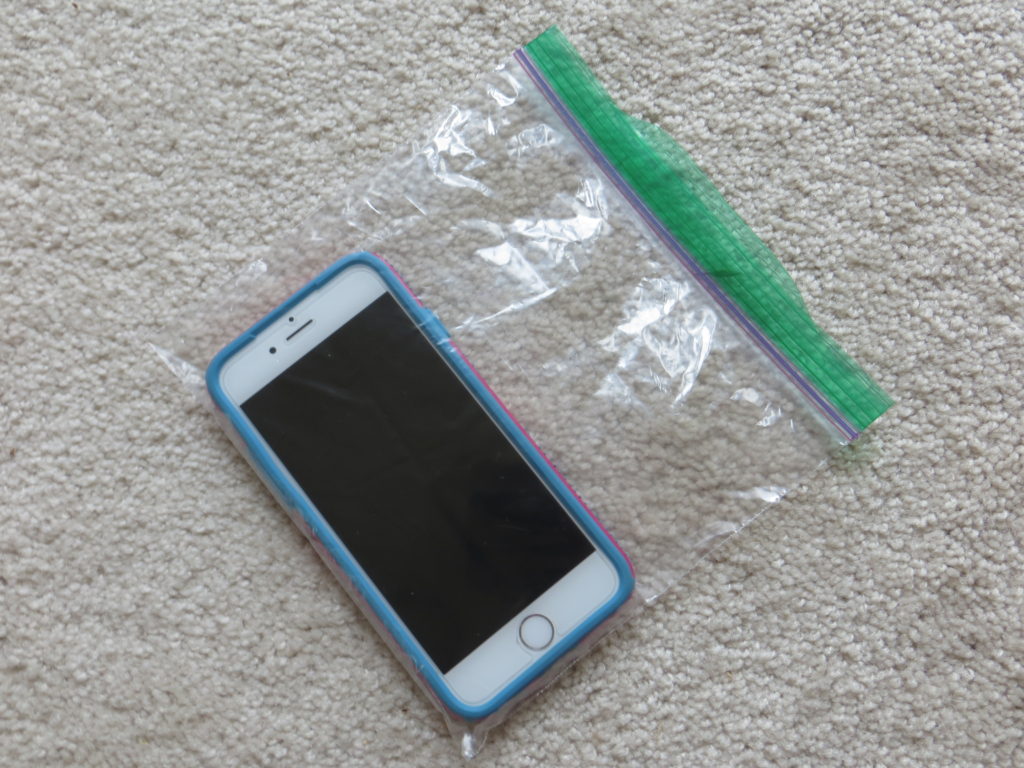 I barely use my phone when I'm at the beach except to snap a photo every once in a while, but I like to have it with me to do that or listen to music. I always put my phone in a plastic bag for protection from sand and water, but I can still use it through the bag (it'll even read my fingerprint and unlock!).
// Water Bottle (and Snacks!)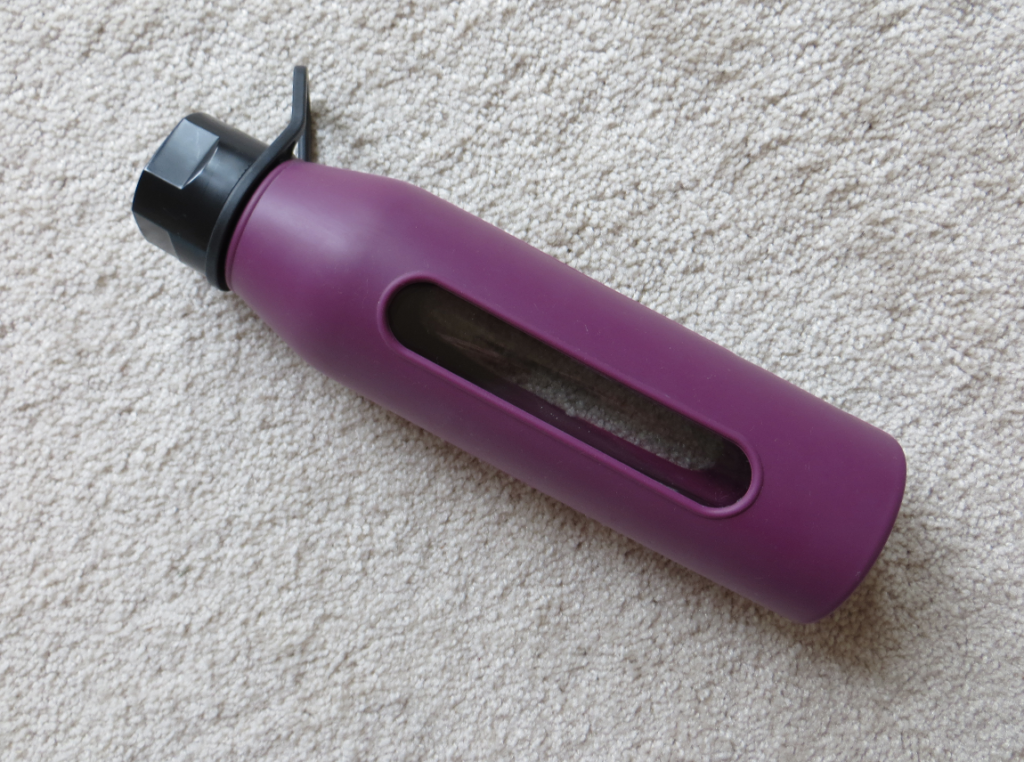 Water is critical during a hot day at the beach! I love my Takeya Classic Flip Cap glass water bottle and like to freeze water in half of it before using it during the day. I also make sure to bring some snacks with me like cubed watermelon, trail mix, or pistachios because I tend to get dizzy when I'm hot and hungry.
// Waterproof Cosmetic Bag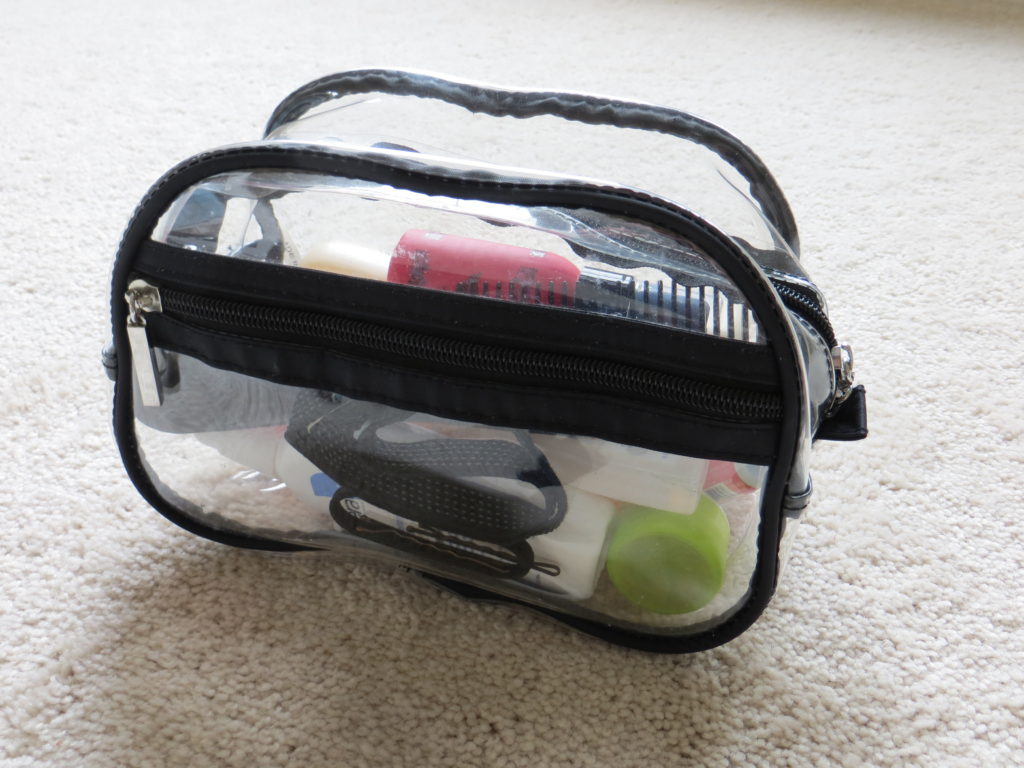 Inside my beach bag, I keep a small, very inexpensive, waterproof clear plastic cosmetic bag (like this one or this one). It holds my facial sunscreen of choice, CeraVe Facial Moisturizing Lotion with SPF, and two body sunscreens (for Riley and I to share), Ocean Potion SPF 70 and Hawaiian Tropic SPF 30–both of which smell and feel amazing. I'm incredibly picky about body care products, and these three brands of sunscreen are all winners.
As far as hair care, I keep hair ties, a stretchy headband, and a couple of bobby pins, a comb, and detangler (I got a small bottle of Beauty Protector Protect & Detangle from my Birchbox–referral link). Additionally, this bag holds chapstick with SPF, Visine Redness Relief Eye Drops, and a Human Gear container with Advil.
(As far as makeup, I usually only wear mascara to the beach–if that–so there would be no need to carry products to touch up. At the beach, I'm all about a no-fuss look!)
If you want to know more about each of the items I've mentioned here, I explain them all in more detail in the video below.
// Book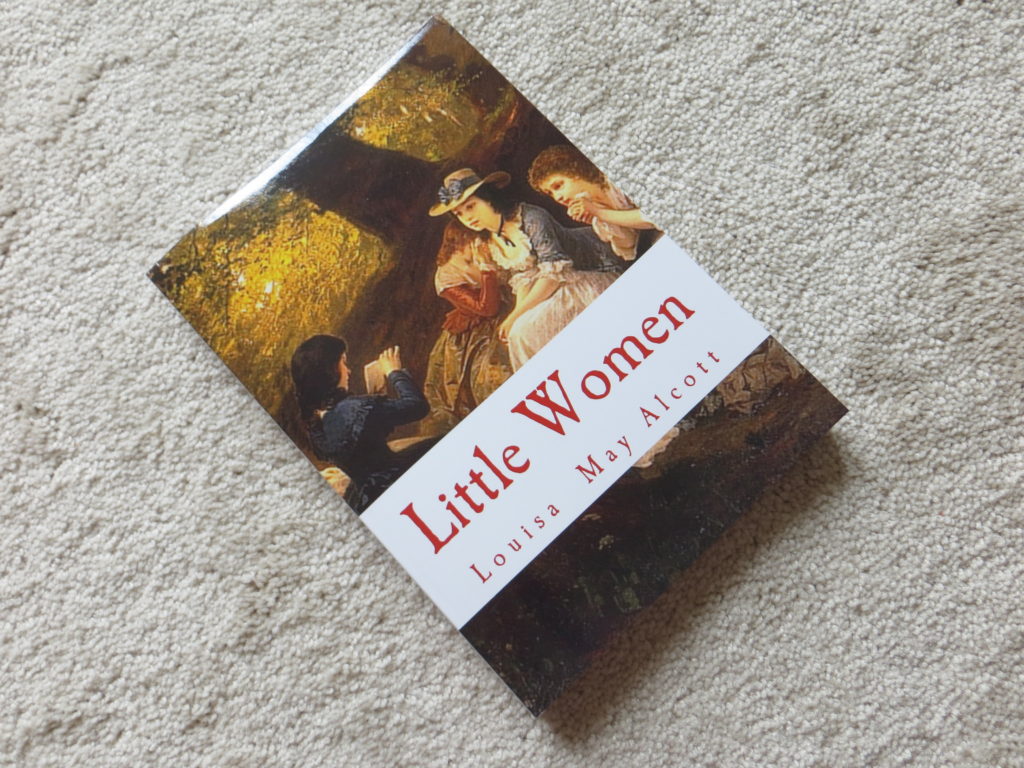 My favorite place to read is sitting on the beach with the waves crashing as my background noise. I just love it! There have been summer beach vacations in the past when I've nearly read a book a day. This year, I got a copy of Little Women (the unabridged version, which is why it's so big), which is a book that I can't believe I've never read! Being that it's a beloved classic, I really look forward to pouring over the pages!
(I do have a Kindle, and have brought it to the beach in the past, but I've had problems with sand getting into the crevices, so I stick to paper books when I'm on vacation.)
Here's a detailed video offering further explanation of each item and more shots/angles if you're interested. You can watch it below or on YouTube here.
// Are you a beach lover? What's in your beach bag?
Thank you for reading! You can find me online on Facebook, Instagram, Pinterest, and Twitter. If you'd like to be alerted whenever I publish a new post, you can follow me on Bloglovin' or subscribe via email. Check out my fun tees in my Etsy shop and listen to my weekly podcast about simplifying life, Simplify Everything!
Use the image below for Pinterest.