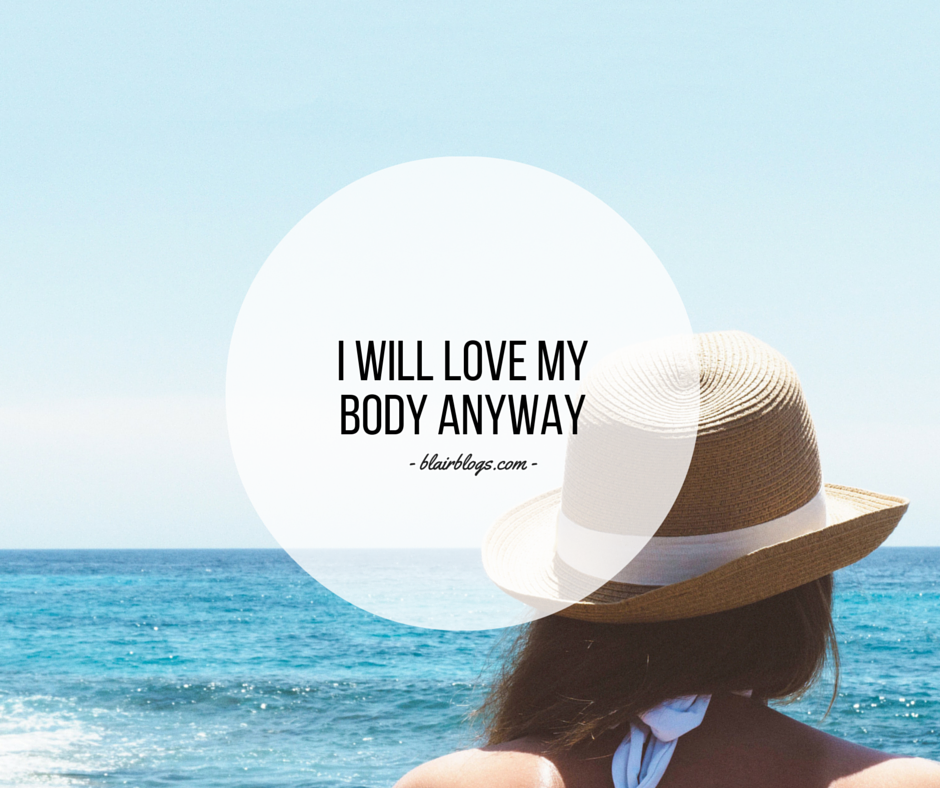 It's peak season for body envy, body jealously, and body negativity of every kind. The hot weather means that most of us are wearing less clothing in an effort to stay cool and comfortable. It also means that it's harder to ignore self-image issues like we can when we're covered in the winter months. The summertime feels like the blinders have been ripped off, and that can be hard.
Friends, we obsess about this much too much. Life is a fleeting, unpredictable gift and we're never promised tomorrow. All this glory, all these beautiful moments and we're worried about how we look? We're spending hours hating these blessed bodies? Why?
So, say it with me: I will love my body anyway.
If I put on a bathing suit and wish it fit differently, I will love my body anyway.
If I've set health goals for myself, but I'm not there yet, I will love my body anyway.
If stretch marks march across my tummy, hips, butt, and breasts, I will love my body anyway.
If I haven't lost the extra pounds I set out to lose, I will love my body anyway.
If I wish I were shaped different–more well-endowed, or less so–I will love my body anyway.
If my hair is out of control and wild and frustrating, I will love my body anyway.
If I look at airbrushed models with Photoshop on their side, I will love my body anyway.
If my thighs are rippled with cellulite, I will love my body anyway.
I will not compare myself to manufactured perfection.
I will not hate the skin I live in.
I will not stand naked in front of the mirror, poking and pulling and squeezing and hating.
I choose to be healthy and strong both physically and emotionally; I choose to love my body–in spite and because of its imperfection.
"I praise you because I am fearfully and wonderfully made;
    your works are wonderful,
    I know that full well." Psalm 139:14, emphasis mine
When you feel insecure and ashamed this summer, when you wish everything was tighter and smoother and more beautiful, throw those negative thoughts out like the garbage they are and love your body anyway.
If we decided as women to cherish our precious bodies, however imperfect, we would empower our mothers and sisters and aunts and daughters and friends and everyone to do the same. Do something crazy this summer: love the body you're in.
(If this feels impossible to you, consider talking to someone. Therapy is life-changing. And as always, I'm available to chat by commenting below or emailing me.)
// How are you going to intentionally love your body this summer?
Related: You Don't Have To Hate Your Body (My Story) + Why My Approach To Food Is So Relaxed
This post is a part of The Anyway Series.
Thank you for reading! You can find me online on Facebook, Instagram, Pinterest, and Twitter. If you'd like to be alerted whenever I publish a new post, you can follow me on Bloglovin' or subscribe via email. Check out my fun tees in my Etsy shop and listen to my weekly podcast about simplifying life, Simplify Everything!