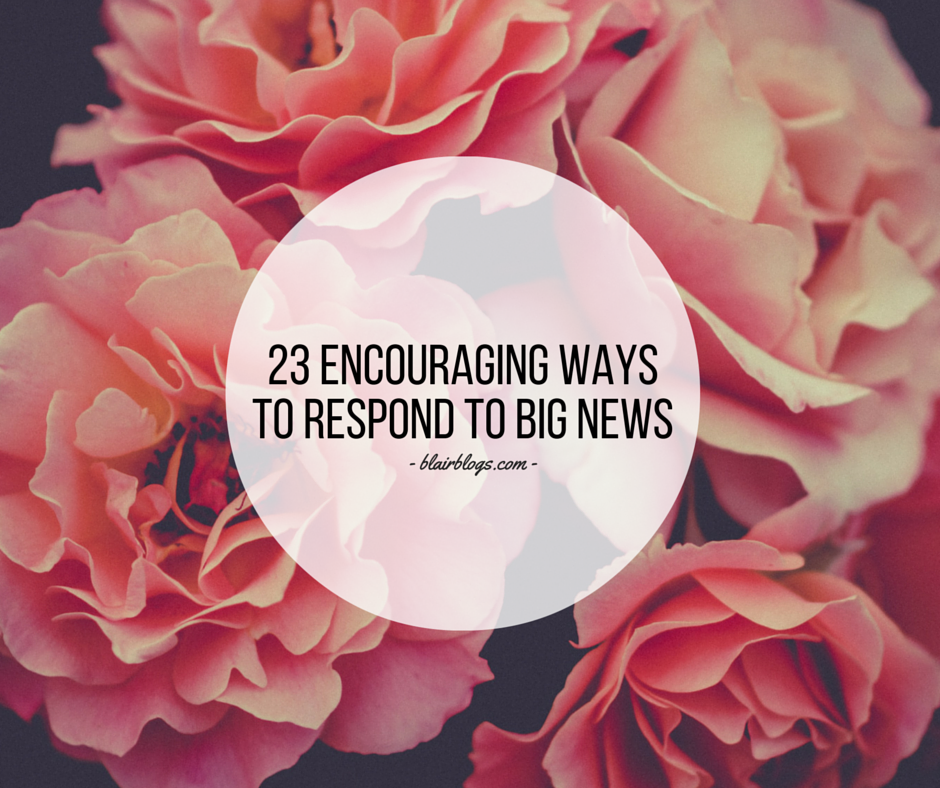 It bothers me when someone says "I could never do that" in response to a person sharing about a major life change, yet this seems to be the standard response.
For example, "I'm going away for school."
"I hope that turns out okay; I could never do that."
Or, "We've decided to adopt a child."
"Oh, I could never do that."
Or, "I'm moving across the country."
"Good luck, I couldn't do that."
Or, "I'm quitting my job to take care of my mom."
"Better you than me–I could never do that."
There are a few reasons why this response irks me so much. First of all, and the biggest reason why this bothers me, is that it makes the conversation about the listener instead of the speaker. Once someone has shared big news, the appropriate response is encouragement or a deeper conversation about it. After all, this news/change is probably the only thing the sharer is thinking about day in and day out! Turning the conversation back to the listener by adding "I could never do that" can feel uncaring, selfish, and distant.
Secondly, in many cases, it makes the speaker feel deflated. No doubt anyone who's about to undergo a major life change is feeling some degree of nervousness; the last thing she needs is someone to tell her that they couldn't do it. We see our closest relationships reflected in ourselves, so when a trusted friend insinuates that she couldn't do what we're about to do, it breeds needless doubt. Like, if she couldn't do this, can I? 
Thirdly, this response often feels half-hearted and apologetic, almost offering pity. Sometimes, it feels like a sarcastic "I'm so glad I don't have to figure that out myself, but best of luck you." I realize, of course, that there are loving, supportive, encouraging people whose knee-jerk reaction is "I could never do that!" I also realize that this response comes from a genuine place of awe for those people–like, Wow! You're so much braver than me. I could never do that! Unfortunately, however, in my experience, this tonality is the exception to the rule.
The bottom line, whether you share my sentiment or not, is that there are myriad better ways to respond when someone you love shares big news with you. Here are some things that you can say that will bring encouragement, comfort, and confidence to the sharer, as well as let him/her know that you have a genuine and vested interest in his/her journey:
Your bravery is inspiring.
I admire your strength.
How can I be praying for you?
Congratulations! That's awesome!
This will be a great chapter in your story.
It's a blessing to watch you follow God's calling.
You're going to do great things.
God blesses faithfulness; surely He will bless you.
I'm with you every step of the way.
How can I encourage you through this?
I love your adventurous spirit.
What are you most excited about? What are you most worried about?
Watching you boldly step out of your comfort zone is inspirational.
Can I do X (watch your children, cook you dinner, help you pack, etc.) to help you?
Tell me more about how you got to this point!
How has this affected your relationship with your spouse? (Or significant other.)
What emotions are you feeling today?
I'm so proud of you.
I'm honored to call you my friend (sister, brother, etc.).
Can we get together soon so that I can hear all of the details?
You are truly one-of-a-kind.
Your passion (confidence, courage, etc.) is amazing.
I love you!
Clearly, you can string together more than one of these responses. I have been blessed many times with people who have responded to big news (like a breakup, moving, getting engaged, getting laid off, starting a new job, getting married, etc.) with words that are life-giving and encouraging. Let's be the kind of people who do the same.
Kind words are like honey–sweet to the soul and healthy for the body.

-Proverbs 16:24
// How do you typically respond when a loved one shares big news with you?
Thank you for reading! You can find me online on Facebook, Instagram, Pinterest, and Twitter. If you'd like to be alerted whenever I publish a new post, you can follow me on Bloglovin' or subscribe via email. Check out my fun tees in my Etsy shop and listen to my weekly podcast about simplifying life, Simplify Everything!