This is a sponsored post written by me on behalf of Endust. All opinions are 100% mine.
When I was a little girl, I remember waking up early on Saturday mornings eager to clean and organize my bedroom. Though it was just a small room, it was mine, and I loved it. I loved wiping down the surfaces, vacuuming the carpet, dusting all my little trinkets, and making my bed perfectly. After that, I would organize all my school papers and the books on my bookshelf. Then, I'd spend hours in my bedroom enjoying it. I'm a natural born nester, I guess.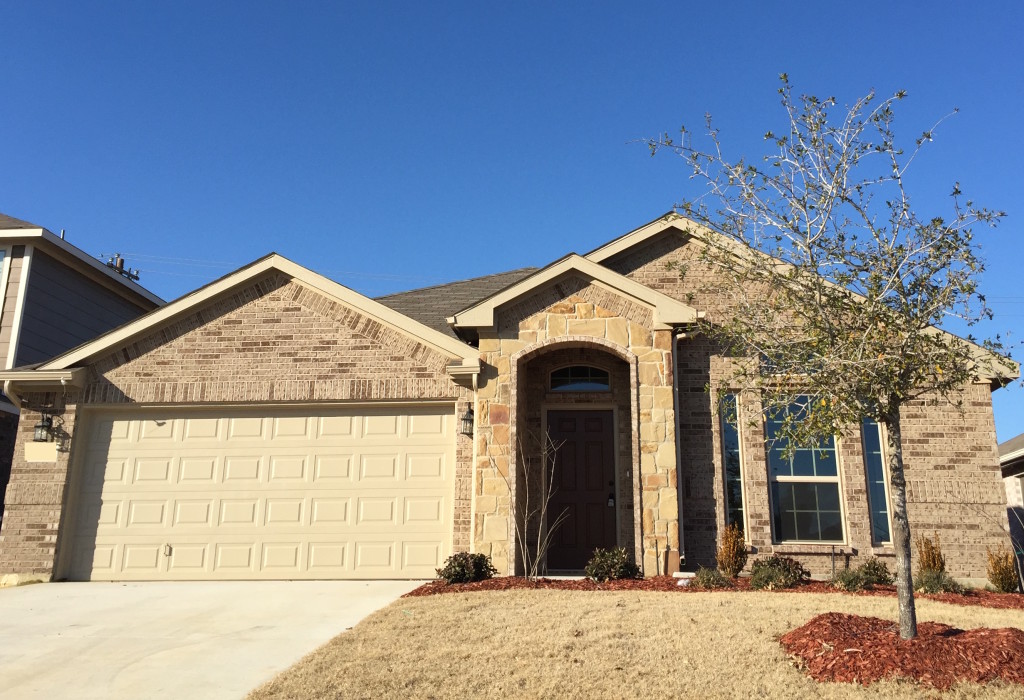 Now that we're in our home, I've been cleaning and decorating and generally settling into our new place. The funny part about decorating is that we only have a few pieces of tiny, apartment-sized furniture. Everything looks ridiculous! As we wait to fill up our entire home with house-sized furniture, we've focused on creating "spots" in each room. The desk in our office. The couch and TV stand in our den. The bed and nightstands in our room. It's a slow process making this blank canvas our own, but it's a great one. We've waited so long for this house, it's our first house together, and it's allowing us to put down roots–for all of these reasons (and more), I am nesting big-time!
I find myself cleaning often because the counters are ours! The floors are ours! The windows are ours! It's such a blessing. What a wonderful feeling. All this to say that when I was asked to try and review Endust's Multi-Surface Dusting Spray, I thought it was perfect timing! I want to clean now more than I'll likely ever want to clean, so I might as well jump on this new-home-nesting-train and really milk it! I headed out and grabbed a bottle of Endust Lemon…and got to testing!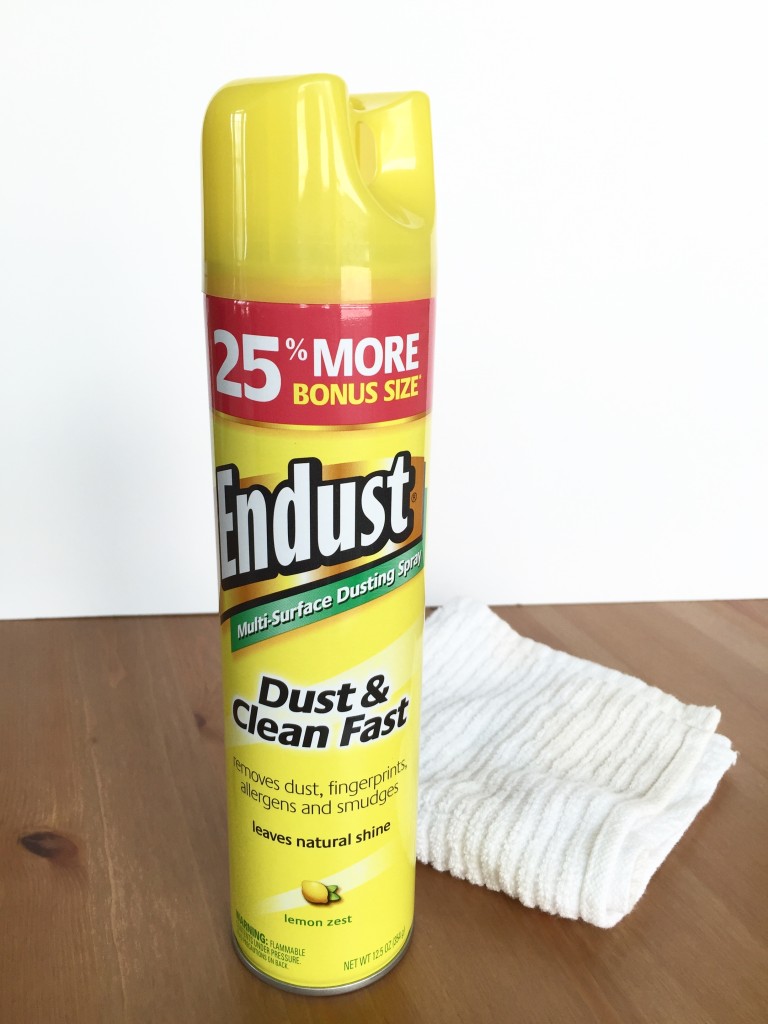 This dusting spray can be used almost anywhere–on wood, cabinets, vinyl or finished smooth leather, stainless steel, car interiors, paneling, window sills, non-fabric blinds, and floors (if you spray a cloth or mop first and then clean them–applying it directly will make floors slippery). I first went over to our bookshelf-turned-enertainment center in the den. Clearly this hadn't been wiped down since it was on the moving truck.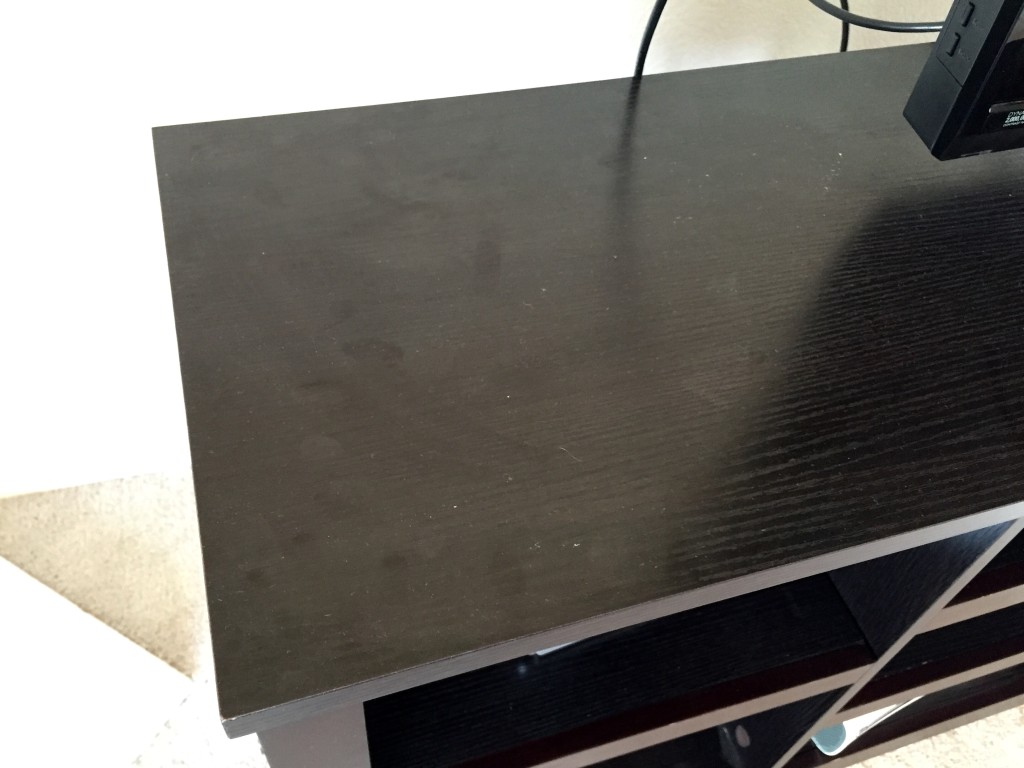 After a quick spray and wipe, though, it looked fabulous. Take a look below! Can you tell which side I cleaned first? 😉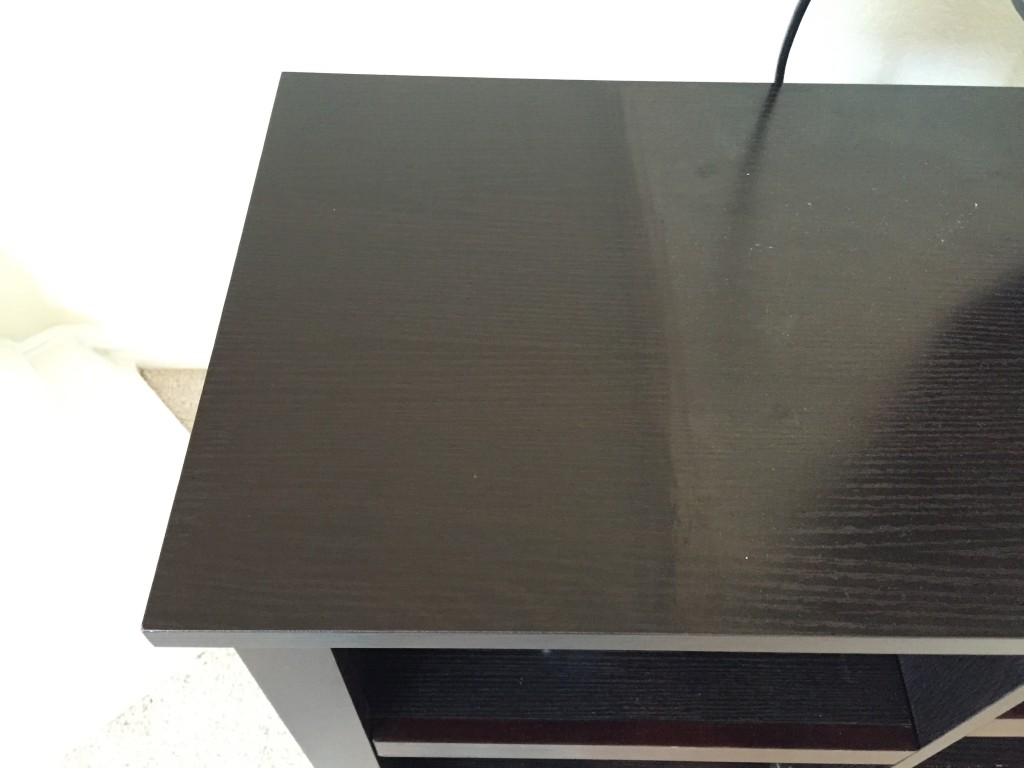 I spent a minute (literally, just a minute) wiping down the entire bookshelf. I was impressed with how well Endust picked up all the dust as well as got rid of the fingerprints and smudges from moving. The cloth I cleaned with tells the story well!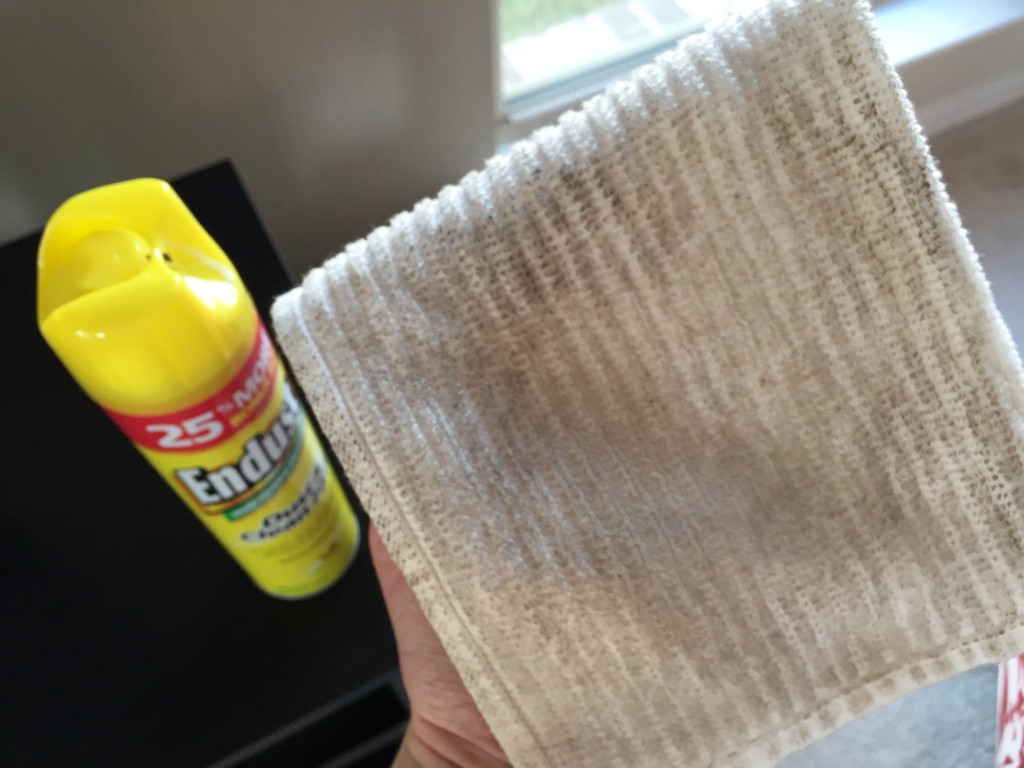 The cleaner has a very light lemon scent, which is nice but not at all overpowering. (If you're sensitive to scent, you can try Endust Free, which is a hypo-allergenic/fragrance free furniture spray.) It's silicone-free as well, which means that it will leave furniture shiny without any buildup. After wiping down a few more items inside our house, I read the back of the can and saw that the formula was recommended for cleaning car dashboards.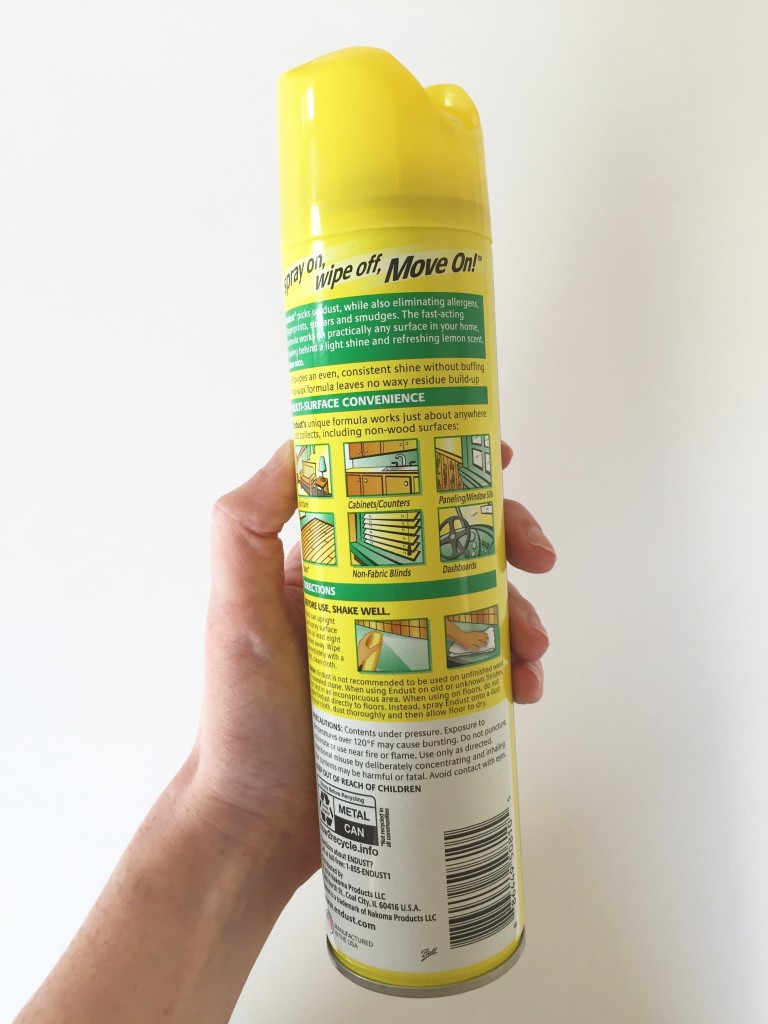 Just the other day, I was driving my car and thinking about how desperately it needed to be wiped down. My car is almost always organized (like, there aren't napkins and wrappers everywhere), but it's not often super clean. I always forget to wipe it down! Check out the before and after of my dashboard below…it looks so much better.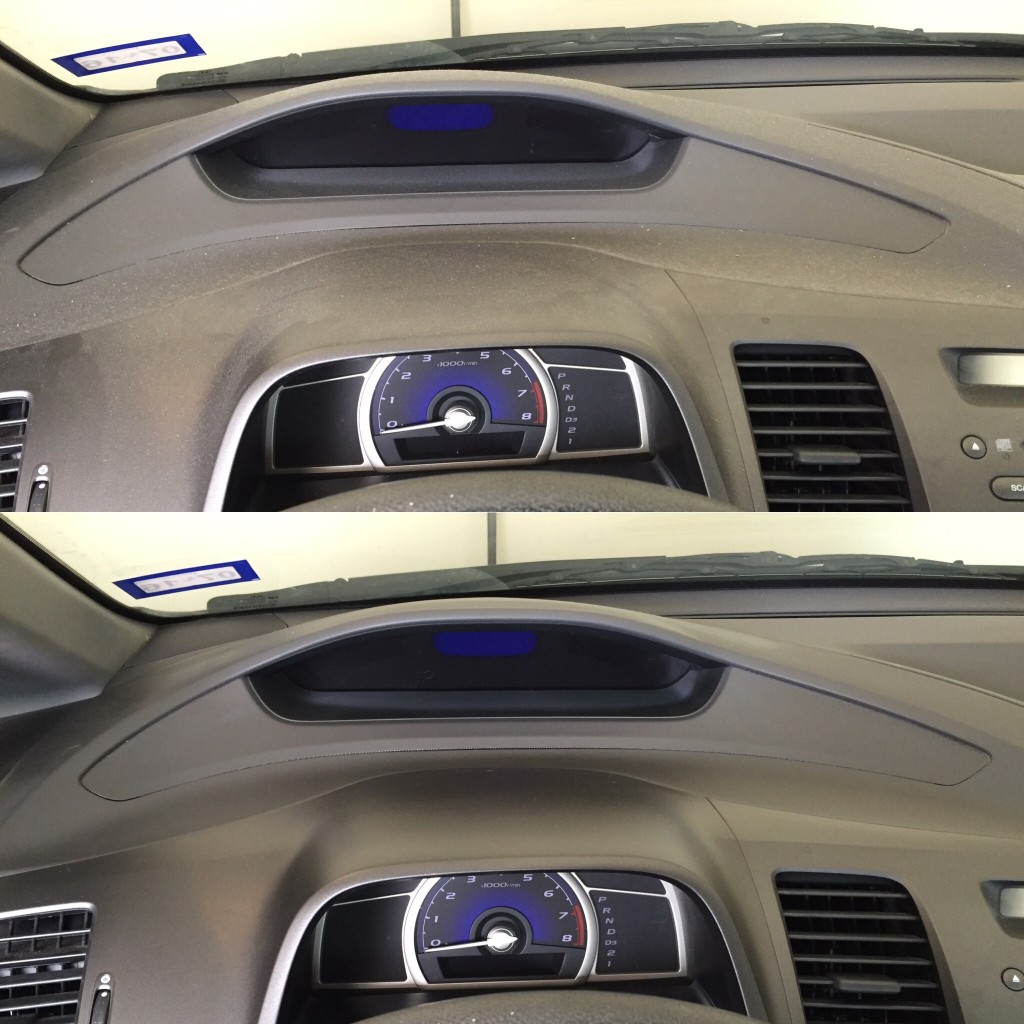 I'm going to get a second can of this dusting spray to keep in the garage with a cleaning cloth–hopefully that'll remind me to wipe it down more often. I like using this spray instead of just a dry cloth because it seems to "catch" the dust much better…like, little particles aren't flying around the room/car, they're actually sticking to the cloth. 
The newness of this house will eventually wear off, but I am so enjoying this period of time where I'm still completely excited each morning I wake up here. I'll continue cleaning and decorating and nesting to my heart's content! Here's to happy homes and happy hearts!
If you're interested in trying Endust Products, check out where to buy them here. (Here's a coupon!)
// Did you nest in your home when you first moved in? How long did it take before your home felt like it was yours?
How to enter the #DustOff Challenge: If you share a before/after photo of a surface that you've dusted as a part of Spring Cleaning (with or without Endust–no purchase necessary) and tag it with #DustOff on Facebook or Twitter, you'll be entered to win one of five spring-cleaning packages filled with Endust products along with a $100 gift card! The five winners will be chosen on May 4th and announced through Endust's social media channels. a Rafflecopter giveaway