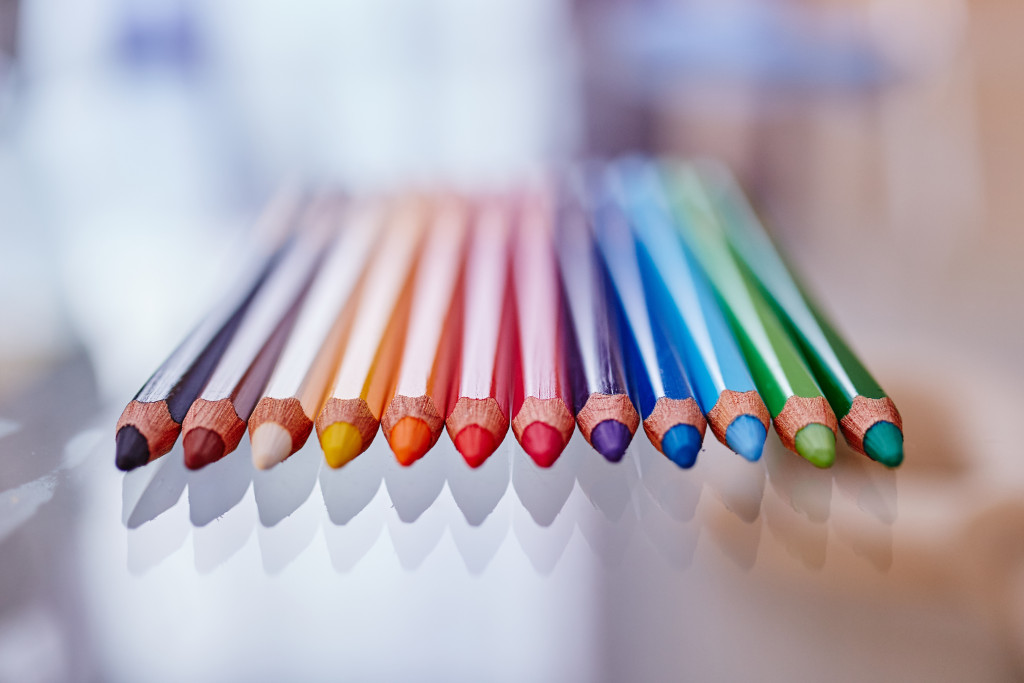 I'm an organized person, yes, but I'm not at all immune to feeling overwhelmed or out of control. In fact, the past three weeks have been very disorganized and chaotic. You know how the state of your house reflects the state of your mind? Well, you'd never take an organizational tip from me again if you saw the state of our house right now! We have our kitchen, den, and master bedroom/bathroom functionally set up (though certainly not decorated), and everything else is in shambles. Random piles of unsorted items everywhere. Every surface cluttered. It's making me crazy.
From where I sit right now, there are exactly four empty cups on the coffee table, an Xbox controller sitting atop a Bible on the chair, two beach towels on the kitchen island, a guitar on the fireplace, a gallon-sized jug of white vinegar on our kitchen table. Just what?
When life feels out of control or my environment feels out of control,  I start to shut down. I have always been this way. I become completely unproductive, unmotivated, stuck. It's not healthy behavior, but it gets triggered by major life changes (moving to a new house in a new city this time), and I'm used to it. I can expect it, so I can address it.
Today I'm sharing how I'm refocusing and getting back on the organization train this time! (I've done variations of this many times in the past. What can I say…I'm a list-maker!)
First, I created a "Daily Compass," a.k.a. a daily schedule. When my mind's overwhelmed, I get decision paralysis, and nothing gets done. After really thinking through my schedule intentionally, I came up with this: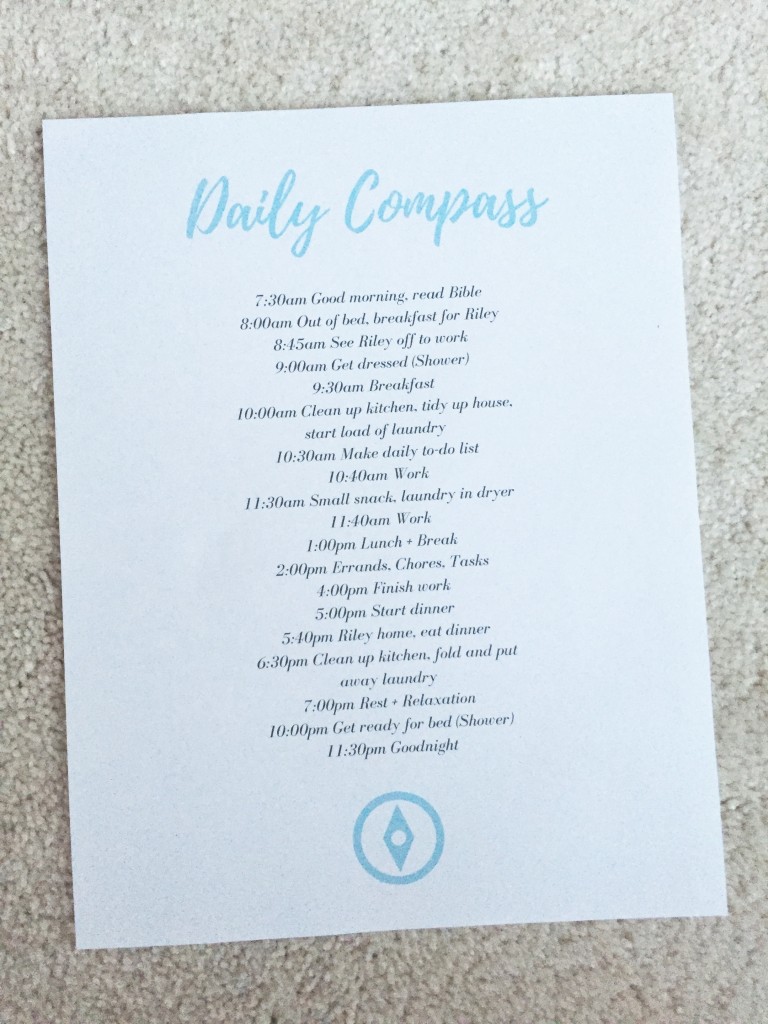 This schedule helps to hold me accountable and keep me on track throughout the day. When I feel stuck, like I don't know what to do next, I can consult my compass and know which way to go. 😉 (So corny, sorry.)
Next, I created a list with daily tasks. These are items that need to be done just once a week, but lately haven't been done at all. (Keeping it really real: I got on the scale yesterday morning and realized that every fast food meal I've eaten in the past two weeks is indeed sticking with me. Oy. Back to meal planning, ASAP.)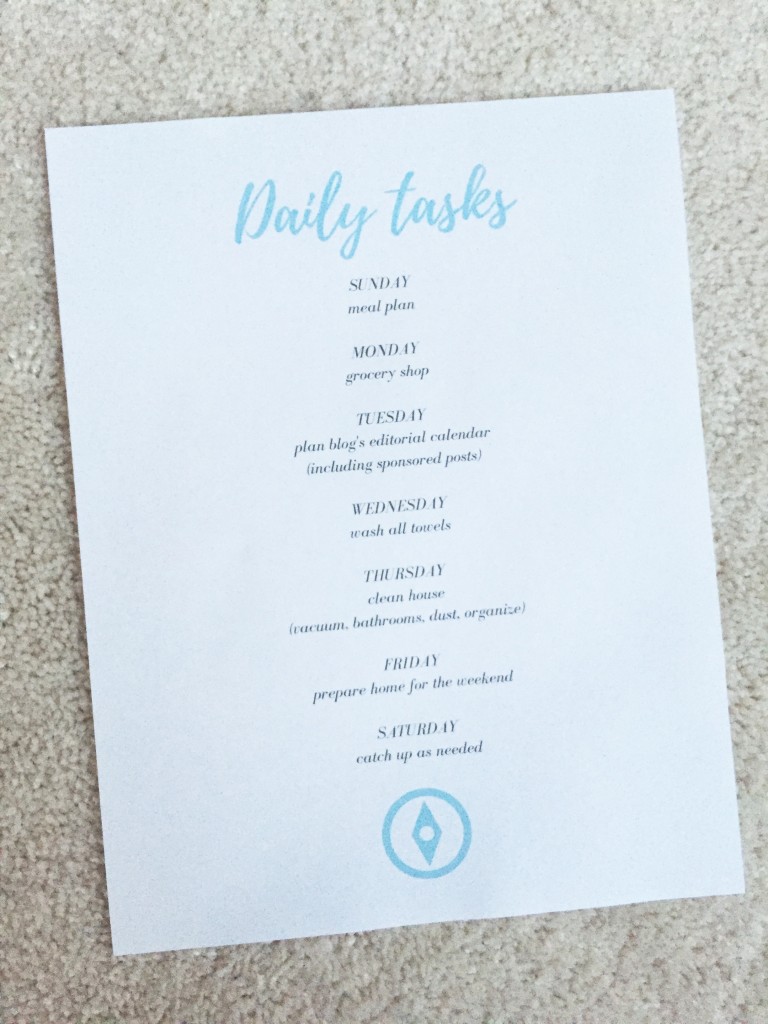 Finally, I created a monthly task list. Some of the items listed only occasionally need to be done while others should be done at least monthly, but they're all prone to be easily forgotten. Now that my monthly tasks are compiled, I can easily scan through them at the beginning of the month (and then again in the middle of the month), and check them off.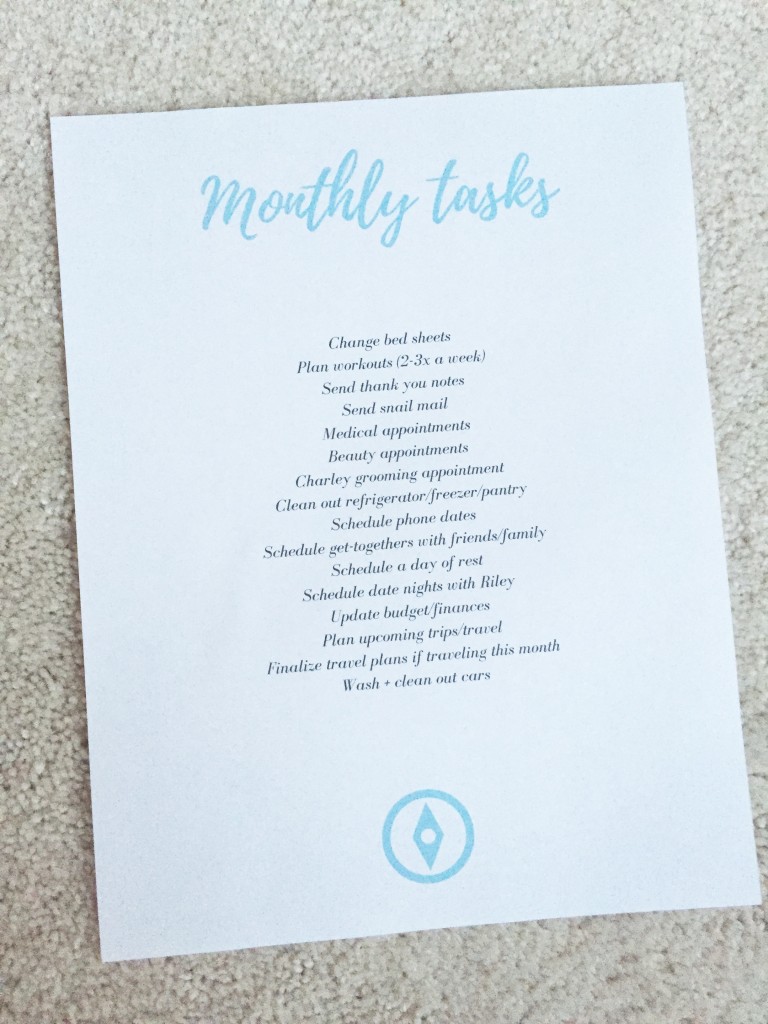 Surprisingly, creating these three simple sheets to organize my life took me hours of time. I found it hard to really identify what I need to get done each day and create a schedule/accompanying task lists that are realistic. If you'd like to create your own, you can use Canva (like I did), or another program, like Word or Powerpoint. Hope this helps you "get it together!"
// What triggers you, if anything, into a disorganized spiral? How do you overcome it and get organized again?