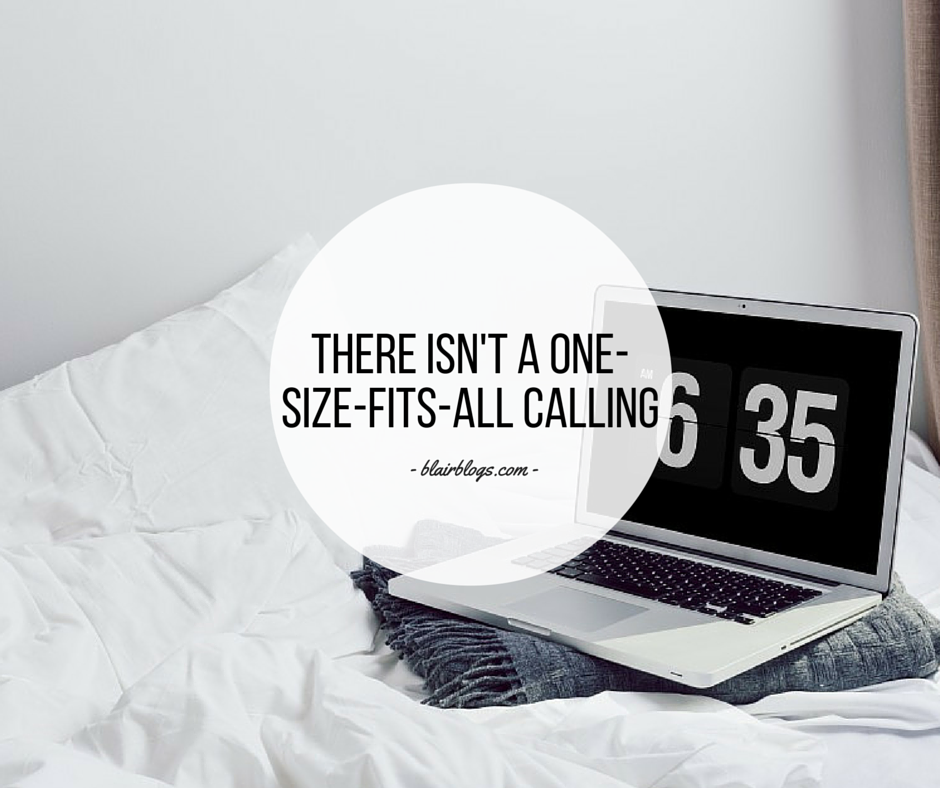 I have the privilege of speaking at a Christian college women's retreat this weekend, and as I've prepared, I've been thinking a lot about how different my actual reality turned out in comparison to the future I had planned for myself as a college student. I thought I'd graduate (check), find a job (check), move to a new city (check), and then pursue a career as a successful businesswoman (check to pursing a career as a businesswoman, no check to it being successful). All that looked great on paper and sounded fine in my head, but once I started living it, I hated it.
Working a corporate job, I was unmotivated. I was uninspired. I was unhappy. It didn't last long, though, because after just six months of cubicle life, my company unexpectedly went under and about 90 percent of employees (including me) were laid off. Even though I was scared, I knew it was the best thing for me to move on and abandon this dream. Shortly thereafter, I was offered a job as the Preschool Director at a local church, which I accepted.
That job was exhausting, but it was fulfilling. It was purposeful. It was meaningful. It was motivational. It was the exact opposite of anything I thought I'd do. But I wasn't stuck in a cubical, I wasn't stuck in an unhealthy work environment. I had a voice and I could change things–and I did.
Time passed, and I got engaged. I had to leave my job and my friends and my city, but I was getting married and starting a new life. I began to write again, and the more I did, the more certain I was that I was living out my calling. For this time, for this season, I know I'm doing what I'm meant to be doing.
There isn't a one-size-fits-all calling. And our callings can change over time.
I believe I was meant to walk that business path, if only to put the "What if?" questions to rest. I believe I was meant to work at church to gain valuable skills and to learn about the importance of advocating for others. Now, I believe I'm meant to write.
Some of you are teachers. And you stand on your feet for 25 hours a day and you call angry mamas and you empower our nation's kids. You cry for and because of your students and you never thought it'd be this hard, but you push through because you see the change and it makes you feel alive. And there may come a day when you choose a different path and do something else with your time, and that's okay, because right now you're meant to be in a classroom.
Some of you are living in the city, and the lights and sounds give you energy. And when you get to work, you roll into your little decorated cube, and you make good decisions and design beautiful things and answer 1,000 emails every hour. Maybe you wish you had a little more space or a better view, but you feel powerful in your chair and you know that you're where you're meant to be right now. And it's there, in your office building.
Some of you are students. And you're oh-so tired of the classes and the notes and the tests. Another group presentation and you might lose your marbles. Your schedule is jam-packed and you have to stay up late to get it all done, so when you wake up in the morning, you're still exhausted. But you're with your friends all day and you're learning. You're learning important things that will help you change your world. And even though it's challenging, you know it's only for a season, and you stick with it.
Some of you are stay-at-home-mamas, and you wipe snot and bottoms and tears and you pour everything you have into pint-sized hearts, hoping desperately that they'll grow up right. And your meal plans fall apart and the pillows are never on your sofa and you would give your right arm for a glass of wine and some silence, but you'd never change a thing. Because you're a mama, and you're shaping people, so you're shaping the world. Your littles will grow and your role will shift, but for now, you're all in.
Some of you sell good products, life-changing ones, even. Your car has become your office and you always have cough drops in your purse because you talk and talk and talk all day long. You're extroverted and energized by all this interaction and you fall asleep at night feeling like you've accomplishing something, like you're good at something. And you are. You might climb the ladder or you might get off of it, but right now, this is your life.
Some of you are nurses. Your shifts are long and hard, but you get to be a healer. You care physically and emotionally for people who are falling apart. You bring truth and grace to hard situations and you look into the eyes of scared, hurting people and tell them that you're there to help. Sitting down is a foreign concept to you and though your feet ache after a long day at work, your heart aches more. And sometimes you drive home with tears running down your cheeks, but you know you're meant to be a healer, so you stay where you are.
Some of you make things. Desserts or stationary or clothing or furniture. Your mind and body are worn out when you lay down at night, but it's a good kind of tired. You see things through from beginning to end, and your job as a maker is life-giving and unique. You are meticulous, you are detailed, and in the end, you are proud of what you've created. You can imagine a day when you'll pass down this making and move into management, but for now, the dirtier your hands, the better.
I am a writer. And I pour out words everyday, hoping that they'll encourage someone. I interact with people I'll likely never meet and find myself praying for them and hoping that they're finding God amidst the mess. I share about my life openly and honestly because I'm real and I feel pain and everything in my life isn't whitewashed and staged with a vase of flowers and some gold confetti. And I don't think this will last forever, but right now, I'm here.
So.
If you find meaning in your work, if you feel fulfilled, if you know that God has you where He wants you, let that be enough. If you're not a missionary or a nonprofit founder or an important public figure, but you know you're where you're meant to be, let that be enough. Because God needs His Jesus-girls in every part of society–in salons and grocery stores and the government, in huge office buildings and tiny mom-and-pop shops, on the internet and in magazines and on stage, as mothers and wives and girlfriends, in foreign countries and in law enforcement and in restaurants–He needs His Jesus-girls everywhere. If your heart is at peace, if you're where you feel called to be, let that be enough.
If you don't find meaning in your work, if you're unfulfilled, if you don't feel like this is where you're meant to be, pray. Get on your knees and pray. (If you've never prayed before, I would love to pray for you–email me.) Ask for an open mind and an open door and a new opportunity. Be willing to walk straight outside of your comfort zone so that you can step into your calling. Talk to friends, network. Dream about what you'd like to be doing, and then take steps to make that happen. You're never, never, never stuck. Our God can change anything.
Also, be reminded: your calling can change as you change through your life. Be open to something new, be open to something different. Because after all, callings aren't one-size-fits-all.
// How have your callings shifted over the course of your life? Do you feel like you're living out your calling today?