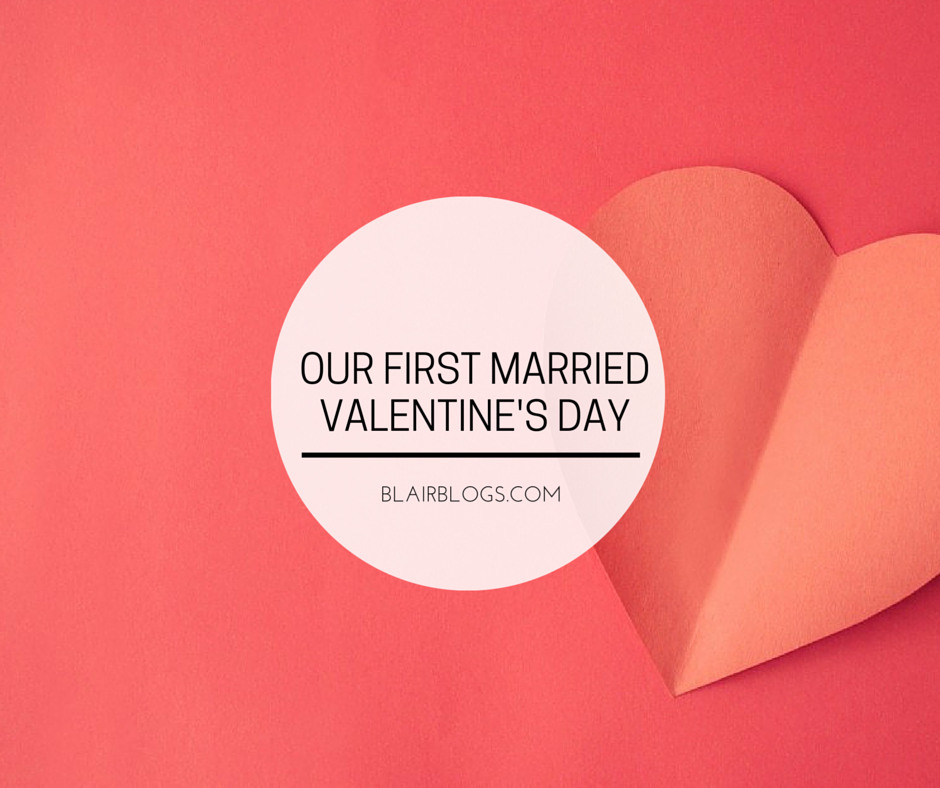 Yesterday was our first Valentine's Day together as a married couple. We didn't go all-out-crazy for the holiday, but we did celebrate with some small gifts, yummy cookies, and a lovely dinner out throughout the weekend. Today, I'll share a recap of our celebration…mostly so that I can remember this first married Valentine's Day in the years to come!
On Friday afternoon, I met Riley at his work for lunch. He asked me to "grab something on his chair" for him, and I found a big basket full of gifts! He had bought me gorgeous flowers, chocolate, wine, a couple of candles, and a monogrammed hat with the Disney font for our trip in May. I was so surprised and thought it was really fun to start celebrating on Friday! The candles were my favorite, with one being scented Romantic Rose and the other White Chocolate Raspberry. I've had them burning all weekend–the scents are so amazing!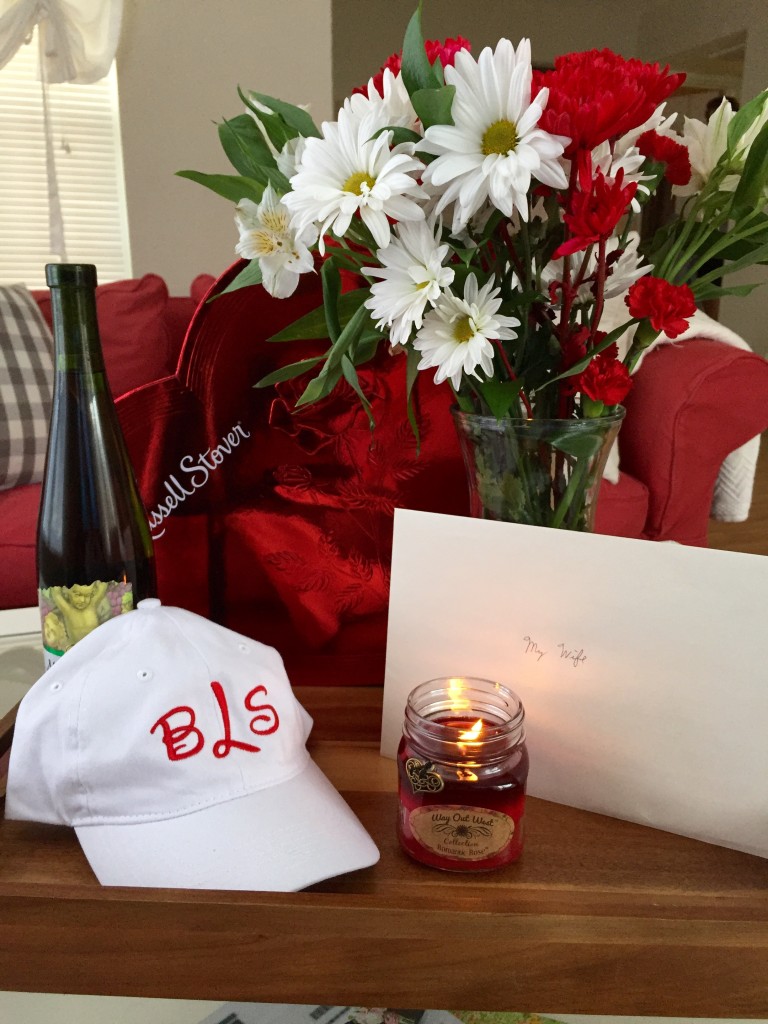 Once we got back home on Friday night, I decided to give Riley his gifts, too! I got him candy and some nice bath products. Oh, and a tiny Mahogany Teakwood candle. He loves woodsy scents and often burns them at work!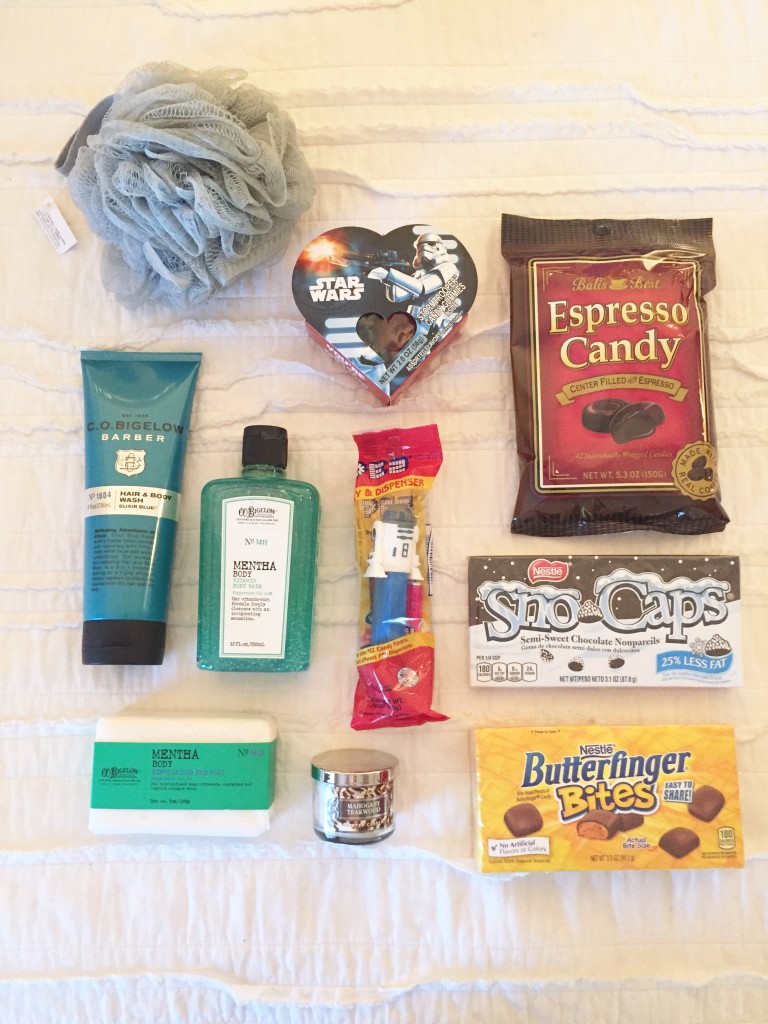 On Saturday, we spent the day with Riley's family. We went out to lunch at a local Italian restaurant and spent the afternoon laughing together. Of course, I snuggled with my niece Zoe as much as I could! She fell asleep on my legs, and my heart melted right there on the spot. I just love her.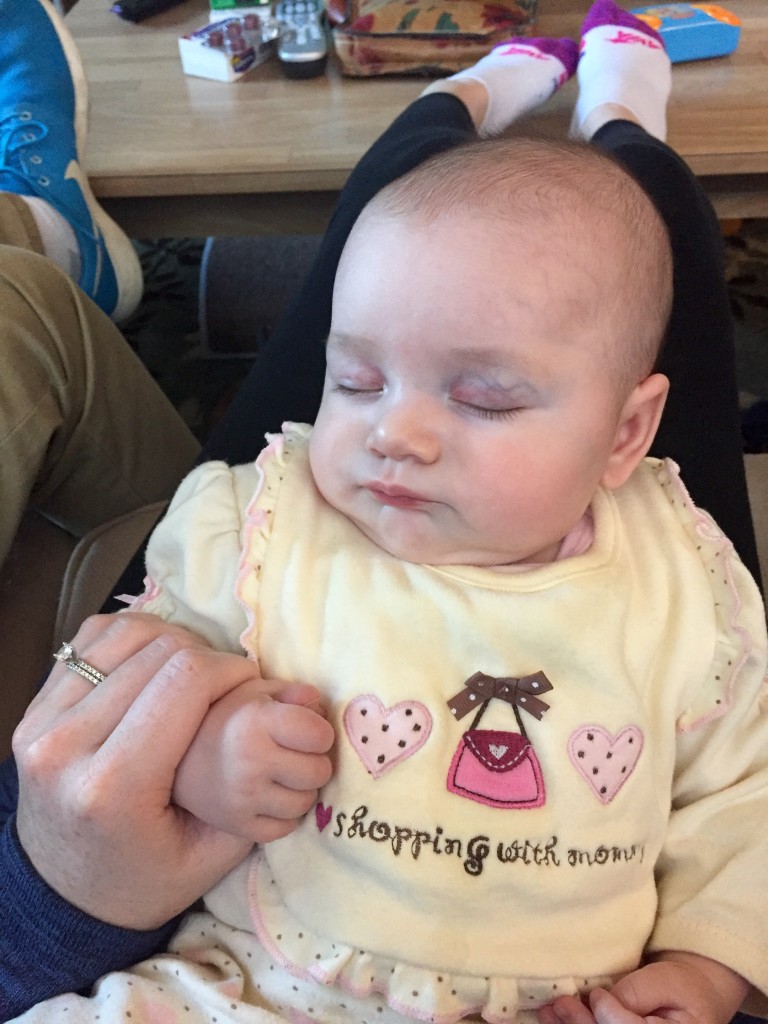 Riley made reservations at a lovely restaurant downtown called Hannah's Off The Square for dinner that evening. We so enjoyed our delicious meal there! Riley started off with an IPA and some oysters and I ordered a blood orange martini–it was so gorgeous and every bit as delicious and refreshing. I loved it! It was also the perfect color for Valentine's Day! (Sorry for the shadowy food photos…restaurant lighting is hard to work with!)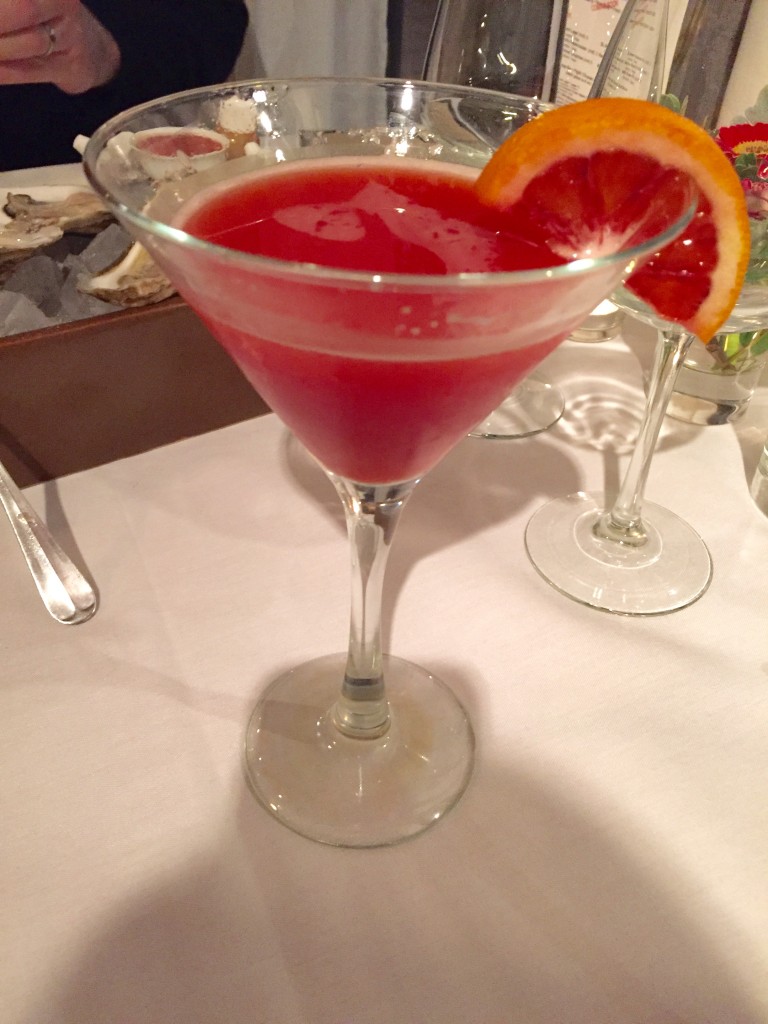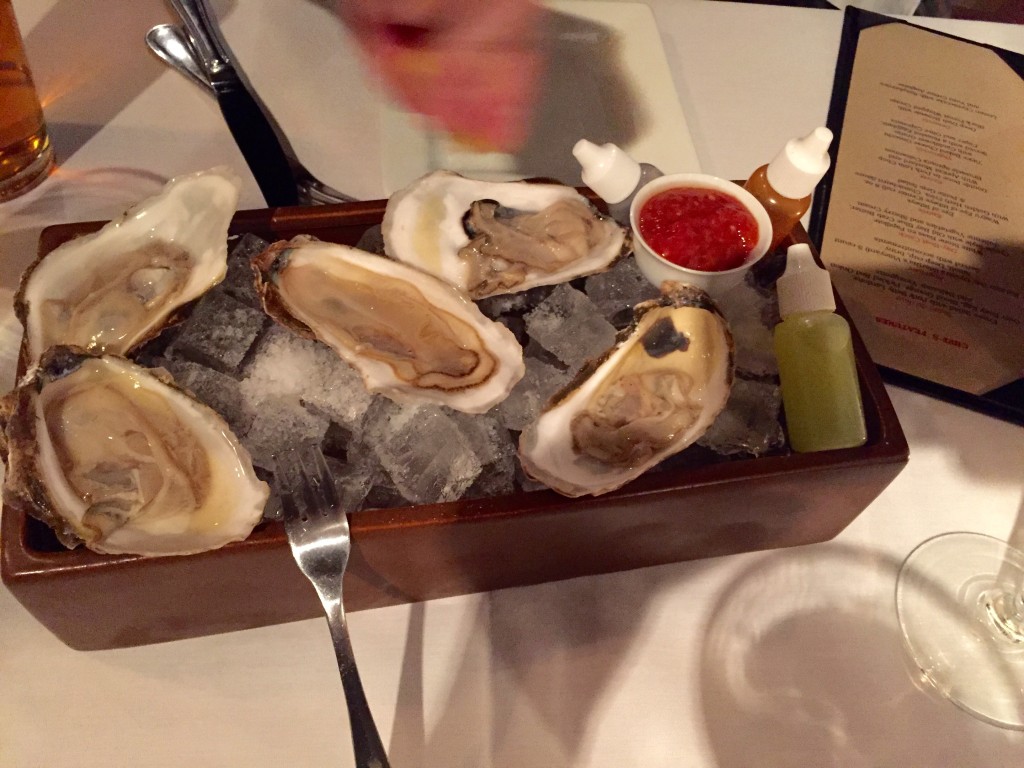 For dinner, Riley got seared sea scallops with lemon basil risotto, caper raisin butter, and crispy shallots. He really enjoyed it. (Too funny that he's the seafood lover even though I grew up in Maryland!)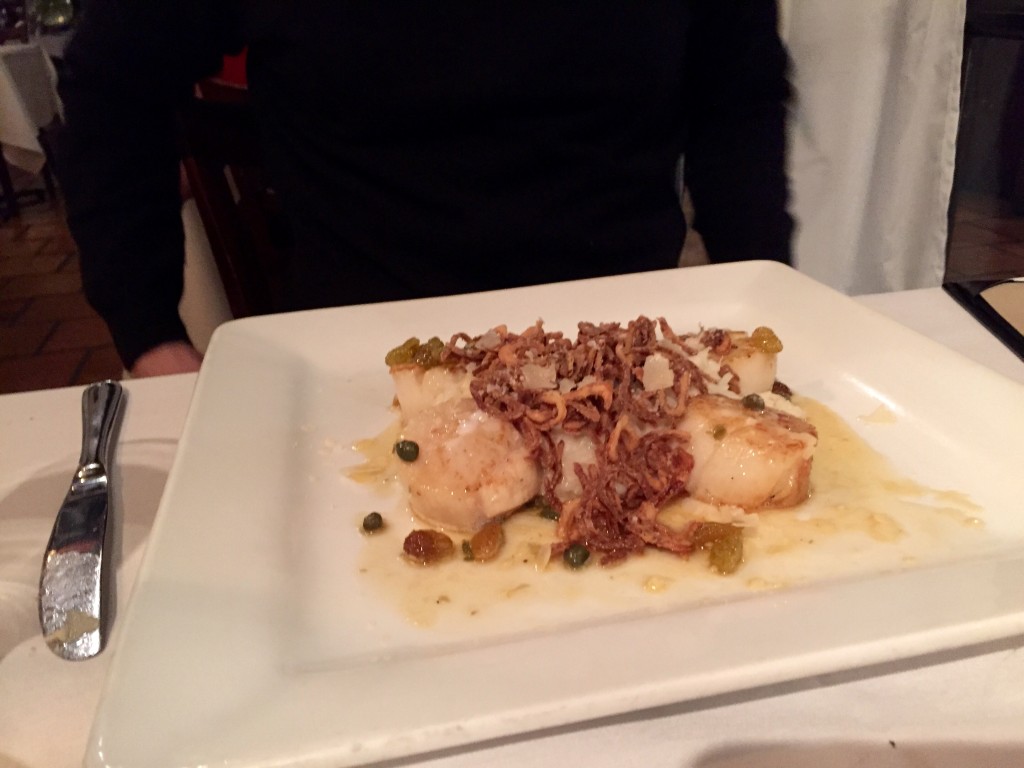 I ordered the chicken saltimbocca, which was a prosciutto-wrapped chicken breast with roasted butternut squash and ricotta manicotti topped with brown butter and sage. It was absolutely the most incredible chicken dish I've ever eaten in my life!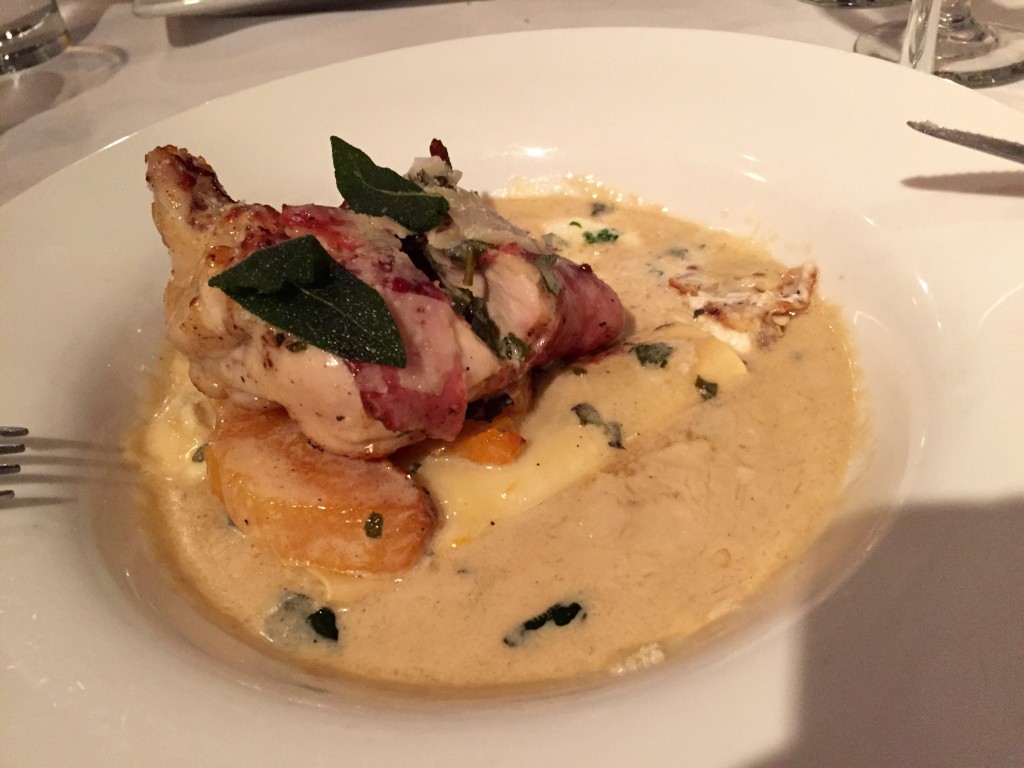 For dessert, we ordered vanilla crème brûlée and some decaf coffee. So yummy! We both love crème brûlée. (Nothing can beat cracking the top with a spoon!)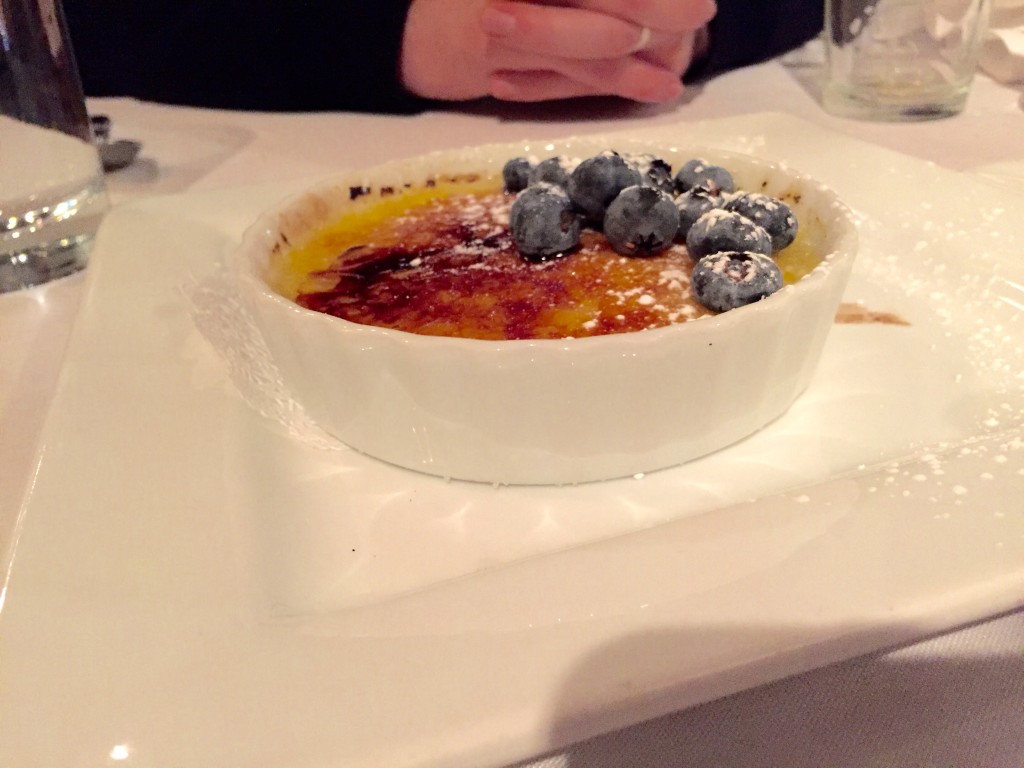 After dinner, we asked our waitress to take a photo of us. The lighting is bad and our table is empty, but hey! At least we'll remember this meal!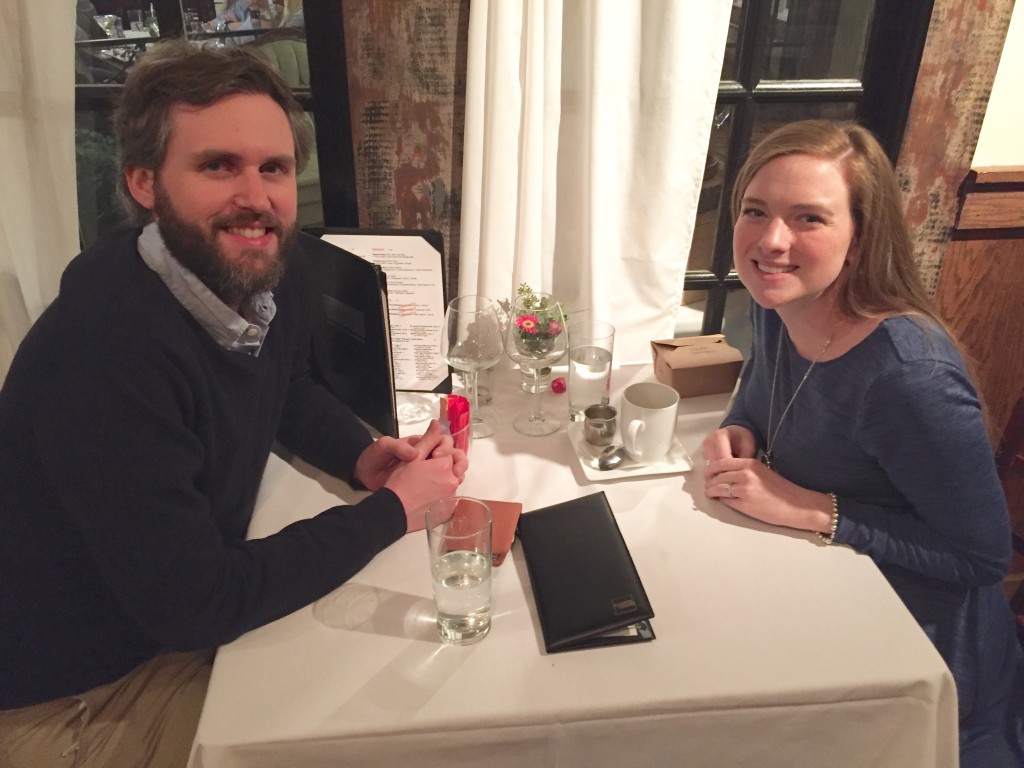 We took an even more poorly lit photo outside when we were leaving! I actually prefer it, though, because it's more natural.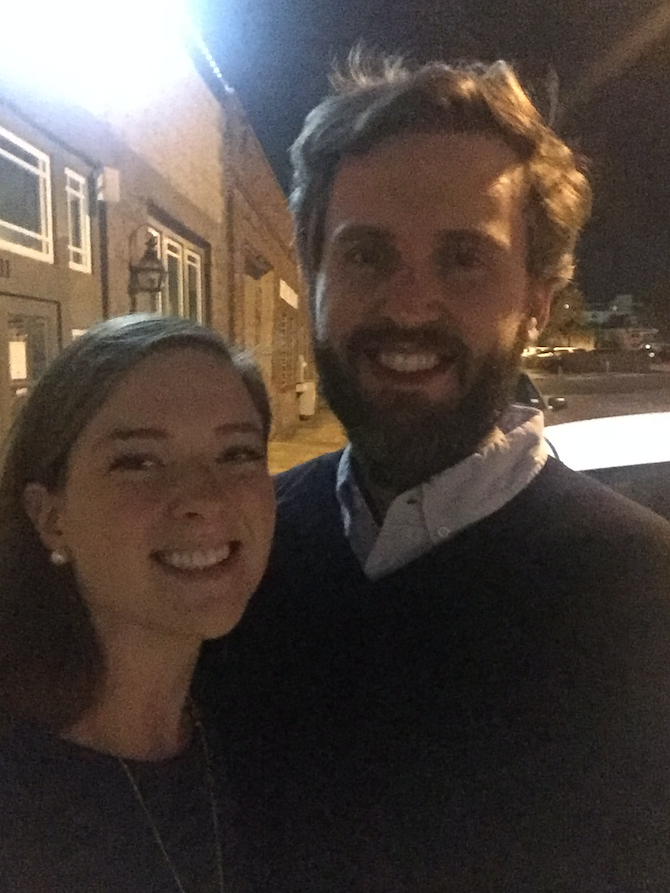 We slept well on Saturday night, bellies full and hearts happy. On Sunday morning, we didn't go to church because I woke up feeling sick and stuffed up. I started to feel better after taking medicine (Mucinex-D for the win), but I battled that dizzy/congested/tickle in my throat/heavy head/sinus weirdness all day! Riley made us monkey bread for breakfast, though, which makes everything better!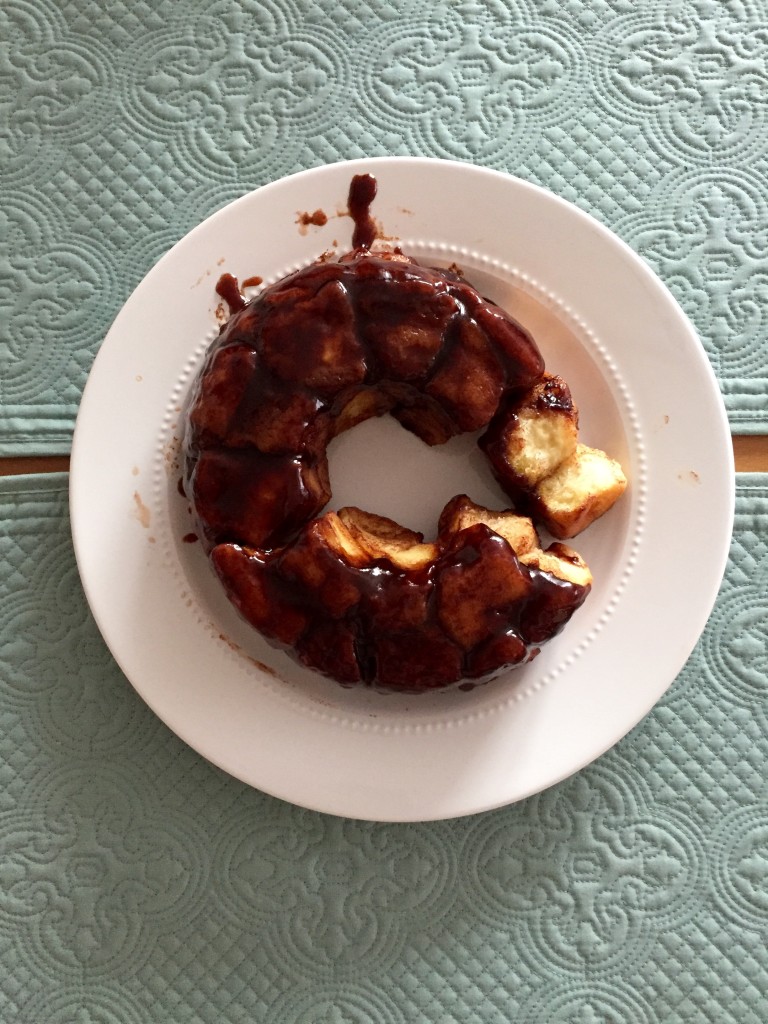 We relaxed all day, and in the afternoon, I decided to make some Valentine's Day cookies. One of my college friends works for Mason Jar Cookie Company, and she sent me two beautiful Valentine's-themed cookie jars to try. The jars were so cute that I was reluctant to pour them out, but the promise of cookies won over the layered beauty.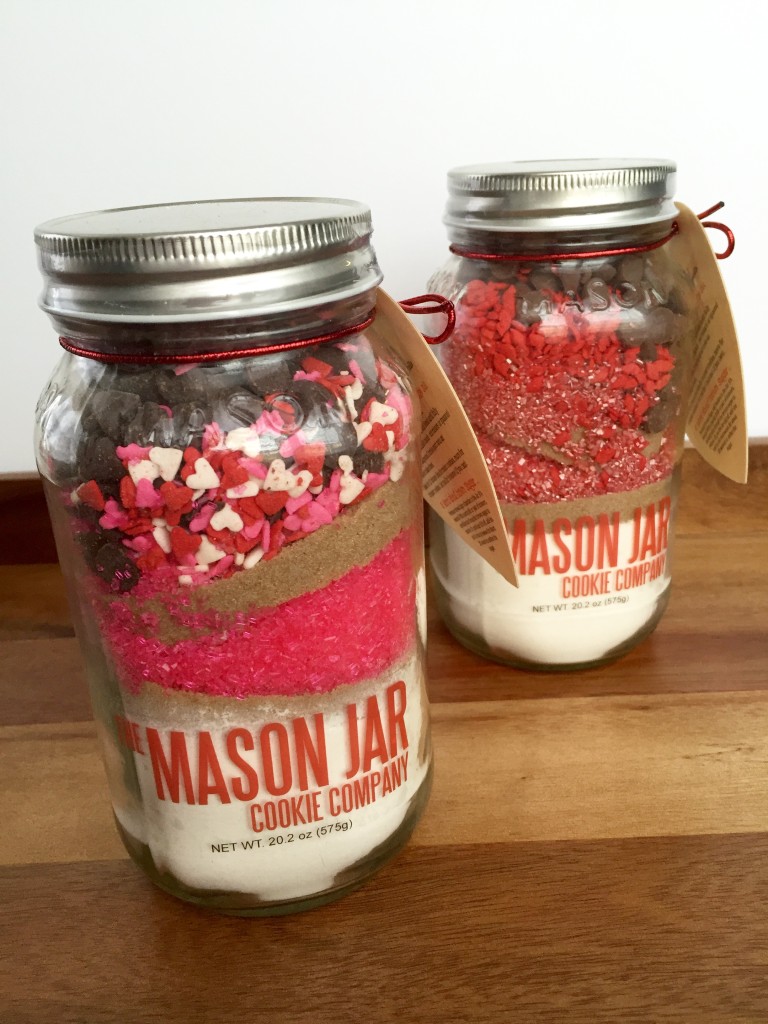 The pink jar in the front is the Love Struck mix and the red one in the back is the Kiss Me Chocolate Drops mix. So pretty, right?! The directions are super simple: melt a stick of butter, grab an egg and an optional teaspoon of vanilla, and combine it all with the jarred mix. Then, bake the cookies for 12 minutes! I loved how fast I could whip up some pretty Valentine's cookies! (Also, I have to admit, mixing the cookies with my hands was kind of fun!)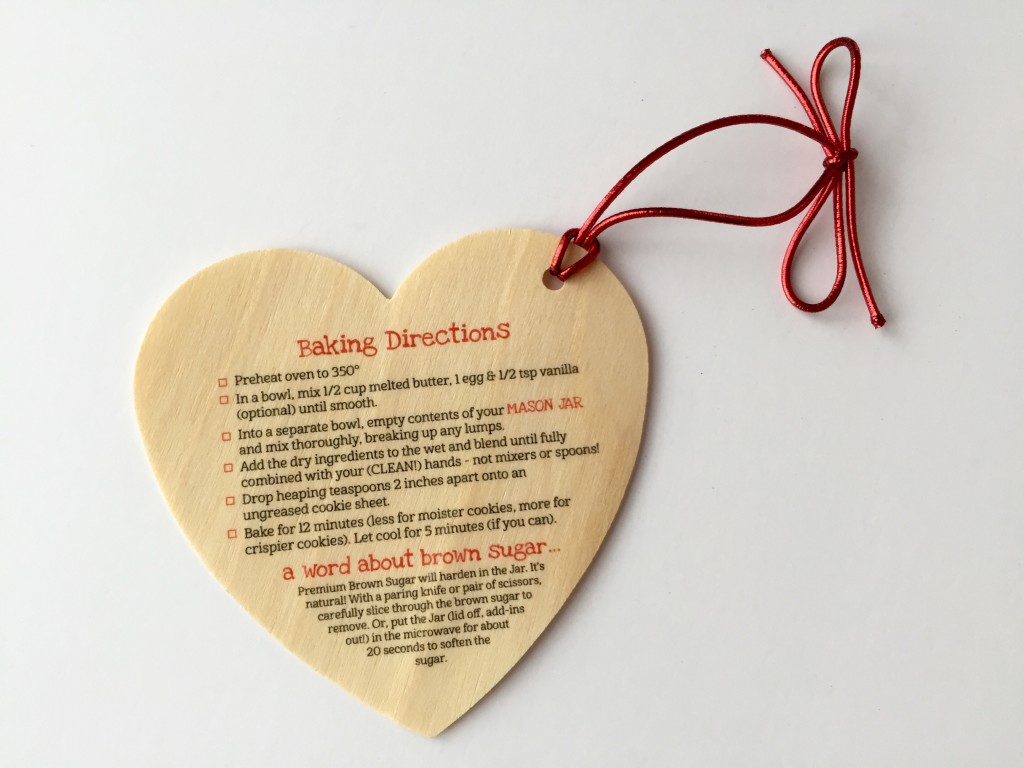 These cookies are the real deal. They are absolutely delicious. The chunky sugar in the Valentine's mixes doesn't dissolve completely, so the cookies have a wonderful crunchy texture that makes them both unique and delectable. Both Riley and I loved them! You could totally pass these off as bakery cookies.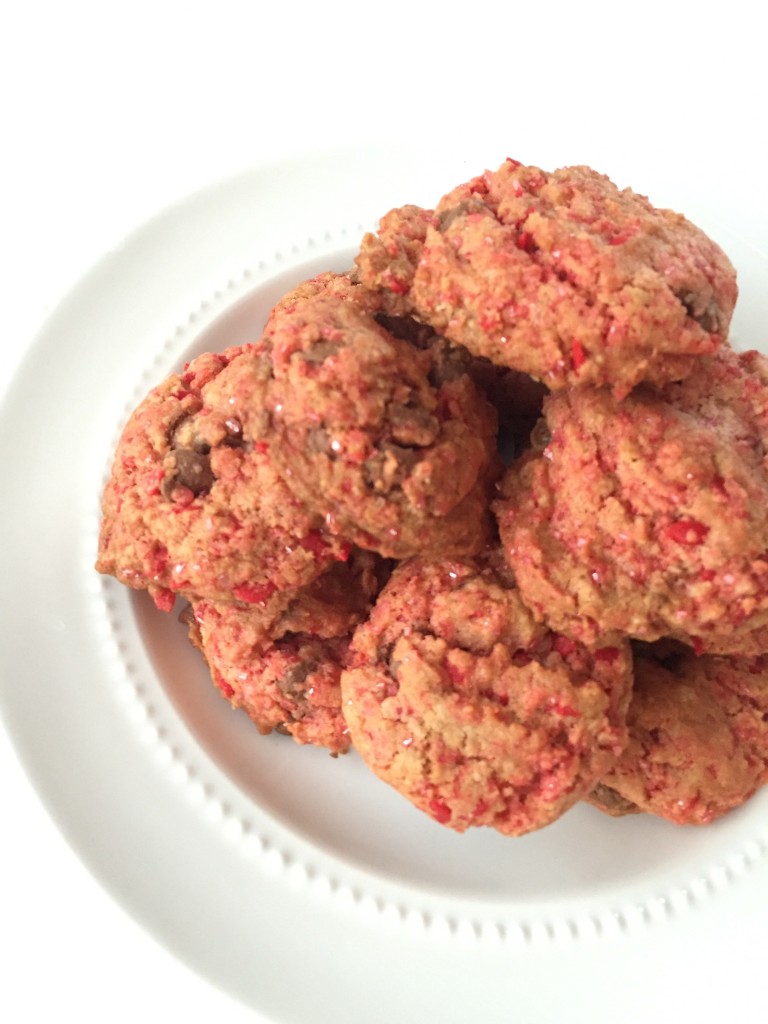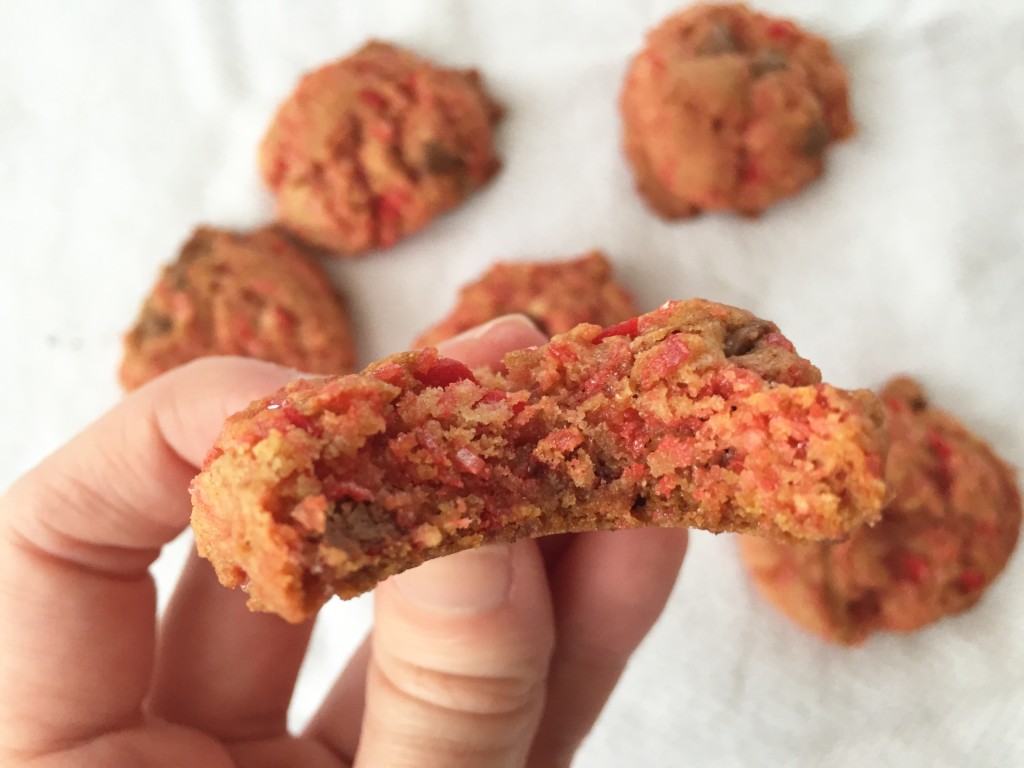 If you're looking for a fun gift idea, definitely check out Mason Jar Cookie Company. They have everything from pancake mixes to granola mixes to brownie mixes to hot cocoa mixes! And, of course, they have a great selection of cookie mixes. If I had known about the company when I got engaged, I would have picked out one of the cookie mixes or designed my own (how fun!) as a gift when I asked my bridesmaids to be in my wedding. So fun and yummy! (Would be a great birthday present for a cookie lover too!)
We baked both jars of the cookies and had more than enough to deliver some to Riley's mom and sisters. Nothing says "I love you" like sweet treats, right?
The last thing we did to celebrate was mail out cards to our family (well, it was actually the first thing!). I ordered them from Tiny Prints and adore the hot pink envelope liners!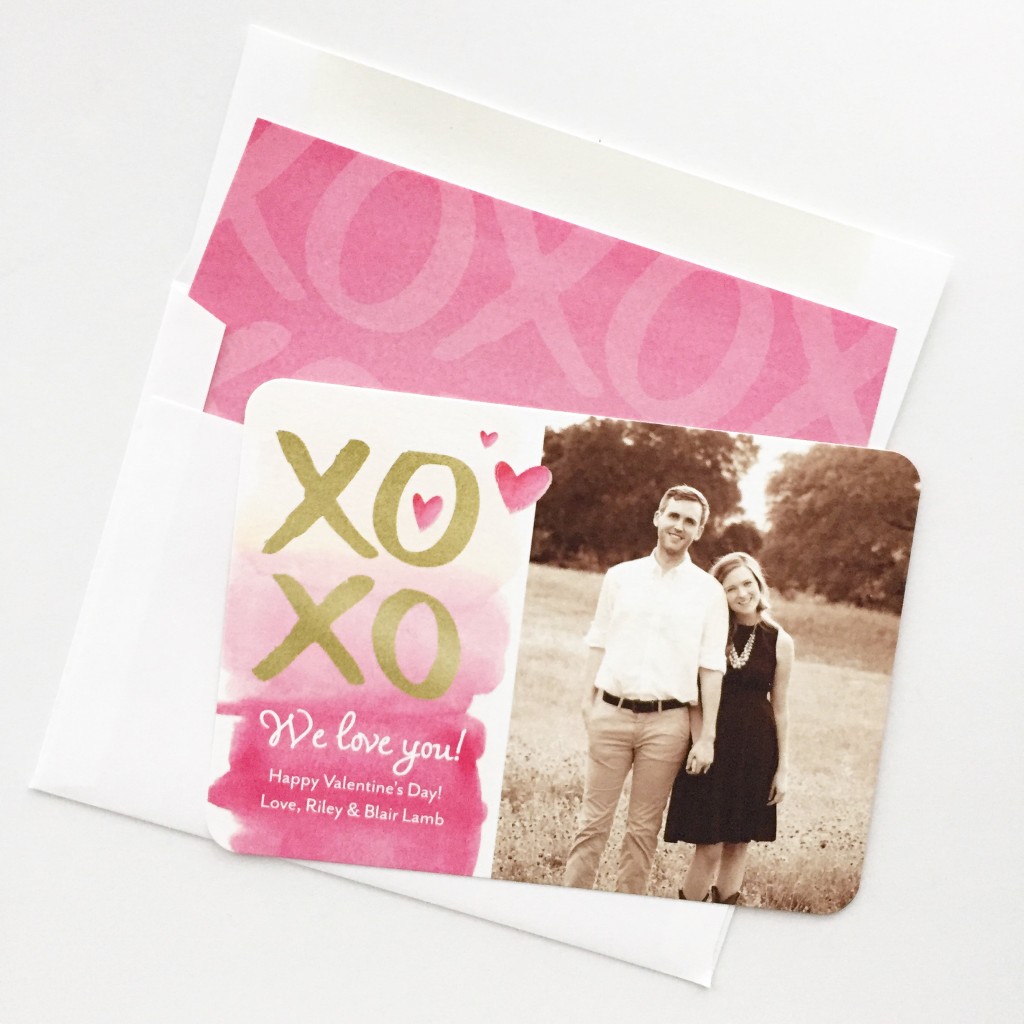 We had a great first married Valentine's Day! I loved everything about it–family time, just us time, cards, cookies, a delicious dinner, and some fun gifts. It was a great weekend.
// How did you celebrate Valentine's Day this year?