This is a sponsored post written by me on behalf of Plenti Oatmeal Meets Greek Yogurt. All opinions are 100% mine.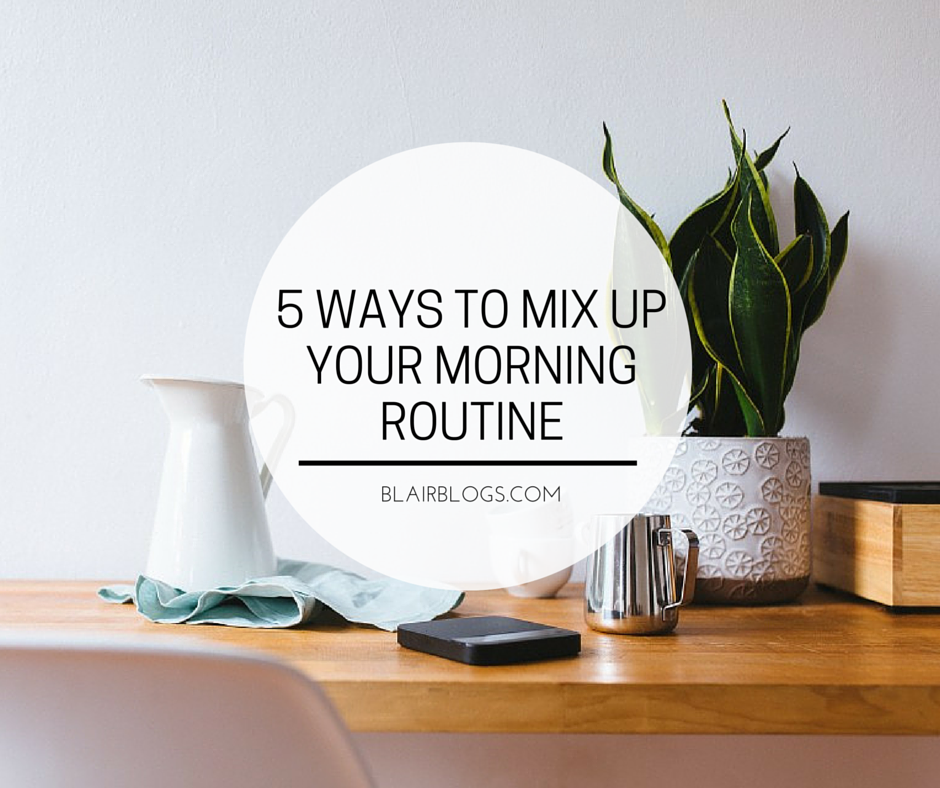 I am not a morning person. I'm just not. It's a real struggle for me to get up and going every single day of the year. (Who can relate?) I would definitely classify myself as a "once I'm up, I'm up" type of person, but getting up–well, it feels like I'm coming out of a six month hibernation every morning. My husband and I have a morning routine that we try to stick to, but we've realized lately that we both enjoy the novelty of mixing things up every once in a while to keep life interesting. If you're stuck in a morning rut, here are five easy ways to mix up your routine and put some spark back in your step!
1 | Wake up earlier or later
Sure, everyone always suggests that you should wake up earlier–but later? Gasp! However, I think it's wise to reevaluate your morning routine in light of your personal preferences and rhythms. Because I'm a night owl, I tend to get a lot done in the evening since I have so much energy then. My husband is the same way, so a couple of mornings a week, we'll sleep in a little. Our sleep-in mornings aren't rushed, just more paced. On the other hand, some days, we'll get up earlier than usual so that we can have a leisurely breakfast together or get something done before Riley leaves for work. (Once we have babies, this kind of wake-up-when-it-suits-you mentality will be out the window, so we're enjoying it while we can!)
All that to say, take an honest look at your sleep patterns and schedule. Would it benefit you to wake up 15 minutes earlier? 30 minutes? An hour? Or, would giving yourself some more shut eye be a better use of your time?
2 | Try something new for breakfast

If you're not eating breakfast every day, you should be. There are so many studies that show the wide range of benefits that come from fueling your body and filling your tummy first thing in the morning! You don't have to go all-out and make a huge breakfast, either. Something quick and easy can be also be satisfying and delicious. I've been a breakfast eater forever, but I am not the kind of person who can eat the same thing every day. I'm always on the lookout for interesting new breakfast options!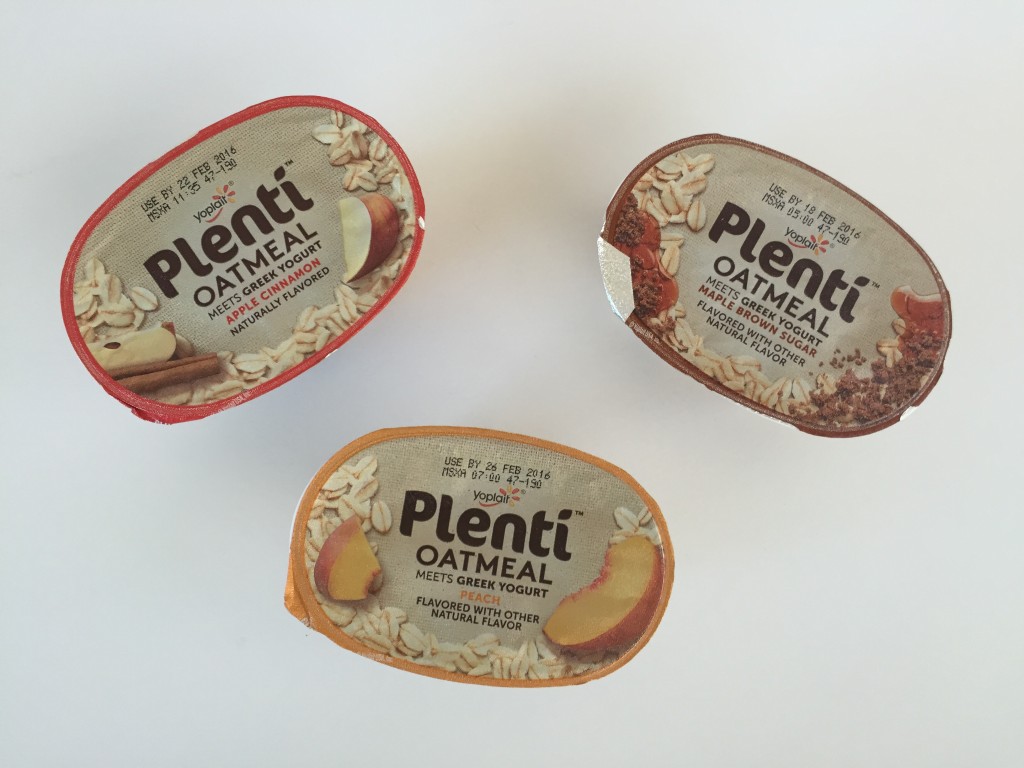 One of my recent favorite finds is Plenti. It's an oatmeal and Greek yogurt blend that comes in six delicious flavors–apple cinnamon, blueberry, maple brown sugar, peach, strawberry, and vanilla. It's filling and hearty like oatmeal, but with the portability and protein punch of Greek yogurt. The combination is unexpected and interesting–the perfect way to mix up your morning routine! I especially love the fruit flavors (peach is my favorite, pictured below!)–they're so creamy and delicious.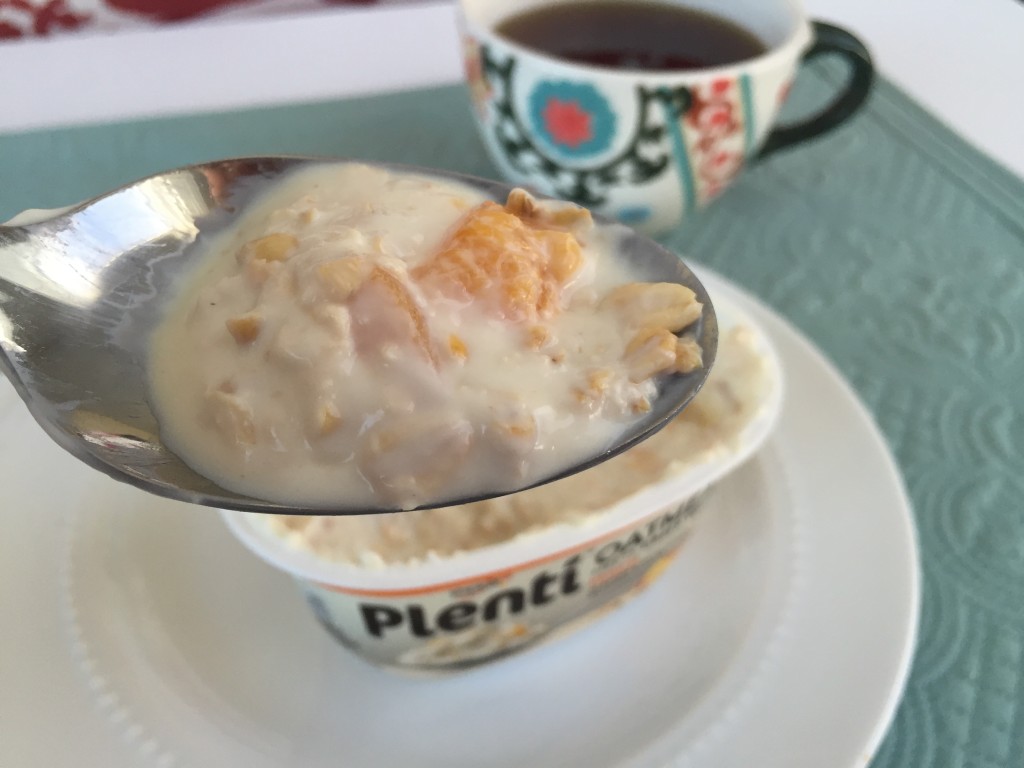 And because it's doesn't require any work on my part, I can just peel open the container, eat breakfast, recycle it, and move on! I love that simplicity. Plus, it keeps me full until lunch. (Here's a Plenti coupon if you'd like to try it, and check out the giveaway at the end of this post–you could win a week's supply of Plenti Oatmeal Meets Greek Yogurt!) So, if you're in a breakfast rut, try eating something different in the mornings. You and your tummy will be happy!
3 | Add in something enjoyable
I am so guilty of getting up and moving without adding anything fun into my mornings. (Which is likely to blame for my hating getting up!) Like, I'll wake up, brush my teeth, wash my face, eat breakfast, do my hair and makeup, get dressed, and then start working. No fun at all. I've been making a conscious effort lately to add something enjoyable into my mornings each day as an incentive to wake up. For example, about once a week, I'll treat myself to a latte or a cup of coffee at the local coffee shop. Or, I'll save the last half of a favorite TV show and watch it over breakfast in the morning. Sometimes, I'll set my alarm for 30 minutes before I need to get up and then call for my sweet dog, who'll come and cuddle with me until my real alarm goes off. Especially when it's cold outside, I like to add a hot bath to my morning, even if it's only for 15 or 20 minutes–it's such a soothing and calming way to start my day.
So, if you're in the habit of getting up and miserably going-going-going, try adding in something that you enjoy. A cup of coffee or tea? Some music? A short TV show? A brisk walk? Whatever you love, make a little time for it in the morning if you can.
4 | Change the order of your routine
I've seen a few studies that indicate that people who regularly mix up their daily routines (by taking a different route to work or showering in a different order) are more creative and out-of-the-box thinkers. I have absolutely seen this play out in my own life. Sometimes, when I'm struggling with writing a blog post, I'll reverse the order in which I usually craft it, which almost always leads to a more creative or unique approach to the post in the end. Other times, when I'm cleaning my house, I'll clean it in the opposite order that I usually do, just so that I don't get bored. When I do this, I often end up rearranging furniture or décor because I'm in an out-of-the-box mindset.
So, if you always eat breakfast last, try eating it first thing. If you always brush your teeth and then wash your face, try doing it the other way around. If you always get dressed immediately upon waking up, try wearing your robe throughout the morning and changing into your clothes just before you leave. Sometimes these little, almost unnoticeable changes can be so helpful in refreshing a stale routine.
5 | Encourage someone else
Right after I graduated from college, I used to do this every morning: send an encouraging text message to a friend or family member before leaving for the day. It was such a great way to get in the right mindset. Because no matter how much I didn't want to get out of bed in the morning, encouraging someone else reminded me that it's not all about me. It reminded me that all the dailies have a greater purpose, and that relationships trump everything. Thoughtful words can spark joy and spread love, even if they're typed quickly and sent through a text–don't underestimate that. This is a great way to start your day (and someone else's) on a positive note. If your mornings are bland and dull, try encouraging someone else as a part of your routine, you'll be better for it.
// GIVEAWAY: Comment below with one way you mix up your morning routine for a chance to win a week's worth of Plenti! For more information on Plenti, check out the Plenti Facebook page, the Plenti Twitter page, or the Plenti Instagram page.