Thank you Dove for partnering with me on this post. Visit your local retailer to pick up the Dove White Beauty Bar today!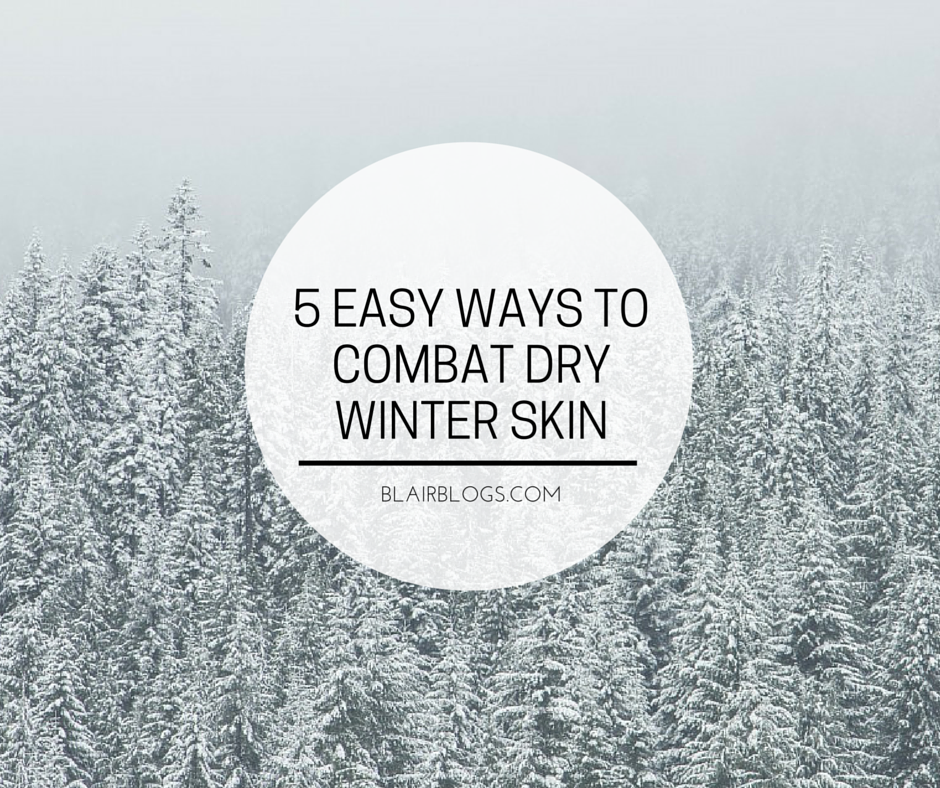 I have sensitive, overly-dramatic skin. At even the mention of cold weather my skin freaks out and becomes dry, flaky, and itchy. When I was younger, I would just scratch at my patchy, irritated skin, which obviously only exacerbated the problem. Now, I care a lot about having healthy skin, even in the dead of winter. Here's how I achieve it!
1 | Drink lots of water
It's so obvious: drink enough water and hydrate your body from the inside out. But it can be really difficult to get enough water in the cold months when you don't feel particularly thirsty. Try adding in a couple of glasses of caffeine-free hot or iced herbal tea or some fruit-infused water to your rotation so that you don't get too bored! This will help you reach your recommended water intake while mixing things up. Oh, and remember to limit caffeine, alcohol, and tobacco–all three are diuretics and dehydrate you.
2 | Take short warm showers (not long hot ones)
Nothing sucks your skin dry like an extra hot, extra long shower. As great as standing under the hot stream of water feels, it strips away your skin's oils and will leave you feeling stiff and itchy. Try to take more efficient showers with warm water instead of hot water to minimize the drying effect on your skin. Personally, I limit myself to one extra hot, extra long shower a week (usually on the weekend) in the wintertime. This helps me to keep my skin healthy while also allowing for the occasional shower indulgence.
3 | Shave at the end of your shower
I'm always interested in hearing the order in which people shower. It's one of those things where I simply assume that everyone bathes in the same order that I do…but when I actually ask, I'm usually wrong. I shower in the following order: get wet, shampoo hair, condition hair, wash body, shave, wash face, rinse off, get out. I've always shaved at the end of my shower because I find that my hair is softer and easier to remove then.
As it turns out, this is especially helpful in the cold weather months when your skin is dry and you're trying to prevent razor burn and irritation. Be sure to use a sharp razor–dull ones are dangerous and can cause nicks and irritation. One final tip with regards to shaving is to do it less often or shave less area in the winter. For example, in warm-weather months, I shave my full leg, but when it's cold outside, I shave just to my knee. Less time in the shower, less chance for irritation, less drama altogether.
4 | Choose products carefully
When combating dry and irritated skin, it is critical to consider the products that you're using. I am a longtime Dove user because it's a gentle cleanser, not a soap. While soap strips skin of essential nutrients, the Dove White Beauty Bar that I've been using for years is a blend of mild cleansers, is hypoallergenic and noncomedogenic, and contains 1/4 moisturizing cream.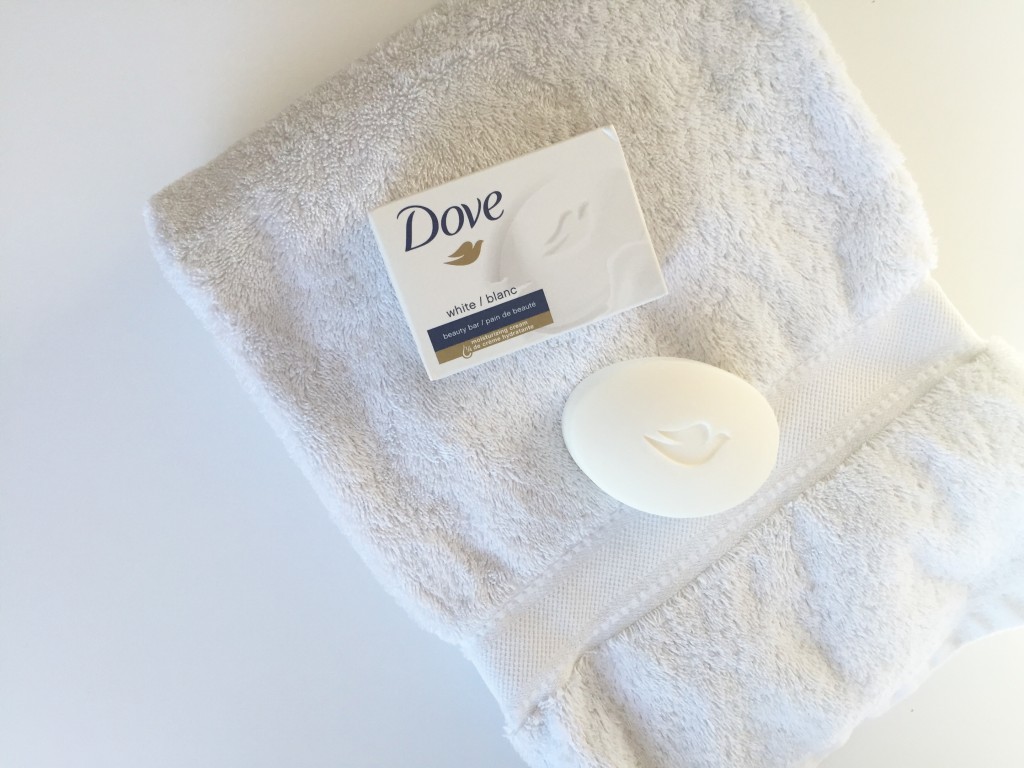 Aside from how soft and smooth my skin feels when I use the Dove White Beauty Bar, my favorite thing about the product is how lovely it smells. I always feel so fresh and feminine after I shower! (Bonus: the bar is so gentle that you can even use it on your face!)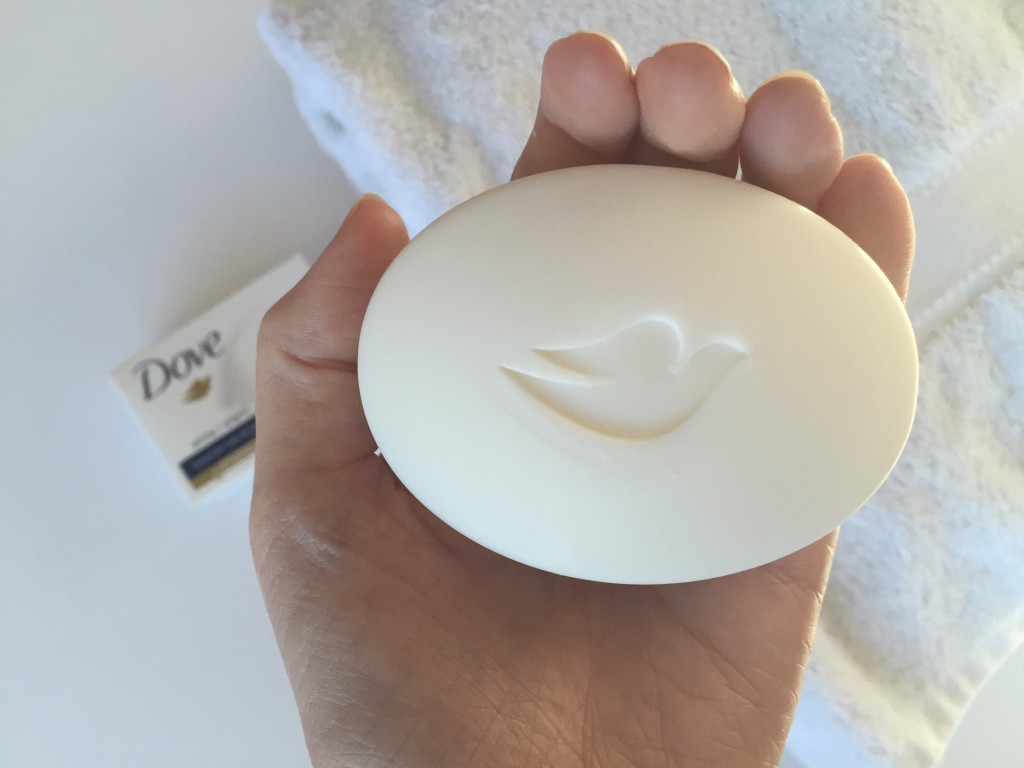 If you're looking for a gently winter cleanser to keep your skin healthy and radiant, you can pick up two Dove White Beauty Bars for about $4. As I said, I really love this bar. It also comes highly recommended from dermatologists; in fact it's the #1 most recommended bar for its unique DEFI technology, which helps keep skin soft.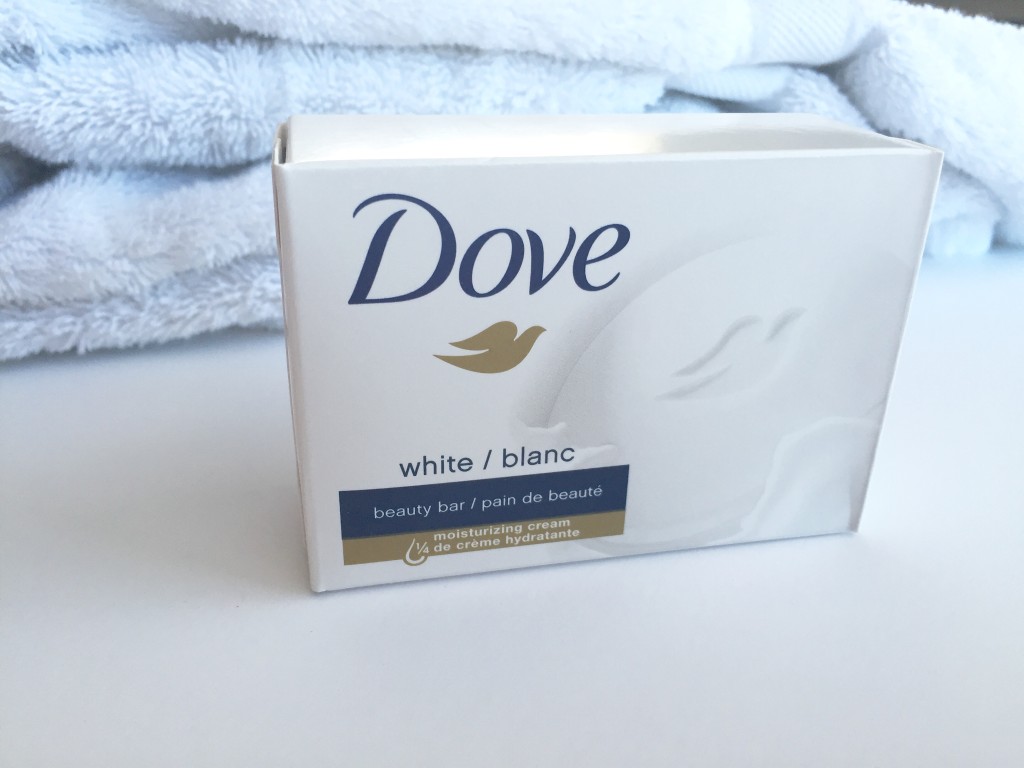 5 | Humidify your air
If your throat is dry and scratchy when you wake up in the morning and your lips are chapped, you need to humidify your home's air. Pick up a humidifier at a drug store and fill it before you go to sleep each night. Riley and I have been doing this all winter and have been amazed at what a difference it has made. Our throats, lips, eyes, and skin are all happy and healthy when we awake.
A cheap alternative to a humidifier is simply simmering a pot of water on your stovetop throughout the day. Since I work from home, I often do this (sometimes with a few drops of essential oils added in). It's super easy yet highly effective–I just refill the pot whenever it starts to run low on water, which is typically every three or four hours. This should go without saying, but only simmer water on your stovetop when you're at home to watch the pot!
Those are five quick and easy ways to combat awful flaky, dry, itchy, uncomfortable winter skin.
// How do you keep your skin healthy and radiant when it's cold outside?
I was selected for this opportunity as a member of Clever Girls and the content and opinions expressed here are all my own.