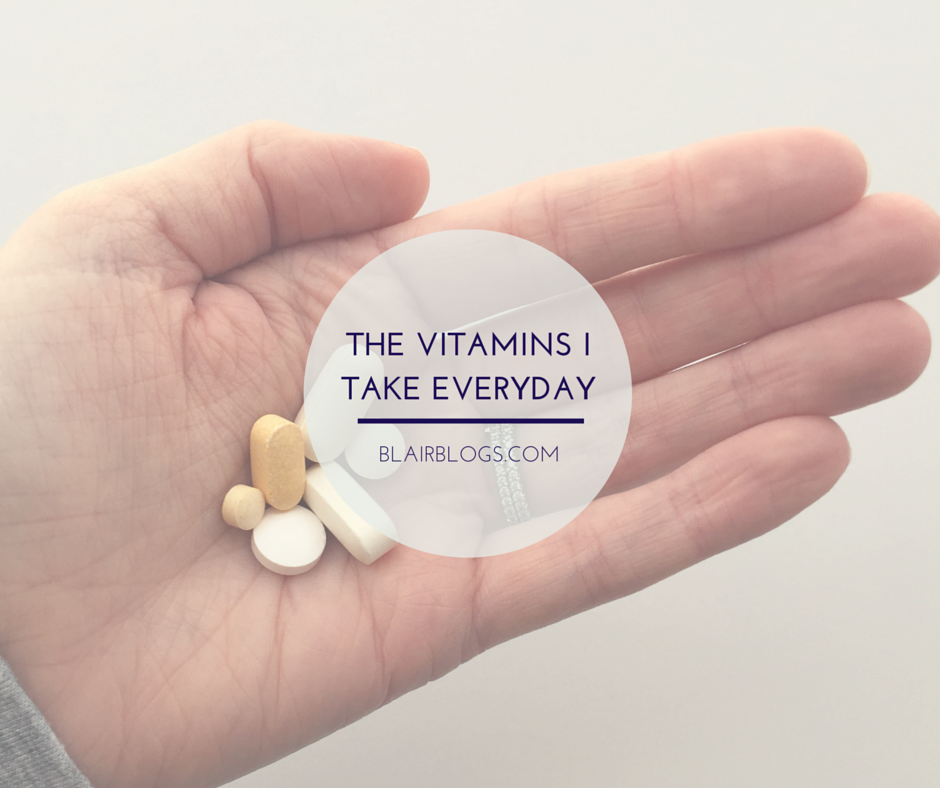 During my sophomore year of college, I fell extremely ill with mononucleosis. My recovery was very, very long (over seven months), and my body was very, very weak. I was exhausted all the time, my appetite was iffy at best, and my muscles had wasted away to nothing. It was terrible! A few months into my mono marathon, I began researching natural ways to boost my energy and feel better overall–and that is when I discovered the power of vitamins!
Since then, I've taken an assortment of vitamins each night before bed. I change what I take based on my body, the season, etc.  Here are the vitamins that I'm taking everyday at present! (Note: Of course, the best way to nourish your body is to eat well. Also, I'm not a doctor.)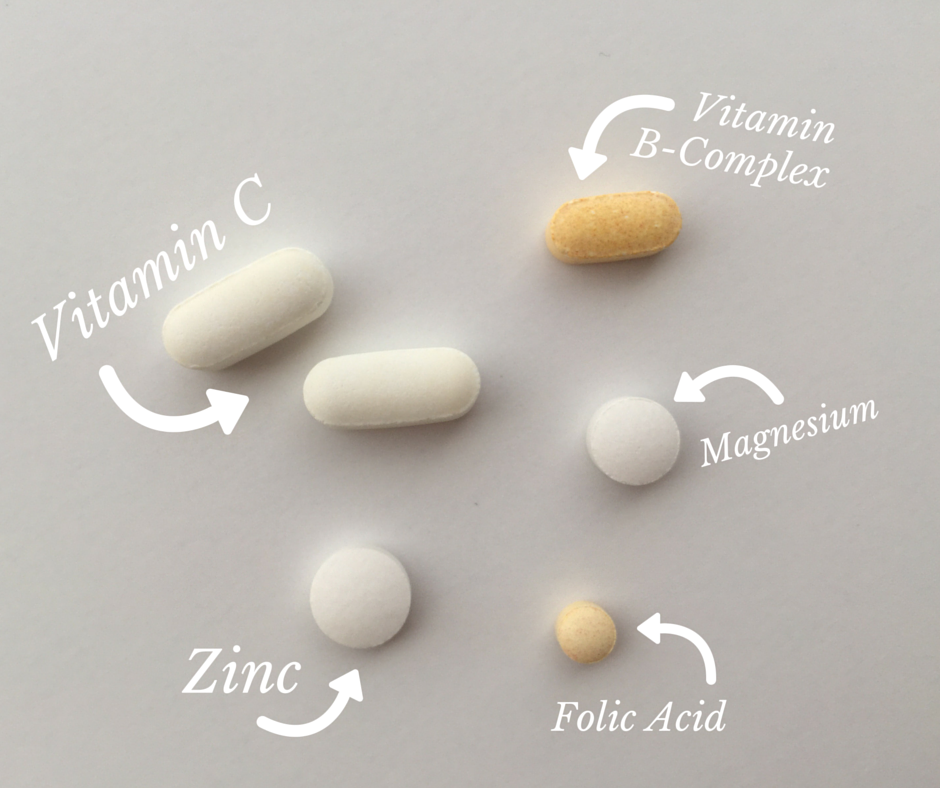 1 | Vitamin C
Why I take it: it's an immune system booster (especially when weakening is due to stress), and it protects against cardiovascular disease, eye disease, skin wrinkling
What I've noticed: I have gotten sick far less since I've started taking Vitamin C regularly. I used to have a killer immune system, but after mono, it was significantly weakened. That being said, since I've started taking Vitamin C daily, I rarely get coughs and colds, and when I do, I seem to recover more quickly.
Where I buy it: HERE // more information HERE
2 | Vitamin B-Complex
Why I take it: So many reasons! The B vitamins work together to protect my immune system, support healthy hair, skin, and nails (B7 and Biotin are the same thing), hormone support, stave off stress and anxiety, and help convert food into energy
What I've noticed: I have noticeably more energy when I take my Vitamin B-Complex. I originally only took B-12, but once I learned how much the B vitamins work in tandem, I started taking this B-Complex.
Where I buy it: HERE // more information HERE
3 | Magnesium
Why I take it: supports nerve, heart, and muscle function, helps build bones, helps maintain healthy blood sugar levels, is often referred to as "nature's antidepressant"
What I've noticed: Magnesium is my favorite vitamin and would easily be my choice if I ever had to choose just one to take for the rest of my life! Whereas I used to get daily physical anxiety (like a racing heart, shaky hands, tightness in my chest), I almost never do anymore. In fact, over the past year, I've kept track of my physical anxiety. It was consistently affecting me about 20-25 days a month pre-Magnesium. Now, I haven't had a day with physical anxiety in three months. Three months! Plus, it seriously takes the edge off of my menstrual cramps, which are notoriously bad. I love my Magnesium!
Where I buy it: HERE // more information HERE
4 | Folic Acid
Why I take it: Folic Acid helps my body produce and maintain new cells, helps prevent changes to DNA that may lead to cancer, helps prevent jumpy legs (the worst), sleep problems, and depression. It is recommended that women of childbearing age take Folic Acid daily as it is critical for fetal development and a deficiency can lead to birth defects.
What I've noticed: I hate having jumpy legs (or restless leg syndrome), it is the worst. Since I've taken Folic Acid, I haven't had that terrible jumping-out-of-my-skin feeling once. Yay!
Where I buy it: HERE // more information HERE
5 | Zinc
Why I take it: may reduce the length of colds, helps fight infections and heal wounds, supports the immune system, and supports enzyme functions
What I've noticed: Much like Vitamin C, I've noticed that I'm healthier overall and overcome sickness more quickly since I've started taking Zinc. I usually only take it during the winter months!
Where I buy it: HERE // more information HERE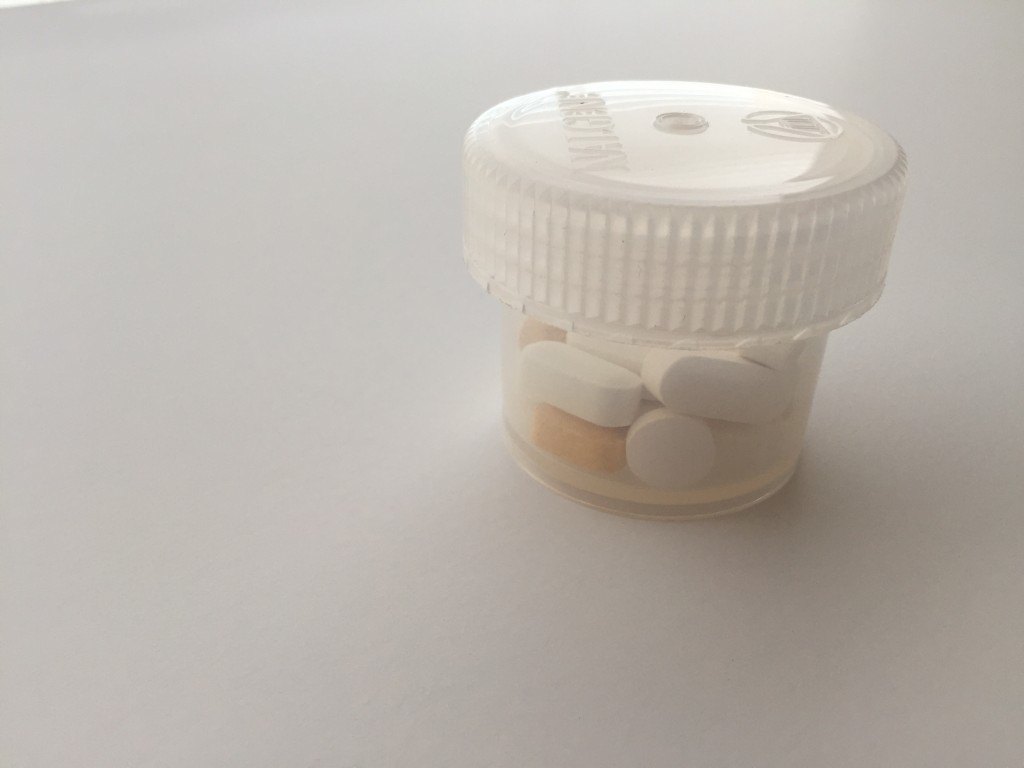 Oh, and I count out my vitamins for the entire week and put them in a small Nalgene brand travel container (this one). My container lives in my nightstand so that I can take my vitamins before I go to sleep each night! Works for me!
// What vitamins do you take each day? Which are your favorites?
use the image below for Pinterest