This is a sponsored post written by me on behalf of Burt's Bees. All opinions are 100% mine.
It's the beginning of the year, and though I'm not big on New Year's resolutions (more about that here), I do love a fresh start. New calendars and planners, a clean home, and a refreshed look all help me to refocus my energy and rethink my priorities as I head into the next 12 months. There are many easy-to-implement ways to mix up your routine or freshen up your home, but refreshing your look can be tough. It is, after all, what you're used to and comfortable with. But sometimes the best way to breathe new energy into your life is to rethink your daily look! Here are some ideas if you need a little inspiration.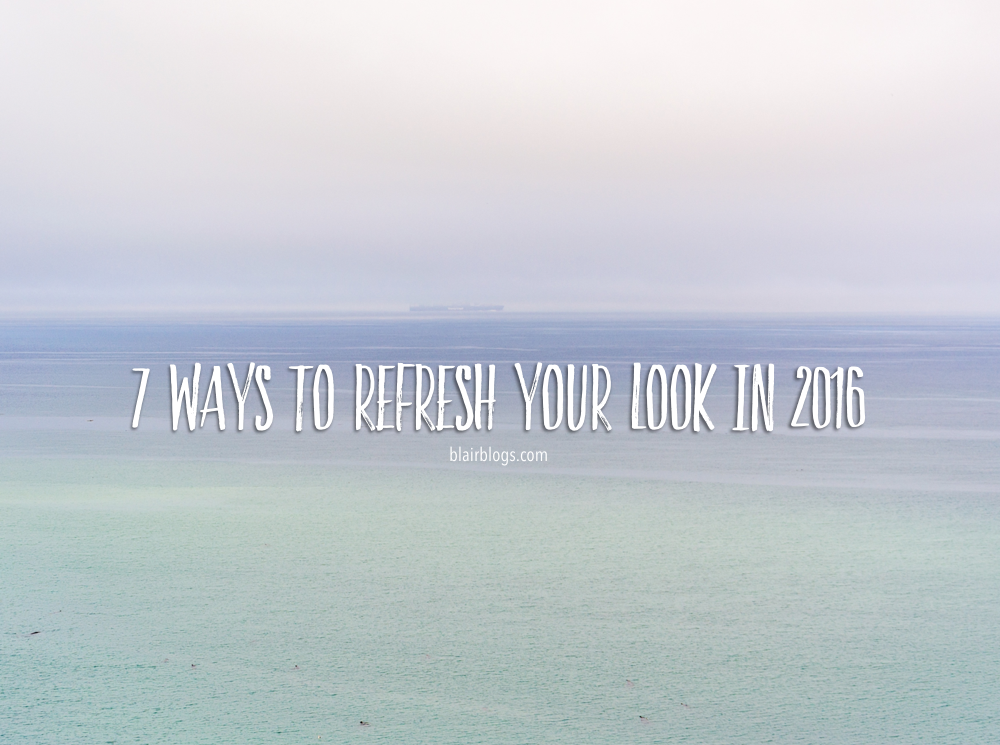 1 | Get a Haircut/Grow Your Hair Out
I am the queen of getting dramatic haircuts as a way to end or begin a chapter of life. For example, when I graduated from high school, I got a super short inverted bob. It was such a fun way to "reset" before heading off to college. And then, after I graduated from college and moved to Texas, I snipped my hair again–this time, a collarbone length long bob. Once I got engaged, I started using high quality hair care products and got a keratin treatment to grow my hair out. Each time, I've felt like a whole new woman!
To the girl who has been dreaming about coloring or highlighting or cutting or growing out your hair, but is too afraid to book an appointment–just do it! Life is too short. It'll grow back if you don't like it! And thank goodness, there are dozens of awesome blogs with hair styling tutorials online for any look!
2 | Accessorize Differently
If you always wear stud earrings, pull out your dangly ones and give them a whirl. If you always wear big, chunky statement necklaces, try wearing a simple, small necklace and make a statement with your outfit instead. You probably have lots of accessories in your closet or jewelry box that you never wear–why not rotate them in now?
Whenever I'm feeling like my "look" is kind of stuck or lifeless, the first thing I do is change the way I accessorize. It's easy, it can be free (or inexpensive if you grab a few new items!), and it feels good to mix things up. Sometimes I'll start carrying a new bag, sometimes I'll start wearing scarves, sometimes I'll pull out a pair of earrings or a necklace that's been getting dusty and give it some airtime once again. Try some different accessories and see if it doesn't refresh your look.
3 | Try a New Shade of Lipstick (Or Three!)
Lipstick makes such a big difference, doesn't it? Sometimes I'll do my makeup, put on one color of lipstick and realize that it's all wrong for the look I'm after. Once I switch to something more subtle/bold/whatever I'm going for, I always feel so much more put together. I'm very picky about everything lipstick, though, because it's on my lips, so it inevitably gets ingested. Plus I cannot stand the feeling of sticky or crusty lips. Gross!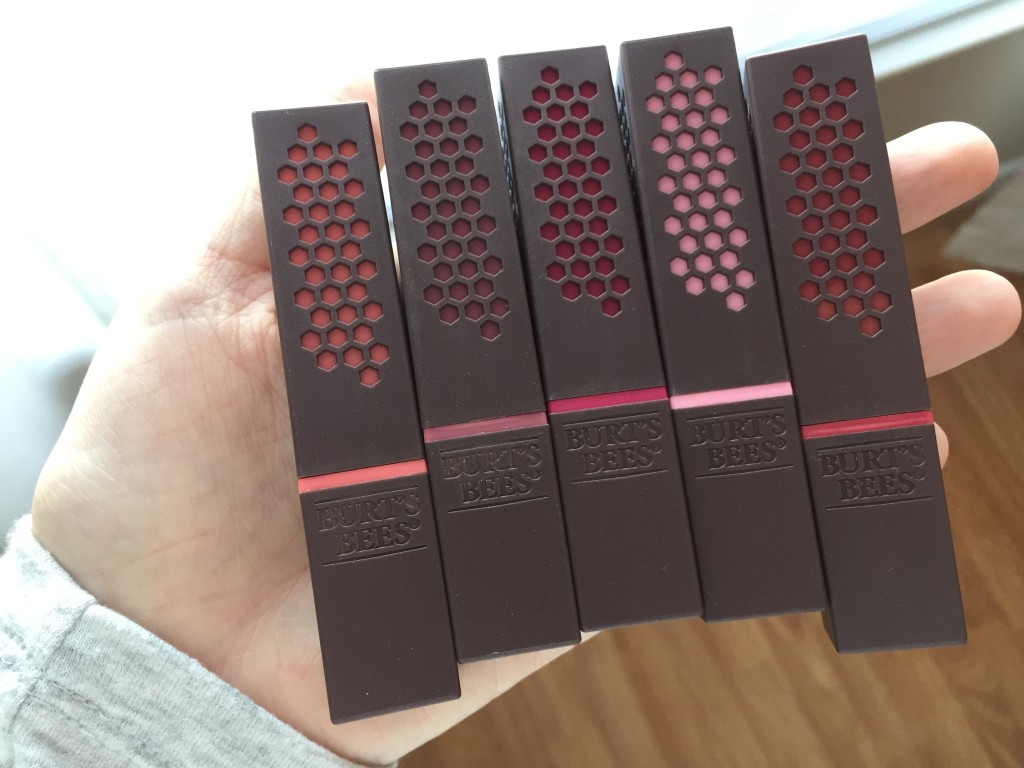 Because of this, I've used Burt's Bees chapstick under my lipstick for years. But guess what? Burt's Bees just came out with a new line of lipsticks! I love when I can simplify my makeup routine…now it's just one step for moisturized and colored lips. The ingredients are, of course, all natural, and there are 14 colors to choose from. Surely you can find a few colors that will spice up and refresh your look this year! All of the new colors are available at Target…I've swatched each one below.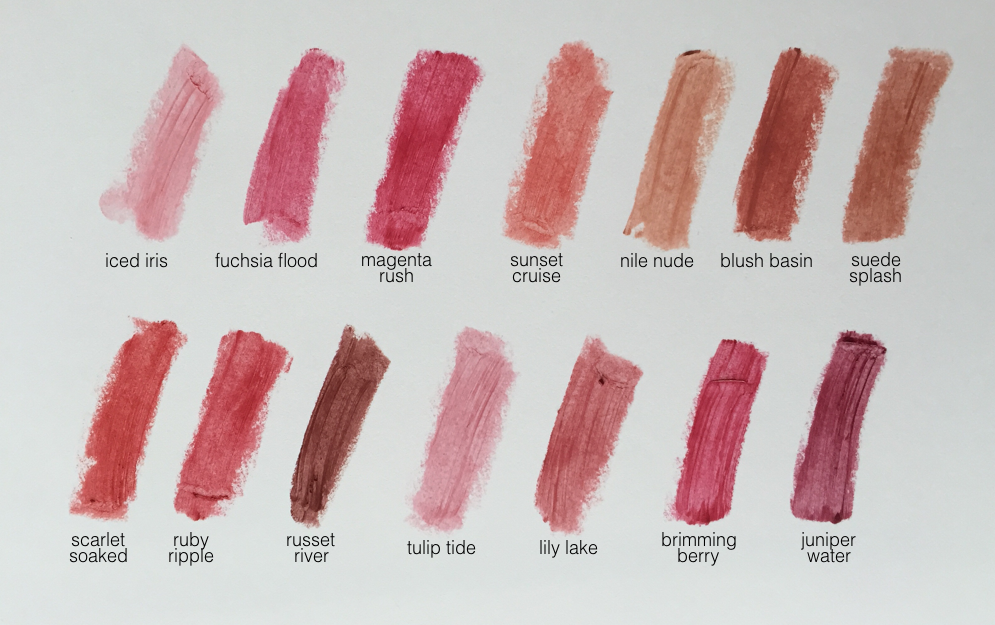 My personal favorites are Lily Lake and Sunset Cruise for everyday wear, and Ruby Ripple or Brimming Berry for the "wow factor" on special occasions. I really like the way these lipsticks feel. They have a satiny-smooth finish, and the color is highly pigmented, but they're not heavy. And they moisturize my always-dry lips well, which is a huge bonus. Adding a new shade of lipstick to your makeup routine is a great way to refresh your look this year!
4 | Wear a New Scent
I've always found the link between scent and memory fascinating. I love when I get a whiff of honeysuckle and it takes me right back to being six years old in jean overalls at my first summer camp. Or when I smell oranges and am immediately transported to studying abroad in Seville, Spain, where orange trees lined the streets. Or when I put on my favorite perfume, and I am reminded of that sweet day in late July last year when I got married.
If you're looking for a fresh start this year, consider wearing a new scent of perfume. If you're not big on perfume, a new shampoo, conditioner, or body wash would be a great alternative. Each time you smell your new scent, remind yourself that each day is a fresh start, a new beginning, and can be the start of something incredible.
5 | Wear Colors That You Usually Don't
Almost my entire wardrobe consists of white, grey, black, navy, and tan clothing. Seriously–probably 90% of it! I like my color palette and how easy it is to get dressed since everything tends to "go," but there are definitely times when I'm craving a splash of color. This year, I've decided to buy a few pieces of colorful clothing that I can put into my wardrobe rotation as a way to refresh my look. I think that a couple of bright, punchy sundresses and tops will be perfect for the Spring and Summer, and perhaps some green or maroon for the Fall and Winter. (Because of my hair, I don't wear red or orange…but who knows, it's a new year!)
6 | Paint Your Fingernails
I absolutely love when my fingernails are painted. I feel so put-together and polished, no pun intended! But getting my nails done at a salon can get expensive, and I don't always have the patience to wait for my nails to dry when I paint them at home. On New Year's Eve this year, however, I pulled out my brightest red polish and painted my nails with it. I then sat in front of our space heater and waited just a few minutes for them to be completely dry! (This was especially nice because I was so toasty warm and comfortable while I waited!)
I usually go for nude, grey, or light pink polish, but I decided that red was going to be a reminder to be bold this year! Every time I see my fire engine red nails, I smile…they're just so much fun!
7 | Get Rid of Everything You Can
That pair of jeans that's four sizes too small? You know, the pair that you're hoping to fit back into someday? Donate them. Your old shimmery eye shadow that you wore in high school? Trash it. That sweater that looks cute on a hanger but makes you feel frumpy when you wear it? Give it away. A new year is a fresh start and the perfect time to reevaluate your wardrobe, accessories, and makeup.
Once you whittle down your stuff, you will be able to truly evaluate your look and what needs refreshing. If every piece of clothing that you keep is the same color, perhaps you'll decide to try a few new colors. If all of your makeup leans toward a dramatic look, maybe you'll try to find some products for a softer, more natural look. If the only shoes that remain are ballet flats, it may be time to update a pair or two or try a new shoe style completely.
I'm all for a fresh start, and this new year of 2016 is the perfect time to refresh your look!
// Do you ever push "reset" on your look? What's your favorite way to mix things up?