This is a sponsored post written by me on behalf of Create the Good. All opinions are 100% mine.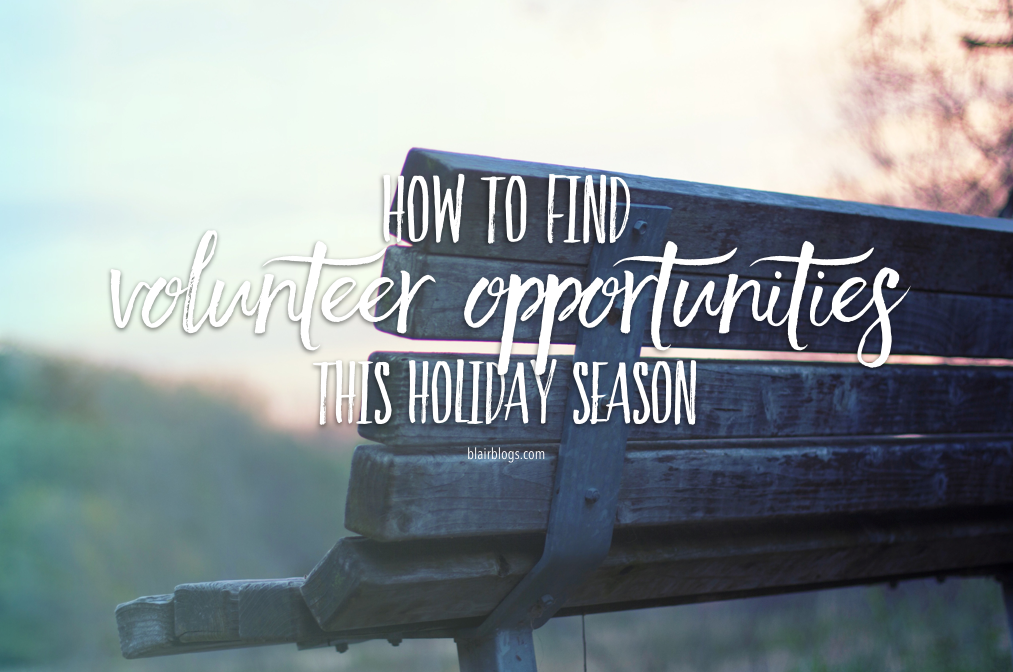 I often wonder whether I'm doing enough to help, serve, and love others, especially at this time of year. Despite my best intentions, it's all too easy to get wrapped up in my own life, selfishly ignoring the needs in my community and world. There is such abundant joy to be found in serving other people; in fact, some of my most refining, grounding, joyful experiences are those when I was serving others.
Like when I volunteered at an orphanage in Honduras four years ago and fell in love with the sweet kids that I had the privilege of meeting there. I helped to build a fence around the perimeter of the orphanage so that the children would be safe. That week in the hot Honduran sun was an incredible blessing to me and taught me to take everything as a great gift–fences, family, food, shelter–it's all miraculous.
Or in college when I spent time with the residents at a local Memory Care Center, which is a place for people who have dementia or Alzheimer's to go during the day to give their caretakers a break. Though many of the sweet men and women I spent time with truly could not tell me what they had eaten for breakfast, I was awe-struck listening to their detailed accounts of years passed. My time at the center taught me to cherish each moment and memory for the beautiful blessing it is.
Or the past two summers, when I led a group of middle schoolers on a week-long serving trip in Dallas, where we run a day camp for children in the mornings and serve dinner at a homeless shelter in the afternoon. Watching relationships unfold between the middle schoolers and both the children and folks who are homeless reminds me of the deep human threads that weave through all people.
Currently, my husband Riley and I are going through the membership process at our church so that we're able to lead one of the preschool rooms on Sunday mornings, giving parents a break and an opportunity to go to church. Having been a Sunday School teacher in the past, I know the overwhelming joy that abounds when I work with children…they breathe such life and energy into every situation.
Riley and I have also been wanting to find a few volunteer opportunities in our community where we can serve local families and hopefully spread some joy around us. Especially at this time of year, in the spirit of giving, we are eager to help where we can. But it can sometimes be hard to know where to help. When I heard about Create the Good, I was overjoyed! This is exactly what I was looking for: a website with searchable volunteer opportunities in my community.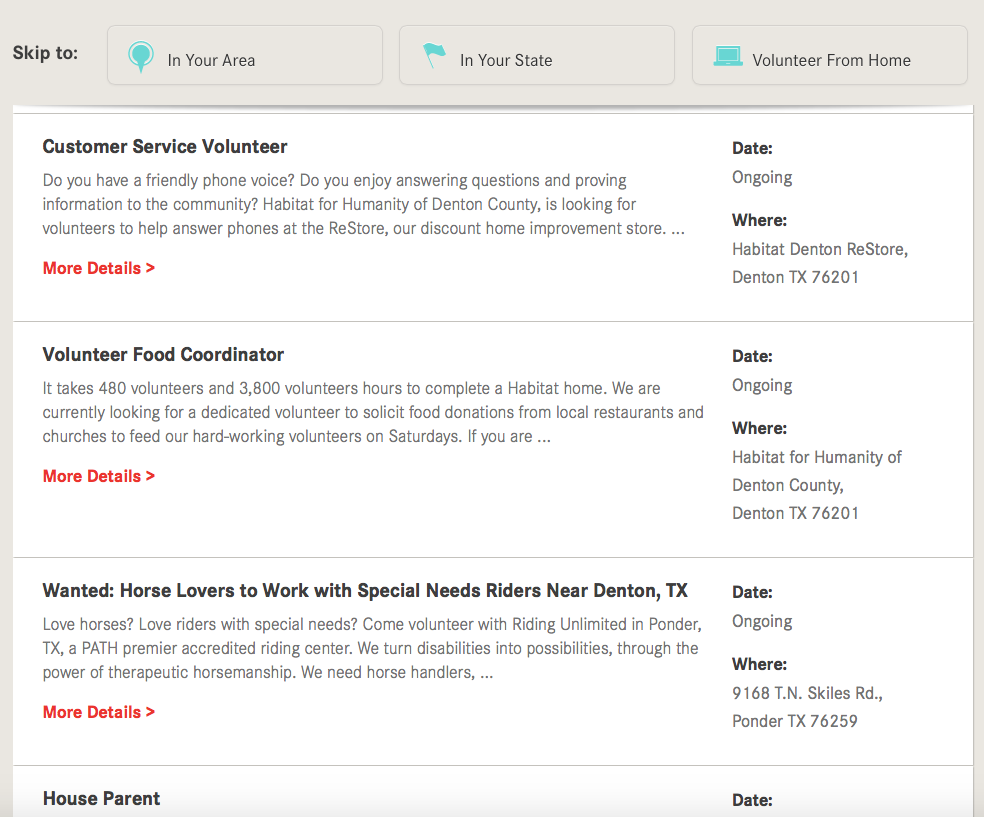 When I entered my zip code and searched, I came across lots of opportunities, like a Volunteer Food Coordinator at a local food pantry, an Equine Assisted Therapy Volunteer at a local ranch, or an Adult Literacy Volunteer (screenshot of my search results above). I know I'm new to the Denton area, but I truly had no idea that there were literally dozens and dozens of volunteer opportunities right around the corner from me! I also liked that I could sort/refine my search based on what I was interested in. That way, I can put my experiences, skills, and passions to good use. (Plus, the interface is super user friendly and clean, which is important to a web design snob like me.)
I scrolled through and researched several of the opportunities available and decided to look into being a volunteer at a local Equestrian Center that offers classes for children who have special needs. Though I'm no horseback rider, the description notes that training is provided. I have, however, worked with children who have special need and their families in the past. In fact, I had the privilege of starting a special needs program with two other women at my last job working as the Preschool Director at a church in Austin. This sounds like a great opportunity to give back!
As far as a volunteer opportunity that Riley and I can do together, there's a food pantry nearby that is looking for help. We could volunteer there as a couple, which is a nice way to provide accountability (plus, it makes serving more fun!).
While I was searching through the Create the Good website, I came across a current program called 25 Days, 25 Ways to Give. I love the idea of doing random acts of kindness and creating the good, so I clicked through and signed up! Here's what it looks like: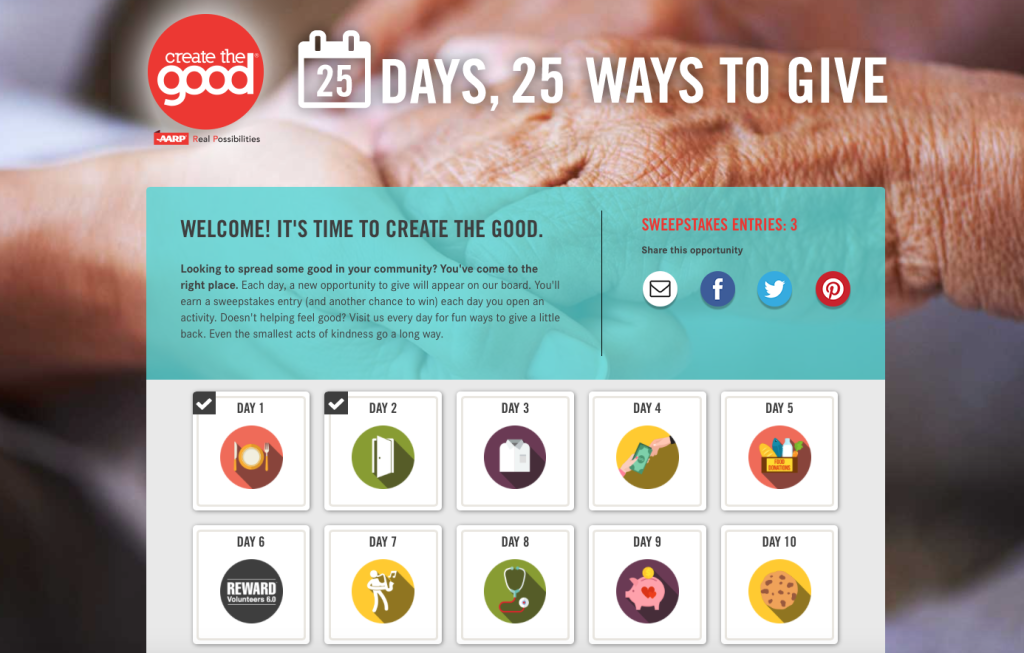 Turns out, it's a great calendar with 25 different ways to give back. Some are really simple, like posting a positive or inspirational quote on social media, while others require more thought, like organizing a food drive. Each day has a little icon, and when you click on it, more information about that day's idea pops up (shown below). So throughout the 25 Days, 25 Ways to Give campaign, the idea is to do one action each day to help someone else. I love it! (Once you sign up you can begin at any time during your 25 days–there's no right or wrong time to start!)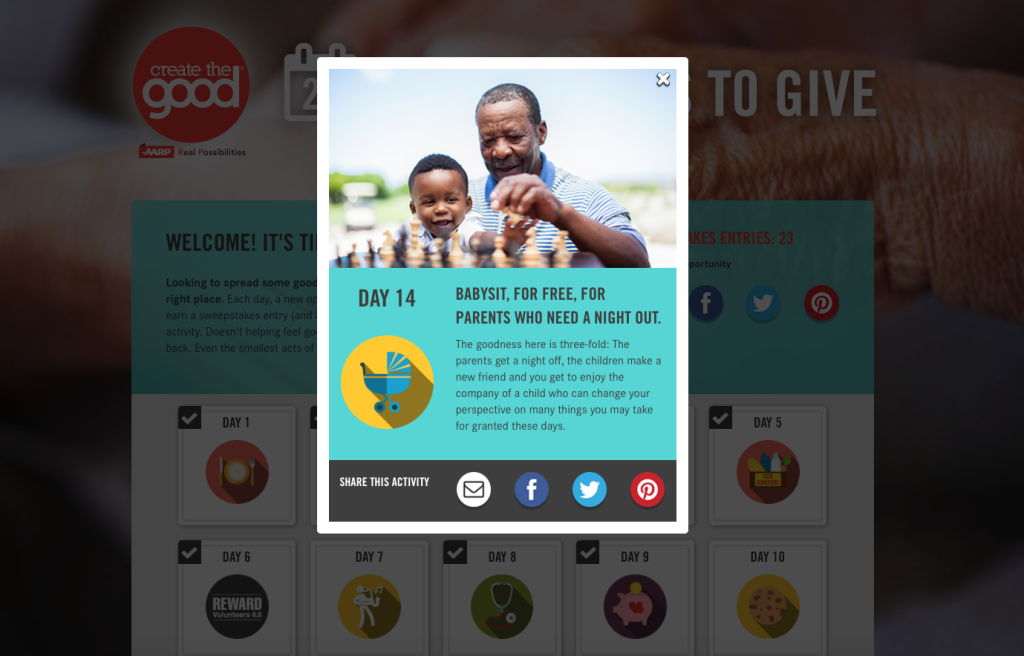 Something fun and unique about this campaign is that each time you "create good," (and check off one of the 25 Ways to Give checkboxes), you'll be entered to win a trip to Smuggler's Ranch Resort in Vermont or one of 25 $100 Visa gift cards. Hey, a little incentive never hurt anyone, right?
Thanks to Create the Good and 25 Days, 25 Ways to Give, I feel empowered to serve my community this holiday season–which is hugely important because, as Albert Einstein said, "The value of a man resides in what he gives and not what he is capable of receiving."