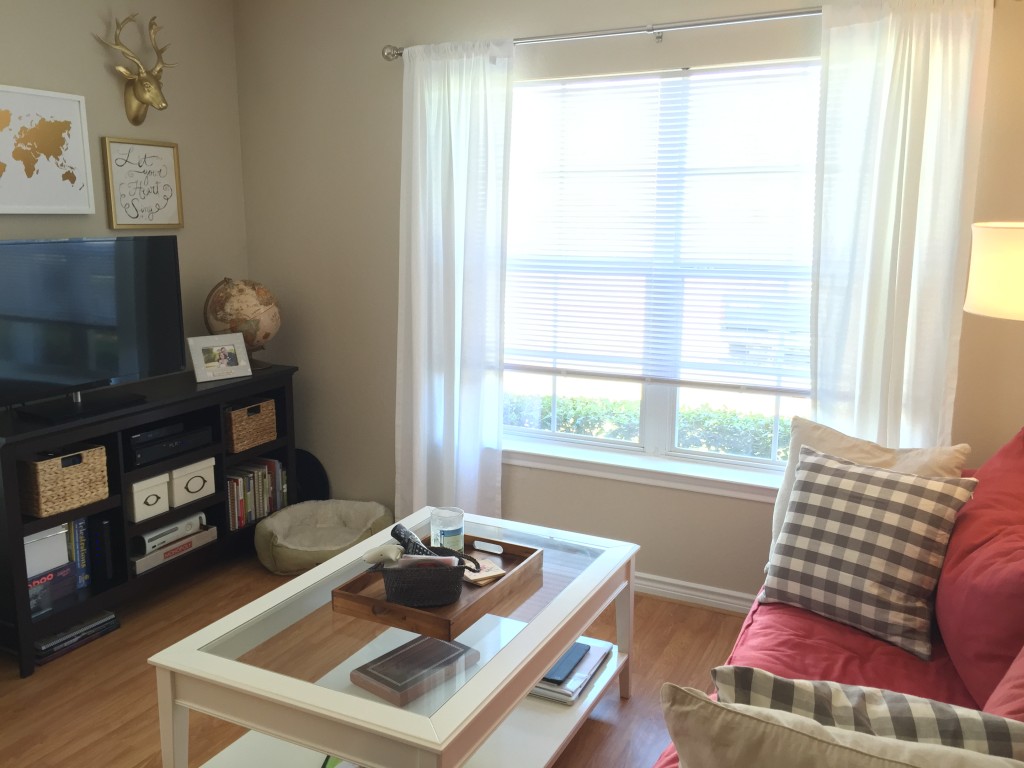 I take a lot of pride in my home, the way it looks, and the way it's run. It's really important to me that I live in a comfortable, cozy, and clean environment. On top of this, God has definitely given me a big heart for hospitality. I absolutely love to have people over for a party, meal, or movie night. Even in college, when I lived in a small dorm room, I used to love being the "hostess" when friends on my hall would pile in my room to watch The Bachelorette on my tiny 20″ TV. When I lived in Austin, my three best friends came over my apartment almost every Thursday night for a "home gathering," which is a goofy term that we used to describe hours of talking, laughing, sipping tea, and eating dessert together. All of this compounded with being raised in a home that frequently welcomed guests, I've developed a system for getting my home in order quickly when I have company coming over so that my guests will feel as welcomed as possible.
Here are seven quick things that you can do to feel confident and relaxed about welcoming guests into your home. I do all seven of these things every time I have people over, and depending on the state of my home, it usually takes me between 15 and 30 minutes!
1 | Clean The Bathroom
Though I give my bathroom a good scrub-down once a week, I always clean it before having guests over as well. There is nothing more disgusting or unwelcoming than going into someone else's house and using their dirty, grimy bathroom. It's just vile. What may seem fine to you (hair on the countertop or makeup on the sides of the sink) could really gross out your visitor, even if it's a close friend or family member. I can think of several times when I've been invited over to someone's house and been absolutely disgusted by their bathrooms even though I adored the person hosting me.
Here's what you need to do: remove junk from the countertops and put it away/throw it away. Wipe down the sink, countertop, and toilet with a disinfectant (I keep these under the sink for simplicity's sake). Clean the toilet bowl (I use this–again, super easy). Windex the mirror. Then, switch out your hand towel for a fresh one. If you don't have a hand towel holder/hanger, put a hand towel folded on the counter–don't make guests wipe their hands on your shower towel! Finally, place a spare roll of toilet paper on the back of the toilet, so that your guest won't have to awkwardly open your bathroom cabinets in search of one (I have one of these and keep it stocked all the time, so this step is super mindless!). Doing these things won't take long, but it will make your guests super comfortable if they need to use the restroom as it will be clean and tidy, there will be a fresh towel to wipe their hands on, and extra toilet paper should they need it. You should also consider lighting a candle, but I'll cover that later in #5!
2 | Clean The Kitchen
As with the bathroom, a dirty kitchen can be a real turn-off to your guests. This is especially true if you're serving a meal! Imagine heading over to someone's house for dinner and seeing moldy dishes in the sink or sticky juice stains on the countertops–yuck! A grimy and disorderly kitchen could make guests feel uncomfortable and even make them second-guess your cooking, which I'm sure is great! Clean your kitchen to avoid this unnecessary awkwardness.
First, do your dishes. They are the #1 culprit for nasty smells and sights in the kitchen. Fully unload and reload your dishwasher! (This is my second least favorite chore–my least favorite is cleaning the floors–but I've learned to do it every single day because it makes my kitchen look pristine!) Then, wipe down your countertops with a sponge or paper towel (I use this on a clean sponge, it smells great and works wonderfully!). Additionally, replace your dish towel with a clean one. This is something I do daily anyway, #learneditfrommymom, but I always swap out my dish towel again when company is coming over. It's an easy way for my kitchen to look fresh! Lastly, take out your kitchen and bathroom trash at this time.
3 | Tidy Up The Rooms You'll Be In
Unless you live in a Tiny House, your guests will likely congregate in just a few rooms of your house, not all of them. Of course, if you're hosting a large group and you know well ahead of time that they're coming, you could clean your entire home if you have the time. If not, however, focus on the rooms you'll be spending time in. These rooms will typically be the kitchen, living room, family room, and perhaps dining room if you have one.
First, walk through these rooms, and pick up any stray items sitting around, like glasses of water, shoes, or dog toys on the floor. Put those items where they belong. Then, fluff the pillows on your couch, fold any blankets, straighten the coasters or stack of magazines on your coffee table, and put your laundry basket in the laundry room. If you keep a tidy home already, this step will take just a couple of minutes. There's no use in trying to make your home look like a showroom–it's not! Certainly your space can looked lived-in, but there is a difference between some mail on the counter and a crusty yogurt cup on your coffee table!
Feel free to shut the doors of the rooms that you'd rather guests not see or enter. A shut door is a universal sign for "do not enter," so your guests likely won't open up shut doors. If you don't have time to make your bed or fold your laundry, just shut your bedroom door and laundry room door and call it a day!
4 | Open Curtains & Turn On Lamps
Regardless of what time of day you're entertaining, it's important that your home is bright and cheerful. Simply open up your curtains and blinds in rooms where you have windows; you can even crack a window or two if it's nice outside. Fresh air is always a good thing! Then, turn on several lamps. I absolutely hate overhead lighting. I feel that it's completely unwelcoming and harsh–it just cannot compare to the warm, cozy glow of a lamp or two. Save the kitchen overhead light, I only use lamps! If you like overhead lights, consider turning them off when you have guests over to achieve the warmth and softness of a lamp.
5 | Light Candles
I always light at least two candles when I have company coming over–usually more (at least one in my living room and one in the bathroom). First of all, I use scented candles, so lighting candles will ensure that my house smells good. But more than that, candles are lovely and relaxing. They are gentle and pretty and promote unrushed conversation and leisurely time together. I just love having lit candles around my home and usually have at least one candle going every single day of the year when I'm working from home!
In addition to all of this, a candle in the bathroom is utilitarian. It smells nice and thus will cover up any undesirable smells, and its glow allows guests who are unfamiliar with your home to easily find the light switch!
6 | Check Pantry & Fridge
Even if your company is not coming over for a meal, a good hostess always offers something to eat and drink to those who are visiting. (My sister-in-law jokingly calls me "Gam Gam" as a nod to my grandmotherly food/drink offering whenever she comes over…I take it as a compliment!) Browse your pantry and refrigerator and take inventory of what you have. Even if you don't have much, you could brew some tea, pull out a bowl of pretzels, put some store-bought cookies on a plate, or slice some cheese and serve it with veggies and crackers. You don't have to make a complicated appetizer or Food-Network-worthy dessert to make guests feel welcome. Use what you have! (I always keep black tea bags on hand so that I can make a fresh pitcher of iced tea when I have people coming over…it's usually a safe bet and takes nothing but four tea bags and some water!)
7 | Freshen Up
Now that your house is clean and serene (or at least the parts of it that count!), make sure that you are as well. When you're frazzled and stressed, you probably look it, and that can be unsettling to company, especially if they're new friends. Like, "Oh shoot, did she really mean it when she invited me over?" or "It seems like I'm stressing her out by being here!"
If you have time, you could shower, put on a fresh outfit, and do your hair and makeup. If you don't, simply comb your hair, refresh your lipstick, and brush your teeth. It's not as much about how you look as how you feel. When you feel pulled together, you'll put off a calm, warm vibe that will feel instantly welcoming to guests. And that's what creating a hospitable home is all about!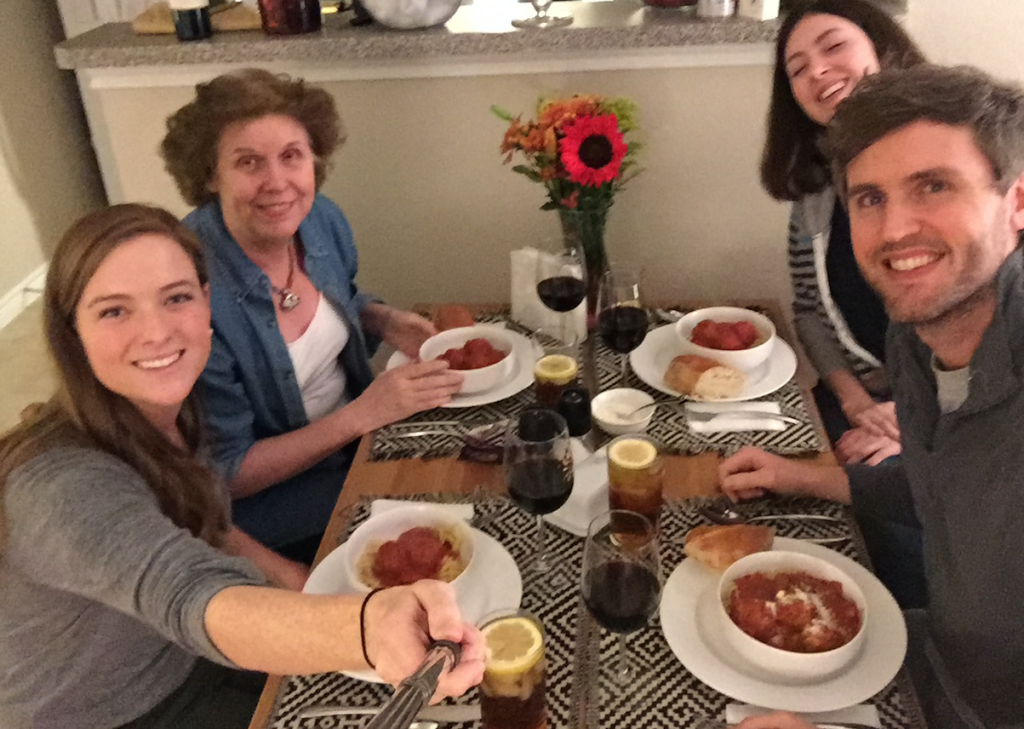 So, here's to spaghetti dinners with my new family and selfie sticks to capture the fun! 😉
There are seven quick and easy things that you can do to make your home a peaceful and welcoming haven for your beloved family and friends! There is something very special about inviting people into the place where you live–it's so much more personal and intimate than a restaurant or coffee shop, especially if your home is clean and tidy. You'll find that the conversations that you have in your home with friends or family will reflect just that; they'll be more personal and intimate, which is exactly the point! Inviting company over isn't supposed to be an exhausting keeping-up-with-the-Jones' charade or a stressful showing-off of what a great housekeeper you are–it's meant to be a time to get to know the beating hearts and beautiful souls of the people in your life.
How often do you have company over? What do you do to get your home in order? Does anything on my list resonate with you? What would you add? 🙂 Fill me in!