Without a doubt, I spent more time researching our photographer and videographer than any other aspect of our wedding day. It was hugely important to me to have gorgeous photos and a beautifully-crafted video to remember our day for a couple of reasons, 1) because I really care about good photography and videography, and 2) because I knew that the day would go by quickly and be somewhat of a blur and I wanted to remember and relive it!
How We Decided Who to Hire
You would think that finding a quality photographer and videographer in the greater Dallas area would be relatively easy given the size of the city…but that is not the case, my friends! Photographers have so many different styles, and while many are very beautiful, it was difficult to find the style I was looking for.
I wanted photos with a lot of natural light, natural poses, and an authentic feel to them. I didn't want posey photos holding items like an ampersand or photo frame (it's totally okay if you love that; it's just not what I was looking for!). I wanted the simple beauty of our summer day and our love for each other to take center stage.
I looked high and low, looking through page after page on Wedding Wire and The Knot's vendor pages. I found a couple of photographers who seemed to fit what I was looking for and emailed them. I met with a some for coffee to look through their work and ask questions, but no one was exactly what I wanted.
Then I saw Allison Davis' website. I knew immediately that I loved her style…it was romantic and airy, raw, natural, simple, and beautiful. I checked her reviews on Wedding Wire and The Knot…she has five stars and rave reviews on both sites! I was sold. I emailed her right then to see if she was available on July 31st and to ask her a few questions (see below for what I asked!). When she said that she was available, I booked her on the spot!
Finding the right photographer was hard, but finding the right videographer was even more difficult. Again, I had a very specific style that I was looking for and it took weeks of searching to find anything close to it! When I came across Robert Oberg's site, I quickly fell in love with his work and emailed him about reserving our wedding date and to see if we could meet for coffee. We did and it was awesome! (Details below.)
Moral of the story: It's really hard to find awesome photographers and videographers; don't give up and don't settle–they're out there!
What Questions We Asked
Allison, our photographer, was in Uganda doing some awesome missions work throughout our entire engagement. That meant that we couldn't meet in person to chat–we actually didn't meet until our wedding day! Thank goodness for email, we emailed a whole lot! Here's what I asked her:
Do I get all of our images or only a certain number? (I got all of them on a USB…all 1,000+!…which is what I wanted!)
How many hours will you shoot? (She shot 8 hours; we could've paid for more, but there was no reason to.)
Do I need to hire a second shooter? (Allison had shot many weddings at our venue and was confident that she could get every moment on her own, so no second shooter…and she did capture every moment! You go girl!)
What information do you need from me before the big day? (She asked for a detailed timeline so she wouldn't miss anything!)
That's all I needed to ask her because she sent us a detailed information PDF full of all of the information we needed from her. Once I decided on Allison, booking her was so simple! She was amazing to work with. (See her blog post on our wedding here!) Here's a photo with her at the end of our best day ever!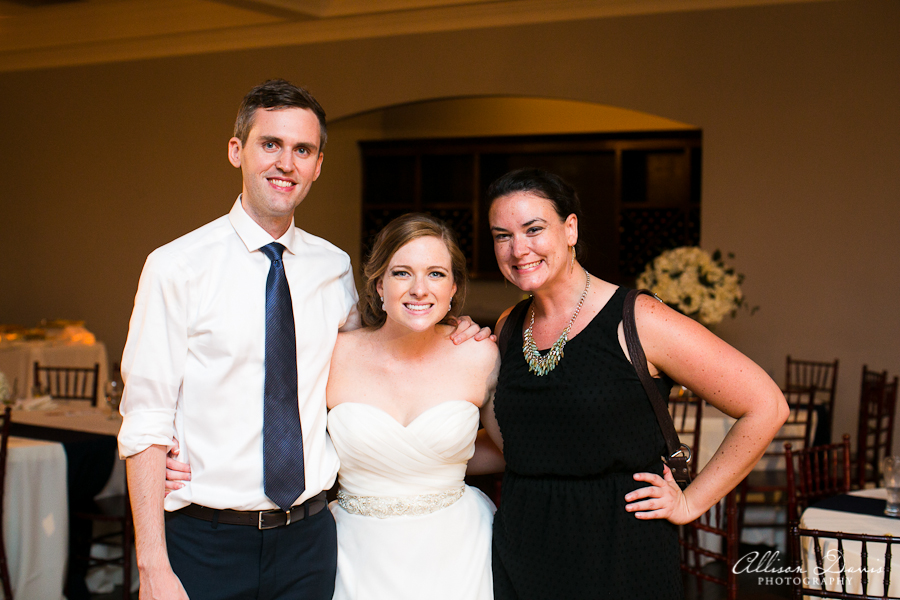 We were able to get coffee with our videographer (and his wife, Sunny, who shoots with him) since they live in Dallas, just 30 minutes away from us. Meeting them was so awesome! Robert was able to walk us through the entire process, including things that he'll need from us, like a detailed schedule (every vendor basically needs a detailed schedule…print a bunch or email them to everyone!). Here's what we asked him (like Allison, we didn't have too many questions. Many were already answered on his site and in our welcome packet.):
What should we expect?…We're not used to being on camera! (He told us that they would blend in to the background as much as possible and we would barely notice them. SO TRUE. Sunny was standing in the wedding aisle to film my dad and I walking down and I had NO idea she was there until I saw a photo of it later!)
What do couples do that makes their wedding day/film special? (He highly suggested a first look and exchanging letters with each other …we did both and loved both!)
How long will you shoot? (9 hours.)
Is there anything you'll need from us on our wedding day? (The only thing we were asked to do was to spend 3-5 minutes reading our letters to one another aloud into his microphone so he'd have the audio. Easy peasy! I cried…of course!)
How long will our film be? (We'll get two–a 5 minute "Social Media Film," which I'll absolutely share on my blog once it's complete and a 30 minute "Feature Film," which I plan on watching at least once every day. 😉 )
We have several photos of Robert and Sunny at work thanks to Allison! Here are a few…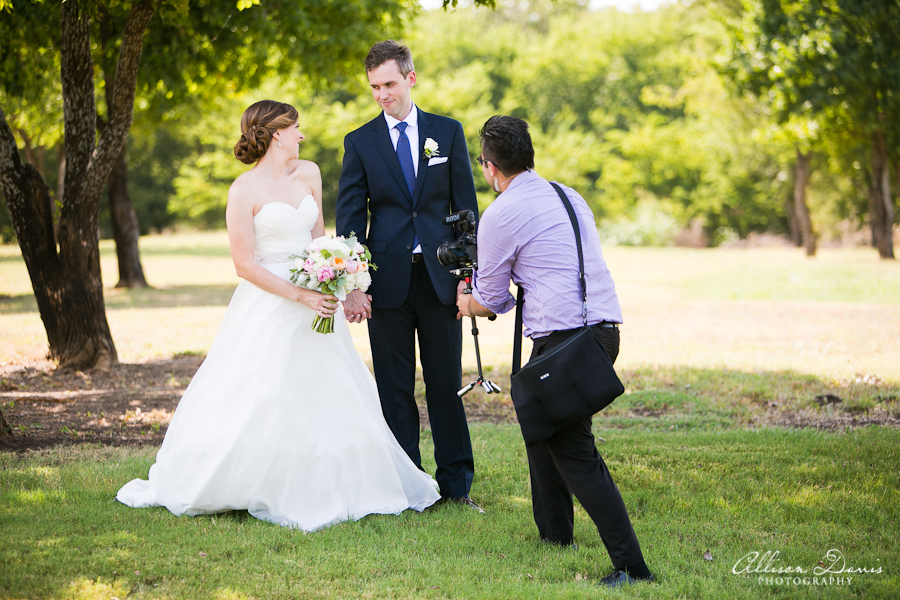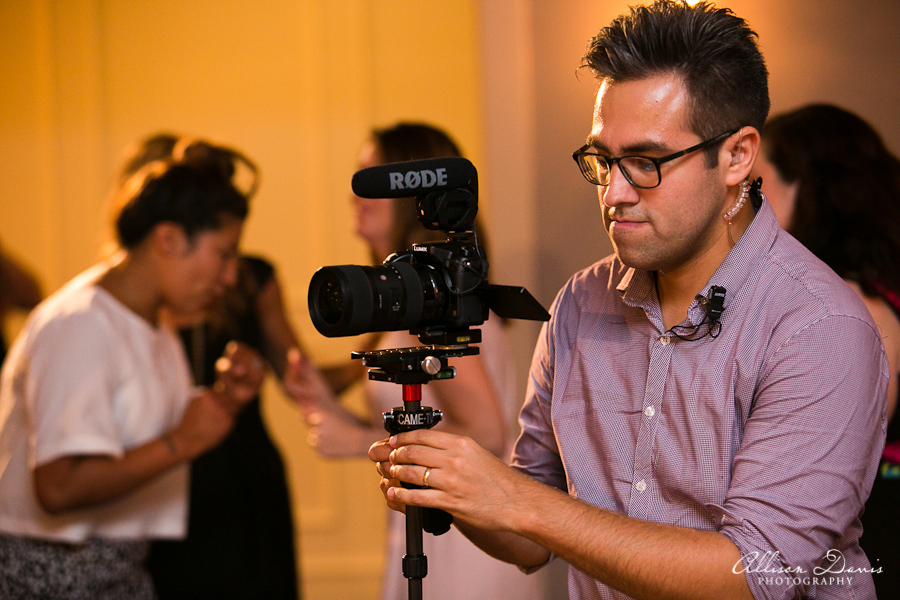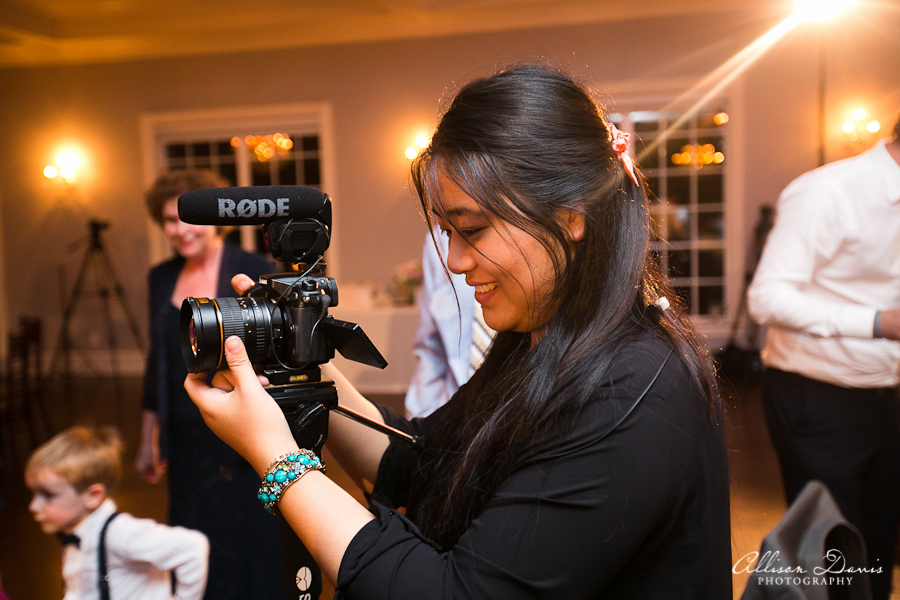 I barely remember seeing them all day! They did such a wonderful job of capturing moments without being in the middle of things!
Overall, the countless hours of research to find Allison Davis and Robert Oberg were well worth it. I truly put in about 40 hours of digging through Google, reading reviews, scrolling through blog posts, looking at photos, and watching wedding films before finding these two gems. I would fully and completely recommend them to anyone in the Dallas area who is getting married!
We LOVE our photos so very much and cannot wait to see the films in the next month! 🙂