I started Blair Blogs about three years ago, and prior to that I had other blogs for another two years. That means I've been blogging for about five years! Wow, time flies. What began as an outlet has turned into a passion and [hopefully] a full-time job (read this post for more information!). I've learned a lot in the past five years; here are 7 short lessons I've taken away.
1. Find Your Voice & Use It
A good way to do this practically is to read lots and lots of other blogs and decide what you like about your favorites. Is the writer wordy or terse? Funny or serious? Practical or abstract? Big-picture or detailed? Then, using the characteristics of blogs you enjoy as your guide, begin to write in your own voice. If you're not super bubbly or peppy, don't be that way on your blog. If you're a jokester, crack jokes throughout your posts. No one wants to read a blog that is perceived to be disingenuous–write in your tone and voice!
2. Keep a Running List of Blog Ideas
The most frequent question that I get from blog readers is, "How do you come up with things to post??" I wish I had a great answer, but truly, ideas pop into my head, I write them down, and when I have time, I post. Let your life be your inspiration! When something really excites you, write it down, and post about it. When you're heartbroken, make a note to write about it. If you try a new recipe or craft or you travel to a new place, list those items and blog about them.
3. Take the Best Photos You Can With What You Have
I don't have a fancy camera; I would have no idea how to operate one if I did! (I'll worry about getting one and figuring it out when Riley and I have babies in the future…that's when it counts, right?) I usually use my iPhone 6 for my blog photos, and I try to photograph during the day and use natural light when I can. I do not claim to be a great photographer, but I do the best I can with what I have. Reading a blog with no pictures–or even worse–tiny, low-quality images isn't a good experience for the reader. Additionally, make sure that you have a large, high-quality picture of yourself on your blog. Readers want to see what you look like! (And what you look like now, not five years ago!)
4. Remember To Link-Link-Link
The entire internet is connected through billions and billions of links. Link to and from your blog…and often! When you're posting about X, link to a post about Y. If you read a great article and it spurs a blog post, mention it and link up. Comment on other blog posts with links back to your site! Not only is a well-linked blog (but not an overlinked blog) a good blog from a reader's experience, it's also great for SEO (search engine optimization).
5. Interact With Your Readers
Whether it's just your Grammy and Mama reading your blog (I've been there!), or you have hundreds of thousands of readers, it's important that you interact with your audience. I would argue that this is the single most differentiating factor between the blogosphere and other mediums, like books or magazines. Respond to reader comments! Create an email address and make it available! Interact on social media! You'll be amazed at the virtual friendships you'll create. (Shelby from Stay Crafty My Friends and I have developed a sweet little friendship through blogging and have really enjoyed sharing in each other's joy as we both get married this month!)
6. Learn Your Blogging Platform…& Learn It Well!
Though I started blogging elsewhere, I converted to WordPress about two and a half years ago. WordPress comes highly recommended from me–it is amazing. It's so functional and versatile, and plug-ins allow me to customize my blog precisely. I love the editor and the "backend" (where I write and work on my blog…a picture of WP backend below!). Whichever blogging platform you use, learn it well. There are countless books and YouTube videos to help, and would you believe it?–countless blog posts! Figure out how to customize your site. Learn how to optimize it for social media. Learn how to make it "feel" like you through colors, layout, etc. If you have questions, or you'll just never learn CSS, hire a web designer or find a good forum to post in.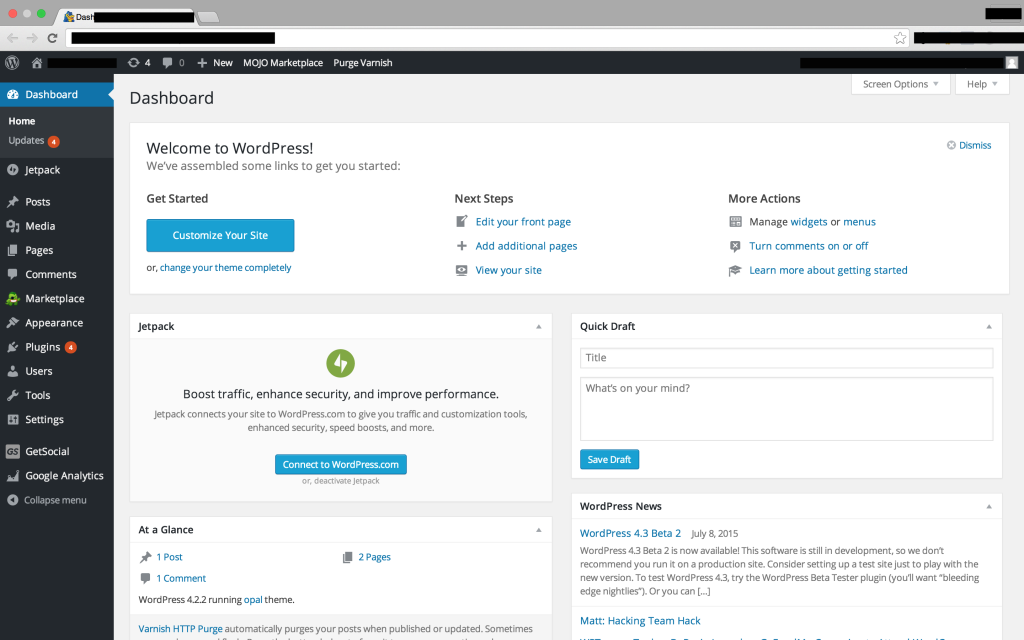 7. Where You Host Your Blog Matters
Much like building a house on a good foundation, it's critical that your blog is hosted with a reliable and functional host. Your hosting service is what keeps your site up and running smoothly, what make sure your blog doesn't crash, and keeps it safe from all the bad guys on the internet! I have known this for many years, so when HostGator asked me to post about their new HostGator Optimized WordPress, I was eager to share the importance of building your blog on a solid hosting foundation.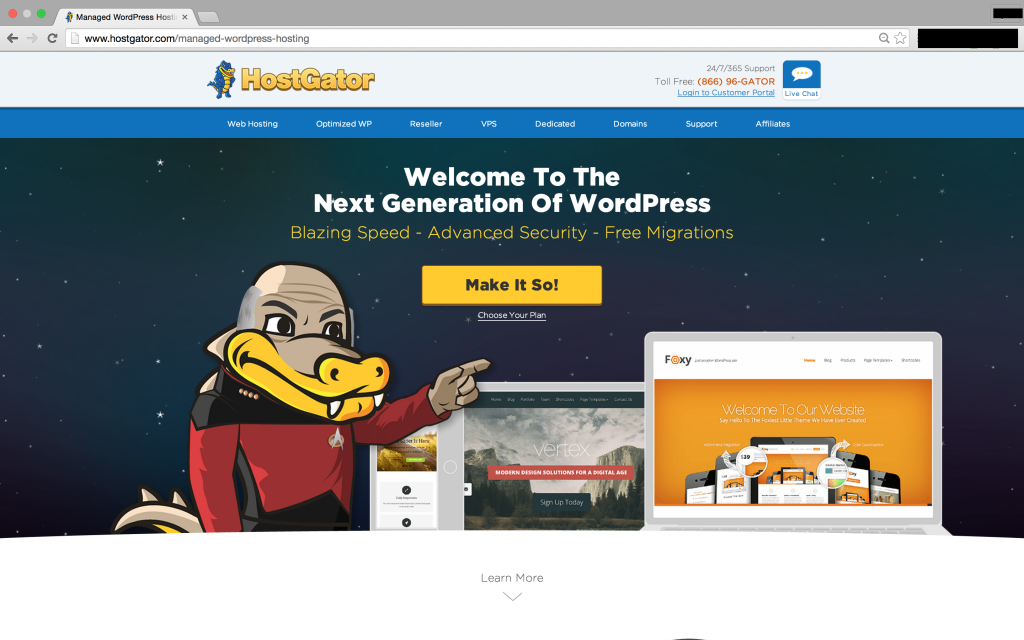 HostGator Optimized WordPress is a new hosting platform that is specifically built for an optimized and managed WordPress environment. Optimized WordPress hosting packages will come pre-loaded with PHP 5.6 by default (the most recent PHP version offered). HostGator will handle all of the core, theme, and plugin updates without the need for any action on your part. In other words, you won't have to worry about logging into your WP-Admin panel to handle common updates. (Side note: this is awesome! Updates are so time consuming.) Additionally, Optimized WordPress does not provide cPanel access, allowing you to install and access your WordPress sites without needing to access or navigate an extra control panel to do the things you want to do. (Again, awesome. And hugely helpful.) Look how easy it is to navigate HostGator's Customer Portal!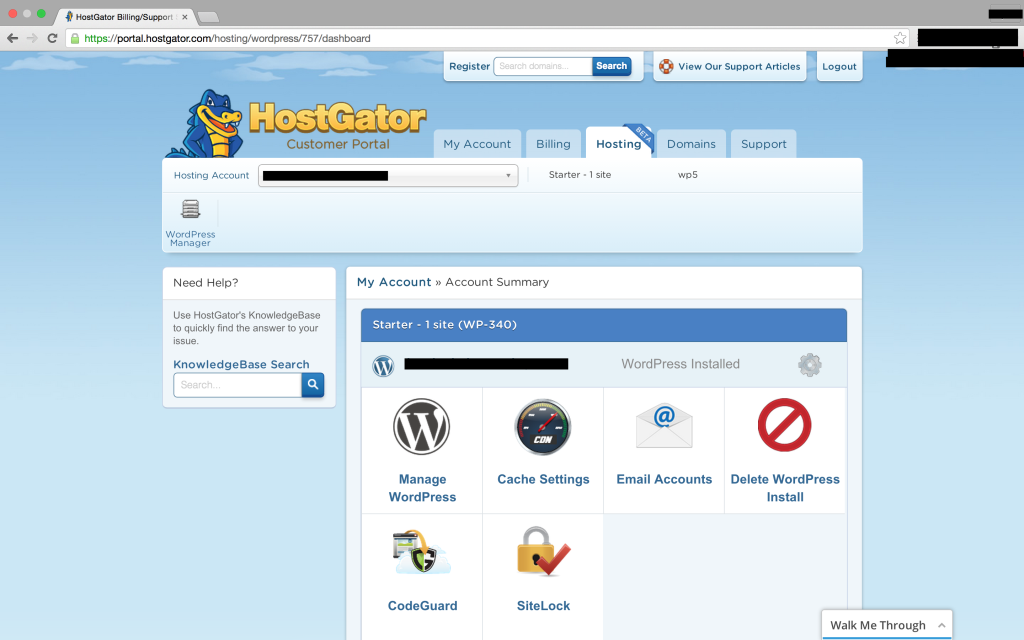 HostGator Optimized WordPress can keep us bloggers happy by:
Keeping our blogs running smooth as butter with automatic updates
Keeping our blogs safe with sitelock malware scanning and removal and Sitelock Content Delivery Network (CDN)
Keeping our blogs backed up with CodeGuard daily backup and restores (down to the file level)
Can I get an amen?! I've had various issues in all three of these areas in the past–can I just say? There is not much more stressful than all my hard work being put in jeopardy because it wasn't backed up or updated correctly! The great news is that if you're a little technologically challenged (or aren't, but come across a problem), HostGator provides 24/7 live support for you via phone, email, or chat. A few other features from HostGator are:
One click WordPress installs–no messy downloading and uploading of files
One click and start easy to use website builder–drag and drop tools that make building a beautiful blog simple
Design services–professionals can build your blog if you don't want to!
Marketing services (SEO and PPC)–this is great if you're looking to increase traffic
Domains–need a domain, or have one, but need another one? HostGator has you covered.
If you'd like to learn more, or have questions, click here. There are 7 blogging lessons I've learned over the past five years! In summary: write in your own voice, keep a list of blog ideas, take quality photos, link to and from your blog, talk to other people on the internet, learn how to use your blogging platform, and host your site somewhere you can trust, like HostGator Optimized WordPress! 🙂 Happy Tuesday, friends! I was selected for this opportunity as a member of Clever Girls and the content and opinions expressed here are all my own.