Ahh, living alone. It's great, isn't it? I absolutely love it. Of course, I share my space with Charley, but his eight pound frame is hardly intrusive. Plus, he's never too loud and only has a couple of toys to make a mess with. I've found the following items extremely useful in my apartment over the past year of living alone: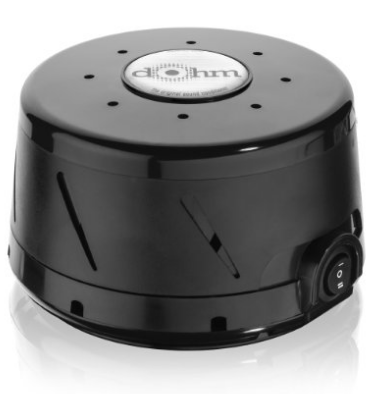 I'm a huge fan of white noise when I'm trying to fall asleep. In college, I used this fan to get some noise-free shuteye. It worked well, except it had kind of an annoying noise after hours of listening to it…maybe that's just me! I've also tried white noise apps on my iPhone and sound machines with options, like waterfall or rainforest, but all of these options began to annoy me by morning. Then one day, I was in a doctor's appointment, sitting in a patient room, waiting for the doctor to see me. It wasn't silent, but it was dead quiet, and I was very, very relaxed. I looked around the room for the source of the soft hushing noise, and found a DOHM Sound Conditioner. I quickly shoved it in my bag and stole it, and I've been using it ever since. (Just kidding! Can you imagine?) No. I took a photo of it and promptly purchased one off Amazon here.
This little machine is great because it blocks out ALL outside noise (that's why it's used in doctor's offices–for privacy). My dog, Charley, sleeps in my bed, and where he used to wake up suddenly throughout the night when someone shut their car door or walked down my apartment stairs, he now sleeps soundly right on through. It also helps me fall asleep at night because I don't hear small creaks or noises that alarm me when I'm home by myself.
It's hard for me to describe the sound this machine makes, but it's sooo soothing and relaxing. I literally never turn it off throughout the entire week. It's made my bedroom into an oasis for sure! Love, love, love it!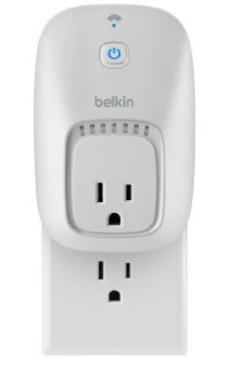 Even though I live in a safe apartment complex, I am still concerned about burglary or intruders when I go out of town or am away all day. I grew up in Baltimore, what can I say? I asked for one of these switches for Christmas, and it has proved extremely useful. Basically, it's a wifi powered socket that you can turn on or off from your smartphone.
I use it for the two lights in my bedroom–I have it set to turn on at dusk each night, whether I'm home or not. If I am out later than anticipated, I can turn my lights on from anywhere in the world using my phone. My bedroom window faces the parking lot, so this makes me feel better knowing that it looks like I'm home, even when I'm not.
Other great live-alone uses would be for plugging in your flat iron or curling iron (if you forgot to turn them off, you could remotely), or anything else you forget to turn off.
3. Olive Oil Dispenser for Dish Soap (& similar items that dispense in small quantities)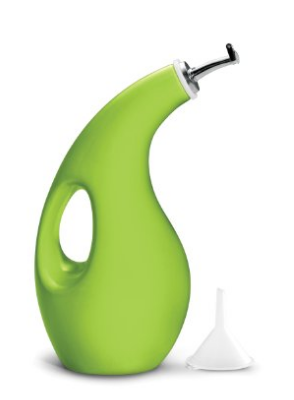 When you live alone, you go through things like dish soap, laundry detergent, and toilet paper slowly. Whereas you don't get to split your bills, you save money on these essentials since you're the only one using them. Why not milk that savings for all it's worth?
I didn't like the way my dish soap bottle looked sitting on the counter by my sink when I first moved in, so I picked up a cute glass olive oil dispenser at Home Goods, hoping I could swap out the ugly soap bottle for something prettier (I also love this Rachael Ray one). I've been in my apartment for over a year and haven't even gone through ONE bottle of dish soap–which I totally attribute to my olive oil dispenser. Since it slow-dispenses, I don't use too much soap–just a drizzle! I used to buy a new bottle every other month–by only using one, I've saved about $20! Plus, I don't have an ugly bottle of soap on my counter.
Similarly, use Tide Pods for laundry instead of regular detergent. They smell unbelievably amazing and you'll save money!
4. Sealed Containers for Food Storage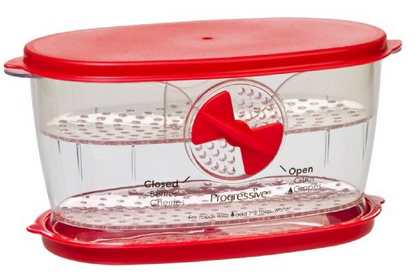 How annoying is it that you can never finish your box of cereal before it goes stale? Or your loaf of bread? One of the first things I did when I moved into my apartment was get my kitchen set up and running. (This shows the importance that food has in my life.) A part of setting up my kitchen was buying glass and plastic containers for lots of things–from my cream cheese to my cereal to my lemon slices (I especially love the lemon container!). Some others are this bread holder, this avocado holder, this berry keeper and this tomato saver.
Instead of buying the same groceries over and over again because you can't eat them fast enough, invest in some containers and store your food items there. You'll spend less money at the grocery store and less energy being annoyed at the way you can't get through food fast enough when you live alone!
5. Over-The-Tank Toilet Paper Holder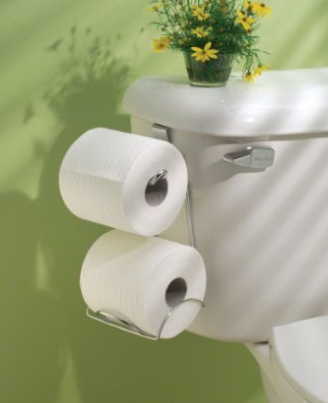 I wouldn't like to go in to a whole lot of explanation or detail about this item because it's pretty self-explanatory. If you live alone, and you're using the bathroom, and you realize there's no more toilet paper on the roll, and it dawns on you that your stash is across the room…well, you're going to be wishing that you had spent $7.99 on one of these.
I have one, and it looks nice (really, it just blends in), serves its purpose, and even helps to alert me when my toilet paper stash is low. (If there aren't rolls on both this over-the-tank holder and in the normal holder, three in total, I know I need to go shopping!) The only thing worse than no toilet paper on the roll is no toilet paper in the house!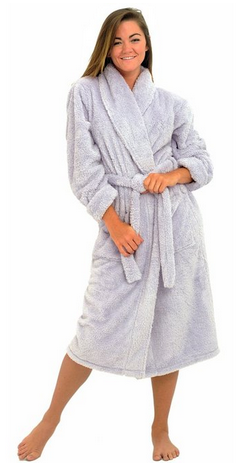 Hey, you live alone, so you never really have to be dressed! It's time to invest in a wonderful robe that you can wear all hours of the day and night whenever you get out of the shower. I LOVE taking a long, hot shower, curling up in my robe and watching TV or a movie. I'm very modest, so I would never hang out nearly-naked if I had roommates. For me, this is a perk set aside for living alone (or with a husband! 😉 ).
Sometimes, after an especially long day, or when it's cold in the winter, I'll take a warm bath, put on my robe, and fall asleep cozy and happy. It's blissful, really! Get a great robe–you'll spend a lot of time in it! (Also, invest in some great bath time goodies. Living alone means long, uninterrupted baths and showers–I recommend this, this, and this.)
7. Subscription to Netflix, Amazon Prime Instant Video, Hulu +, & a few magazines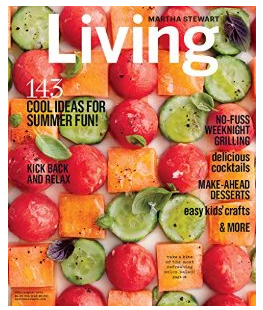 I have a love/hate relationship with the silence that accompanies living by myself. Sometimes, it's welcomed and wonderful. Other times, it's eerie and a little lonely (not as much since I brought Charley home!). I really enjoy watching TV shows and movies, even if I'm not giving the screen my full attention. There's something warm and comfortable about background noise when I clean, cook dinner, or fold laundry.
I love to find a random documentary on Netflix (anyone seen Blackfish? Or Bronies?) or a movie on Amazon Prime Instant Video (here are my favorites) to pass the time and fill the silence in the evenings when I get home from work. I typically enjoy my quiet mornings, but by the time I'm home from work, I'm interested in my apartment feeling a bit fuller. These streaming services do the trick.
Also–I really love having a few magazine subscriptions to flip through. I adore Real Simple, but I also enjoy magazines like HGTV magazine and Living.
Those are 7 things I love having since I live with me, myself, and I! All those roommate-less people out there–what would you add to this list?
*post contains affiliate links
**This post isn't intended to be primarily for those concerned with safety and security. If that were the case, things like pepper spray would be added! This is meant to be fun items that make your space feel cozy and homey, even if you're the only one with a key!