Can you believe it's June? Heck, can you believe that we're halfway through 2014? No joke, the other day I almost wrote 2011 as the date. Where are these years going? WHAT IS HAPPENING?
Alright, back to earth now. I really love goals (I write about that a lot), especially personal goals. Lately, though, all of my goals have been tied up in work. It's been for good reason (I wasn't in a full time role until a few days ago), but it's time for me to get back on track with un-work related goals.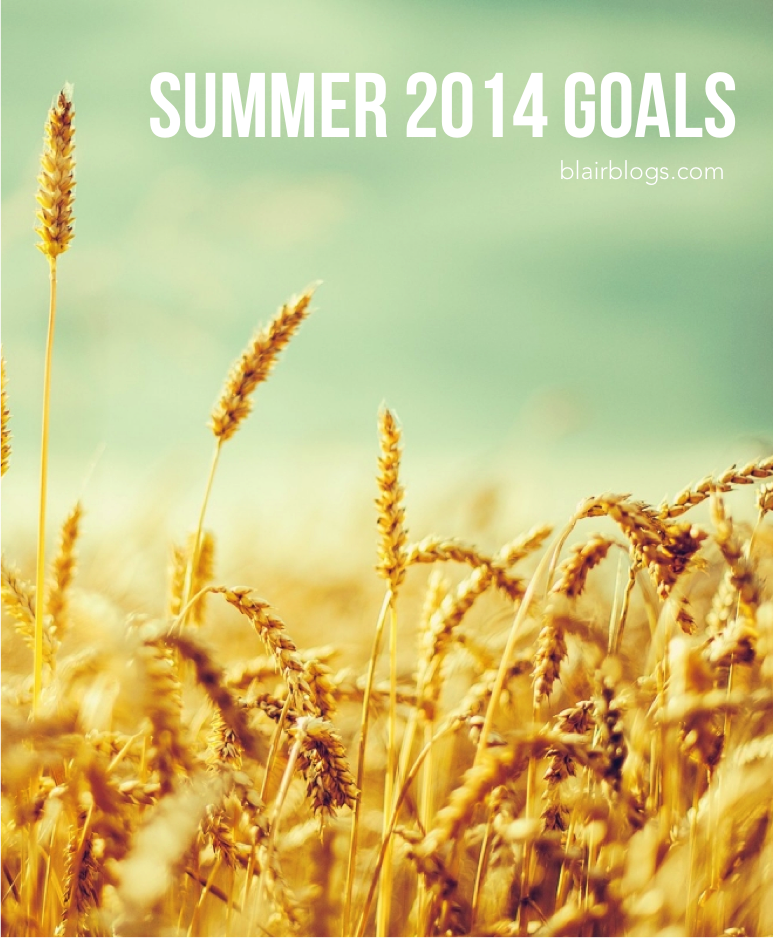 1. Life Goal: Take 1 step towards writing a book
I've wanted to write a book for years, and I truly believe I could do it. I don't know what I'd write about (I've thought about a book geared towards girls about to enter their freshman year of college since I've gotten so much positive feedback from this post), but the subject is still very, very up in the air. I know I won't complete a book in three months, or even an outline, but I'd like to take one step towards achieving this goal. That may mean taking time to brainstorm, setting aside a weekend to write, or talking to friends and blog readers to get their opinions. Any ideas?
2. Physical Goal: Move more & eat out less
Okay, so these are two separate goals, but they both relate to my physical health and well-being, so I'm grouping them together. Anyone who has gone from college to a full time job can relate–it is tough to find time to exercise. I felt busy in college, but I had no idea just how much of my time (and energy) would be poured into work post-graduation. Many days I get home and don't want to do another thing! This summer, however, I want to be more intentional about moving more.
Which brings me to my second point, eating out less. This one is tough, because I find it annoying to grocery shop, prep, and cook a meal for just myself. It seems like a waste of time and energy to me. I'm not a big fan of leftovers or eating the same thing day after day, which only adds to my plight. However, the heat of the summer usually adds up to lighter, more refreshing meals, which are quick and easy to make at home. Have any single people had success with meal planning? I'd love to hear about it!
3. Scheduling Goal: Wake up earlier
I hate getting out of bed, but I love waking up early in the morning…can anyone relate? There's such a peace in the early morning hours, and I find focus in that time that is hard to come by in the busyness of the day. I was doing really well waking up early (here's why) at my last job, mostly because I had to be at the office by 9am and I had a 30-40 minute commute each morning. It was early alarm or bust. But now, by the grace of God, I have extremely flexible office hours and a 5-7 minute commute. I can easily wake up at 8:30am or 9am and be at the office by 10am. I often do this, and then work a few extra hours in the evening as I am watching TV. It works well for the most part, but I would still like to get up earlier.
One huge reason prompting me to make this a summer goal is that Texas is really, really, really, hot in the summertime. Getting home from work between 4pm and 6pm is the hottest time of the day, and you can bet this fair-skinned girl isn't going on any long walks or adventures at that time. Once dusk hits and the cool sets in, I feel uneasy about walking alone. Mornings really are the best bet for walking Charley before the sweltering heat rolls in…plus, morning walks are lovely and refreshing. Here's to an earlier bedtime and an earlier wake-up call!
4. Spiritual Goal: Find a new devotional book for the next 365 days
I can't believe this, but I'm coming up on a full 365 days of spending time with the Lord daily using this devotional. This is the first time in my life where I've been self-disciplined enough in this area to experience such consistency. In this consistency, I've seen massive spiritual growth and change. Spending time with God on days when I don't feel like it or don't want to has made all the difference. Once I hit a year using my current devotional book as a guide in July, I want to continue my daily journaling/scripture practice with a new book. Any suggestions?
5. "Business" Goal: BLOG MORE.
My gosh, this has been my goal for almost 8 months. I'm getting frustrated with myself, but I know that a lot of the reasons why I haven't been able to write as much as I'd like are legitimate and life-changing. Luckily, this summer should be relatively low-key, so hopefully I'll be able to blog more. If there's anything you'd like me to write about, let me know! (It would actually be very helpful!)
image found here