Hi friends! My, have I missed you. I apologize for my semi-unplanned blogging hiatus. Work has been crazy and I was on a business trip last week…darn, making money to pay the bills is a real time suck. I had a few freak out moments of "oh my gosh I haven't posted in over a week," but at the end of the day I was simply too tired and let's just say the creative juices were dry as the summer here in Texas.
(On a more emotional note, I've been working on self-forgiveness. You know, being okay and at peace when things aren't perfect? I have been known to beat myself up when everything doesn't get done…so thanks for your kind words of encouragement on Facebook, Twitter, and Instagram while I was out of blog-posting commission!)
The primary reason for my muteness was a business trip to San Francisco last week. Although I was attending a conference and had meetings most of the day, I still spent some time exploring the beautiful city and enjoying the sights. I flew out early in the morning on Monday and arrived around 5pm at my hotel. I had the entire evening to explore before the conference officially began the following day. Knowing this, I wasted no time! After a quick luggage drop-off in my hotel room, I grabbed my purse and hopped on a cable car.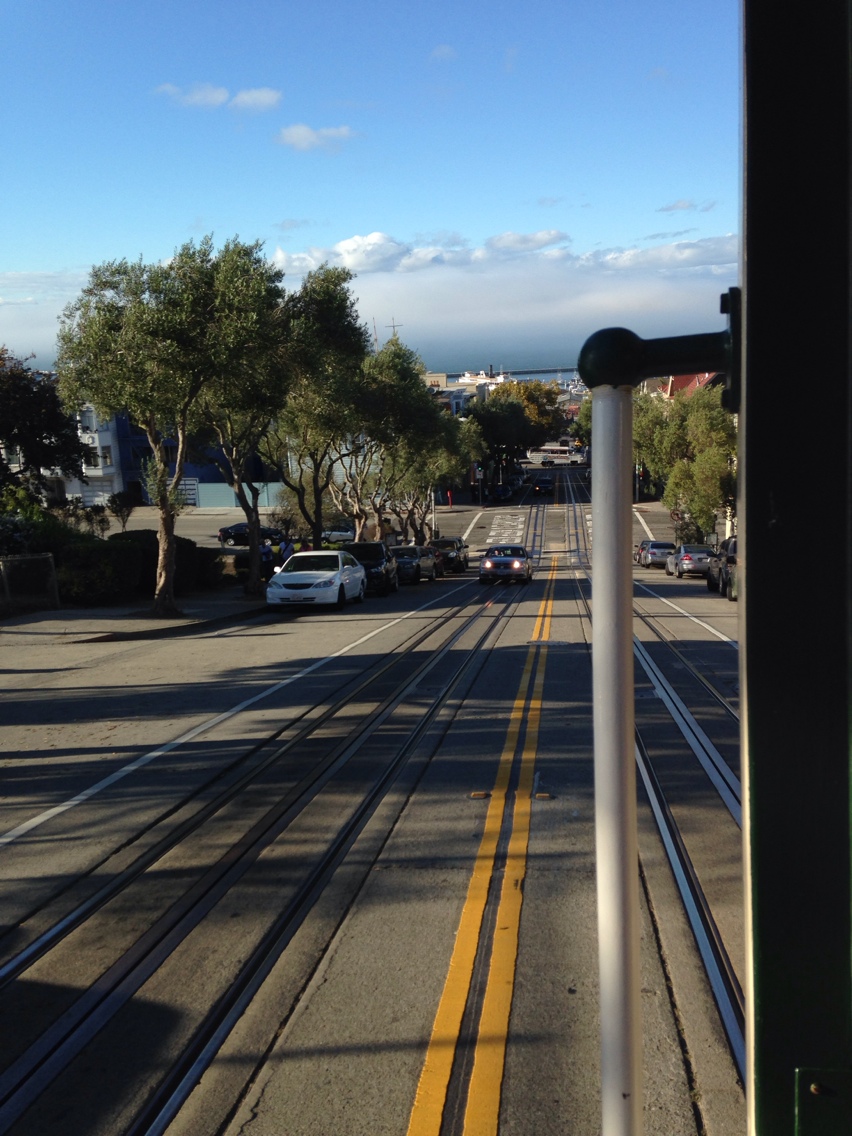 Riding a cable car is much more thrilling than I expected! The hills in San Fran are steep, and there are moments when the cable car conductor let us glide down the hill very quickly before using the levers to brake.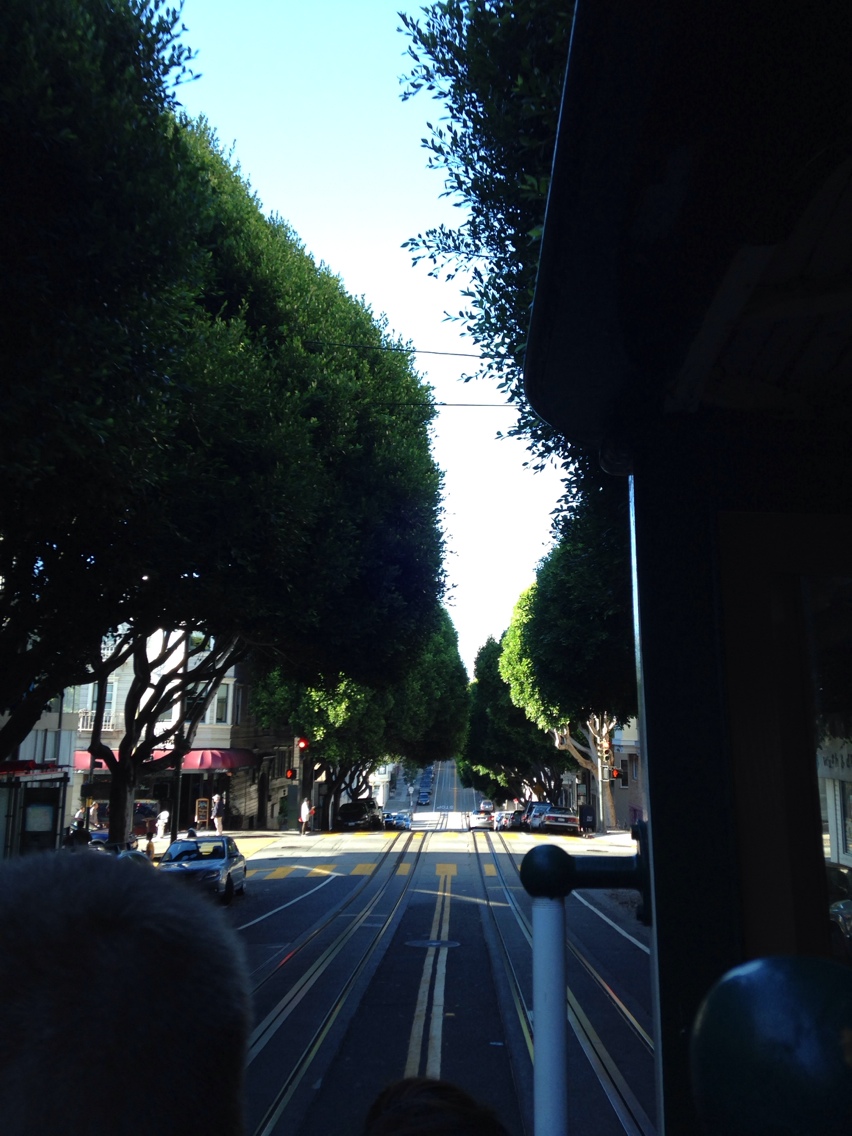 I was blessed with a gorgeous evening on Monday, which was awesome because it was also the only day where I got any significant exploring in. Forgive the guy's random head in the photo above. I wasn't actually seated on the cable car, I was hanging off the side, pretending like I was on the intro to Full House. ("Everywhere you look…everywhere…there's a heart…there's a heart…")
The cable car ended up adjacent to Ghiradelli Square. Yes, you read that right. There is an entire block of mouth-watering delicious chocolate shops in San Francisco. Clearly that was the first place I visited. Clearly. By this time, the fog was starting to roll in (see me using San Fran lingo?), so there was a bit of chill in the air. Luckily, I was ready with a light jacket and jeans, so I was happy as can be to stroll around Ghiradelli Square with autumn ringing through the air.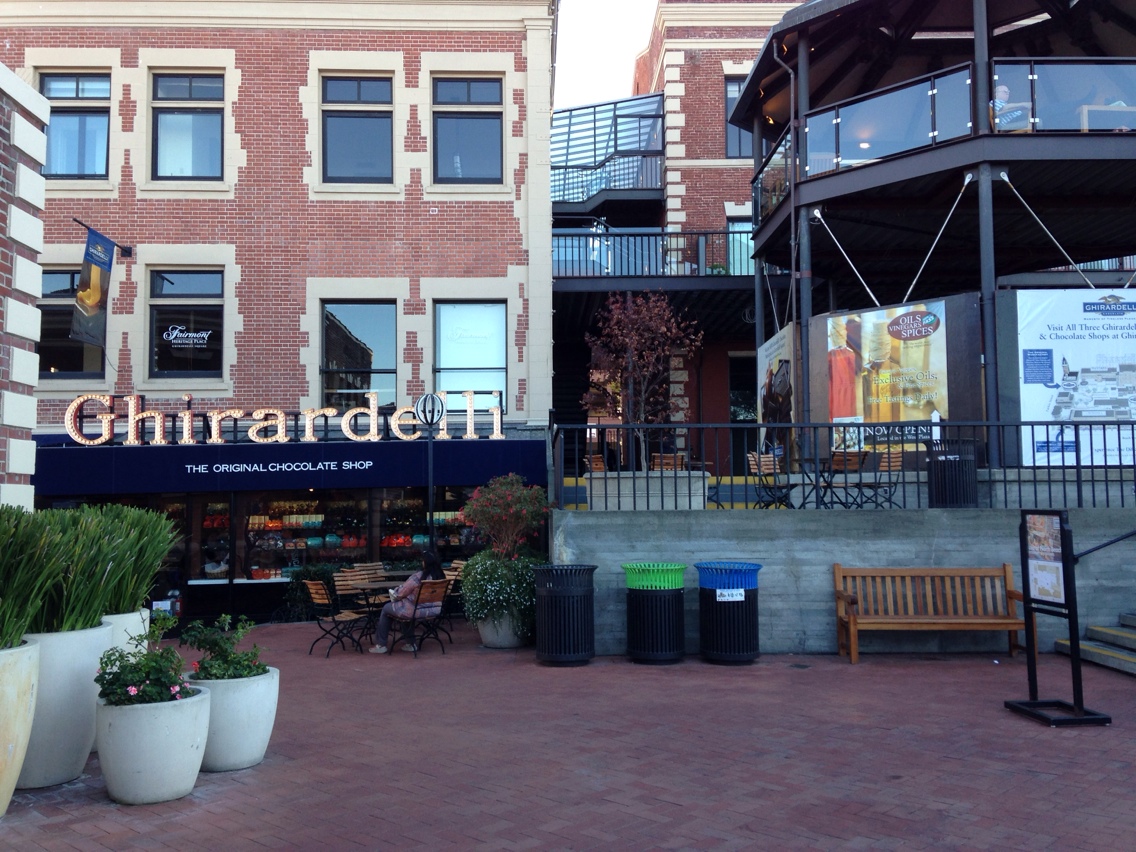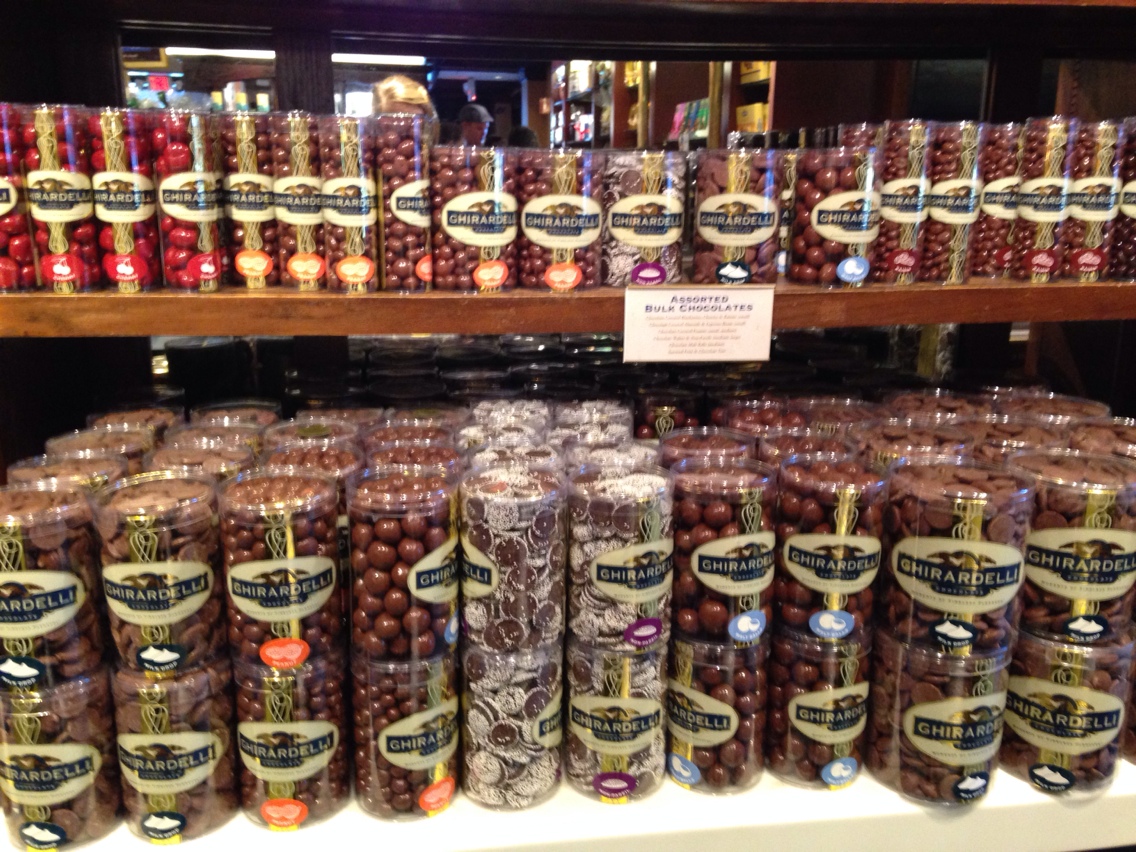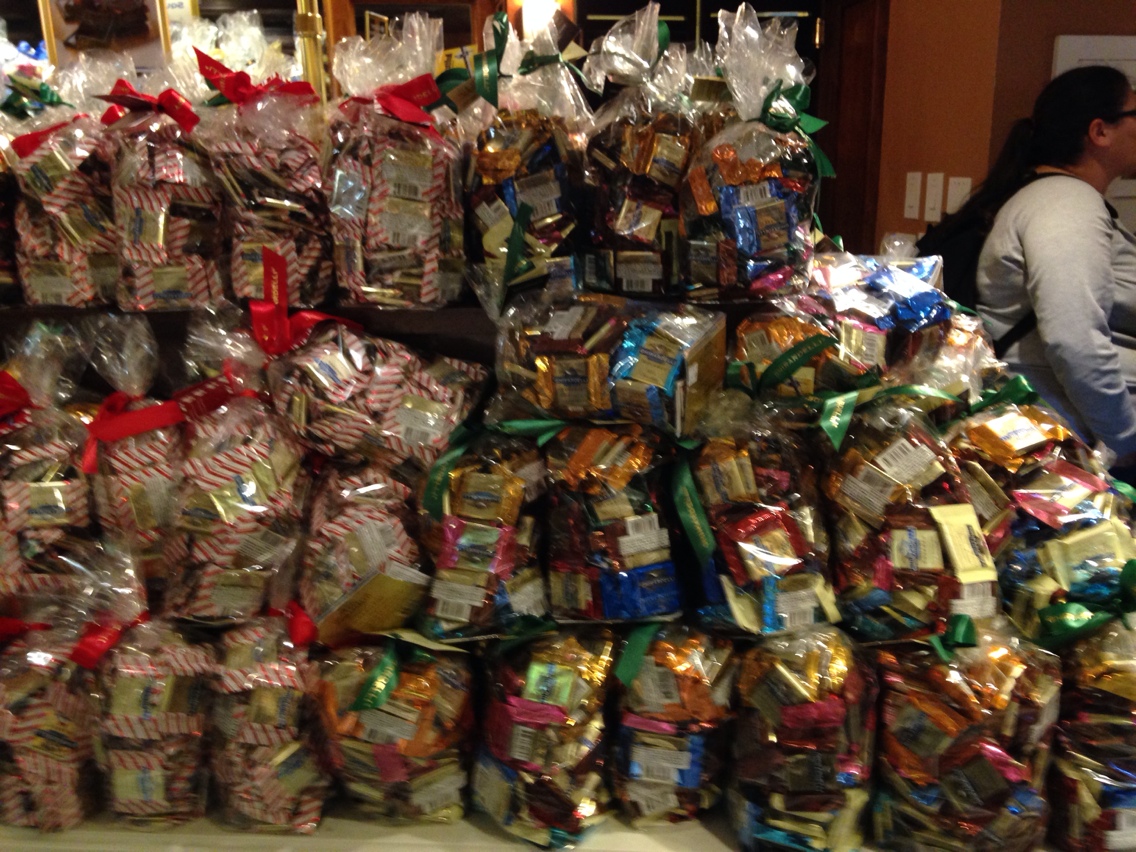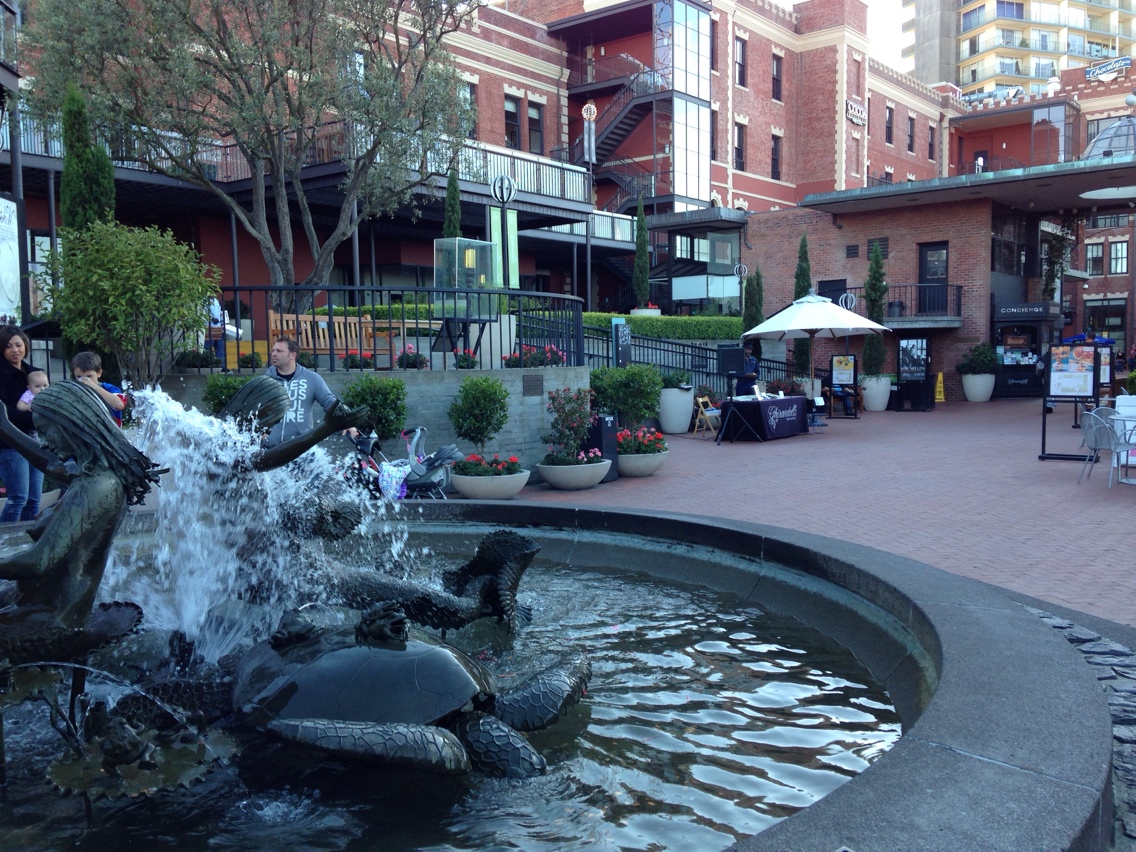 Aside from the sweet smell of cocoa lingering in the air, Ghiradelli Square is absolutely beautiful, as you can see! There's a little hotel tucked away in the midst of all the chocolate goodness. #dreamvacay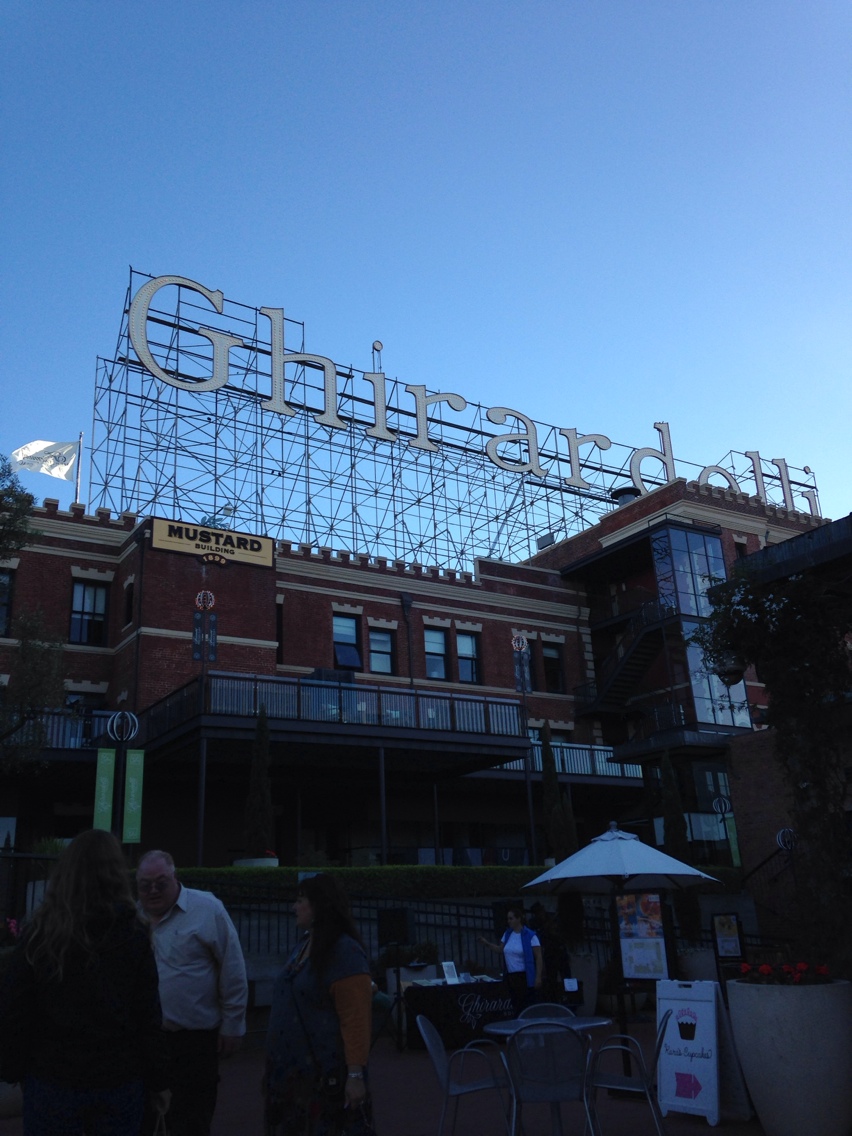 I hope one of these random people see this blog post. That would be hysterical. I was clearly so enamored by that fact that I was standing in the middle of roughly 15 stores devoted to chocolate that cutting them out of my shot was out of the question. And now that I have the ability to crop them out in Photoshop, I'm too lazy. Bear with me, friends.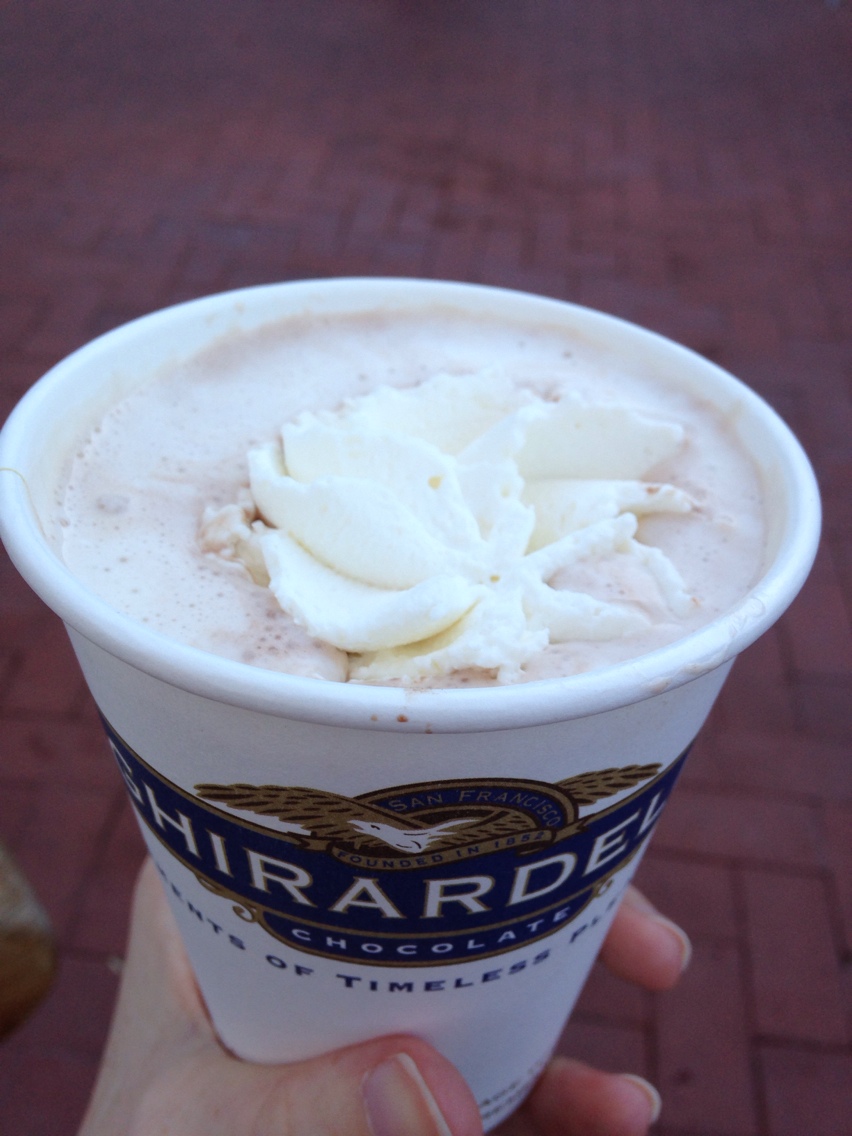 Since it was a little chilly, I decided on a cup of hot chocolate with fresh whipped cream. *Sighhh* I can't even tell you how amazing this cup of warm was. I sat alone, looking out over the bay, and thought "this must be what heaven is like." Bliss, pure unadulterated bliss. And shout out to my iPhone for taking such great photos! I didn't want to carry my real camera with me, and I'm glad I didn't. My little iPhone did great!
After I had finished about half of my cup of heaven, I set back out to walk around Fisherman's Wharf and explore. Not before I picked up a Ghiradelli Dark Chocolate & Sea Salt Caramel bar, though. Definitely not before that.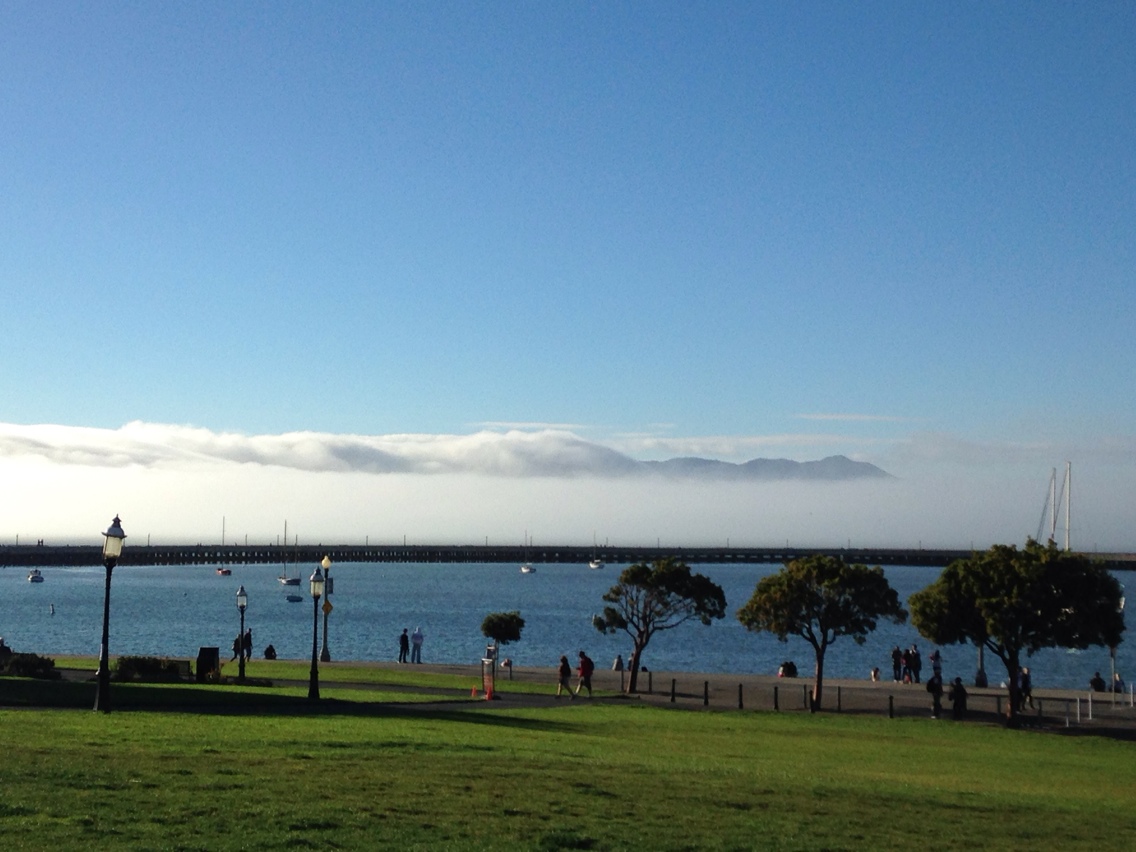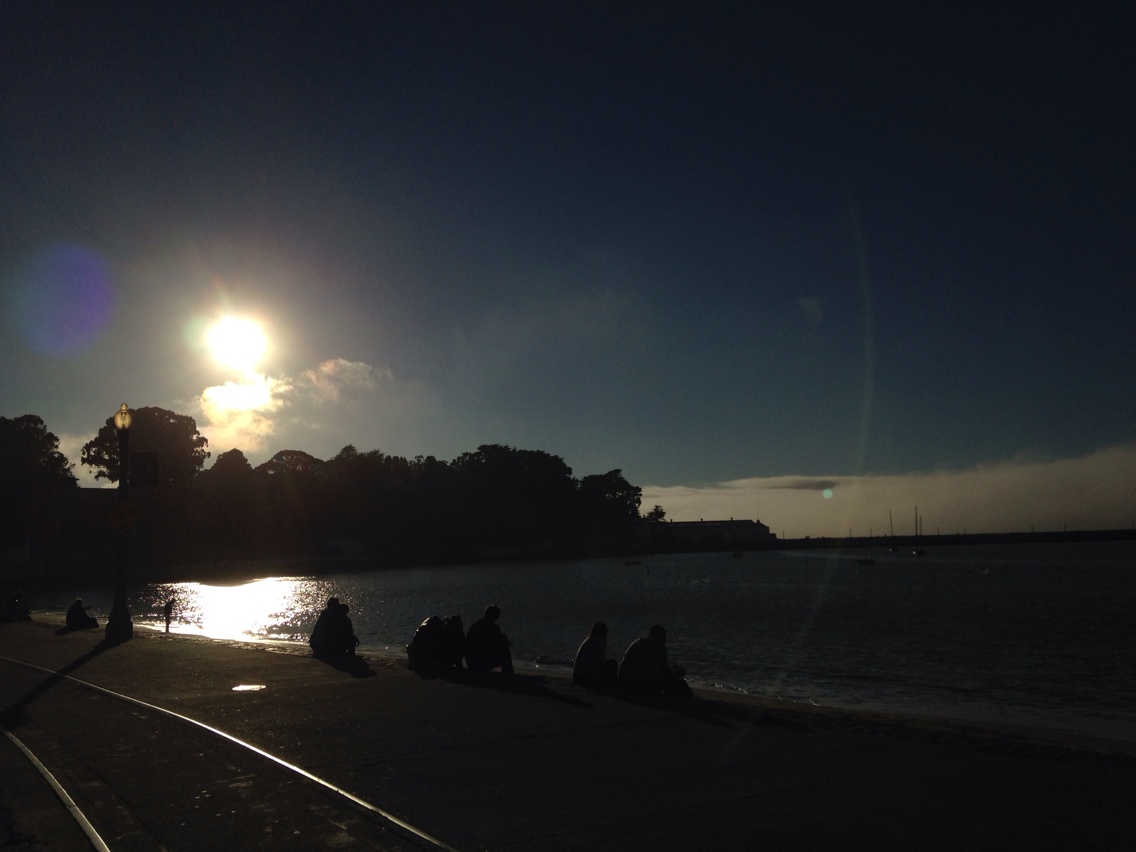 The cable cars are just so darn jolly. If they didn't take so long (the lines are long), I would have ridden them every day after the conference events! They're just FUN.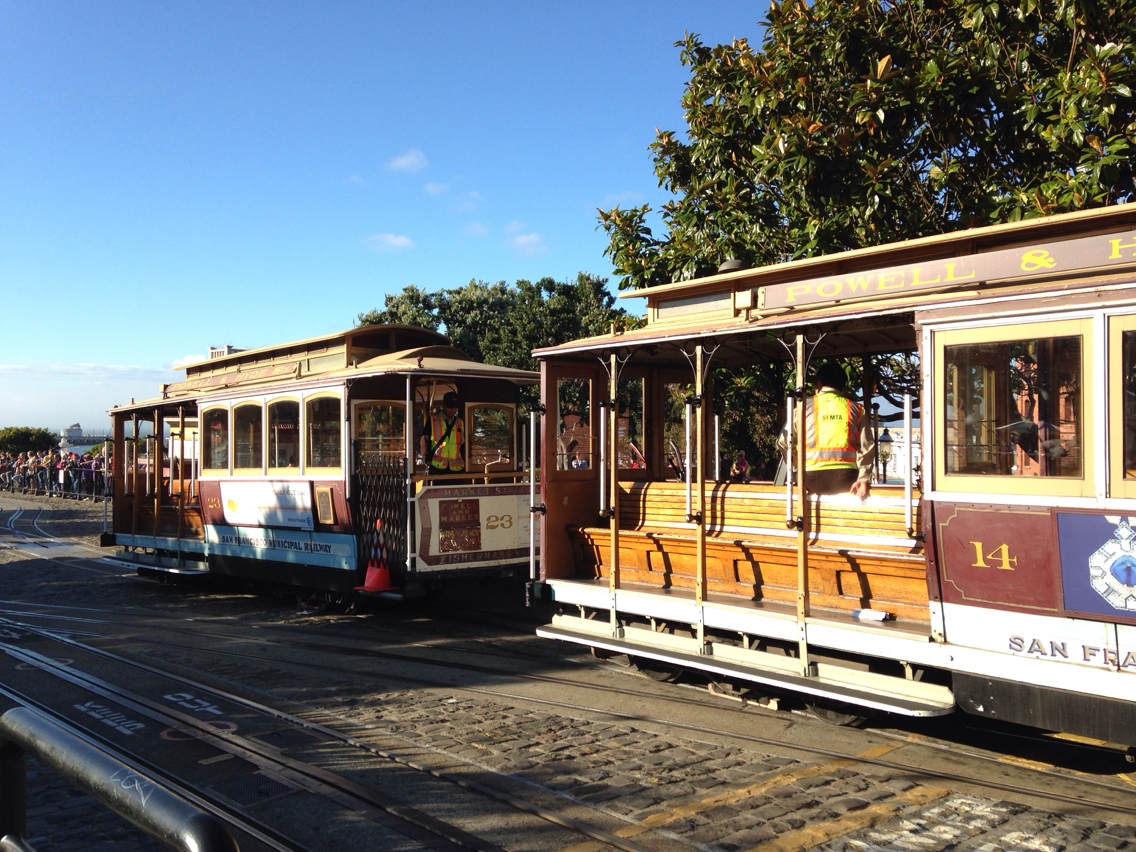 As I walked along Fisherman's Wharf, the fog really began to roll in. You can easily see from the photos below that the sky was changing…and fast! I couldn't even catch a glimpse of Alcatraz Island (which I never got to visit, thanks to the government shutdown) or the Golden Gate Bridge.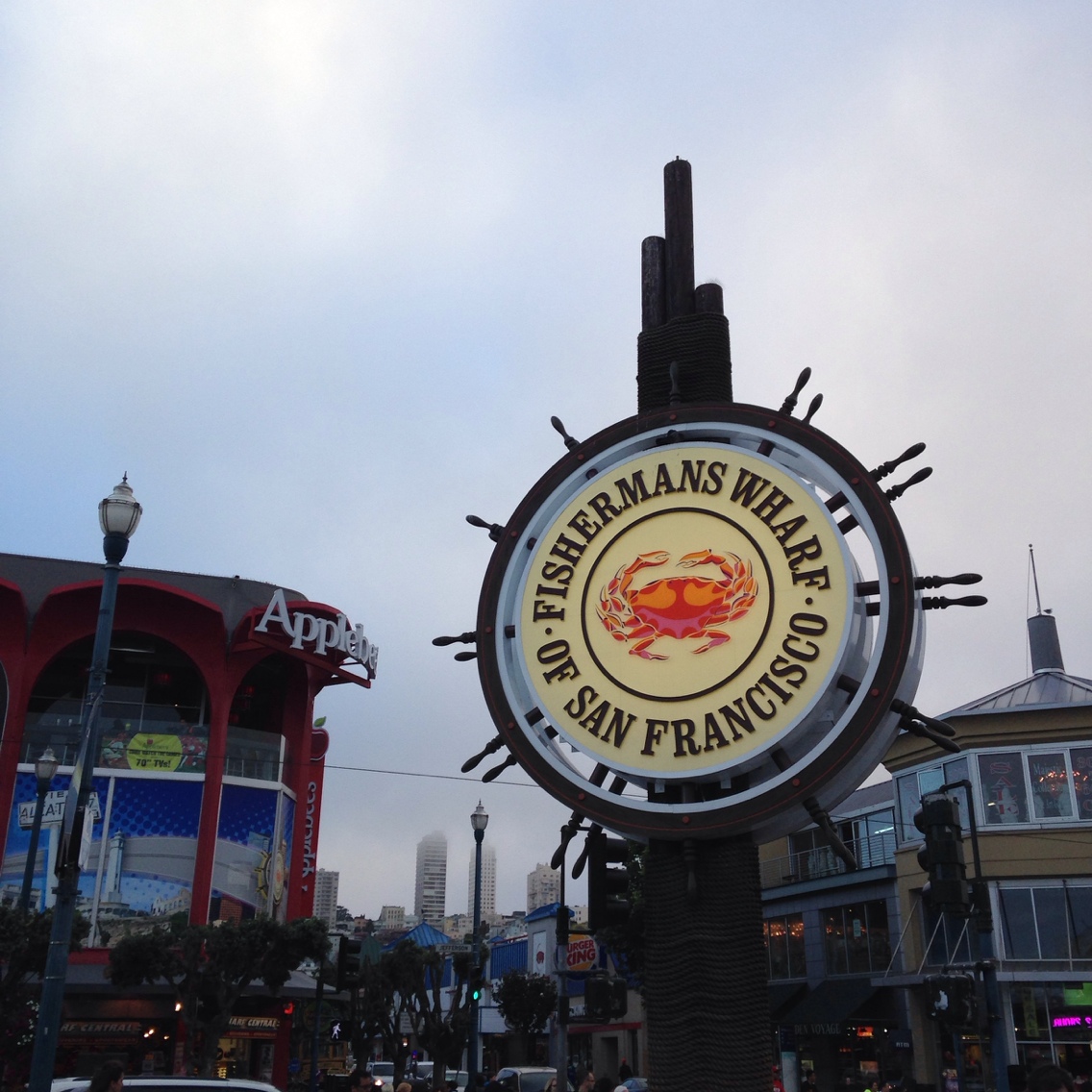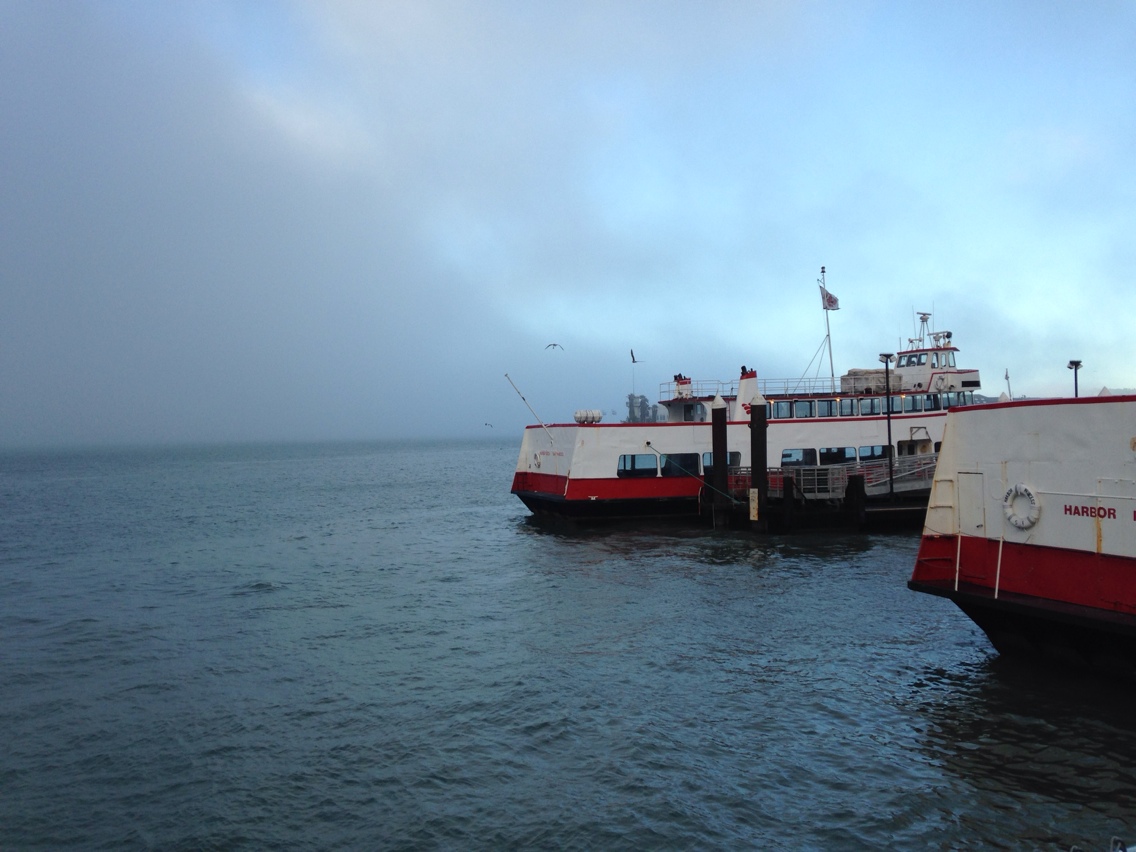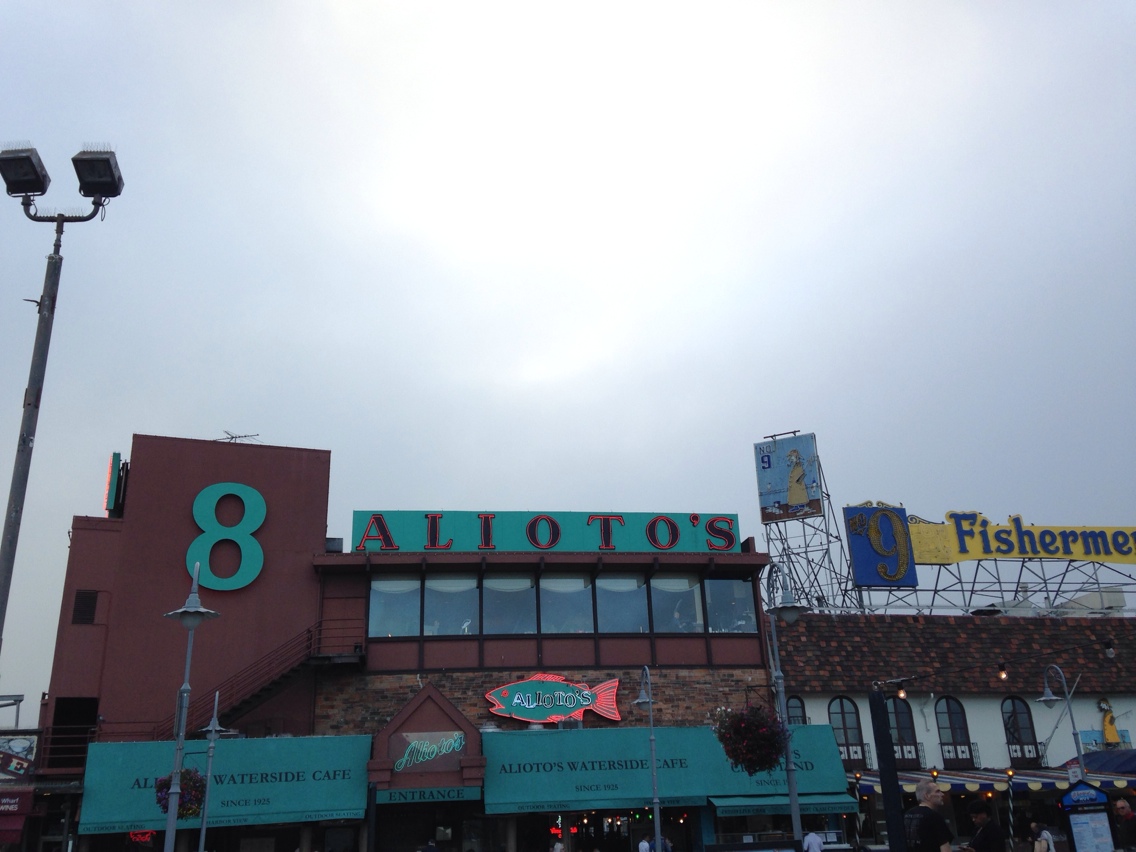 I wandered in and out of precious seaside shops, enjoyed the cool misty air, and sipped on my hot chocolate. It was lovely. My stomach started to grumble, and I decided it was time to grab something to eat. I was alone, and I'm not much for being waited on alone, so I looked for somewhere to "grab and go." In-N-Out burger caught my eye, and I hurried into the restaurant.
I grew up on the East coast, where In-N-Out doesn't exist. Then I moved here to Texas, and there are none in Austin. I have been dying to try In-N-Out for years (literally, I'm a cheeseburger and french fry girl for life), so it took no convincing. I ordered a cheeseburger "animal style" even though I had absolutely no idea what it meant. I saw it on Buzzfeed one time and it looked delicious. Also, a side of fries. I meant to snap a photo of my meal but I was so relaxed and the food was so delicious that it slipped my mind altogether!
Another hour or two, and I decided it was time to catch the cable car back to my hotel. The line to board the car was very long, and I had to wait an hour or more. The evening was so nice, though, that I didn't mind. There was a great musician sitting next to the line (smart business sense) playing for tips. He got lots of tips with favorites like "Brown Eyed Girl!" Bless him.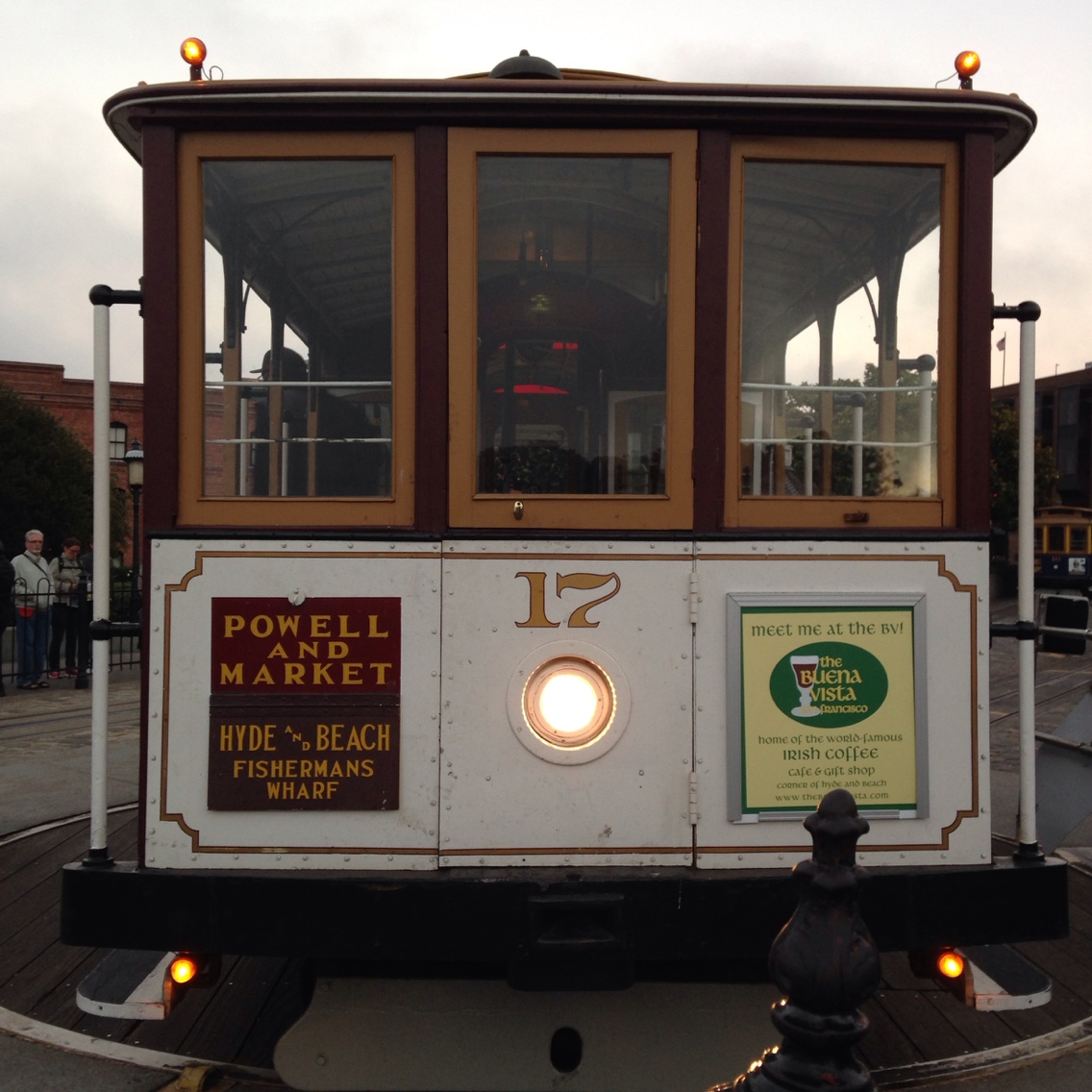 Back at the hotel, I unloaded my loot. Just a commemorative t-shirt and chocolate. Really, all a girl needs.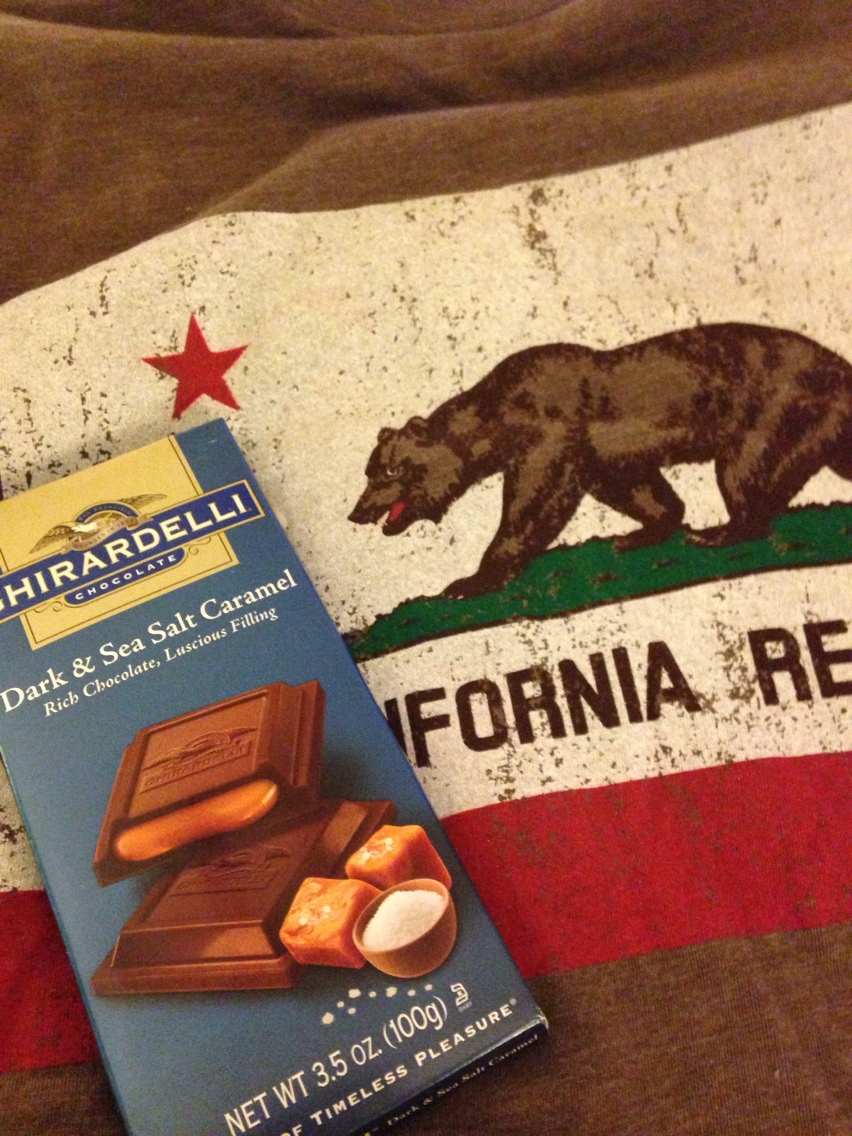 I fell asleep to the sound of street corner music out my window, which was kept open because the hotel didn't have air conditioning. The air is so fresh and crisp that I didn't even mind!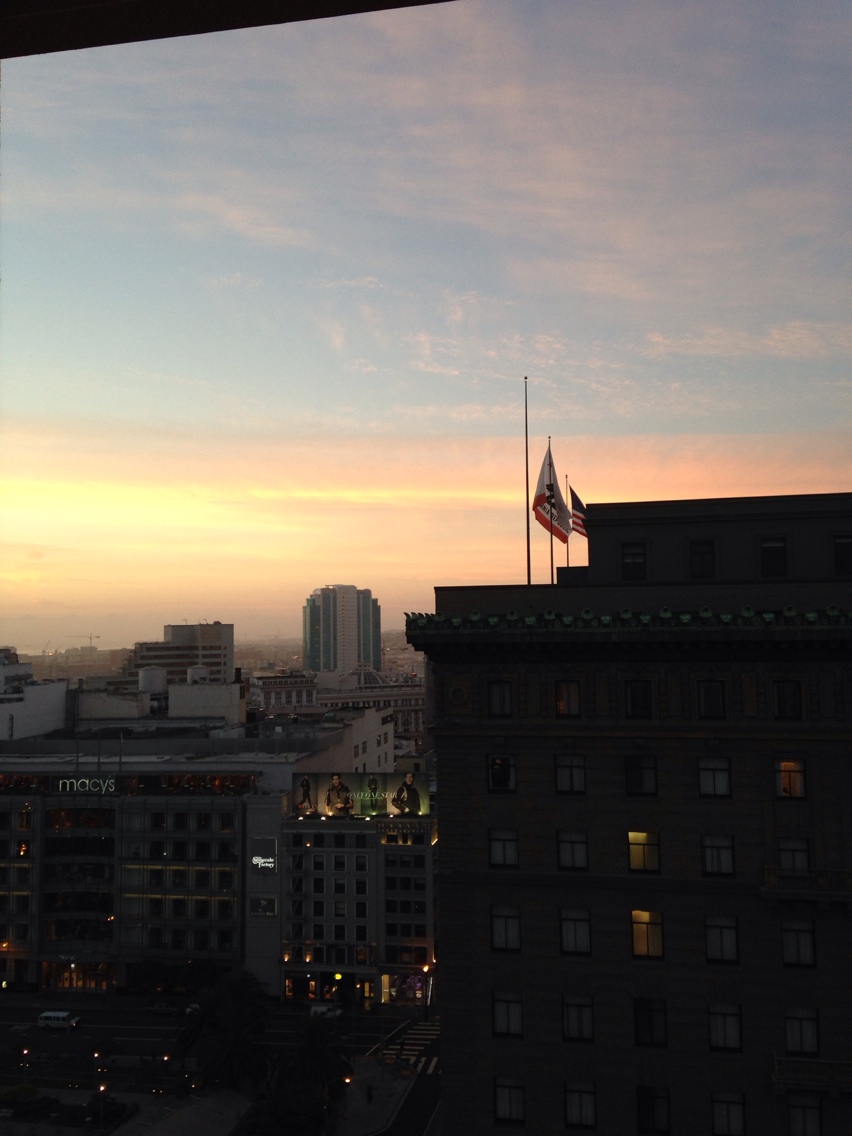 The following morning I was greeted by a gorgeous sunrise over Union Square, the center of a great shopping district. A day full of conferences ahead of me, I grabbed a latte from Starbucks and wished that I could explore instead of sit through meetings. (That being said, the conference was a great learning experience…just not as great of a learning experience as taste testing every flavor of chocolate Ghiradelli has to offer!)
After work, I decided to hit up Union Square since it was so close. I love to window shop and stroll, preferably with a best friend, John, or family, but I was content to browse alone. The city, it's just beautiful!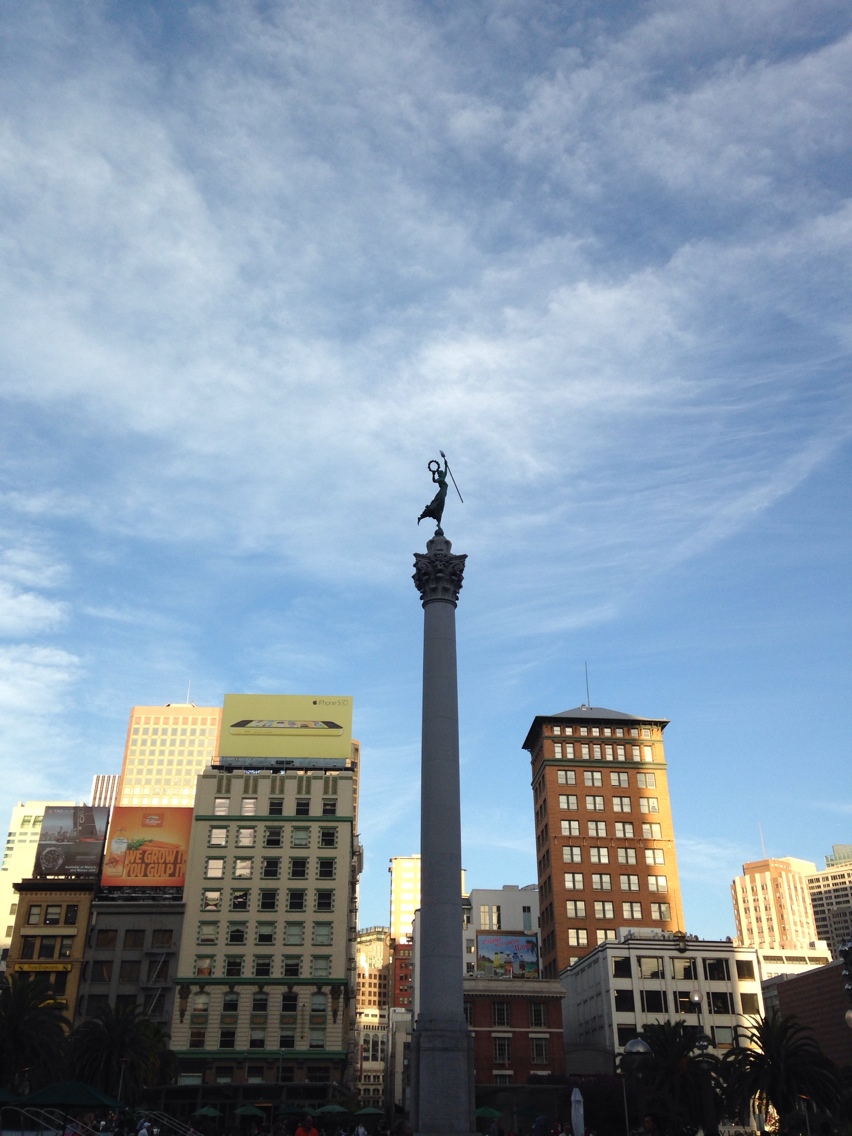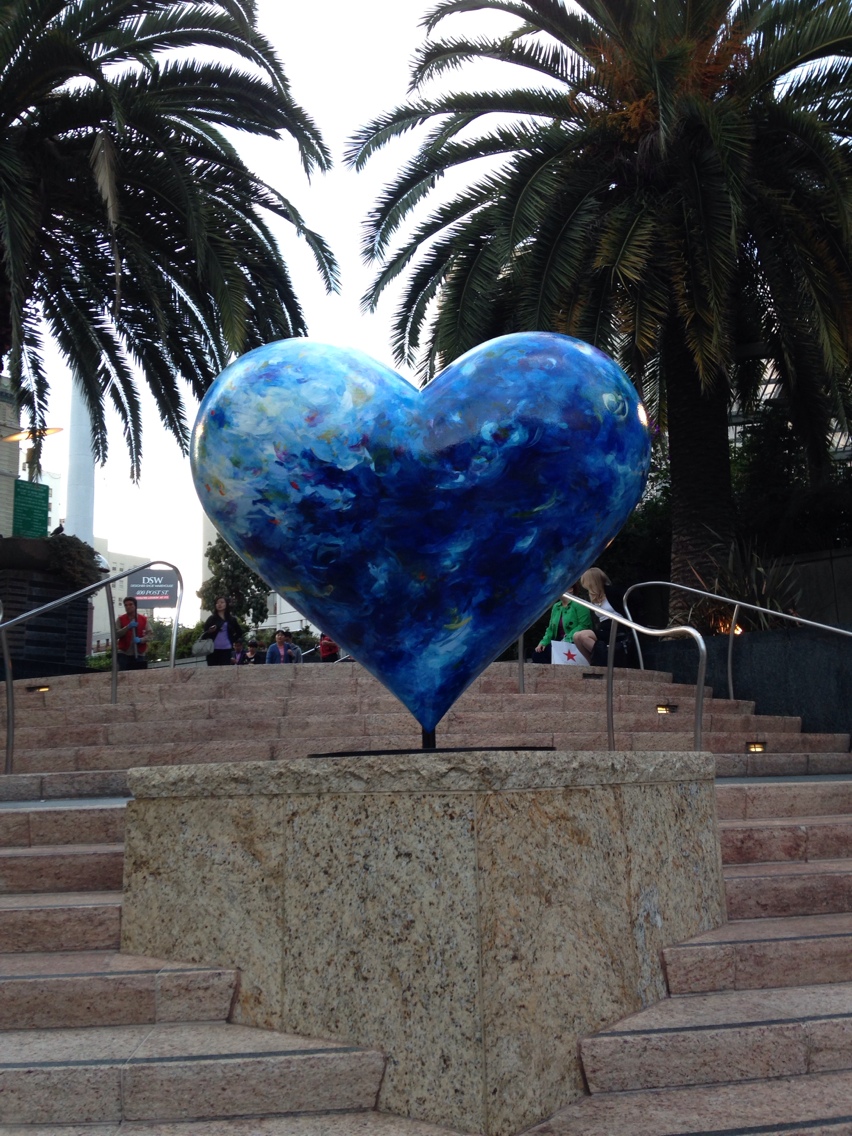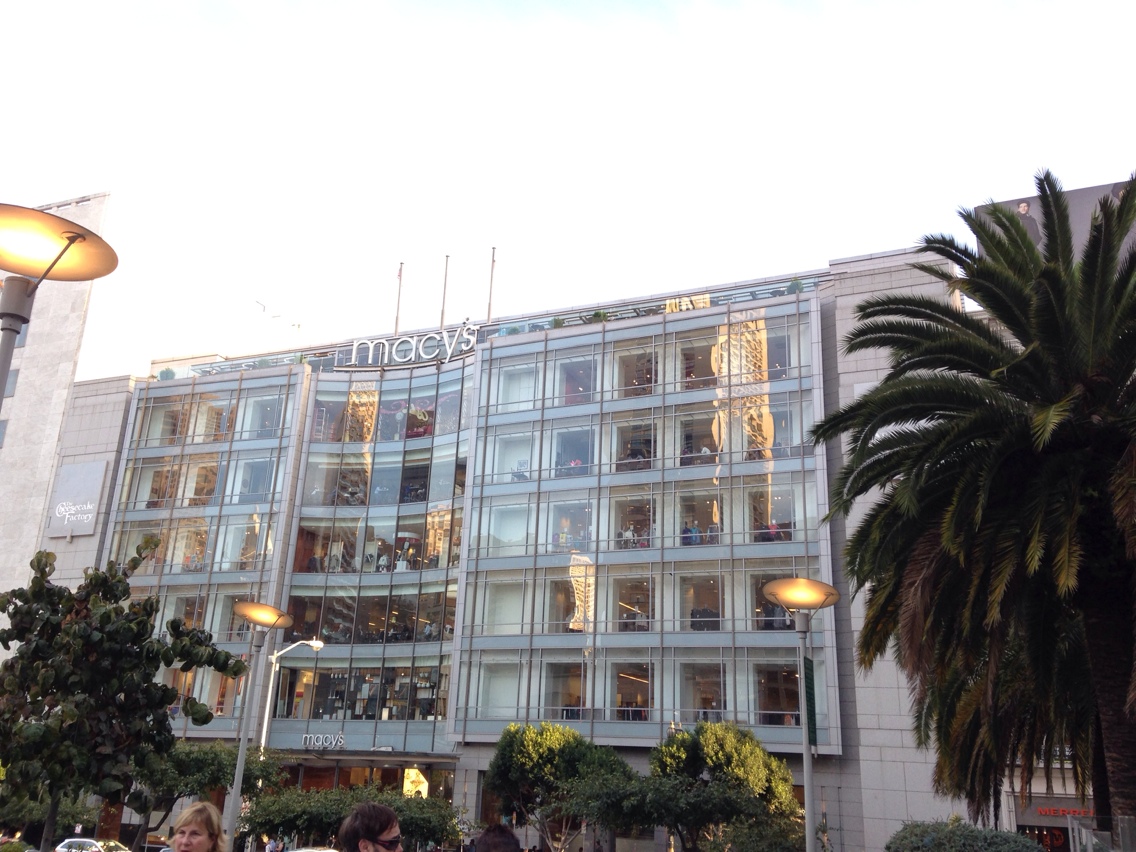 After grabbing some dinner, night had fallen, and it was time for another good night's sleep before day two of the conference! Not before I shot a photo out my hotel window of Macy's at night. The top floor had Christmas decorations lit up…is there anything more magical than Christmas lights at night? Especially in a Macy's window. Reminds me of Miracle on 34th Street! (The photo below is not a great shot, but trust me. It was a little magical 🙂 ) I just love the city at night.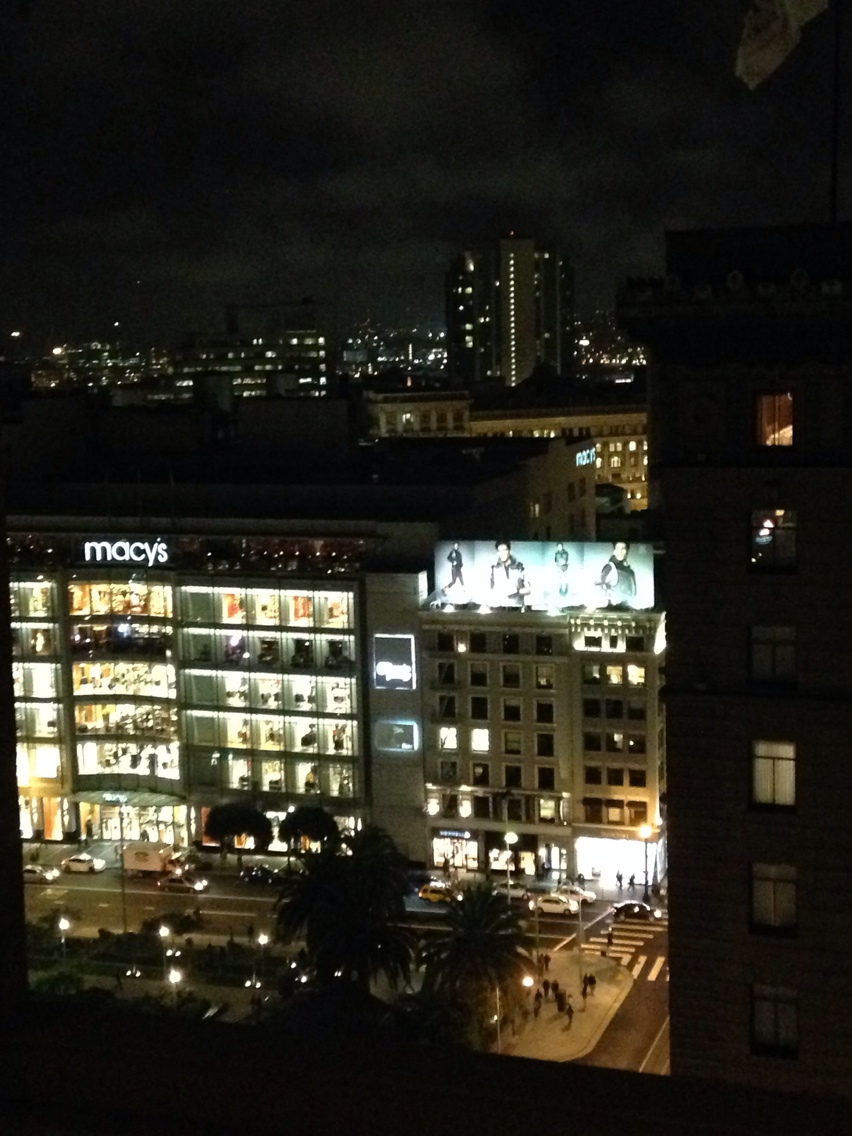 On the third day, Wednesday, I awoke and went through the same motions as Tuesday. Get dressed, get coffee, get moving. A long day at the conference, and another evening of strolling through Union Square. My stomach started to feel queasy after the last session at the conference, so I put my plans to explore on hold and settled for a low-key night instead. I ate some soup in the Macy's food court and bought a face scrub from Lush (which I love, by the way).
The next day I had to get up at 4:45am in order to catch my early morning flight. I hopped in a taxi from my hotel, arrived at the airport, and sat astounded at both the number of people in the SFO airport at that hour and the level of noise said people were able to produce before the sun had come up. Crazy, I tell you!
Never having seen the Golden Gate Bridge during my trip, I said a quick prayer that I would catch a glimpse while I was in the air. God is so faithful, y'all. Just before we ascended beyond the clouds (making it impossible to see anything below), I got a solid 30 seconds of Golden Gate Bridge viewing time from my window seat. Huge thanks to the Lord for hearing even the tiniest desires of my heart!
That was my San Francisco trip last week. I've never had any great desire to visit San Fran, but now that I have, I can't wait to go back…in two weeks! That's right folks, I've already planned another trip to the beautiful city of San Francisco the second to last weekend of October! 🙂 Call me crazy, but I just didn't get enough the first time!
Have you been to San Fran? What was your favorite thing to do? What is a "must-do" on my next trip (which is solely for pleasure, no business involved!)?