Something about this time of year is always chaotic. I literally cannot recall one late September/early November season that was serene or particularly relaxing. In the next three weeks I have exactly three out of town trips planned, big things are going on in the office, and I'm preparing for friends to come visit and to go to Maryland for Thanksgiving. Craziness, I tell ya!
It was about this time last year that I went on an online hunt for a better time management technique than a massively stressful to-do list and an intense lack of motivation to get each bullet point done on said list. I stumbled across The Pomodoro Technique, and read up on it. Turns out it has quite a following.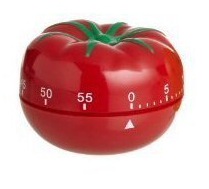 What is The Pomodoro Technique?
It's a time management technique, named for the tomato-shaped kitchen timers (pomodoro=tomato in Italian) that help implement the steps of the technique. It was developed by a man named Francesco Cirillo in the 80s. The premise behind The Pomodoro Technique is to work with time instead of against it by using frequent breaks to improve mental sharpness.
Here's what you need to get started:
Pen & Paper
Timer (you can use your watch, cell phone, or grab an adorable tomato timer here)
Here's what you do:
Write down several tasks you need to get accomplished (use this free printable if you'd like!)
Decide which task you're going to tackle
Set your timer for 25 minutes exactly and remove all distractions
Work without distractions on your task for 25 full minutes (this chunk of time is called a "pomodori")
Once the timer rings, place an "x" next to the task if it's incomplete and cross if off if you were able to finish it in the 25 minutes
Take a 3-5 minute break before either spending another 25 minutes on the same task or beginning a new pomodori
Repeat steps 3-6 four times
After four pomodori (25-minute tasks), you have completed a set, and it's time for a long 15-30 minute break
Why does it work?
Because The Pomodoro Technique breaks up tasks into bite-sized chunks, they seem much less overwhelming and far more manageable. There's also a great feeling of accomplishment after each 25-minute pomodori, even if the entire task isn't completed. By adding "x's" next to a task every time you spend 25 minutes on it, you can visually see the progress you're making. I, for one, love progress.
Another reason why this time management technique works so well is because it allows for frequent breaks. Whenever I use The Pomodoro Technique, I am able to truly turn off distractions (like texting, Facebook, snacking, taking a bathroom break, etc.) because I can look forward to five minutes of free time in between tasks and a large 30 minute chunk after four tasks.
If you'd like more information on this method of time management, check out this book (it has phenomenal reviews).
A couple of tips:
If you finish a task in shorter than 25 minutes, the technique says that you should "overlearn"–basically continue to work on said task until the timer rings, perfecting your work or studying longer. This is great for when you're writing or completing a school or work assignment, but it can also be applied to housework and chores. If your task is to clean your bedroom and you've already straightened up the room and made your bed in just 10 minutes, spend the next 15 cleaning your windows and mirrors, dusting your dresser, and organizing your drawers.
If you're super stressed, however, I'd recommend using any leftover time as extra break time. Sometimes you just need to rest.
Another suggestion is to play music in the background while you work. I prefer light classical music when I'm trying to focus, but play whatever helps you get work done. Music is powerful because it is relaxing, helps us concentrate on the present moment, and generally improves our moods (source).
Try The Pomodoro Technique for yourself & let me know how it goes!