Those of you who have been readers for a while (thank you for being a reader for a while) know that I am a big fan of defining short-term and long-term goals as a means to success. After reading this book, I've been a goal-girl! And I don't see myself turning around any time soon.
On a day to day basis, I use the whiteboard on my refrigerator to define what needs to get done for the day. Things like "Pay Rent," "Buy yogurt and granola bars," or "Do Laundry" frequently grace the to-do list on my fridge. They're the mundane tasks that have to be done. Being a pragmatist, I never add more lofty or dreamy goals on my whiteboard list. Because–*gasp*–what if I can't cross them off? That would just about be my downfall.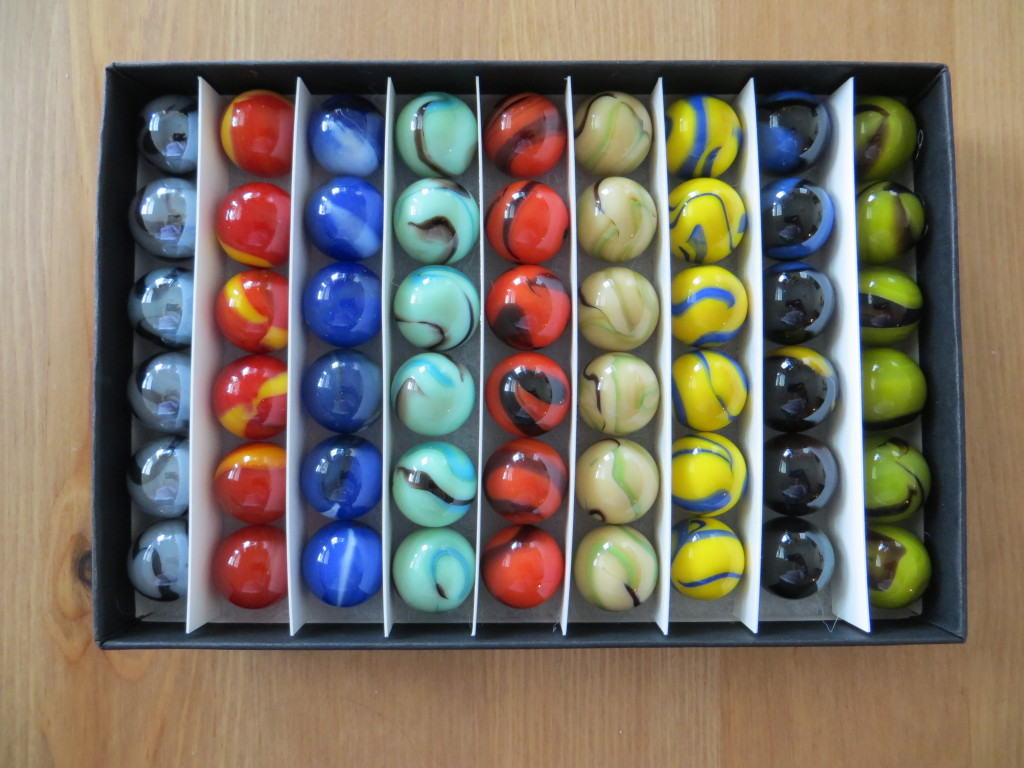 The other evening at a church volunteer orientation, I won a small box of marbles for being the person in the room who had been going to church for the shortest amount of time. I didn't think much about the gift (I assumed it was some sort of game), so I stuffed it into my purse to mingle with my wallet, phone, and keys.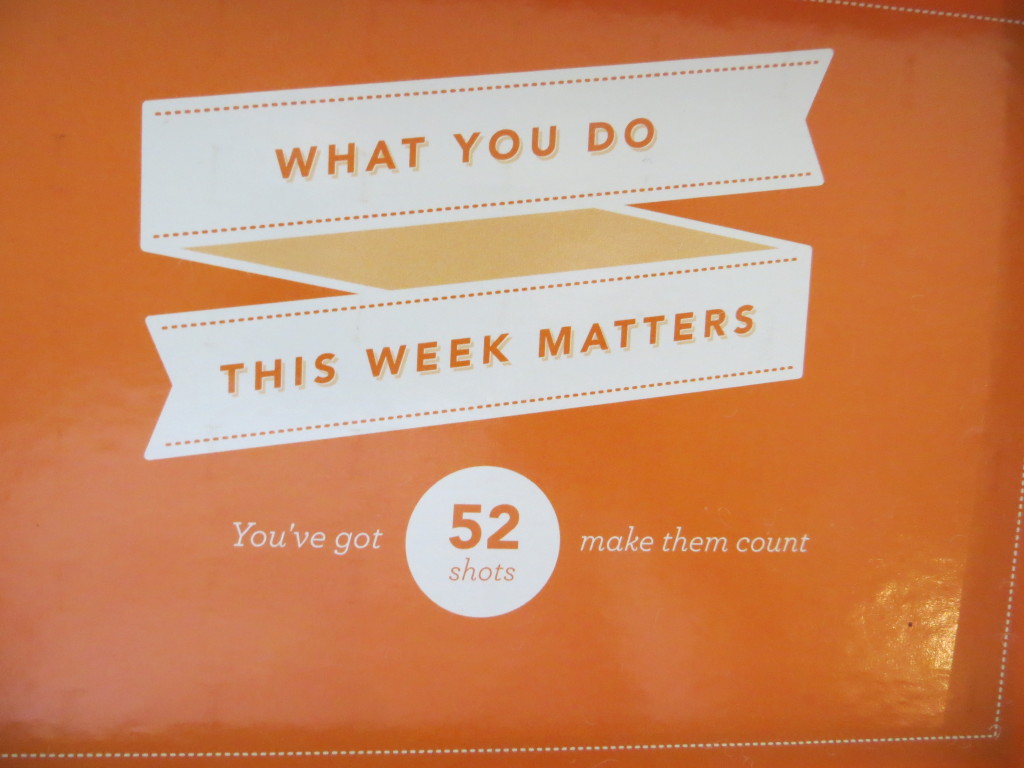 Once I got home, I removed the plastic that was shrink wrapped around the box of marbles. Once I opened it, I realized that this little box wasn't intended to be a game at all. In fact, the box held 52 marbles (+2, actually), one for each week of the year. The idea is to realize how quickly life goes by and to make every week count. I set this neat, thought-provoking gift of marbles on my counter and pondered what to do with them.
Finally, I made a decision. (Totally unrelated side note: I'm pretty good at making decisions in almost every area of life, except for what to order at a restaurant. I start looking up menus hours before I go somewhere to eat, and even then feel legitimately anxious when it's my turn to order. Okay, now back to your normal programming…)
I decided to put the 52 week-representing marbles into a glass jar that used to hold pizza sauce, and set that aside.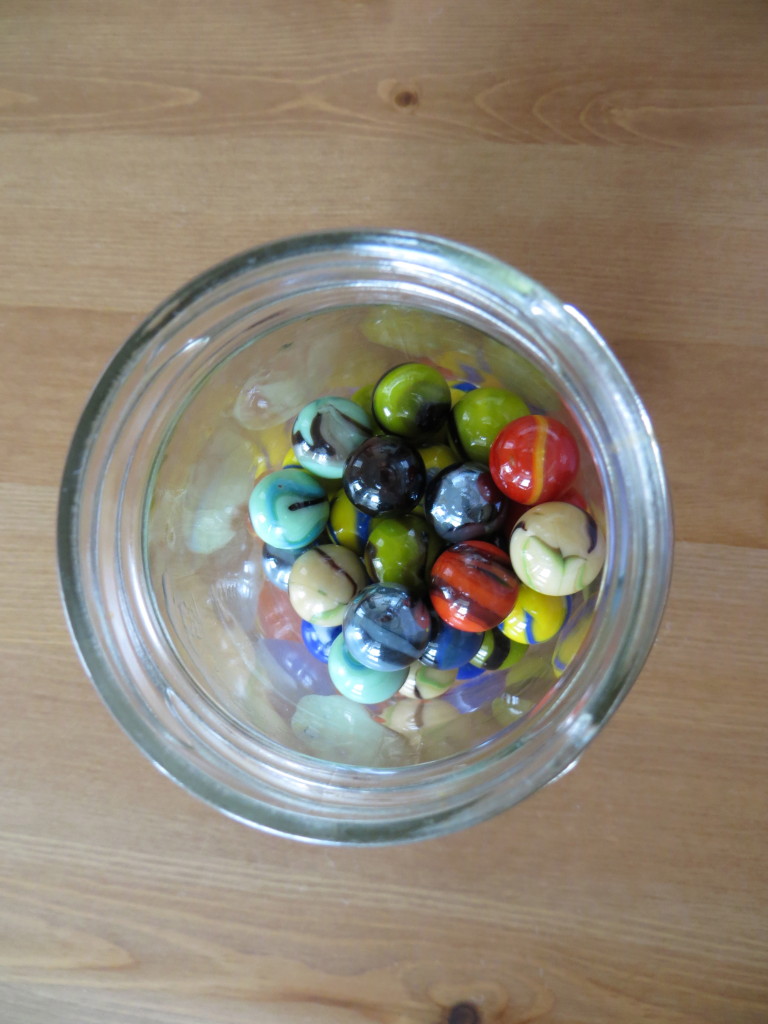 Then, I grabbed an old picture frame, removed the glass, and stuck a pad of Post-It notes onto a piece of card stock I affixed the matting. The idea behind the Post-It note frame is to write a goal for the week onto the yellow pad, and then remove that Post-It and a marble from the jar every Sunday. The point: to remind myself to make every week count. And to have goals that aren't all practical and boring. And to watch the marbles disappear and remember how short and precious life is (not in a sad, morbid way–in a rejoice in this day kind of way).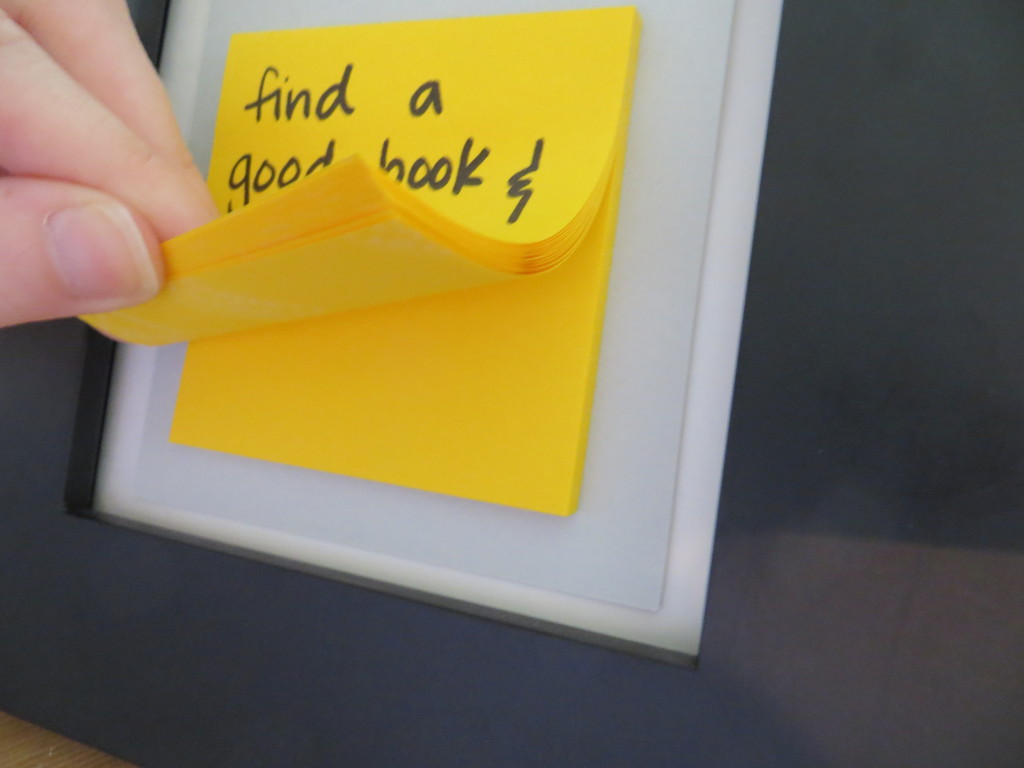 This week's goal is to find a good book to read and start reading it! (Suggestions? Comment below!) I love to read and write very, very much. I write every single day (ahem, hello, you're reading it), but I haven't read enough books in recent months. Now that Autumn is upon us and school's back in session, I think it's the perfect week to commit to finding a great book to read over the next couple of weeks. It feels good to have a goal for the week that's not cleaning or another boring task!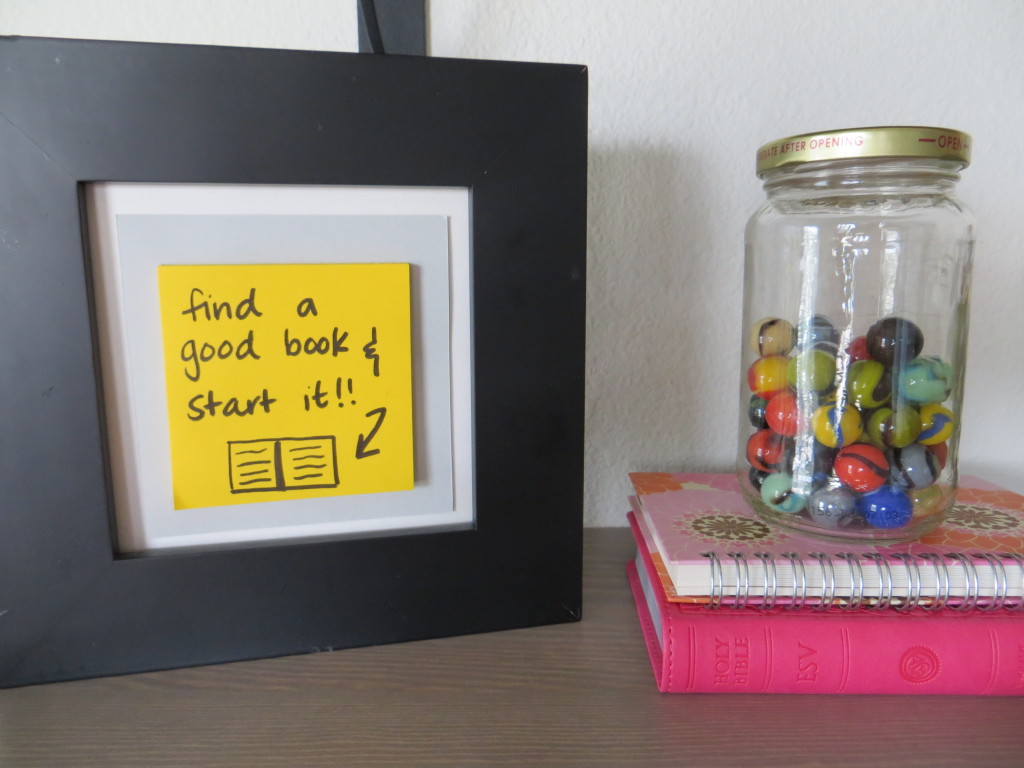 I look forward to watching my marbles disappear (hehe, I'm losing my marbles! wink, wink) over the next year, and to creating fun life goals to work towards each week. And really, it's no big deal if I don't complete my weekly goal. I can just keep the Post-It up for the next week, or until I follow through. No pressure, just a gentle nudge to work towards a goal.
If you're interested in making your own Disappearing Marble Jar for the year, just save a jar from the kitchen (or buy one at the store), and grab a bag of marbles. You can probably purchase marbles at the dollar store, Target, or Walmart, or you can buy them off of Amazon here. Then attach a goal to each marble by writing them down, whether it be on a Post-It note like me, in a journal, on a whiteboard, on your phone–wherever.
I'd love to hear what some of your weekly goals would be! Do you have a similar system to remind you to make life count?