I promised a few weeks ago in this post to write a post on how I organize my fridge. Organization is important to me in virtually every aspect of life (let's be real…in every single aspect of life), but it's especially important in my kitchen. Mainly because I only eat out once or twice a month and spend a heck of a lot of time cooking and baking in my apartment kitchen. I've even started saving money (and eating better) by baking my own whole wheat bread and making my own pizza dough from scratch. #bettycrocker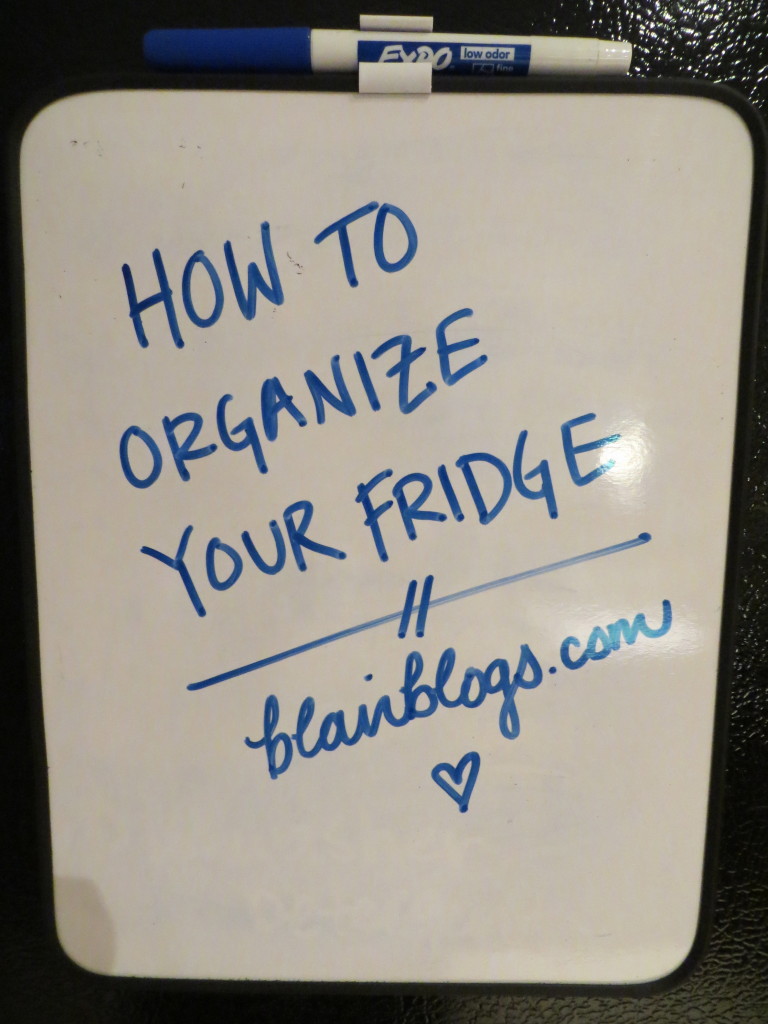 As with most apartments, my fridge is just the standard freezer-on-top, refrigerator-on-bottom, handles-on-the-right old school fridge. No pull-out freezer drawers, ice and water dispenser, or double doors round these parts. When I first moved in, I struggled to organize my cold food. My childhood home has a double-door with a pull-out freezer drawer and my college apartment had a single-door pull-out freezer drawer. I haven't used an old school fridge since I was about nine years old. And I wasn't baking bread then. I was keeping a bird watching journal (true story).
Before we get into the nitty gritty, can I express how extremely difficult it is to photograph the inside of a refrigerator?! You either get the blinding uncovered light bulbs or it's basically pitch black. You may have to use your imagination a little bit, but hopefully you'll get the point. I have noted that I do not have a future career as an interior-fridge photographer.
Here's what the inside of my fridge looks like: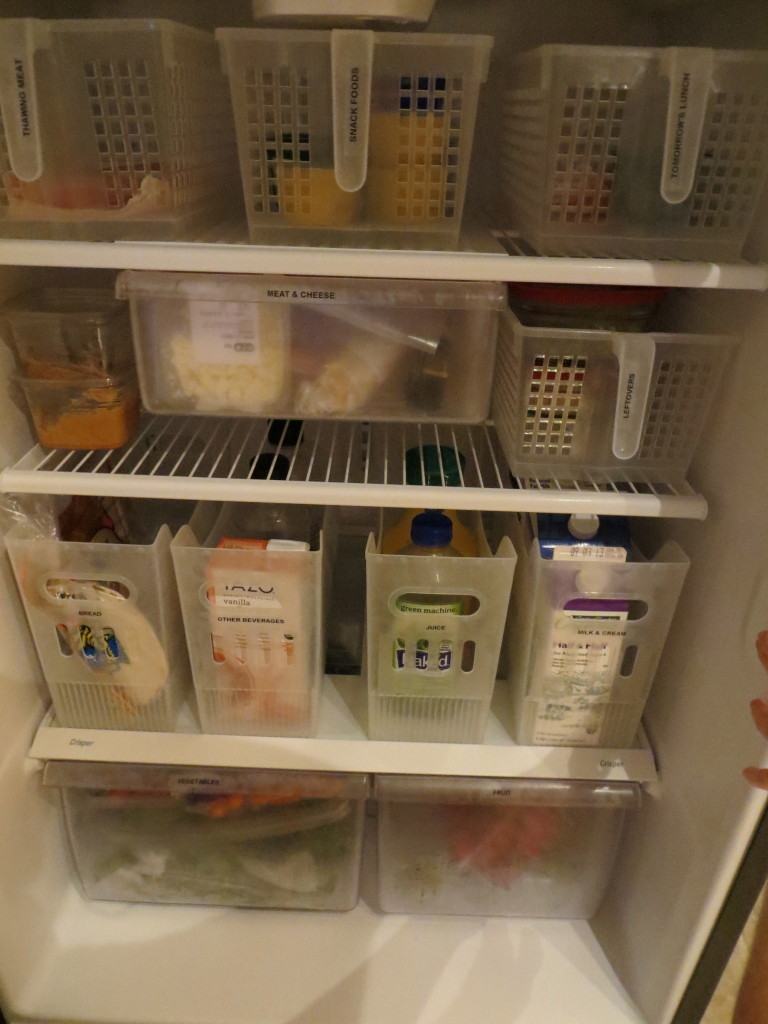 Yup. Bins on bins on bins. Anyone surprised? (Crickets.) All of the containers I purchased were from The Container Store, but you can grab something similar on Amazon (I'd get something like this) or at Target or Walmart.
Starting from top left of the fridge, I have a bin for "Thawing Meat." This container has a paper towel lining, and it always holds one or two plastic-wrapped chicken breasts and sometimes some ground beef in a ziploc. Because really, is there anything more annoying than arriving home from a long day at work with nothing thawed? By keeping my meat in a clear plastic container, I can always get a quick visual in the morning and take what I'll need for dinner out of the freezer and into the refrigerator in a quick second!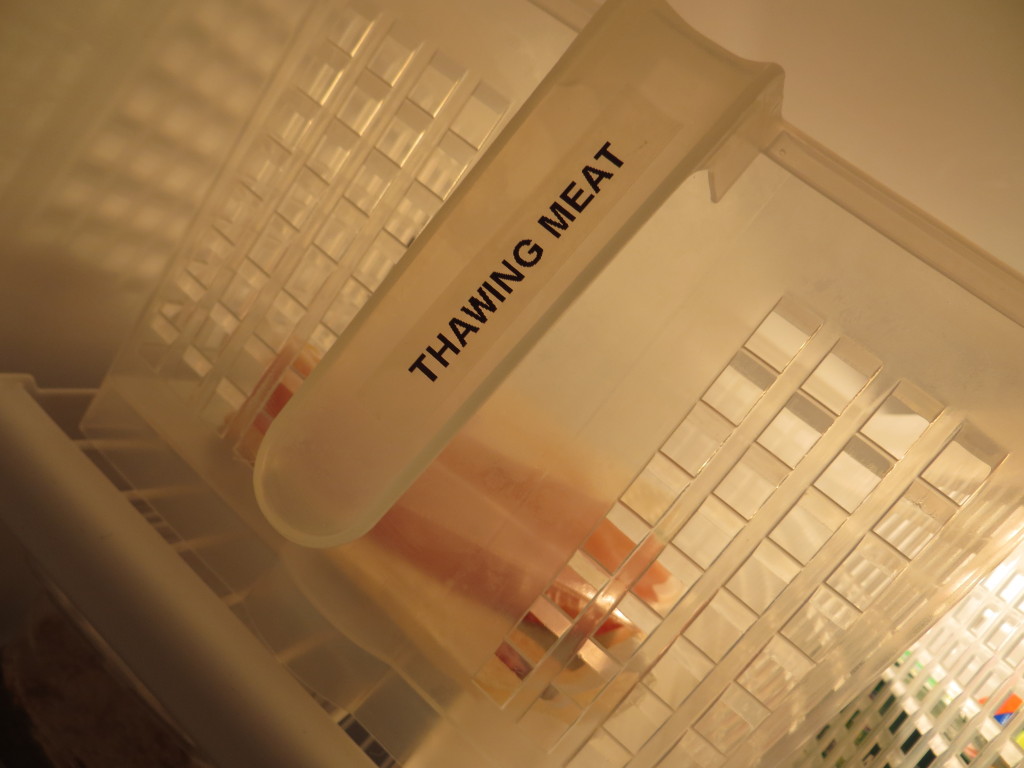 The next container is for "Snack Foods." This bin always holds yogurt, applesauce, and sometimes a couple of other refrigerated snack items. Like the meat (and as you'll see, every other clear plastic container I use), I can run to the grocery store knowing that I only have two yogurts left and I need to stock up. I almost never go food shopping and overbuy or underbuy. I truly attribute this to having a visual of what I have at home at all times!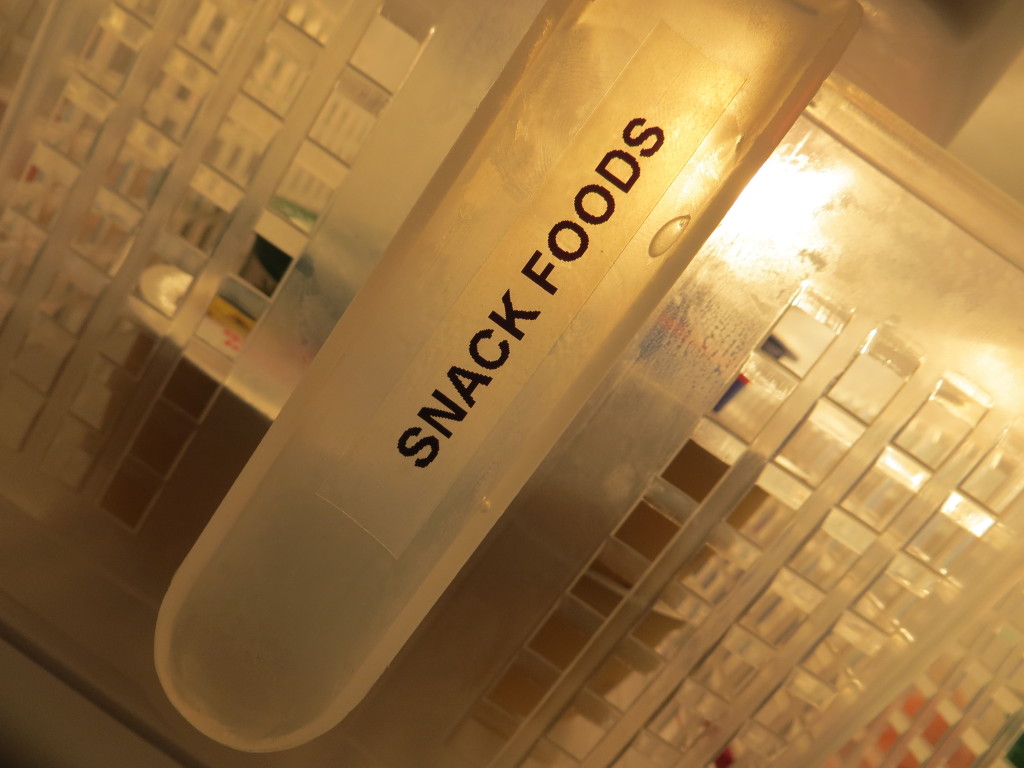 The third and final bin on the top shelf is "Tomorrow's Lunch." This container makes it easy to put together lunch during the work week. I just grab the bin the night before, put it on the counter, and fill it with food for the next day. These days, lunch and snacks for the day are usually yogurt, an orange, an apple and almond butter, carrots, and leftovers from dinner. Easy as pie. Wish I could have pie everyday with lunch, too.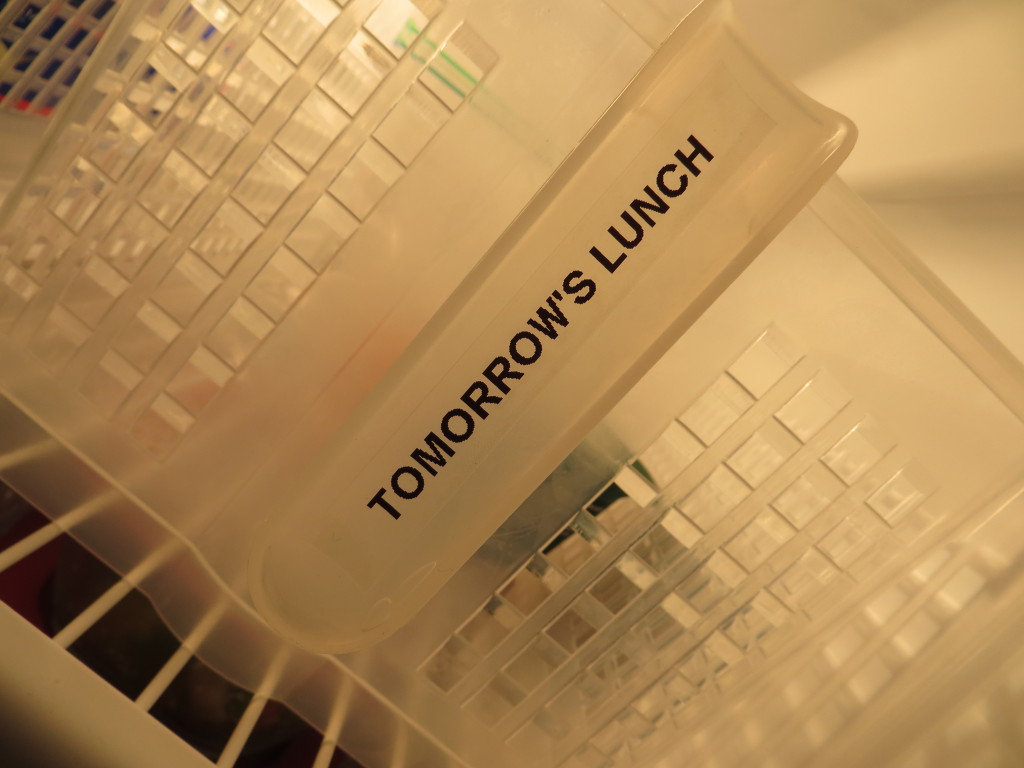 On the left of the next "level" of the refrigerator (known to most humans as the second "shelf" I'm now realizing), I keep my freshly ground peanut and almond butters. Nothing too exciting. Except that almond butter and apple wedges is a divinely delicious snack.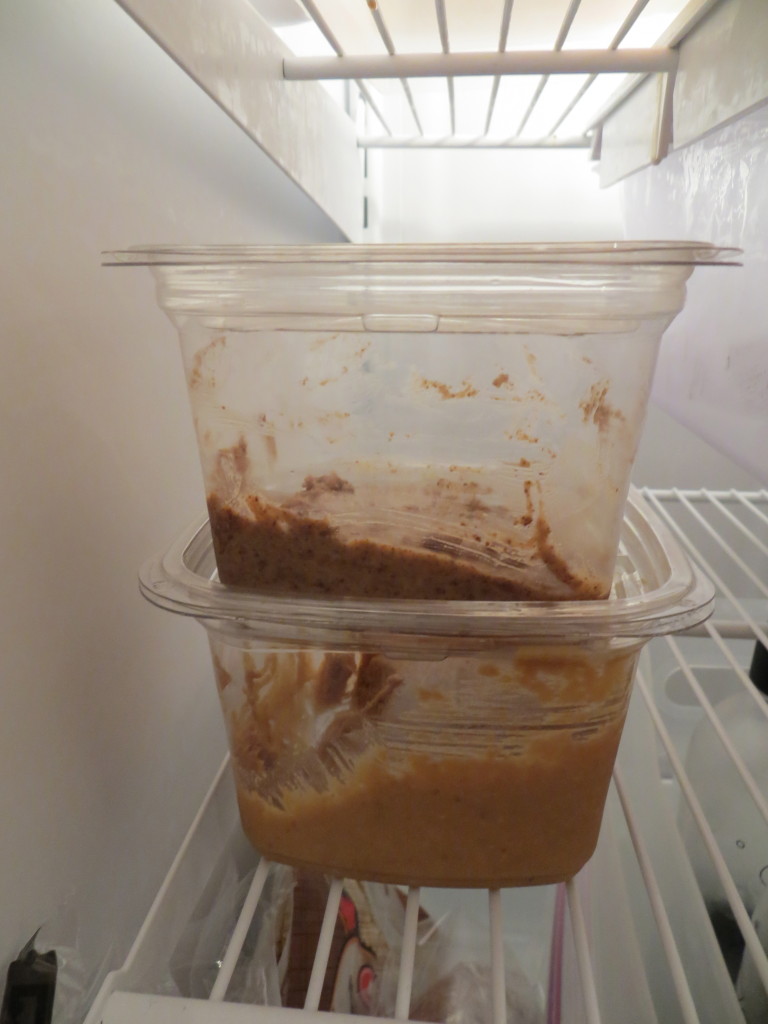 In the center of the second shelf is my meat and cheese drawer. Which is, of course, labeled "Meat & Cheese." (If you're wondering, I have this label maker, and I am absolutely obsessed with it.) It's no surprise that this drawer holds deli turkey, sliced cheese, a block of cheddar and one of mozzarella, feta, pepperoni (sometimes), and bacon.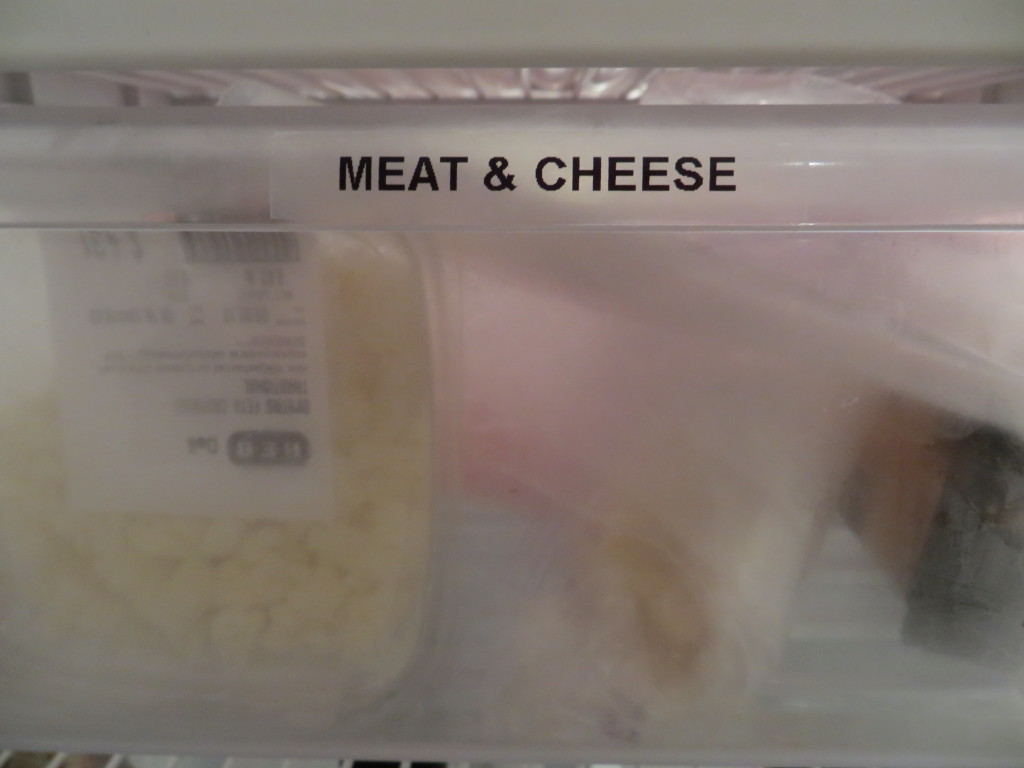 One huge suggestion that I have for people who live alone (or with just one other person) is to invest in food containers for individual foods that you don't go through quickly in order to keep that item fresh for a long time. I have one for bacon (pictured below) and another for cream cheese (pictured further down in the post). If you're interested, stores like Home Goods often have a wide variety of these types of containers–The Container Store does too! I love my bacon container, especially since it can take a while for me to get through a package. This little piggy keeps it fresh for a long while!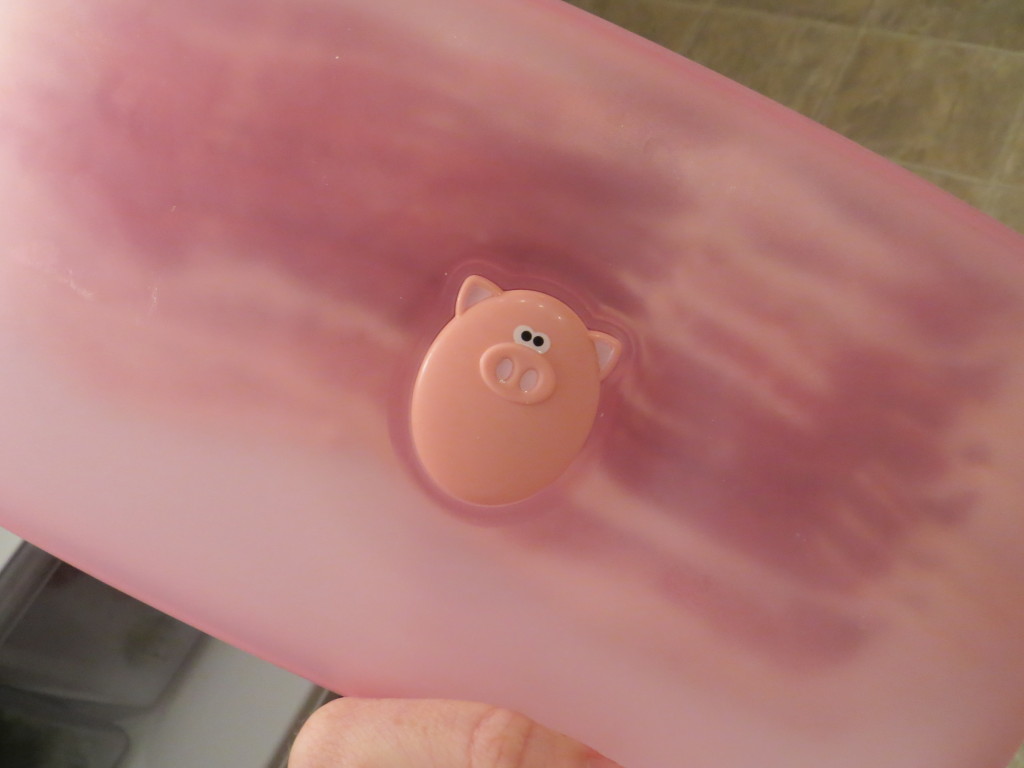 The last spot on the far right of the second shelf is reserved for leftovers. Today, it holds homemade hummus and leftover salad, both of which are stored in glass containers. Again, easy to see what I have and what I need. Love that.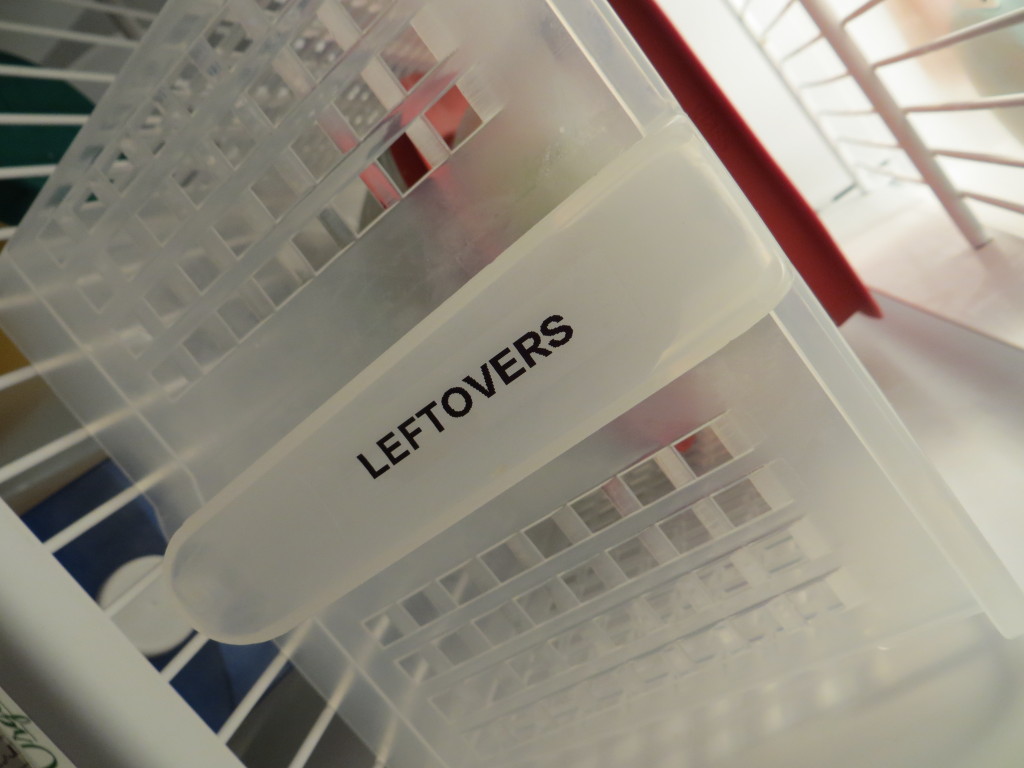 Moving down to the bottom level of my fridge, starting on the far lefthand side. (Eek! I'm excited to share this with y'all. This is my favorite part!) I have four large plastic bins that operate like drawers. The first is "Bread," and holds whole wheat bread, tortillas, and pizza dough. Next is "Other Beverages," which currently holds Tazo Latte concentrate and sparkling water. The third bin across is "Juice," which holds Naked smoothies and OJ, and the final container holds "Milk & Dairy," which means cream, almond milk, and cow's milk.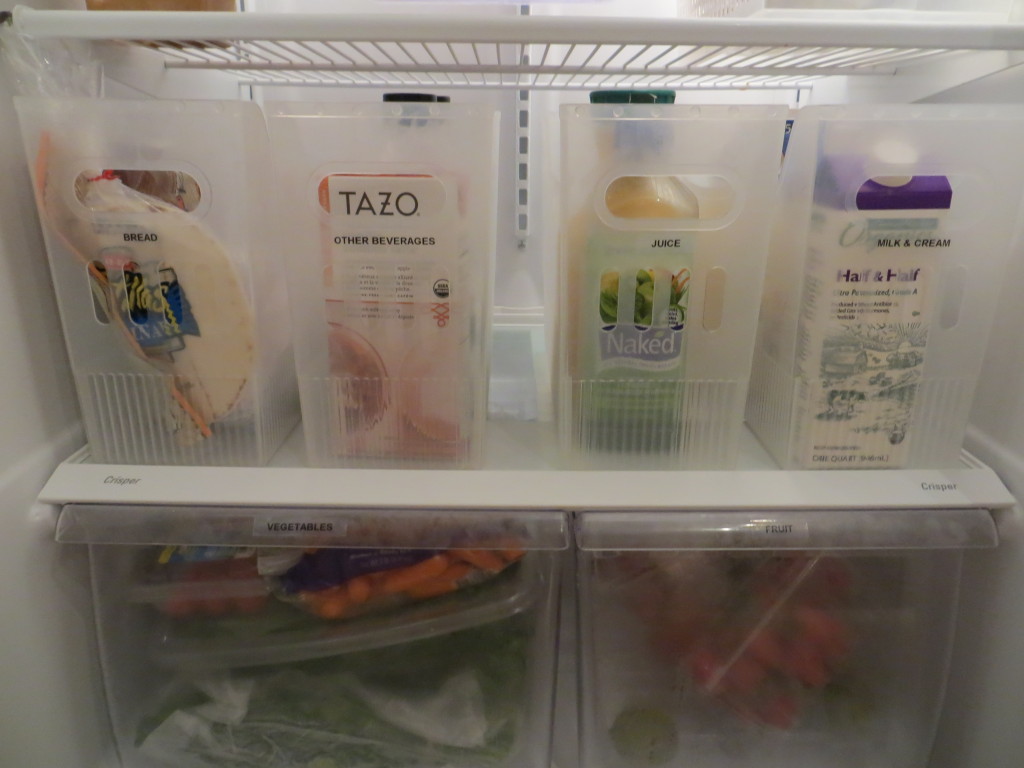 Here's a close-up of the labels on these bins. You can easily see how there are holes that act like handles.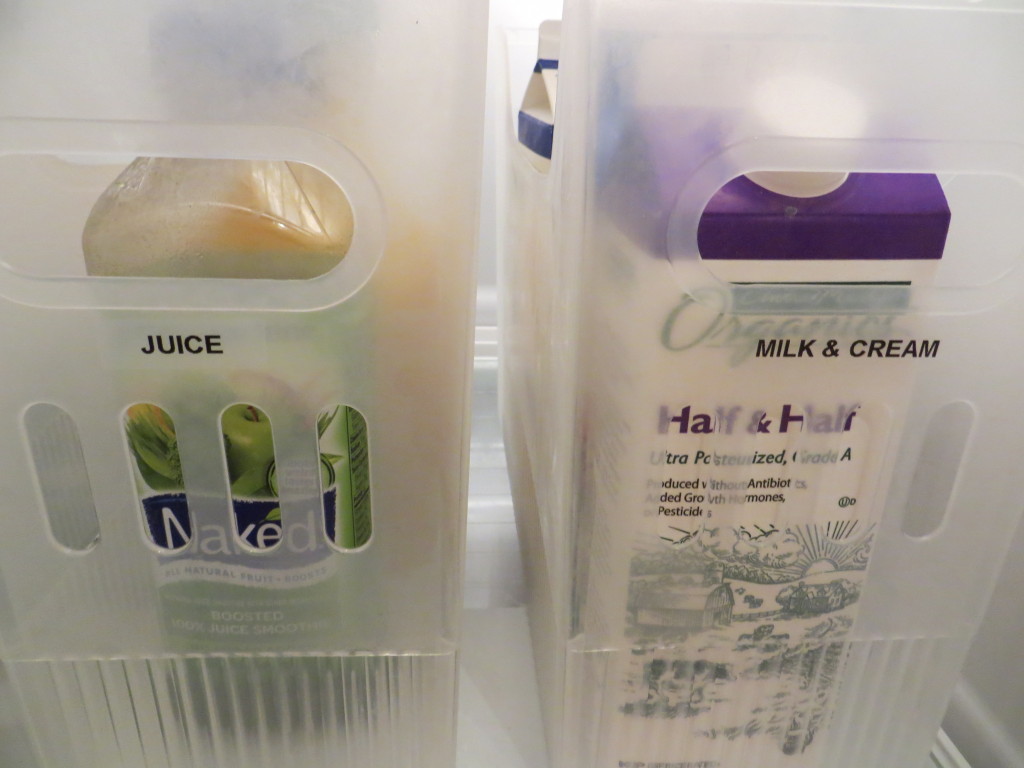 Below you can clearly see how easily these containers can act like drawers. Using these drawer-bins make use of the deep space present in these old school refrigerators. Think about it, without something that allows you to get to the back, your milk and other items will probably spoil because you'll forget about them. Hard to get to=not going to get eaten!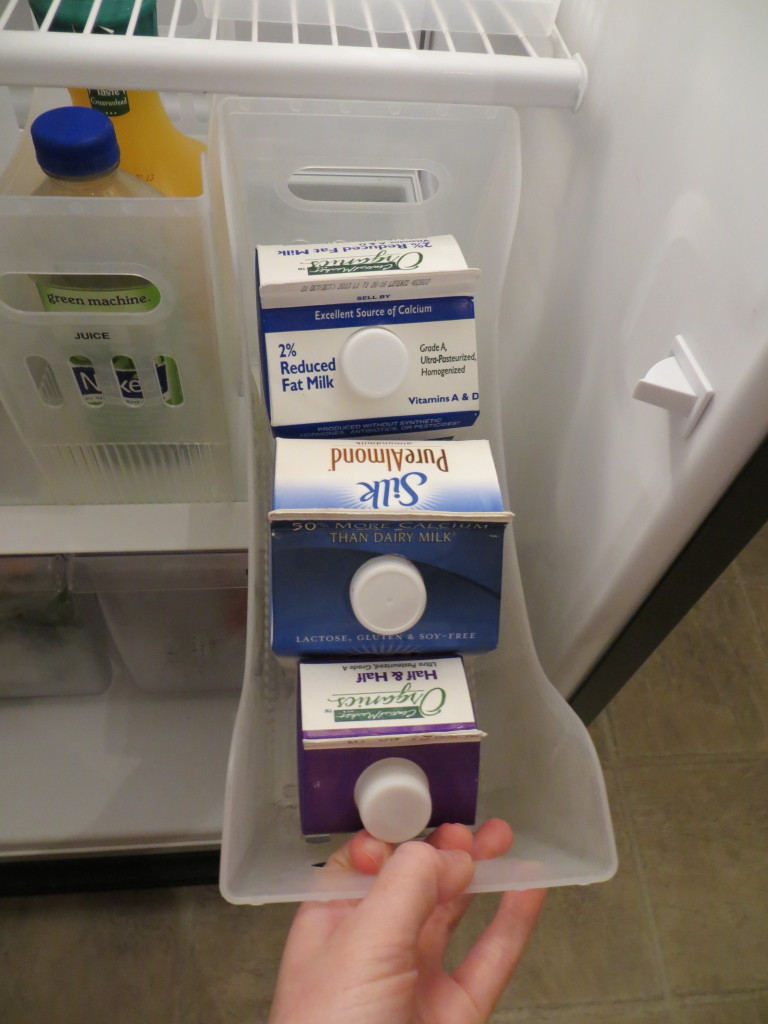 Below the four container-drawers are two actual drawers for vegetables and fruit. These are pretty self-explanatory. No super creative organizing here! My fruit drawer is always emptier than its veggie counterpart…what can I say? I'm a fruit lover!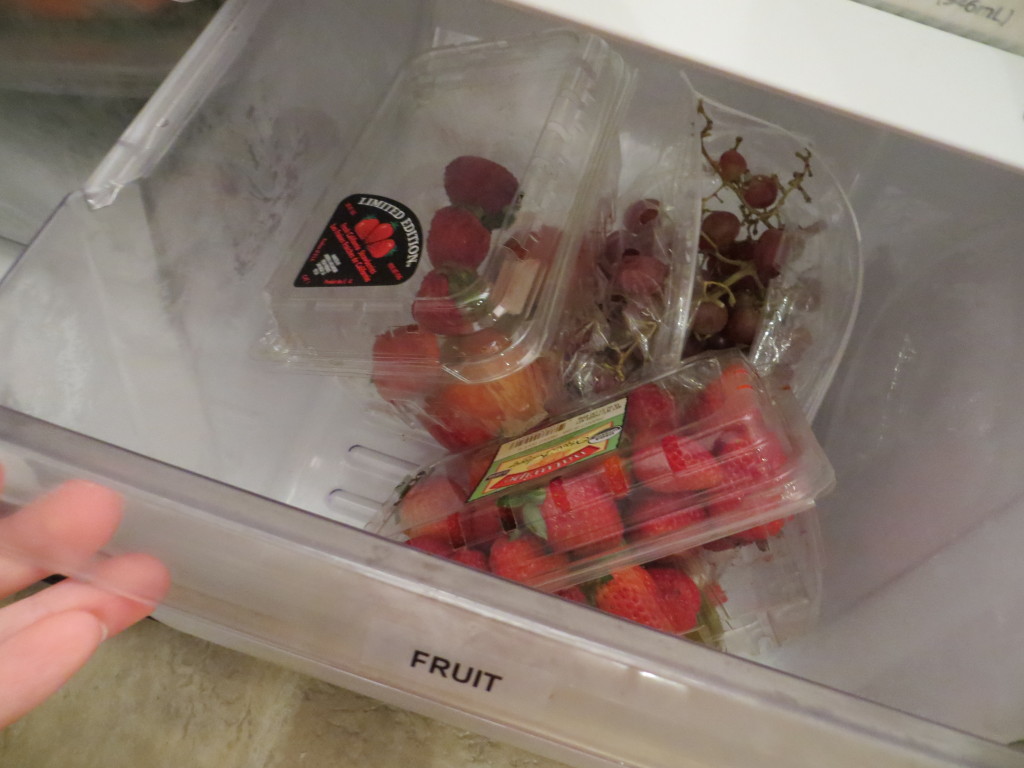 Now, on to the door of the refrigerator.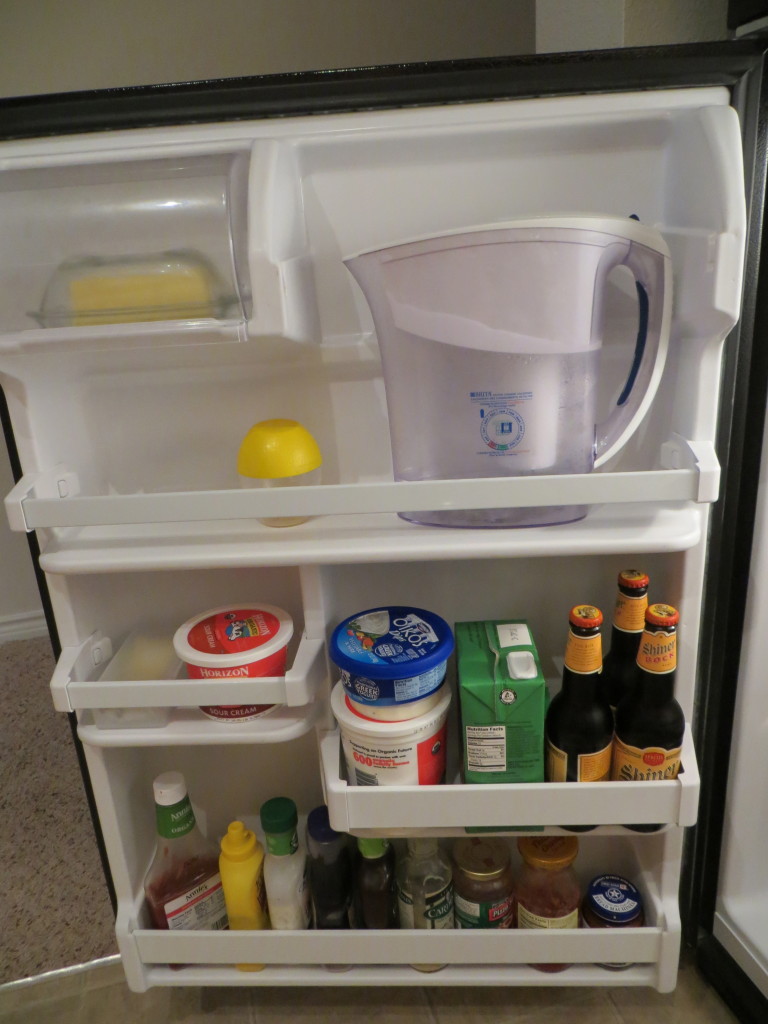 It's pretty easy to see what's in the door of my fridge from the photo above. Basically, it's just all the little items that all-too-easily get lost in the shuffle of the large part of the refrigerator. The door makes them much easier to grab as I need them. Butter, lemon wedges (another food item container), and my Brita water pitcher live on the top shelf. The second shelves hold cream cheese (in another container, close-up below), sour cream, yogurt, and Oikos veggie dip along with chicken broth and beer (which I hate and is only for company). And finally, condiments on the bottom shelf.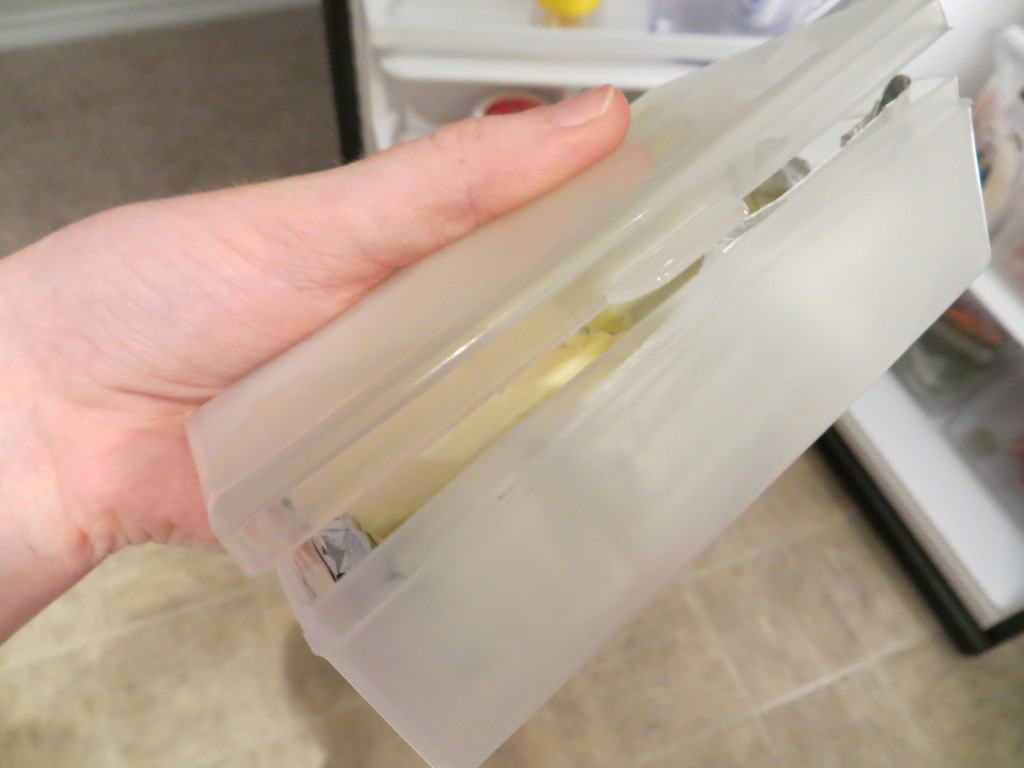 Oh! And one more tip. Keep your butter wrappers in a ziploc bag in the fridge. When you need to grease a pan, grab one and go to town! So much better for you than Pam and all those other sprays.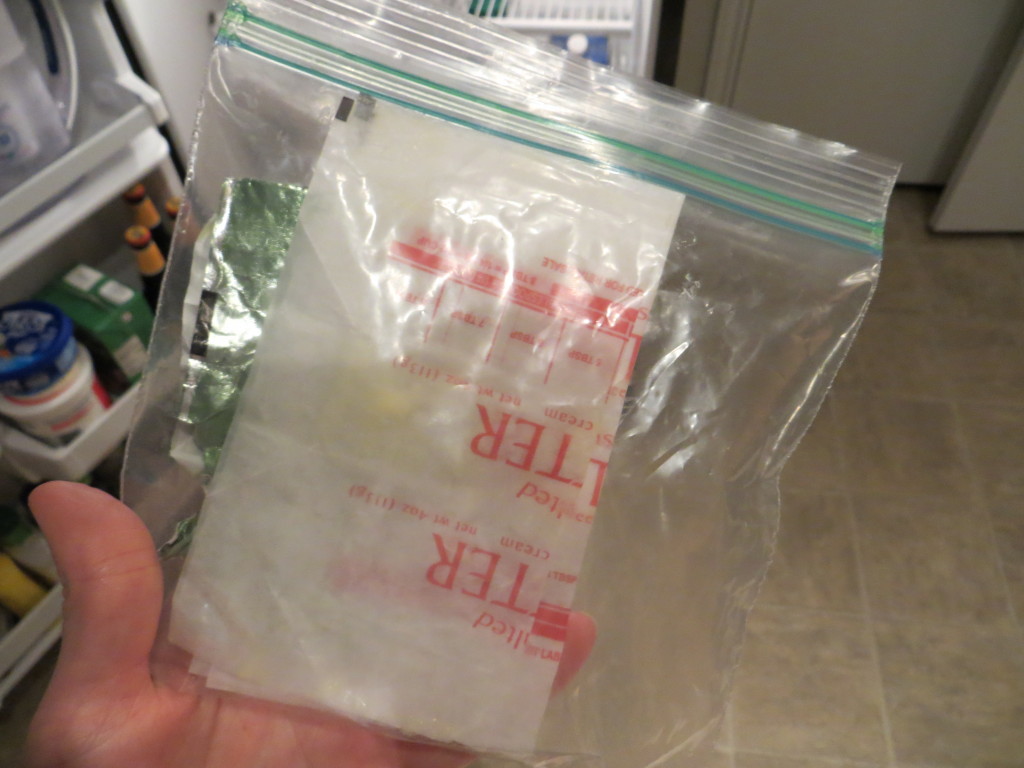 Now, let's take our tour up to the freezer. Please keep your arms and legs inside the vehicle at all times. 🙂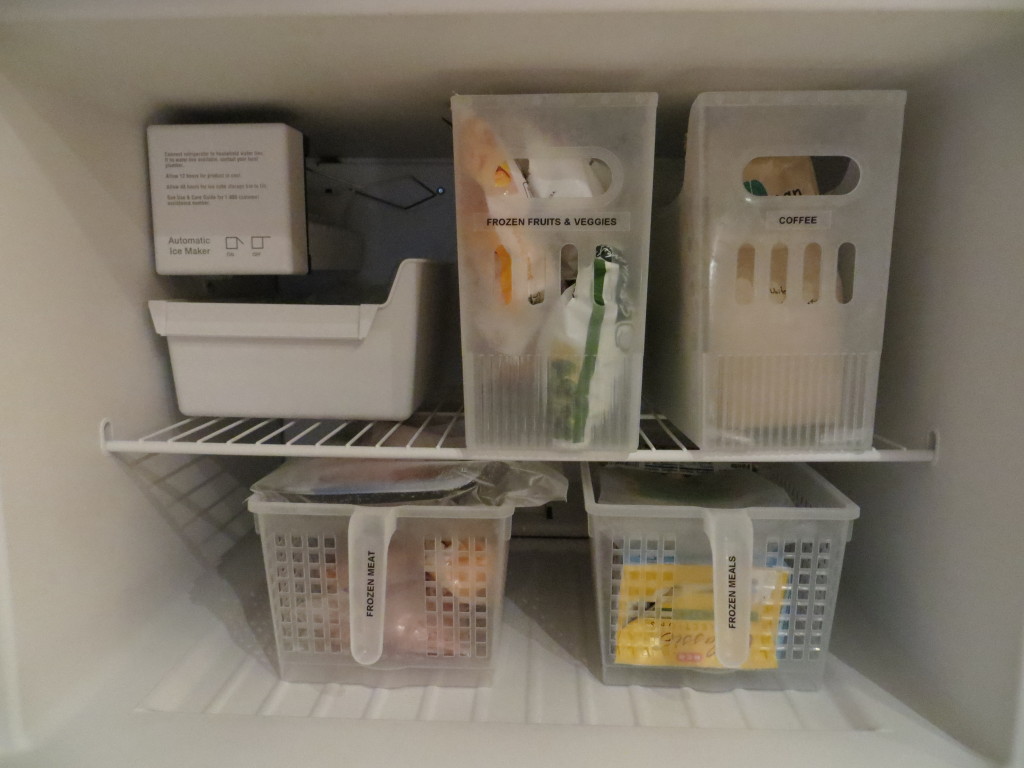 My freezer has four easy-to-grab bins. The leftmost bin on the top shelf is "Frozen Fruits & Veggies." Frozen fruits for smoothies and veggies to grow big and strong! The rightmost bin on the top shelf is for coffee. Coffee in the freezer? I don't know, it's what my mom always did. She says it keeps it fresher. I don't know if that's true, but it makes sense and I've always done it that way.
On the bottom shelf of the freezer, there are two containers–"Frozen Meat" and "Frozen Meals." Looking back, it probably wasn't necessary to include the word "frozen" seeing as both bins are, after all, in the freezer, but ya know–hindsight is always 20/20. Frozen meat holds the chicken breasts and ground beef that haven't been promoted to the thawed bin in the fridge (Is that being promoted or demoted? We'll never know). Frozen meals holds waffles, ravioli, and Amy's burritos (which are delicious, by the way). The freezer door only holds an occasional pint of Ben & Jerry's.
So that's the Tour de Fridge 2013. I hope you enjoyed it! How do you organize your refrigerator? Any tips or tricks?
contains affiliate links