I felt like I had a fair amount of kitchen tools until I moved into my apartment and started to unpack. It went a little like this…"Oh yeah, the colander was one of my roommates'–riiight, the blender was another one's–the baking dish wasn't even mine?"
It felt a bit like starting over. Over the past few months, I've built up a better kitchen tool inventory. So whether you just graduated from culinary school or have been living off of Ramen and the dining hall for the past four years, here's what you'll need when you're out on your own. On second thought, if you just graduated from culinary school, you probably don't need this list.
Anyway, here are 9 items that I've found essential in stocking my kitchen:
1. High quality set of pots and pans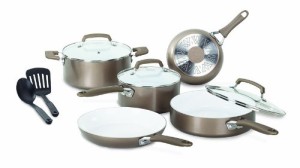 I am totally, absolutely, whole-heartedly in love with this set that I bought for a great price off of Amazon. It's also eco-friendly, dishwasher-safe (huge bonus), not made with any freaky toxins and chemicals, and extremely non-stick (even cheesy eggs slide right off!). I also considered this stainless steel set and this non-stick set. Definitely get a few baking pans as well, like this set or this one.
2. Blender of some sort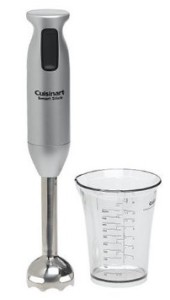 I grew up with a traditional blender (like this one), used a Ninja blender in college (like this one), and bought this immersion hand blender for life on my own. I like all three for different reasons. The traditional blender can make large batches, the Ninja pulverizes everything, and the immersion hand blender is versatile and easy to clean up. All three are great, just make sure you get one! ((I dream of a Vitamix one day…))
3. Various mixing bowls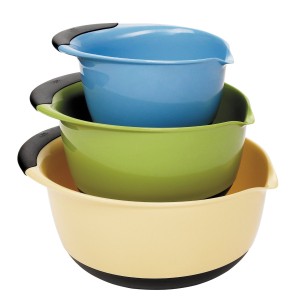 Even if you don't consider yourself a very good cook, you'll want various sized bowls for baking cookies, mixing up a salad, or marinating chicken. I love these bowls for their bright colors and pour spouts, this set because they nest together nicely and save space, and these because they're very inexpensive and versatile.
4. Knife block set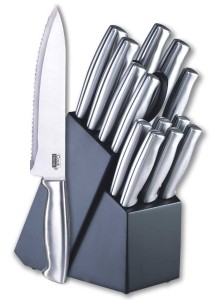 Not only is a dull knife frustrating to cut with, it's downright dangerous. Because it's not sharp, it could slip and cut your fingers. That's why it's extremely important to invest in a knife block set. You will use your knives all the time–every single day! For a low-priced option that's sleek and versatile, I recommend this set; for a nicer option, I'd go with this one.
5. Large cutting board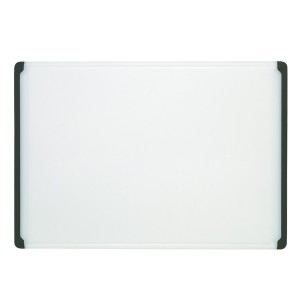 Chances are, your first kitchen will be on the smaller scale. Whereas at home, you may be used to having cutting boards of all different shapes and sizes, I'd recommend choosing one large cutting board for your own place. That way, you're not wasting precious counter or cabinet space with spares, and you can do all your chopping, cutting, and prepping in one spot. If you're interested in a plastic cutting board that you can throw in the dishwasher (that's what I have), check out this option (love this one because it doesn't slip when you're cutting on it!); if you want something more aesthetically pleasing, this teak option is dreamy.
6. Measuring cups and spoons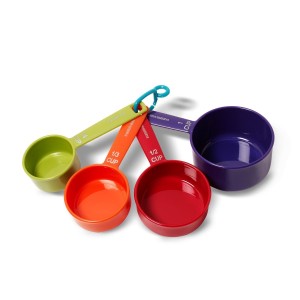 Even if you're only cooking up Easy Mac, you'll need measuring cups to get the job done. I have these fun, colorful measuring cups and stainless steel spoons like these. If you're interested in a set, Amazon has some excellent deals. I love this set of cups and spoons for its streamlined look, and this set for its ability to stack down small.
7. Silicone spatulas & a pancake turner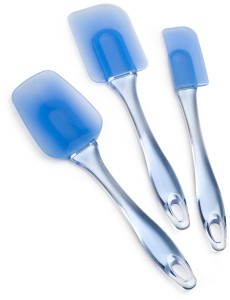 I have three silicone spatulas, and I use them all the time. They're great for cooking scrambled eggs, scraping brownie batter out of the bowl, stirring pasta–pretty much any time you don't want food to stick to your cooking utensil, you will reach for a non-stick silicone spatula. I love this set on Amazon; this one is cute as well. As for a pancake turner–you'll use it to make grilled cheese, omelets, and of course, pancakes. I'd invest in one like this that won't scratch your pots and pans.
8. Water filter pitcher or faucet attachment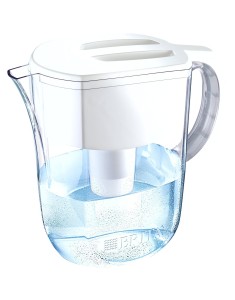 Almost no apartments come outfitted with water dispensers built in their refrigerators, and most city water tastes nasty. I'm not a big water snob and I would never choose to drink tap water from my apartment. It just tastes a little off. Fortunately, I bought this Brita water filter pitcher, which keeps fresh, filtered drinking water ready for me in the fridge at all times. Prior to purchasing the filter, I had a faucet attachment, which works better with roommates when the pitcher would be empty all too frequently.
9. In-Sink dish drainer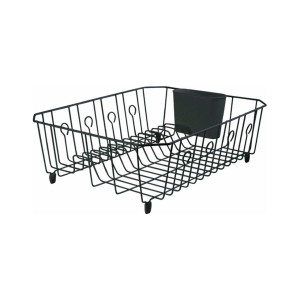 If you have a double sink (most apartments do), I would highly recommend investing in a dish rack that fits inside one side of your sink where your dishes can dry. Because you won't be running your dishwasher everyday, you'll want to hand wash certain items that you use frequently so they're clean and fresh when you need them. Instead of hand washing and drying, you can rinse off these items, stick them in the sink rack, and allow them to air dry. I love mine! (I have this model.)
There you have it! Those are my top 9 kitchen essentials for the college graduate. Of course, there are other things that are important (like absorbent dish towels, Pyrex measuring bowls, a coffee maker, and food storage containers), but these are my top 9.
What about you? What would you add to the list?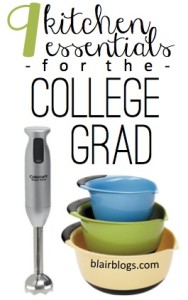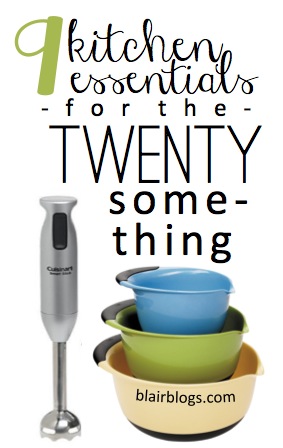 *list contains affiliate links