A lot of people spend a lot of time and a lot of money organizing their bathrooms. (Like me, for example.) But we neglect to organize a pretty huge part of the bathroom–the inside of our showers! And you know what I think? I think we should. Maybe I'll take it to the next level and start GFISO–Girls For In Shower Organization. Wanna join? After this post you might 😉
So–as many of you know, I just moved into a blank slate of an apartment. There was really no need for "before photos," because it was totally empty–and even if there was a need you're not getting them because I didn't remember to take them. Sorry. Well, not really because there was nothing to see anyway.
ANYWAY, the first thing I did was order this ah-mazing shower head off of Amazon. The previous shower head provided a light misty flow that took roughly 38 minutes to get shampoo out of my hair. So I looked for the mother of all shower heads, and I have to say–I found it.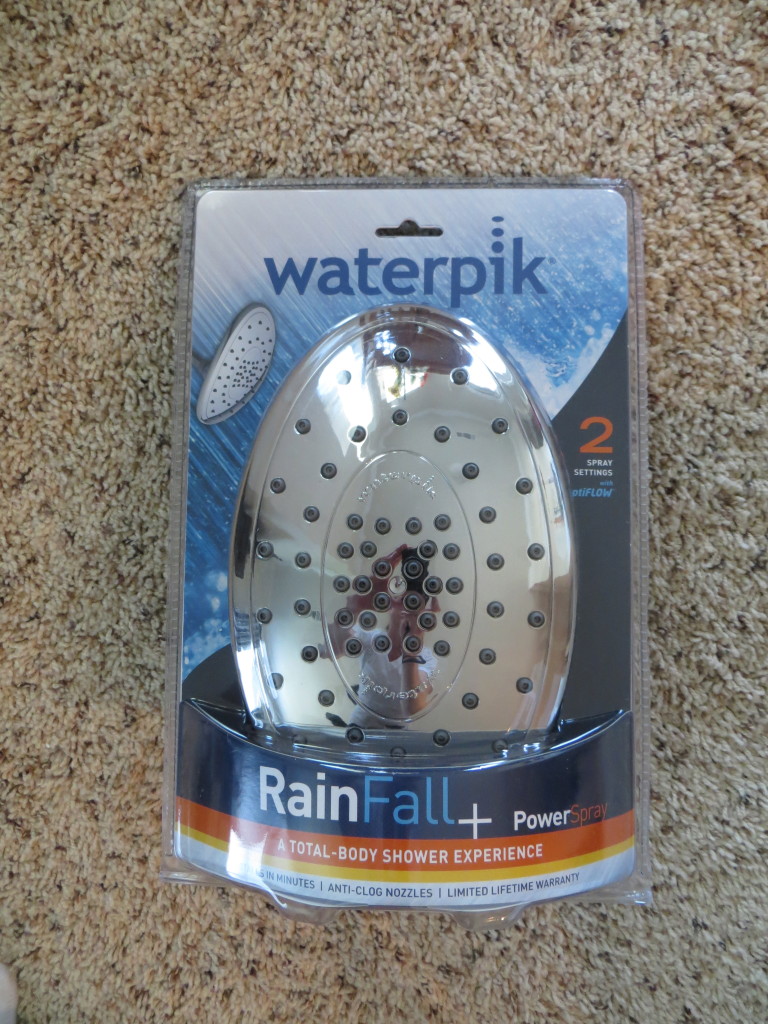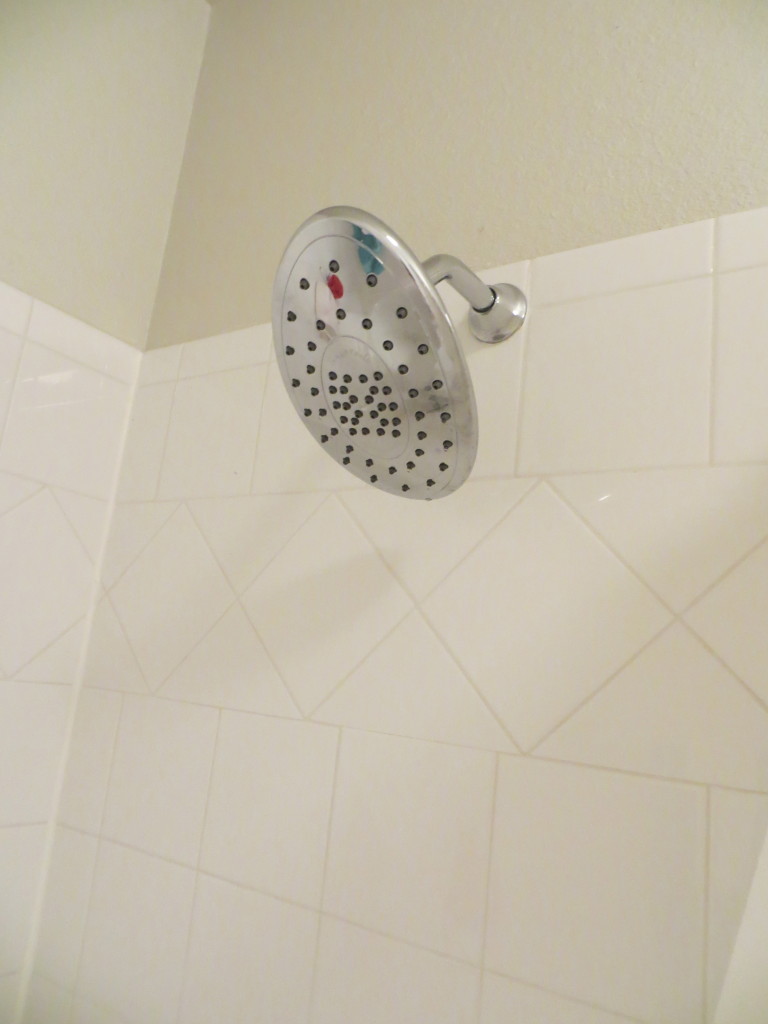 She is so beautiful.
Then, I bought what can only be described as the most wonderful invention ever created. This in-shower organizer–I mean seriously, why does every household not have one of these things?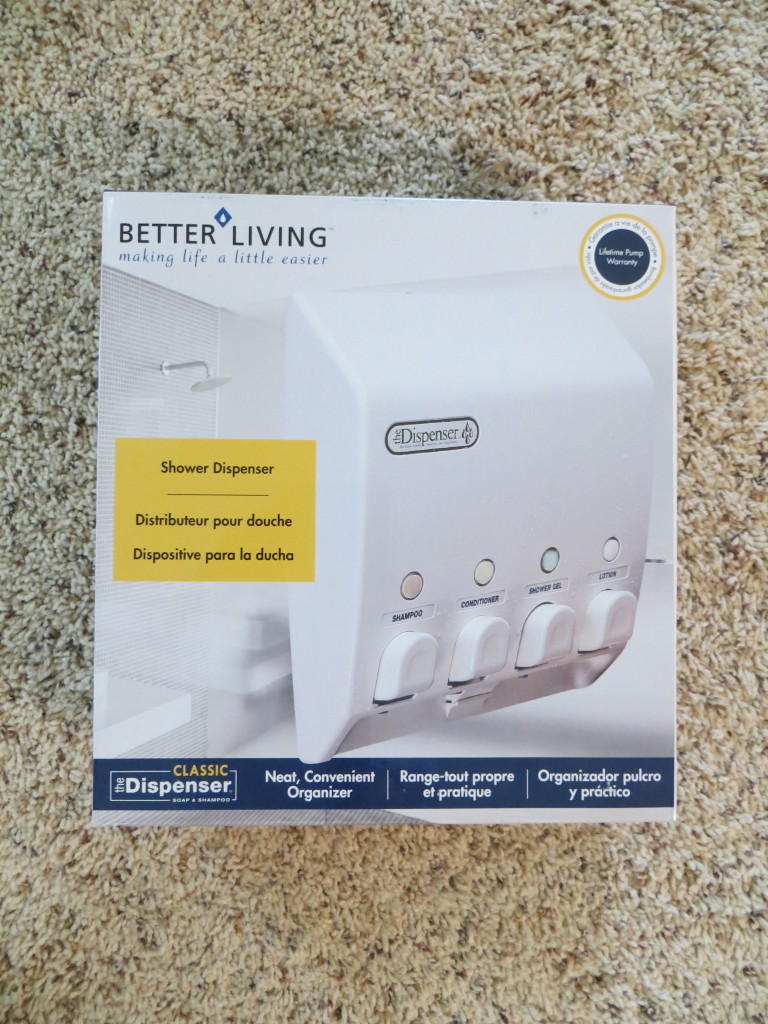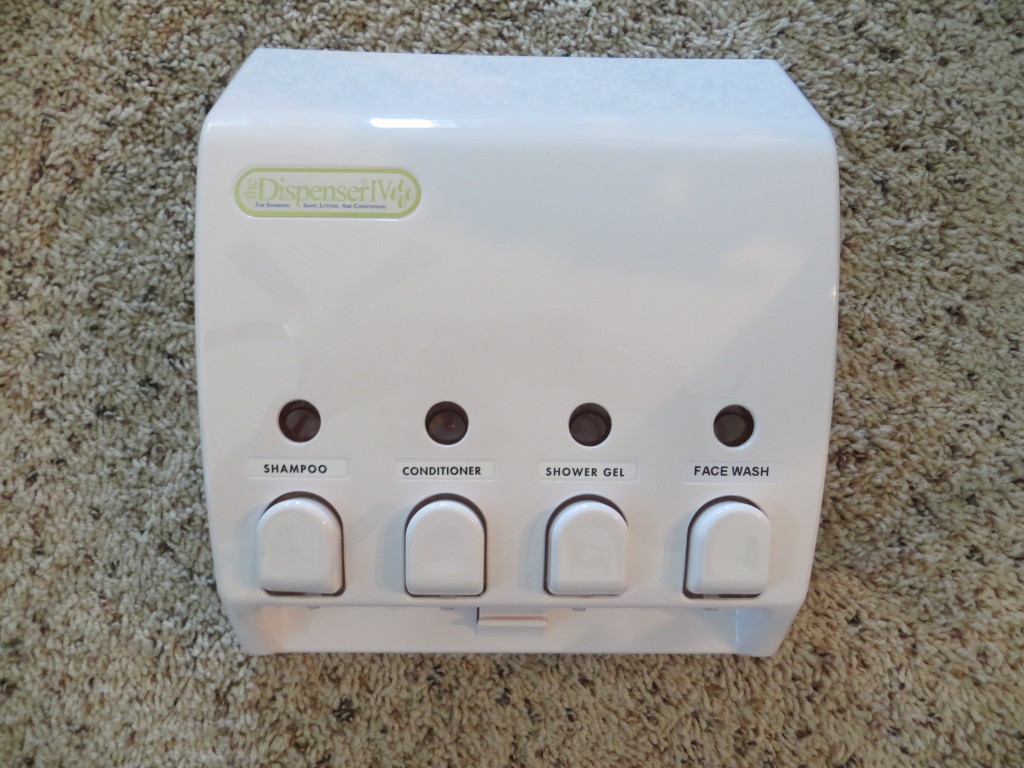 (The product comes with many different labels, so you can pick and choose what you want to fill your organizer with. Go crazy! Lotion? No problem. Soap? You got it!)
People who I believe should have one of these in-shower organizers:
People who want to take faster showers

Parents with children who use too much soap in the shower
Parents who don't want to fumble with bottles when they're bathing their babies
People on a budget who don't want to waste products
People who are super neat and don't want excess soap scum
People who are serial product switchers who want to force themselves to use up what they have before they purchase more
People who have a beating heart
People who breathe
…I literally believe every human should own one of these. (Maybe babies should come home from the hospital with a receiving blanket, pacifier, and in-shower organizer? That's a legitimate suggestion.)
Here's how it works: first you put the labels on the outer shell. Then you're supposed to mount the organizer in the shower first and THEN fill up the corrals with your products.
Impatience got the best of me (also I didn't read the directions), and I filled the corrals with my products after I labeled the organizer, but before I mounted it. Oh well.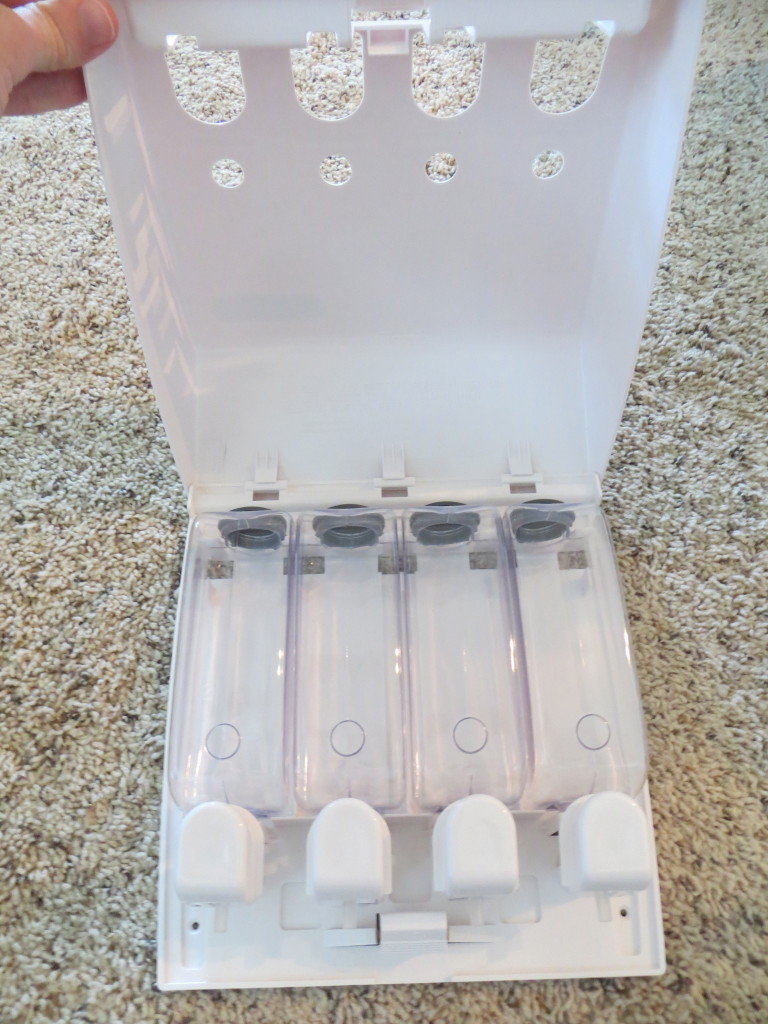 Here's what the inside of the organizer looks like. It's simply four plastic bottles with black caps. To fill up the bottles, just remove the black caps and pour in your products.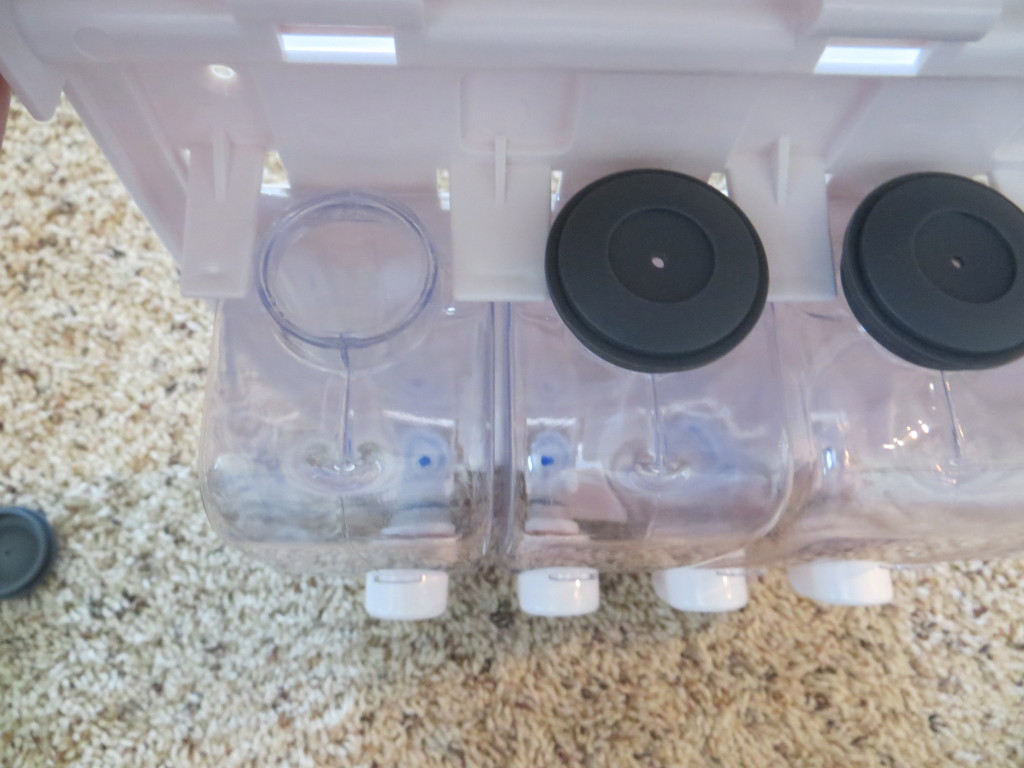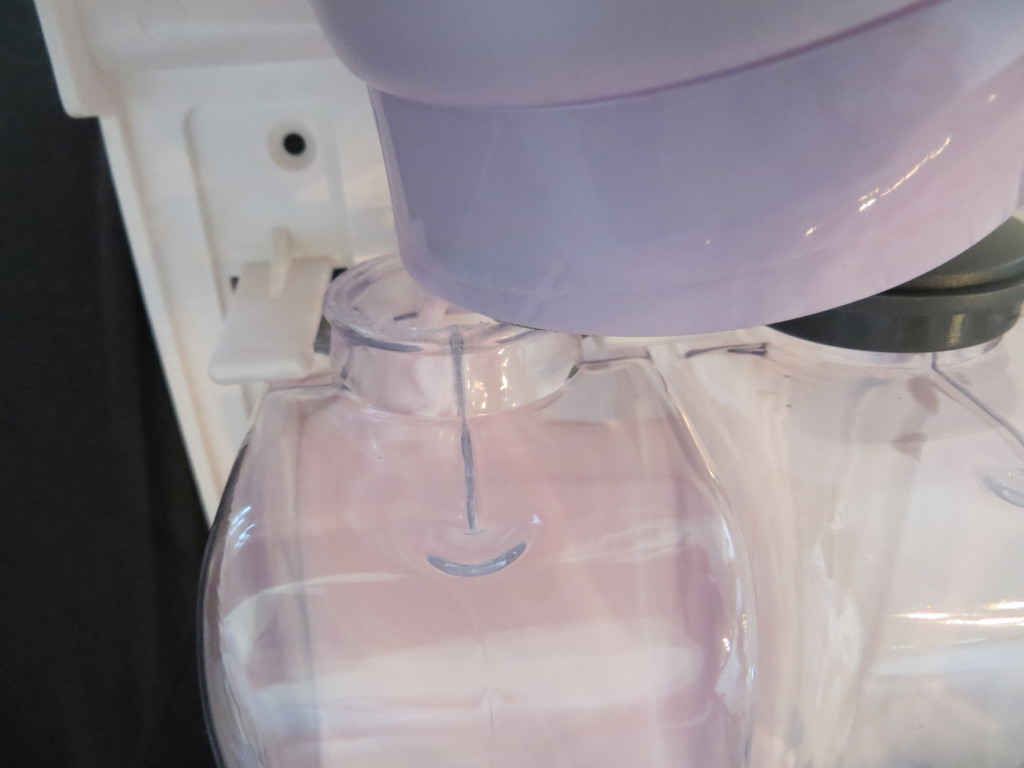 Once I filled up all of the bottles and my organizer was rather heavy, I decided to read the instructions and realized that I was supposed to mount the organizer first and then fill the bottles. Great timing. So, I checked out the provided mounting hardware.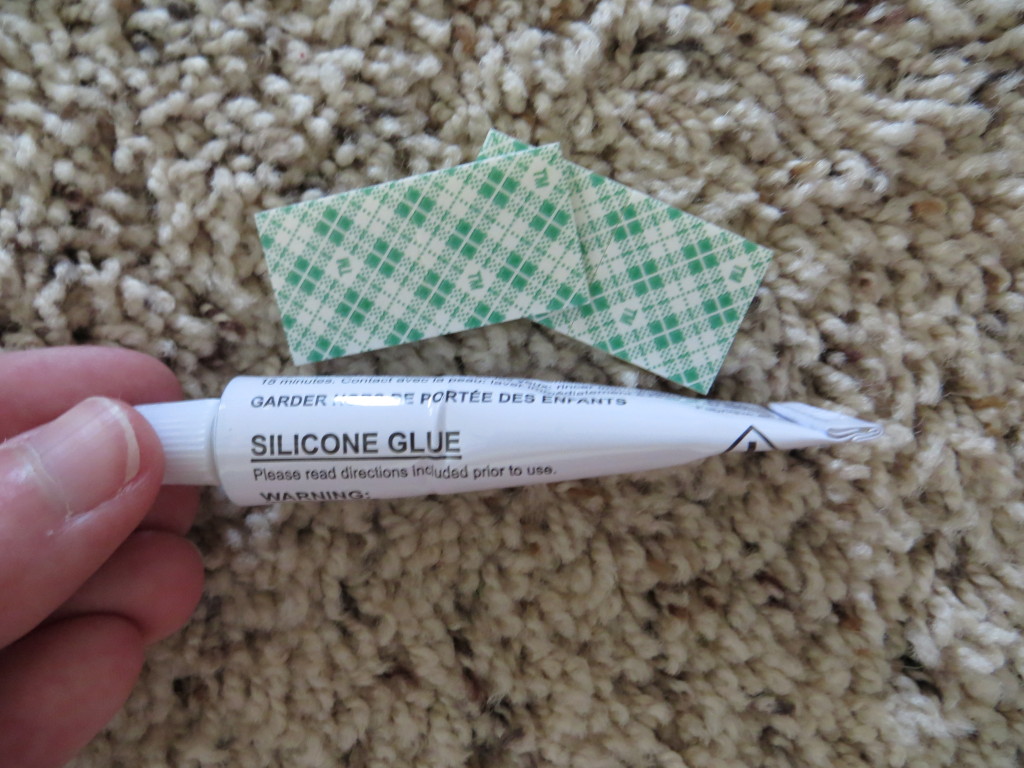 I then got in my car, drove to Walgreens, and purchased Command Strips because silicone glue and two small foam squares and an organizer with the weight of four full bottles and I didn't need a disaster.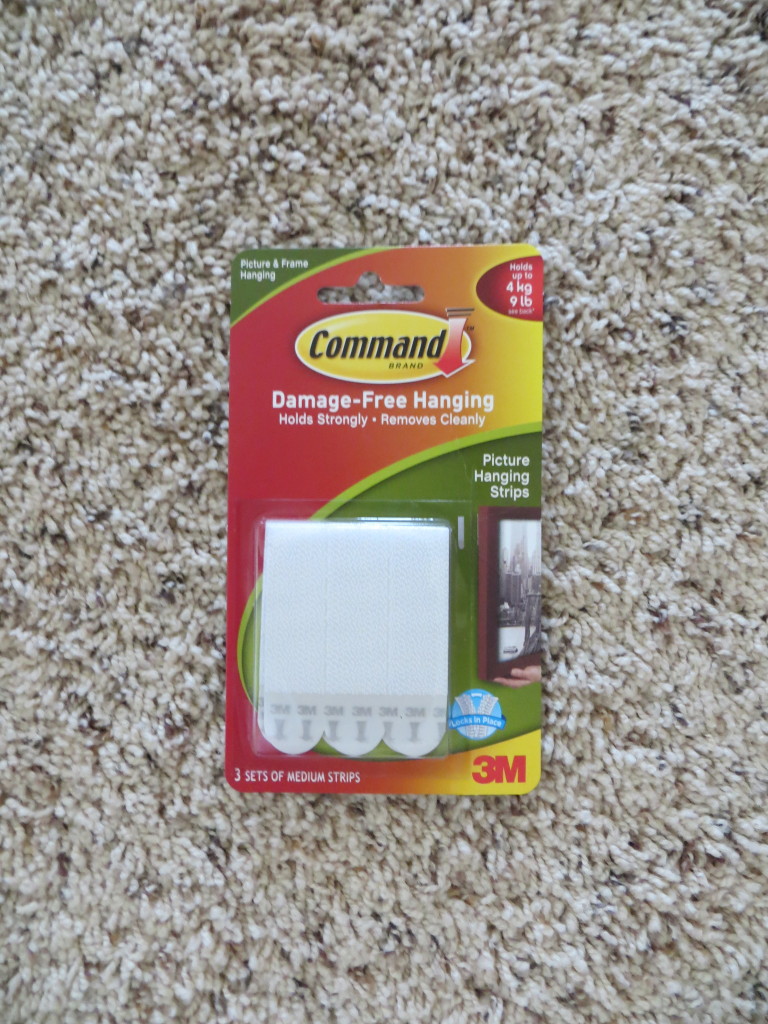 These aren't waterproof, but they've held up the organizer for a few weeks and one or two showers (just kidding). Here's what I did: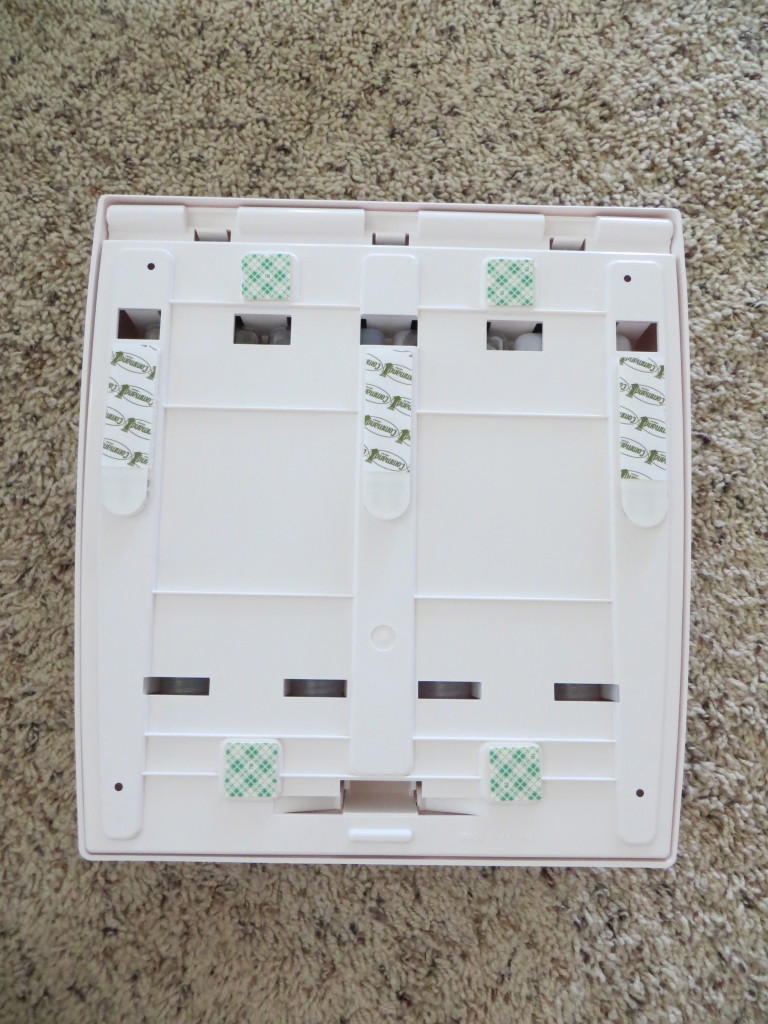 At first, I just used the Command Strips because they're the muscle of the shower organizer mounting world, but then I felt bad for throwing away the silicone gel and foam squares so I decided to use the foam squares. They don't actually do anything because the Command Strips and thicker than they are, so they don't even touch the shower wall, but whatever, at least they're there.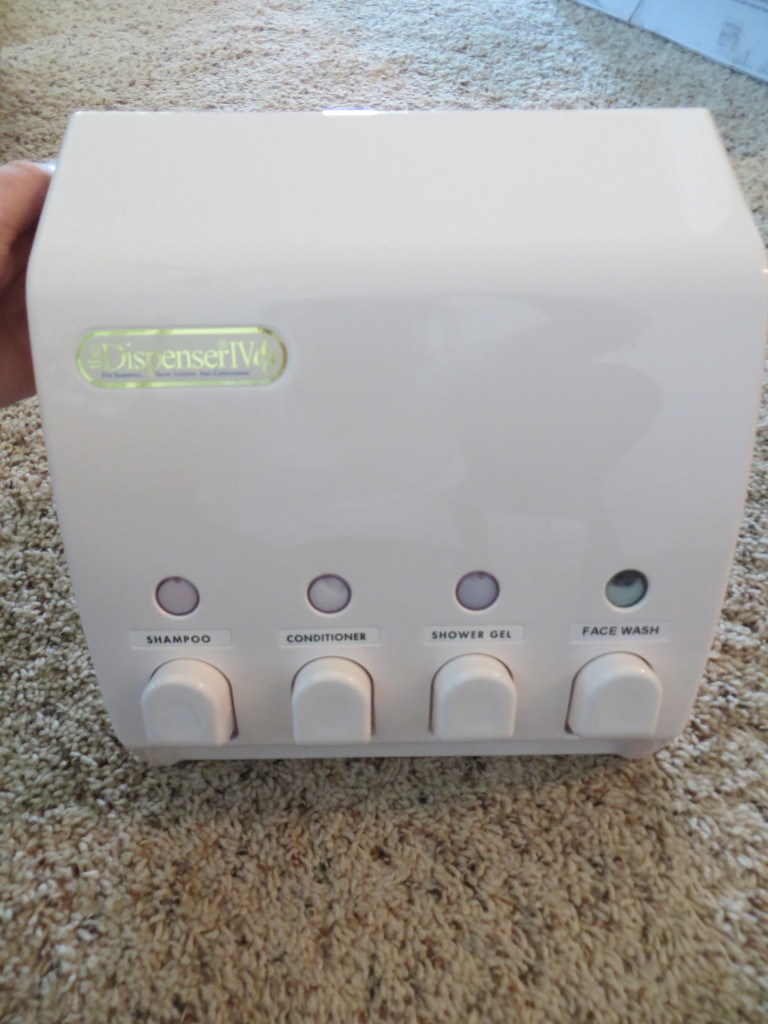 Here's what my BFF looks like closed and filled. It's really quite useful that there are little clear windows in each product corral because you can easily identify what's running low. Also, for kids if they're more visual–all they have to know is the color! Unfortunately three of my four products are exactly the same color, but fortunately no kids live with me, so I guess it's a win-win.
Now it's time to mount it.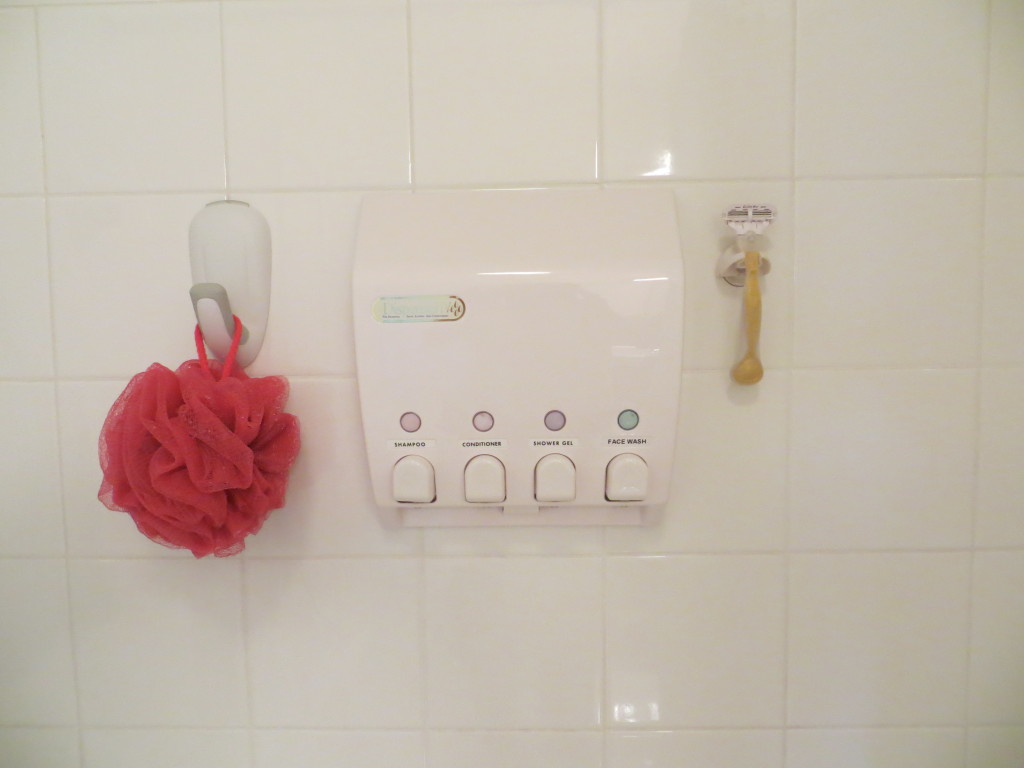 Y'all. Command Strips rock. I held the organizer to the tiles for a few seconds, pressed a few times, and walked away. She hasn't budged since. (Probably because those extra foam squares are reaaalllly securing it.)
Oh–and the loofah hook? It's a waterproof Command Strip hook: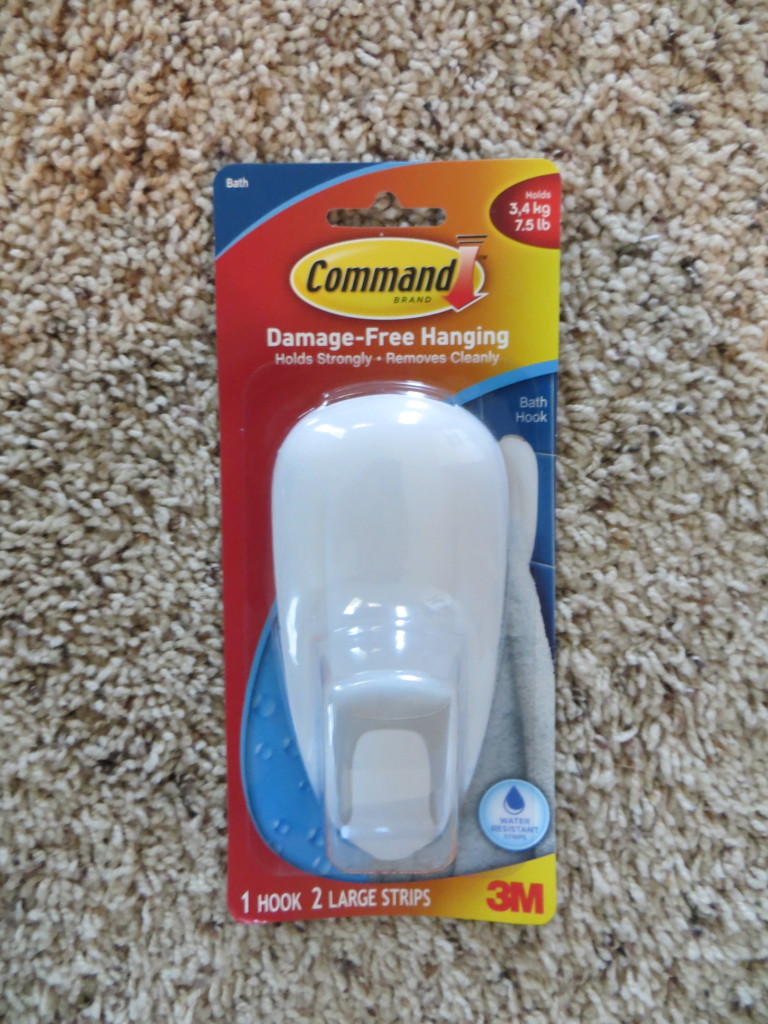 It's actually large and strong enough to hold towels, but I just wanted something sturdy for my trusty pouf.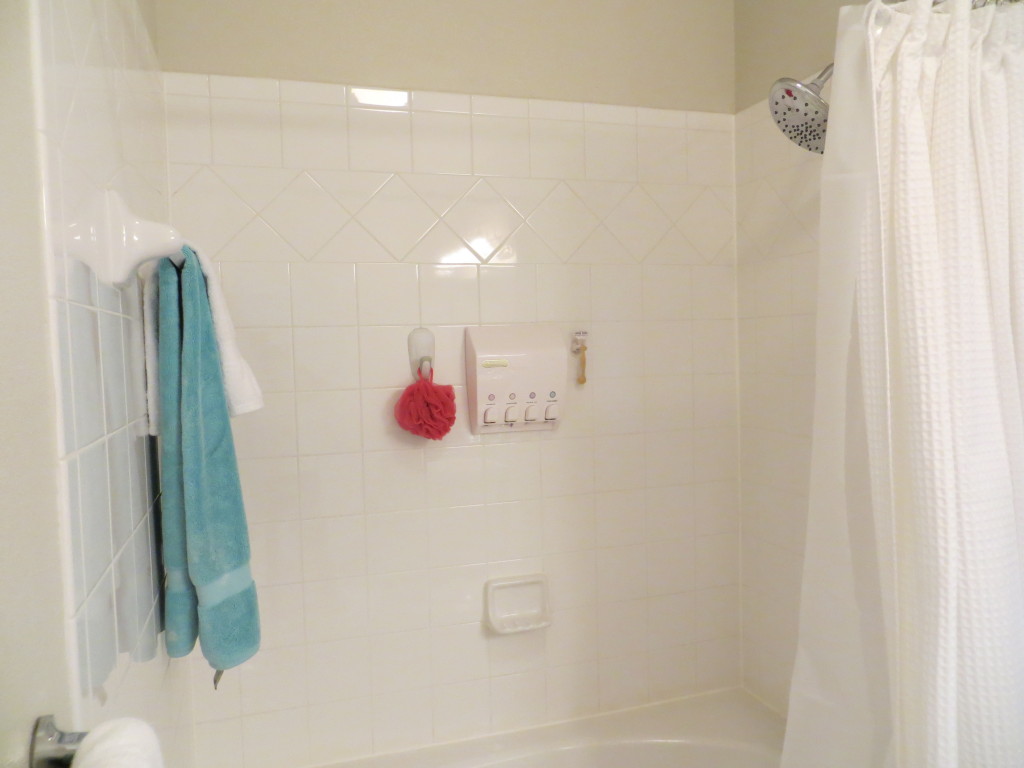 My final thoughts: I really, really, really like having the organizer to my right when I'm in the shower instead of behind me like traditional product holders. It makes everything a lot easier, and you don't have to fight the water stream in your face.
Also–after installing the new shower head and the organizer, my shower time is literally cut down by a third. I may even be as bold to say that it's cut in half. I expected a more organized shower, but I didn't realize I'd save so much time too. It's just ba-da-bing-ba-da-boom. All of my products in one place, easily dispensable, no shaking bottles, no mess–just a few pumps of the buttons and I'm done.
If you can't already tell, I highly-HIGHLY-highly recommend this product. It is absolutely magnificent. Have you ever tried to organize the inside of your shower? What'd you do? How'd it go?