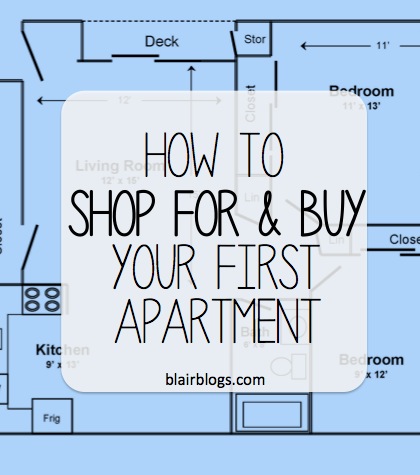 There comes a time in everyone's life when it's time to move on. Time to leave home, time to graduate from college, time to take a job somewhere different. No matter why you're moving on, you're going to need somewhere to live once the move's been made. Now, if the idea of picking an apartment seems as daunting as pulling a jumbo jet with just your pinkie finger, never fear. As an experienced (and successful) apartment shopper, I've got the process boiled down into a few basic steps to make the process as easy as it can be.
1. Money, money, money. Before you even start shopping, figure out your budget. (Use this cute expense tracker to help with budgeting!) What can you afford? Remember, this isn't just in rent, but in renter's insurance, water, electric, cable, your car payment and insurance, what it'll cost you to travel to work, to eat, savings, student loans, etc. Take that number on rent and housing bills and cement it in concrete in your mind. You can compromise on a lot of things, but don't ever let your wallet be one of them.
2. What are you looking for? Once you're sure about your price range, figure out your list of wants and needs. Here's an example of what my list looked like.
| | |
| --- | --- |
| Wants | Needs |
| Open floor plan | 2 bedrooms, 2 bathrooms |
| 2 sinks in master bathroom | No more than 25 minutes from work |
| Top floor of building | Pool and fitness center on site |
| Garage | Lots of storage |
 3. Do your homework. Before you seriously consider anywhere, do some causal shopping (if you can visit the area) and use the Internet (we used apartments.com) to get an idea of what's available in your area and price range. Eliminate places that don't match your "Needs" column and develop a list of the places you want to seriously consider. Then, build your Binder.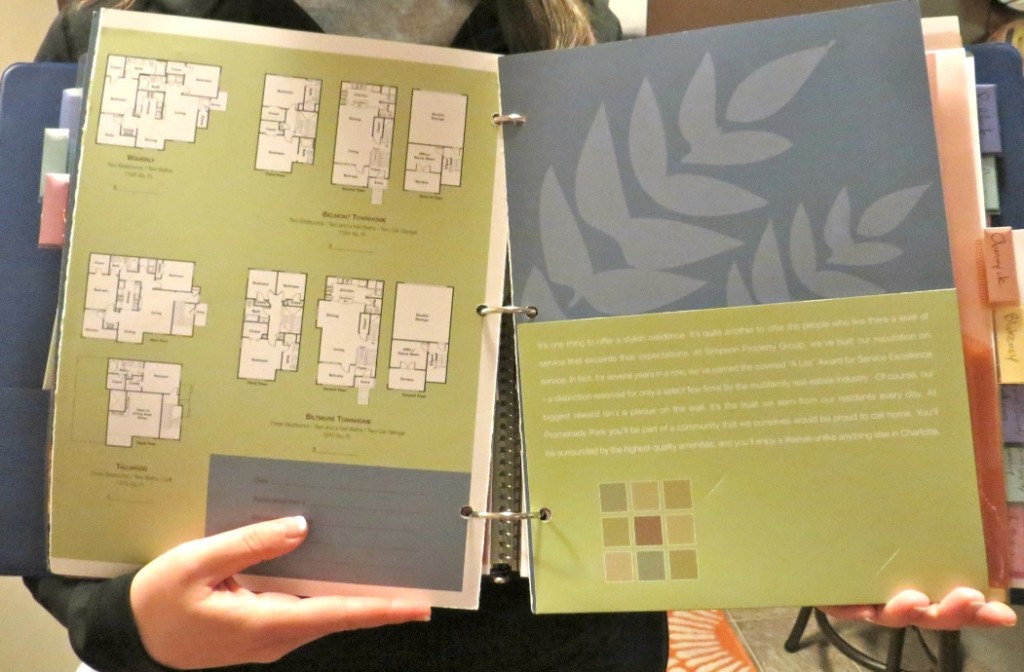 4. The Binder: Your apartment search Bible. Each place to be considered should have its own section. In the section for each one, put any materials collected in the casual shopping phase, like publications given to you at the leasing office, floor plans, etc. At the front of the binder was a notebook for taking notes during the formal shopping phase and a checklist of wants. The more checks a place got during our visit, the higher up on our list it went. (I absolutely love this binder with these fun dividers–too cute!)
5. Then, it's time to shop, seriously. Devote at least two days to visiting different apartments and plan to spend 45 minutes to an hour at each one. When you get there, take your license (they'll need to hold it as collateral to show you places) and bring your binder with you. People will either be aghast or impressed, but either way, they're more likely to take you seriously. Typically, the leasing agent will show you the facilities and take you to see a model or a vacant unit and talk with you about the complex. Take pictures on your phone and notes in your notebook. If you see something you like, request a quote based on your availability. Prices can fluctuate literally from day to day, but the quote they give you traditionally lasts 48 hours so you've got time to decide.
6. And the winner is…After a long and exhausting shopping trip, go get a nice dinner, have a glass of something you enjoy and consider your options. Consider the materials in each section, your checklist at the front of the Binder, your notes, your pictures and the gut feeling you had when standing in the apartment. Weigh each of these variables carefully, then make a choice. Pick the one that's right for you, fill out the application (most are online) and get ready for a lot more paperwork. But, in the meantime, congratulations! You've found an apartment!
This may look like a lot to go through, but trust me, it's worth it in the end. You'll be so grateful for your Binder and that you took the time to work your way through the process. It'll all turn out great in the end and before you know it, you'll be saying, "Home sweet home" in your new digs.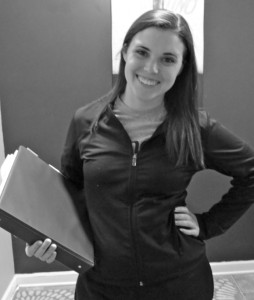 Rachel Southmayd is a reporter for the Rock Hill Harold in South Carolina.