I apologize for my recent blogging absence, but I've been hanging out with our neighbors to the North for the past five days in Halifax, Nova Scotia. Where's that? There's a map for that 😉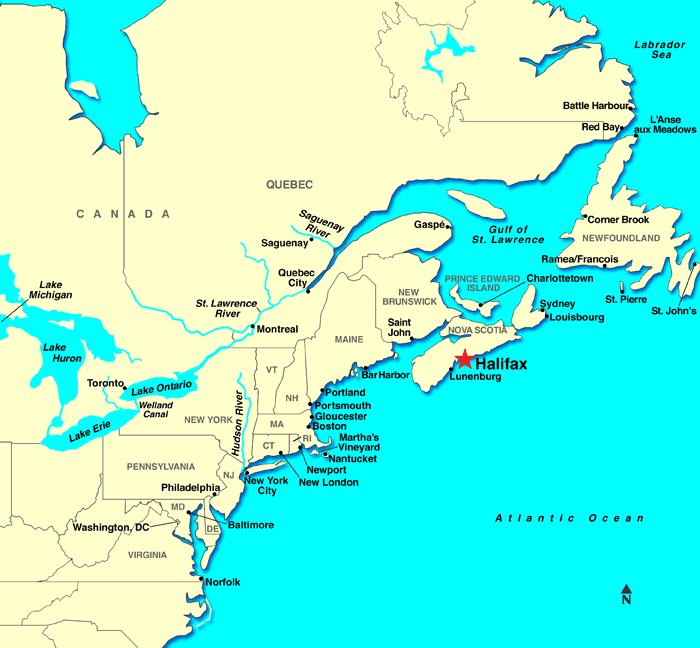 Why Canada? Because I was invited to be on a team of four (the only girl…represent!) to compete in a Business Ethics Case Competition…specifically Dalhousie University's Dalhousie Business Ethics Case Competition. DBECC for short. I was thrilled to be a part of such a fantastic team, and also excited to visit Canada for the first time ever!

Basically, we were given three business cases over the course of the weekend that had a strong ethical component. Each day, we were situated in a room for four hours to read a case, put together a powerpoint outlining things like the stakeholders, the core issues, the alternatives, and our final recommendation. After the four hours were up, we were immediately escorted into the presentation room and had 20 minutes to plead our case to a panel of five judges.
My compadres and I (Christian, Oliver, and Welsford, plus our advisor, Christy) did quite well for ourselves! The only American team, we made the finals and beat out several brilliant and prestigious schools. We may have done a bit better had we been more familiar with some of the more Canada-specific aspects of the cases, which were difficult for us to understand. Either way, it was a fantastic experience.
After each day, we were able to spend some time around Halifax (not nearly enough, but we were busy-busy!). Between the various pubs, restaurants, and our hotel, we had a great time and a lot of laughs!
Our weekend in Canada (America's top hat if you will :)) was just wonderful. A great experience–high stress and intense throughout the competition rounds, but full of enjoyment as well. Friends, let me tell you. Canadians are the. nicest. kindest. warmest. people you will ever meet. ever. If I were made for the cold, I'd be packing my bags.
Been to Halifax? Nova Scotia? What was your favorite thing you did? Do you agree that Canadians are the nicest? Fill me in! Comment below.