Yesterday, Go Daddy, one of the world's largest domain registration sites on the web had a serious internal glitch leaving millions of customers' sites (including mine!) down at different times throughout the day.
In true Go Daddy fashion, however, the site recovered quite gracefully by keeping customers in the loop throughout the crash via Twitter and offering one month of free service credit to each one today via e-mail.
Here are a string of tweets released by Go Daddy throughout the day yesterday. Seeing as my site is hosted by Go Daddy, I was very thankful to be kept updated and to know that my information was not compromised.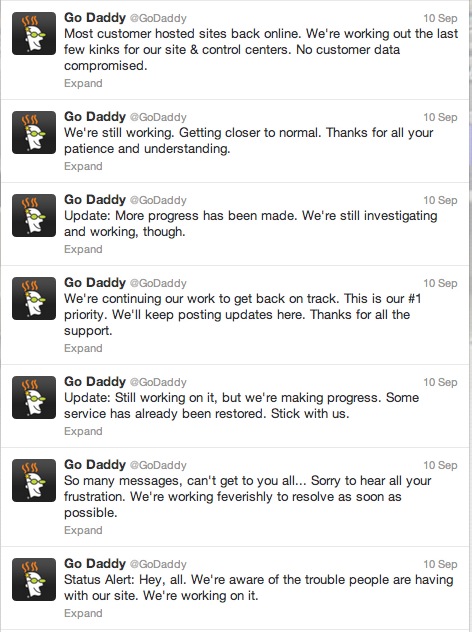 My experience with Go Daddy has been fantastic since the day I first registered. Immediately (literally 30 seconds) after biting the bullet and purchasing my first domain name, I received a phone call from a service representative from Go Daddy.
The service representative (I believe his name was Aaron), walked me through completing my registration, asked me what my site was going to be about, helped me to host the site on WordPress, and set me up with a contact person for future inquiries. I didn't know service like that still existed, especially with online purchases.
Since I had never registered a domain name before, I had no idea where to go after I clicked "Pay Now." Aaron's immediate phone call on behalf of Go Daddy was a metaphorical hand-hold that I truly appreciated.
Fast forward to this morning, when I opened up my e-mail, and found the following message: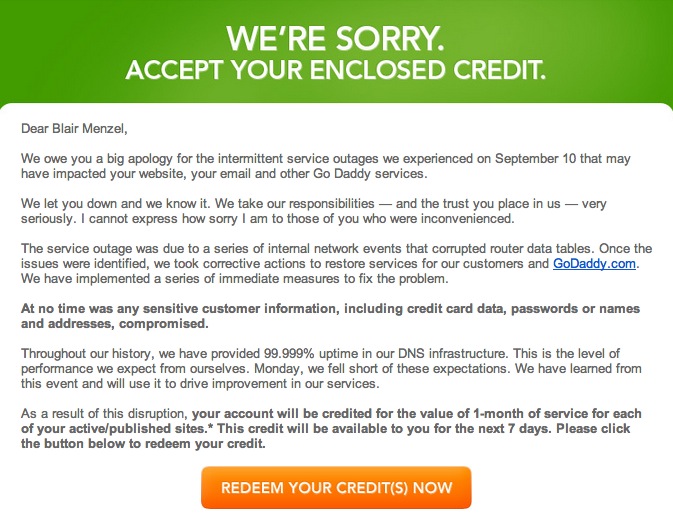 Clearly, this is a service-centered company. Even with the outage yesterday, I am still a 100 percent satisfied Go Daddy customer.
This model of quick, reliable, quality service is something that many companies should take note of. Especially new companies. Because this kind of service will keep customers coming back, will keep customers recommending your product or service to friends, and will keep current customers delighted.
And honestly, delighting the customer is the end goal in every industry, no matter what you sell.
{This post is part of a series pertaining to a New Products and Branding class at Elon University.}