I've been back to school for a week now. Here's what I'm diggin' as I crack open my textbooks and get back into the school year swing…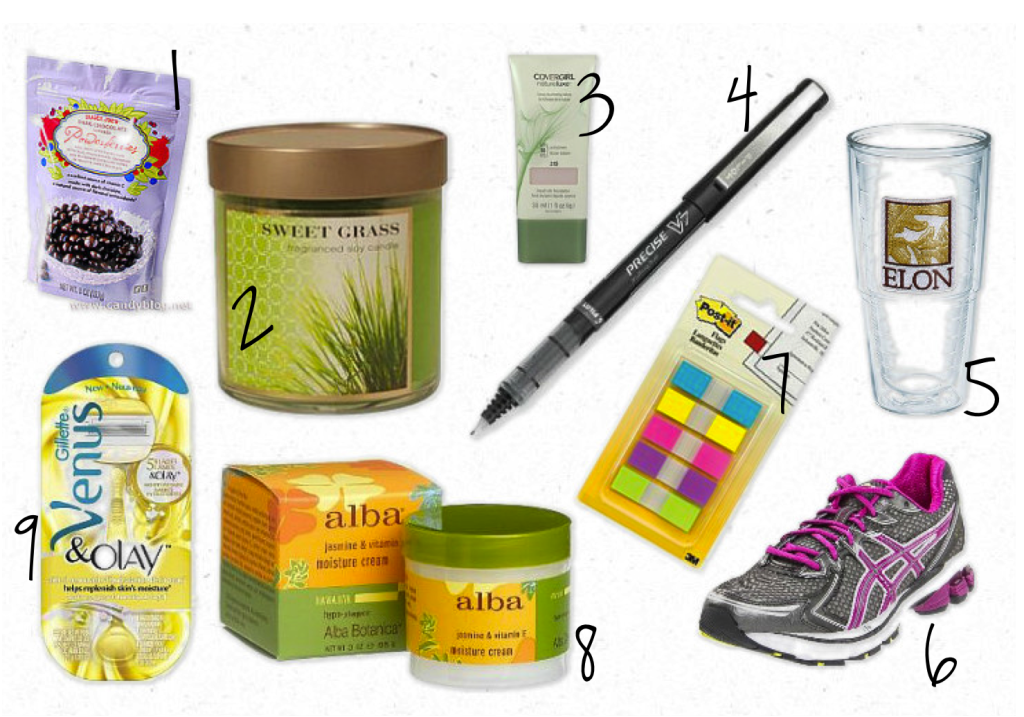 1. Trader Joe's Dark Chocolate Covered Powerberries These babies are delicious. Little nuggets of acai berries, pomegranates, cranberries, and blueberries covered in dark chocolate. They're tasty and provide a nice pick-me-up in the afternoon or while studying.
2. Sweet Grass Soy Candle Not only is this candle housed in a pretty jar, it smells fantastic. I light it in the morning as I get ready for the day and the fragrance is fantastic–very uplifting!
3. Covergirl Natureluxe Foundation I hate liquid foundation because it's heavy and uncomfortable. Not this stuff! It's light, provides good coverage, and doesn't leave my skin feeling greasy.
4. Pilot Precise V7 Pen Talk about brand loyalty. I will not, can not use another pen. I am so obsessed. I've been exclusively using this pen since high school, and I see no plans of switching ink in the future.
5. 24 oz. Tervis Tumbler A scoop of ice, some H20, and a couple of lemon wedges in this baby and I'm set. Love that my drink stays cold, the ice doesn't melt for over four hours, and it's easy to tote around.
6. ASICS Women's Running Shoes Like my pen, ASICS totally has my heart. I have been wearing their running shoes for almost ten years, and I can bet I will continue to wear ASICS for another ten. Each year, I purchase the same shoe in the newest design. They're supportive and comfortable, and they keep my bad back in check.
7. Post-It Flags These flags are great. Mark a page, mark a chapter, mark where I have a question. They can color coordinate with my classes, and they are cute to boot!
8. Alba Jasmine & Vitamin E Face Cream I have dry, dry, dry skin and this cream is awesome. It deeply moisturizes my face, isn't greasy one bit, and has a great light scent. It's a little on the pricier side, but well worth it–trust me. I've been using it for two years and haven't gotten that nasty flaky skin yet (even in the winter!).
9. Gillette Venus & Olay Razor Heads I hate shaving. Every girl does (right?!). Especially at my apartment at school…the shower's tiny and there's no where to rest my feet and it's really annoying. This razor has made the process of shaving my legs…dare I say…enjoyable? There's an exfoliant and moisturizer built into the razor head so there's no need to lather up shaving cream. I can shave in a snap and my legs feel great afterword!
So that's what has been getting me through and making my life more delightful. What about you? What products have stolen your heart lately?
*I am not being paid to advertise these products, I genuinely love them.*