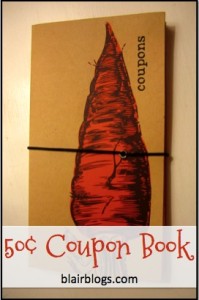 This is
not
 a DIY project. This is a get off the computer, get in the car, and go purchase this cute carrot coupon book (how's that for alliteration?) from
Michael's
. I just realized that I'm eating carrots as I type this…oh boy.
One of my current goals is to spend less and save more. There are some things in life that I can't cut out completely, whether they are necessities or just plain good for my soul. A 50 cent investment that will help me organize coupons and save some money is both a necessity and good for my soul in my opinion. 🙂
Anyway, last night I headed out to Michael's, bought this little coupon book, and whipped out my
label maker
as soon as humanly possible. First, here's proof that there are still items for purchase that only cost 50 cents…
Now for a carrot-themed photoshoot…
I should note that they had a purple-grape-themed coupon book, too. Go grab whichever one strikes your fancy!
I separated my coupon book into the four categories that make the most sense for me, Arts & Crafts, Health & Beauty, Food & Drink, and Clothing.
Then I filled it with a few coupons…
Luurve it. 
I'm not one of those coupon-crazy people with an entire binder [yet?], but this little nugget can easily be thrown into my purse when I'm running out the door. 
Anyone else making some money-saving moves? Cute coupon books anyone?