This post is sponsored by PetSmart. All opinions are my own.
I know there are people who disagree, but I just think summertime is the best time of the year! I love the warm weather, days at the pool, cold drinks, and late nights so very much. Having a pup only makes summer even more fun! I love late night summer walks with Charley and afternoon naps in the cool A/C with him cuddled up next to me. Sometimes, he even gets some of my ice cream when I go out for it! 🙂 (Only if it's not chocolate, of course!) And, tell me, is there anything cuter than a puppy with a little bandana on?
My sweet Charley Bear will be two years old in September, and the joy of having a new pet still hasn't worn off. My heart bursts when I look at his little face or when I feel him curl up next to me at night before bed. I love the way he falls asleep belly-up constantly. (He's literally belly-up right now as I type this…check out the photo below!) He's such a sweet addition to my life and I wouldn't trade him for anything! As I prepare to marry Riley in one week, we are so excited for our little family to be living all together!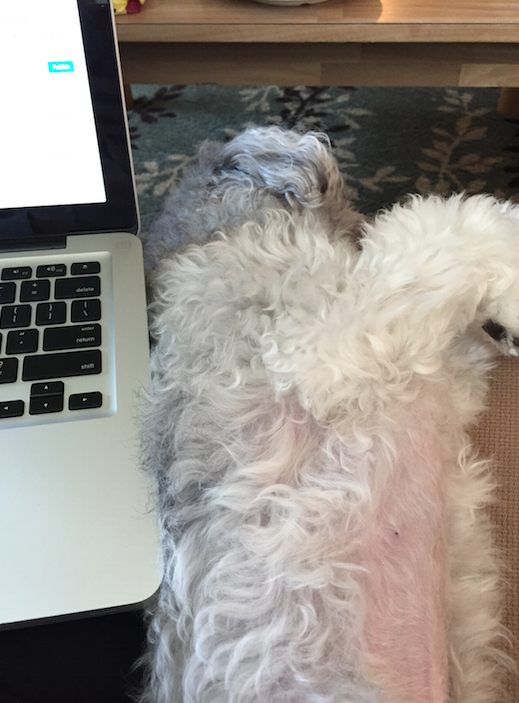 Anyway, back to summer with my little guy. I live in Texas, where summertime is very, very hot. It's imperative that I take extra precautions to ensure that Charley is safe and healthy in the blistering heat. Below are a few hot weather tips!
Hot Weather Tips
Walk your dog in the early morning or late at night when it's coolest. If you decide to take a walk during the day, press the back of your hand on the pavement for seven seconds. If your hand is burning or you can't keep it down for seven seconds, the ground is too hot for your pup to walk on! (For more tips to keep your dog cool when it's hot outside, check out this site!)
If your home allows, play fetch or other games in the house, where it's cool. An alternative would be to go to an indoor dog park or dog training facility to let your pup run and play.
Never leave your dog in a hot car! Leave your furry friend at home where he's safe and cool.
Ensure that your dog's water bowl is always full with fresh, clean water.
If your dog likes the water (Charley hates it!), consider a kiddie pool or some hose time on an especially hot day. (Here is a great resource for keeping your dog safe in and around water!)
This summer in particular, Charley and I have spent a lot of time on the road. It's been back to back trips for all of June and July! It's really important to me that he is safe and happy when we're traveling…here are some tips for tail-wagging travels!
Travel Tips
Before your travel, and especially before you fly with your dog, make sure that your vet gives the go-ahead. Some dogs are more prone to anxiety and may benefit from some sort of anti-anxiety medication. (Charley takes Anxitane, and it works wonders.)
Bring along a blanket or toy that your dog loves…and make sure not to wash it before you leave! The scent of home will be soothing to your pup!
Plan stops to allow your dog to stretch and go to the bathroom several times. This may mean looking up rest areas en route to your destination or inquiring about pet relief areas at airports.
Take some food, water, and treats with you! Your four-legged friend will get hungry and thirsty, too.
To help your puppy sleep or relax on the road, he may benefit from lavender essential oil. Drop three or four drops of lavender essential oil on a bandana and tie it loosely around your dog's neck. It never ceases to amaze me how calming lavender is to dogs and humans alike! (Here are some cute puppy bandanas!)
Unfortunately, there are some trips that our fur babies can't come on! Below are some petsitter tips for finding your dog a reliable petsitter while you're out of town.
Petsitter Tips
If you have a friend or family member who would be willing to stay at your home with your pet while you're out of town, that's a great way to ensure there's no major adjustment for your pup! (Just make sure that this person understands your pet's care requirements!)
If there isn't anyone you can call, a great option is to look online for people or places in your area that offer petsitting (Rover is a great option)! You'll want to make sure you really look into each option…you won't want your pup holed up in a kennel all week. Ask how often your dog will be crated (if at all), and how much playtime and walk time he'll get.
When leaving your pup with someone new, make sure write down his vet's phone number and his daily care schedule. You may be unreachable for parts of your trip, so it's important that the caretaker has the information he/she needs!
Wear a t-shirt to bed every night for a week, don't wash it, and leave it with your petsitter and puppy when you leave. Your scent will be very soothing to him in your absence!
This summer, make memories with your dog! Go explore a new place, teach him a new trick, or play in the water together! Just make sure to take the proper steps to keep your little one safe, happy, and healthy! For more summertime safety tips, download PetSmart's Dog Days of Summer Passport!