As many of you know, my goal for this blog is to make it my full time job. Which means, of course, seeking opportunities that will help me accomplish that goal. Sometimes, great opportunities fall right into your lap, and my partnership with Student Rate was one of them! Student Rate is a website that logs all the different student discounts in your area. Even though I'm not a student anymore, I have a large college girl readership (hey y'all!), so it makes perfect sense to share great discounts on my blog.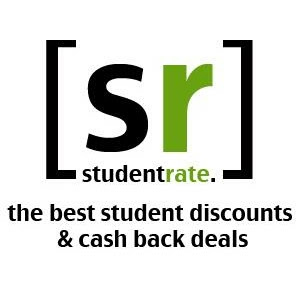 I am not being paid for mentioning Student Rate, instead I have access to their Pinterest boards, so that I can share my content with their almost 80,000 Pinterest followers. As you can imagine, it's a wonderful resource for me to expand my readership. (On that note, if you've found my blog through Student Rate, welcome!)
Anyway, the agreement is this: I have accessibility to the Student Rate Pinterest boards in exchange for mentioning their discounts on a monthly basis. Here's this month's round up of the best Student Rate discounts (in my opinion):
Happy shopping & saving! Click here to see more Student Rate discounts.