If you've ever wondered how to pronounce the name of the college I attended, how much you should pack when you study abroad, or why the heck I blog in the first place, this post is for you.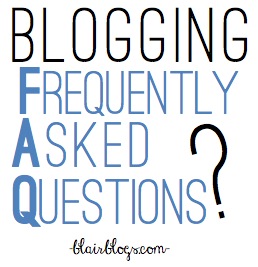 Being a blogger myself, I am an avid blog reader. You can check out my list of blogs I visit every day on my blogroll here. (That's just a short list of my top favorites, I visit many, many more…I won't admit how much time I spend reading blogs every day!)
Many of the blogs I read have done FAQ posts and/or videos, answering, well, their most frequently asked questions. (Hilarious that two of my favorite bloggers posted their FAQ video today too!) I always find myself sucked in reading or watching these posts in particular because they give great insight to the heart and mind of the person writing. Since I've started blogging, I've received countless questions via email, comments, even Twitter and Facebook. It's about time I sit down and answer them! I decided to do a video, because frankly I didn't feel like typing 5,000 words.
Here we go…
Blogging FAQ | Blair Blogs from Blair Menzel on Vimeo.
Hearing your own voice is so weird. This video, however, was admittedly less awkward than I thought it would be.
If you have other questions, or questions about my answers (it's hard not to talk in circles on camera), comment below 🙂