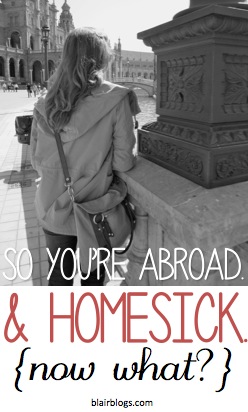 Studying abroad can be a once-in-a-lifetime experience that will benefit you later in life in so many ways. Although there are many awesome aspects to studying abroad, the experience is no doubt a difficult one.
One downside of studying abroad is that many students experience homesickness…being away from home isn't easy! How to overcome it? Read on.
Pretend you are a tourist. Overexpose yourself to the country and city that you are staying in. Take the time to visit landmarks and popular places that you have heard about while you were still back home. This will help you get to know the country's history and culture much more quickly which may make you feel better.
Spend a lot of time in crowded areas until you feel more comfortable. You may also find it comforting to look for gifts to send back home. This way you can let your loved ones know that you are thinking about them and aren't really that far away after all.
Take advantage of social media. You can easily leave a comment on your friend or family member's Facebook page or even a picture of yourself in your new country. If you would prefer to talk face-to-face, Skype might be able to help you through its video chat option.
Make it a point to exercise regularly. Exercise in general is an excellent coping tool and it will help you to clear your mind, relax, and keep yourself in shape. You might even run into others who enjoy to exercise and make new friends that way.
Seek out a support group, if you feel that you cannot cope with your homesickness on your own. Sometimes knowing that other people feel the same way that you do can take a lot of the stress off of your shoulders. Joining a support group will also help you learn how to think positively. You know that you won't be studying abroad forever and you will be able to look forward to seeing your loved ones when you come home.
 Remember what not to do! Do not turn to drinking or drugs because you will only numb your problems temporarily while harming your health in the process. Do not spend your money irrationally through activities such as shopping and gambling because these activities will also lead you to a dead end.
Find a healthy hobby that you enjoy. You can distract yourself through activities such as writing, singing, dancing, or something nature-related.
Homesickness can be a terrible feeling, especially when you're in a different country far from those you love. The good news, however, is that there are many ways to cope with it. Everybody will differ in their coping strategy…just find what works for you and you'll feel better in no time–promise! Take advantage of being on your own in another country and make the best of it. You will have plenty of amazing stories, unbelievable pictures, and wonderful memories to share when you do finally return to the United States.
Amanda Perkins writes and edits the Study Abroad website ClassAbroad.com. She enjoys traveling, learning, and writing. She recently published a piece on Choosing Study Abroad Insurance…check it out if you're heading overseas soon!
Check out my brand new Blair Blogs Facebook Page! "Like" the page and stay up to date with new posts & join the conversation on Facebook!