It's well known that business cards are perhaps the single most important business tool. A business card speaks volumes long after a conversation is over and a potential client is back at the office. From your name and title to which phone number or email address to include, a great deal of thought is given to what to include on the card. Crafting the perfect image takes hours, sometimes days. Yet, the back of business cards is often left blank.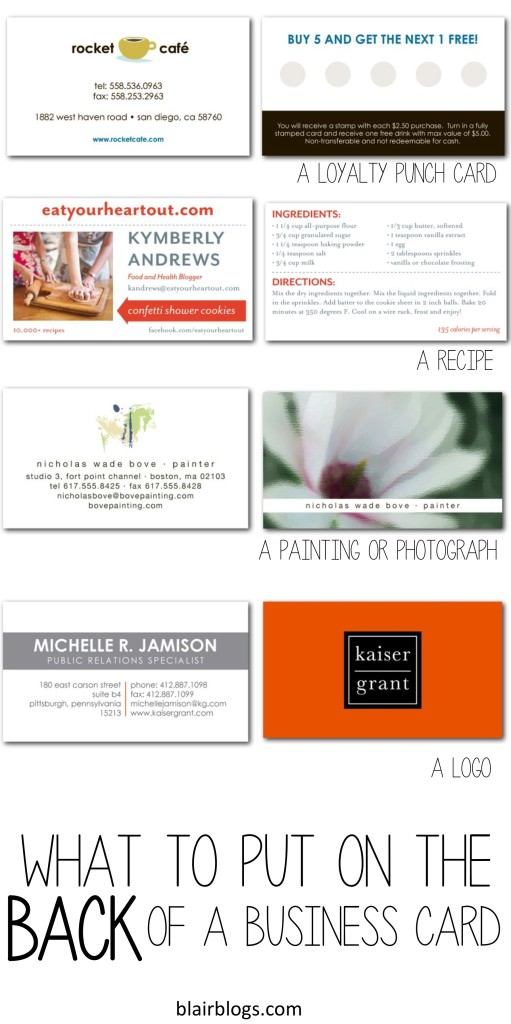 Prime "selling" space, the back of business cards can be just as powerful as the front. And with limited room on the front, the back is a great place to add those extra elements – that just might be the link to making a deal, starting a conversation, or exploring a new venture. So before you leave valuable space unused, consider including the following to the back of your business cards:
Online Information. With a web presence almost crucial to success in today's marketplace, and the rise of social media as a way to engage and interact with current and prospective customers, making sure they can reach you in these forums in important. Whichever outlets you use – company website, blog, Twitter, LinkedIn, Facebook, etc. – be sure to include these on the back of your business cards.
A photograph. Not just any photograph, and certainly not a headshot – unless you are a model or other profession that uses headshots, of course. If you have something to sell, add a picture of your products. If you make pottery, add a photo of your favorite piece. If you make chocolate, if you sell jewelry, if distribute skincare products, add a photo. Be sure the images are clear, crisp, and show details. If possible, hire a professional photographer to take some photos – they can be also used on your website, for a social media post, in email marketing, etc.
Appointment Information. If you provide a service – doctor, veterinarian, hair stylist, mechanic, etc. – use the back of your business cards for appointment making. Not only will a customer have all of your contact information, they will have a place to write the appointment information when they call or book online.
A message. Words of wisdom, a mission statement, an inspiring quote – if it fits within your line of business, add a message you'd like to impart with your customers. Showing a bit of your personality (as approved by the corporate world) may open doors for a number of opportunities.
Even if you've found a way to include all of the information, photos, messages, etc. on the front of your business cards, add some color or a simple design. Today's business card retailers offer limitless patterns, designs, images, colors – and even the option to provide your own artwork – to spruce up the back of the card. After all, business cards make a lasting impression, don't leave a blank one. Check out the unique business cards offered by Tiny Prints!
Cindy Rollins is a seasoned writer and guest author who enjoys sharing products, services and ideas that combine thoughtful design with a functional purpose. She is employed by Tiny Prints.

*contains affiliate links
The Blair Blogs Facebook Page is creeping up on 200 "Likes," once I hit 200 there will be a very special giveaway! Head over and like my page if you haven't already!