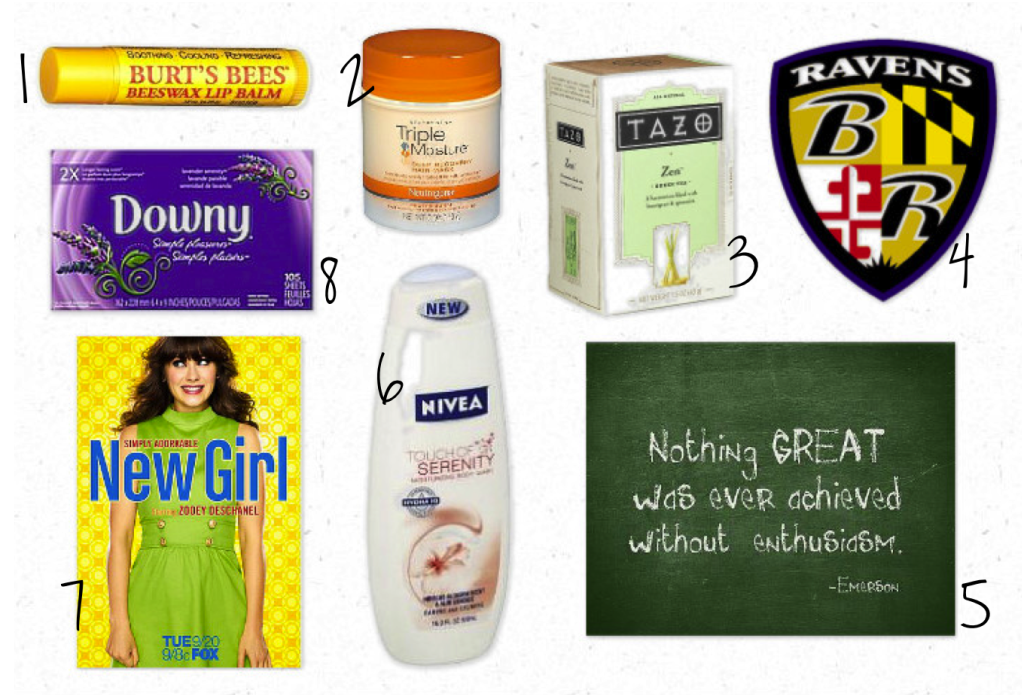 Here's what I'm loving these days as we fall into Fall…
1. Burt's Bees Lip Balm Chances are you have a tube (or 17) of this fantastic chapstick in your purse, pocket, or car. If not, getchya some. It's all-natural, light-feeling, and has a great peppermint-y scent.
2. Neutrogena Triple Moisture Leave-In Treatment Now that the weather is slowly shifting towards lesser numbers on the thermometer, my hair needs a little extra love and moisture. This product is amazing! It smells great, leaves my hair silky and shiny, and isn't expensive. I highly recommend it!
3. Tazo Zen Green Tea Tazo tea–all flavors–is just scrumptious! But Zen is my favorite. It's a yummy, smooth green tea that's great hot or iced. And it contains some great, natural caffeine for those rough mornings or sleepy afternoons.
4. Baltimore Ravens An obsession. Love. the. Ravens. They've been rockin' it this season. Nothing like curling up on the couch with friends, yummy food, and the Ravens playing on TV.
5. "Nothing GREAT was ever achieved without enthusiasm." -Emerson This quote is my heartbeat these days. 'Nuff said.
6. Nivea Touch of Serenity Body Wash I'm a big fan of trying new products, specifically health and beauty products, but I usually end up purchasing this particular body wash once or twice a year. It's that good. Smells oh-so great and makes my skin feel smooth to boot!
7. New Girl Anyone else watch (and love) New Girl? It's just hilarious. Like literally I laugh out loud throughout every single episode. Love it. Never seen it? Watch it on Hulu here.
8. Downy Simple Pleasures Lavender Serenity Dryer Sheets These babies are awesome. They smell warm and cozy and fresh all at the same time. Perfect for the Fall and Winter months!
What are you diggin' these days? Ever tried any of these products? Watched New Girl? Love the Ravens? Comment below and fill me in!
{Friends– if you will, please answer a question and ask me a question to help me better my blog!}
*I am not being paid to advertise these products, I genuinely love them.*