November is creeping up on us–can you believe it? So throw aside your costumes and face paint (I hate Halloween) for a heavier jacket, a warmer scarf, and the holiday shopping season.
Let me put it straight: Christmas shopping is my absolute favorite. There's nothing I dislike about it…I even love the crazy hustle and bustle. Really, there's something about being in the crowd choosing gifts for the people you love…with a caramel macchiato in hand…and Christmas music playing…
This is when I have to stop and say, "Self, Thanksgiving first. Heck, Halloween first (Yuck). Wait. for. Christmas."
What's so wrong about wanting Jesus to be born? I mean really. But okay, I digress. I'm here to help you organize your holiday shopping (early), so that you can relax and enjoy this beautiful season knowing that you've done your gift purchasing.
Here's a "Holiday Gifts" free printable to help you do just that! (And keep track of your spending…with cute fonts to boot!)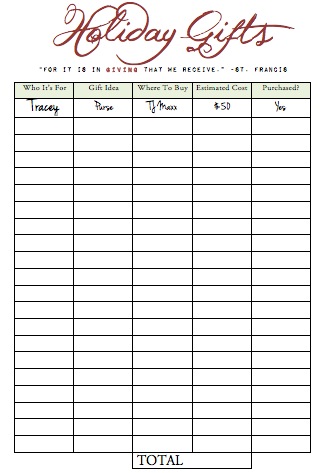 Below is a close-up of the chart. Basically, you can print it off, fill it in, and stick it in your purse (or on your desk if you're an online shopaholic like me!), and easily manage your gift-giving this season.

There's something so beautiful about blessing others with a thoughtful holiday gift…whether it's homemade or store-bought…because as St. Francis said…
"For it is in giving that we receive."
Itching for holiday gift-giving organization this year? DOWNLOAD my chart!
{Check out my other Free Printables, too!}