Now's the time! If you haven't ordered your Fall textbooks yet, get on it! A lot of textbook websites are running promotions right now, and the prices are much lower than they will be in another month or two.
If you're like me, trying to remember where you ordered your textbooks from, if you've even ordered them yet, and what course they're for can be difficult. I can never seem to keep it all straight! Because of that, I designed this free printable to help myself (and you all!) organize textbook orders. Download away!
Here's a snapshot of the chart partially filled out…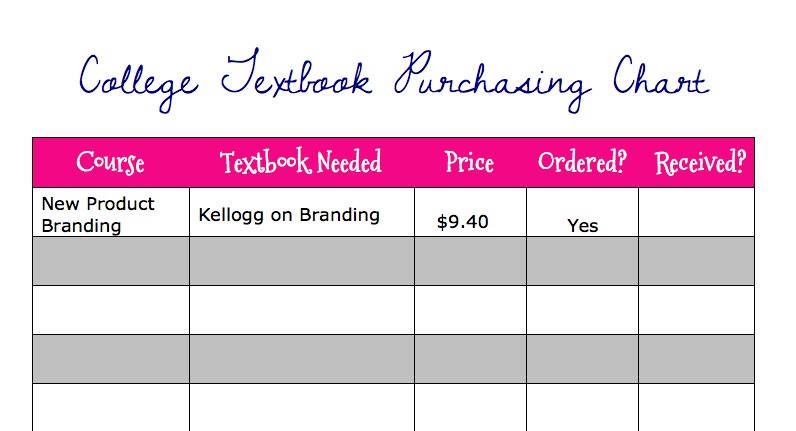 Cute, right? This Fall, one of my classes alone requires four textbooks…and that's just one class! This chart will definitely help me keep all of my books straight…in style! 😉
Here are the websites I use to get my books for cheap:
Chegg.com | my favorite, because you can rent books for just the semester with free shipping both ways
Half.com | a subset of ebay, with awesome prices (like $0.25 for a book!); also, use promo code EARLYBIRD15 for $15 off an order of $50 or more!
Amazon.com | because I love everything about Amazon, including their textbook prices
(There are many other places to buy or rent books, but these three are my fav!) 🙂 Tip: Never buy your books from your campus shop unless you want to pay 60 times the prices you can find elsewhere!